Back to Basics - The Victoria Sponge
Welcome to a new series of blogs from Harts Coffee Loft manager, Ben. In this series Ben will be going back to basics, bringing you some simple and delicious recipes that are perfect if you are just starting to discover baking and cooking for the first time or rediscovering the joys and simple pleasures of good food cooked well.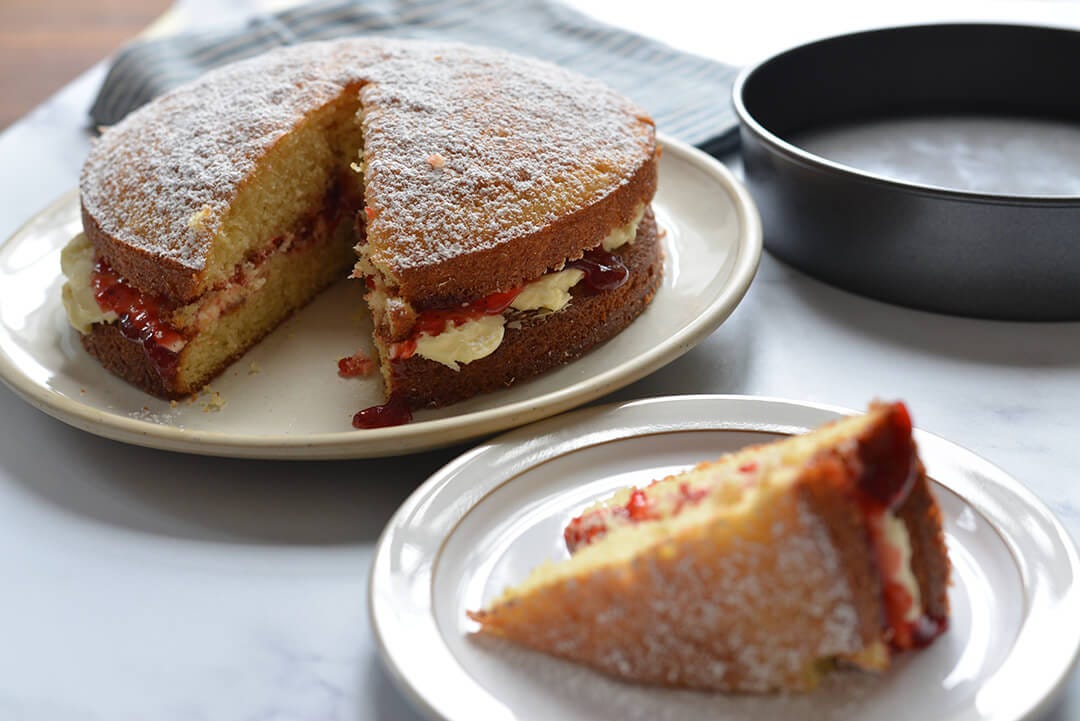 For any baker, whether a first timer or experienced, a Victoria sponge is a classic all-rounder. It is thought to have been one of Queen Victoria's favourite cakes and she was probably the first monarch to enjoy a more sponge like cake due to the invention of baking powder. Before baking powder was invented by Alfred Bird in 1843, a Victoria sponge cake was more of a biscuit consistency. As British as this sounds, the cake actually originated from Spain.
Here at Harts, we are keeping it traditional and use an excellent quality Strawberry jam which is also available to purchase from our coffee shop, with a vanilla buttercream in the centre. Without the buttercream it's called a Jam Sponge. This recipe can be adapted using different flavour jams and curds. Adding lemon zest to the sponge mix and replacing the jam for lemon curd creates completely different flavours from the same basic recipe. For an indulgent dessert fill the two sponges with fresh sliced strawberries and a Chantilly cream.
By changing the self raising flour and baking powder to gluten free alternatives, this recipe can also be made gluten free.
Method
Step 1: Grease 2 x 21cm cake tins with butter and line with baking parchment. Using pre-cut parchment circles saves time!
---
Step 2: In the food mixer add 250g self raising flour, 250g caster sugar, 250g softened diced butter, 5 eggs, dash of vanilla essence & 1tsp of baking powder.
---
Step 3: Beat the ingredients until well combined. Be careful not to overbeat.
---
Step 4: Make sure all the mixture is scraped from the sides of the bowl and evenly mixed.
---
Step 5: Divide evenly between the lined cake tins and bake at 180°C for 25 minutes until the sponges are springy to touch and a knife comes out clean. Allow to cool on a cooling rack.
---
Step 6: Soften 110g diced butter and add to the mixer with the sifted icing sugar and a dash of vanilla extract. Whisk until light and fluffy.
---
Step 7: Once cooled spread strawberry jam on one layer, the other spread buttercream and sandwich together. Dust the top with icing sugar. This will serve 8 generous slices.
Ingredients
For the Sponge
250g Self Raising Flour
250g Caster Sugar
250g Butter
1tsp Baking Powder
5 Eggs
5ml Vanilla Extract
For the Filling
150g Icing Sugar
110g Butter
170g Strawberry or Raspberry Jam
---
Equipment
2x 21cm Cake Tins
Food Mixer
Spatula
Baking Parchment