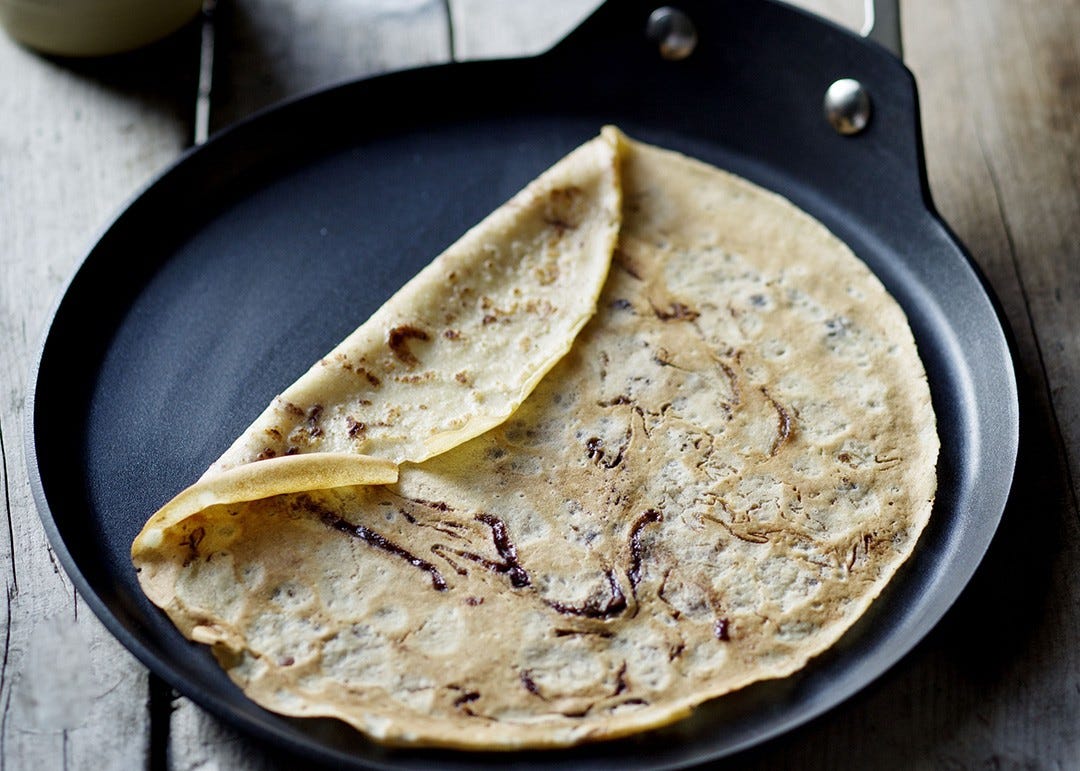 Who doesn't love a pancake? Batter made from four simple ingredients - eggs, flour, milk and salt is fried in a crepe pan (or frying pan). Traditionally served with a squeeze of lemon and a sprinkle of sugar, pancakes lend themselves to a wide range of toppings - from ham & eggs, berry compote or bananas and butterscotch through to the theatrical flambaying of a retro classic - the crepe suzette.
The pancake has a very long history, appearing in recipe books dating as far back as 1439. Traditionally served on Shrove Tuesday, the feast day before the start of Lent on Ash Wednesday, it was the last opportunity to use up eggs and flour before embarking on the Lenten fast.
Shrove Tuesday always falls 47 days before Easter Sunday, so the date varies from year to year, anywhere between 3rd February to the 9th March. This year Shrove Tuesday falls on Tuesday 16th February. Why not try the delicious pancake recipe below for a change.
This fresh twist on the classic pancake is brought to you by Le Creuset who have used Nutella as an indulgent additional ingredient. They are super easy to make and equally delicious to eat! For this recipe they use their 28cm Toughened Non-Stick Crepe Pan. It's the perfect shape for creating delicious pancakes that brown easily and effortlessly release from the pan. Its durable non-stick surface is easy to clean and tough enough to withstand use of metal utensils. The cast handle is attached with stainless steel rivets for a secure fixing.
Makes approximately 6 to 8 pancakes.
Ingredients
150g cake flour, sifted
3 medium eggs, beaten until light and fluffy
1 tablespoon sugar
¼ teaspoon salt
480ml to 500ml semi-skimmed milk
1 tablespoon unsalted butter, melted
120ml Nutella, melted
Method
Sift the flour and salt into a bowl. Make a well in the centre then add the sugar and beaten eggs.
Gradually add the milk and beat to a smooth and creamy consistency. Add the melted butter and swirl in the Nutella.
Wipe the surface of a 28cm Le Creuset Toughened Non Stick Crêpe Pan with a little oil and heat gently on a medium heat setting turning to a low to medium setting when the required temperature is reached. Pour just enough batter to thinly cover the surface of the pan. Lightly brown the pancake on one side, then turn (or toss if you are feeling brave) and brown on the other.
Slide the pancake from the pan and stack as they are cooked and cover loosely with a piece of aluminium foil to keep them warm until you are ready to serve them. Serve as soon as possible after cooking.