Circulon Ultimum Cookware - all you need to know
Circulon has been at the forefront of cookware innovation for over 30 years. In 1985 they were the first company to combine the benefits of hard-anodised aluminium with a durable non-stick system. They were to revolutionise the world of non-stick too with their TOTAL® Non Stick system. This combined one of the most advanced non-stick coatings with Hi-Low wave technology. It was deemed so good that Circulon backed it with a 10 year guarantee. The first company ever to do so. Today, all their cookware comes with a lifetime satisfaction guarantee. Their latest range - Circulon Ultimum promises to raise the bar yet further. Building on all those years of evolution and experience to create the ultimate in high performance cookware that features the very latest in technological innovation.
Circulon Ultimum Forged Aluminium
Made from high density forged aluminium, these pans offer excellent heat distribution. The forged edge-to-edge induction base is suitable for all types of hobs including induction. Due to the rigours of a busy kitchen, Circulon has reinforced the rim and pan base for added strength. Inside, the pans feature Circulon's Ultra Total Non-Stick System for guaranteed food release (see more on this system below). The strength and durability of this non-stick coating mean that these pans are metal utensil safe. In addition, these pans also feature an 'easy clean' patented flat rivet design which provides a smooth inside to the pan. Raised rivets in conventional pans are notorious for trapping food. Suitable for use on the following hobs: Solid plate, ceramic, ring, induction, halogen and gas.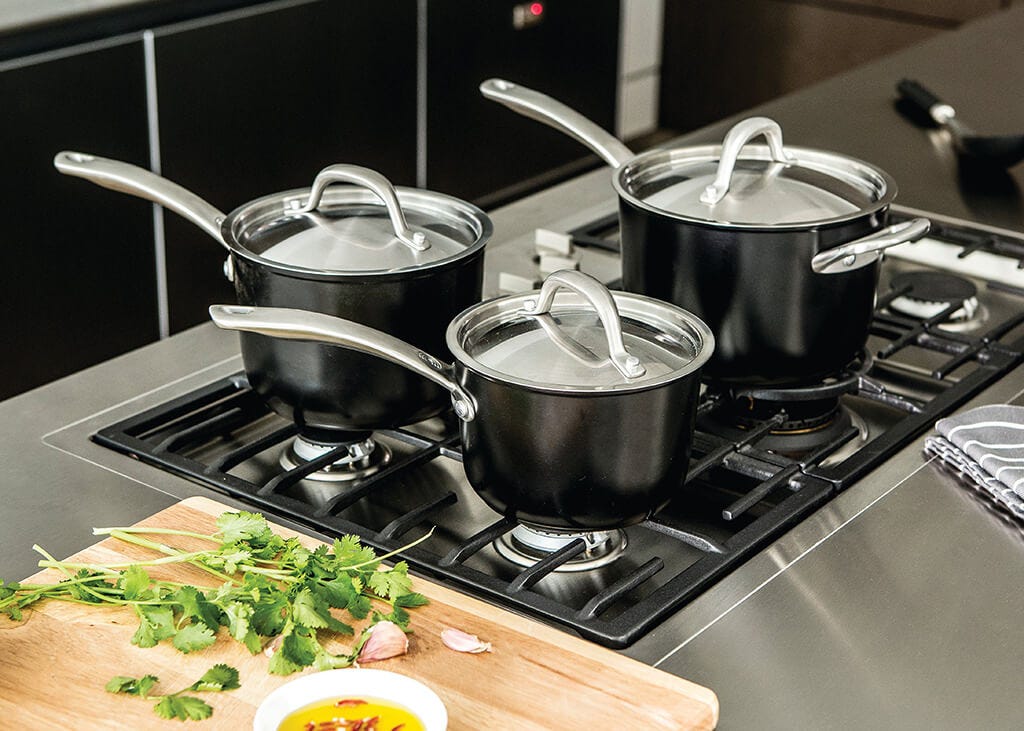 Cast Stainless Steel Fittings - These handles are beautifully styled and weighted for both balance and comfort. The pairing of brushed stainless steel with the forged aluminium finish makes for an extremely attractive set of cookware which wouldn't look out of place in a professional kitchen. It also means that this range is oven safe to a temperature of 240°C. View the full range online >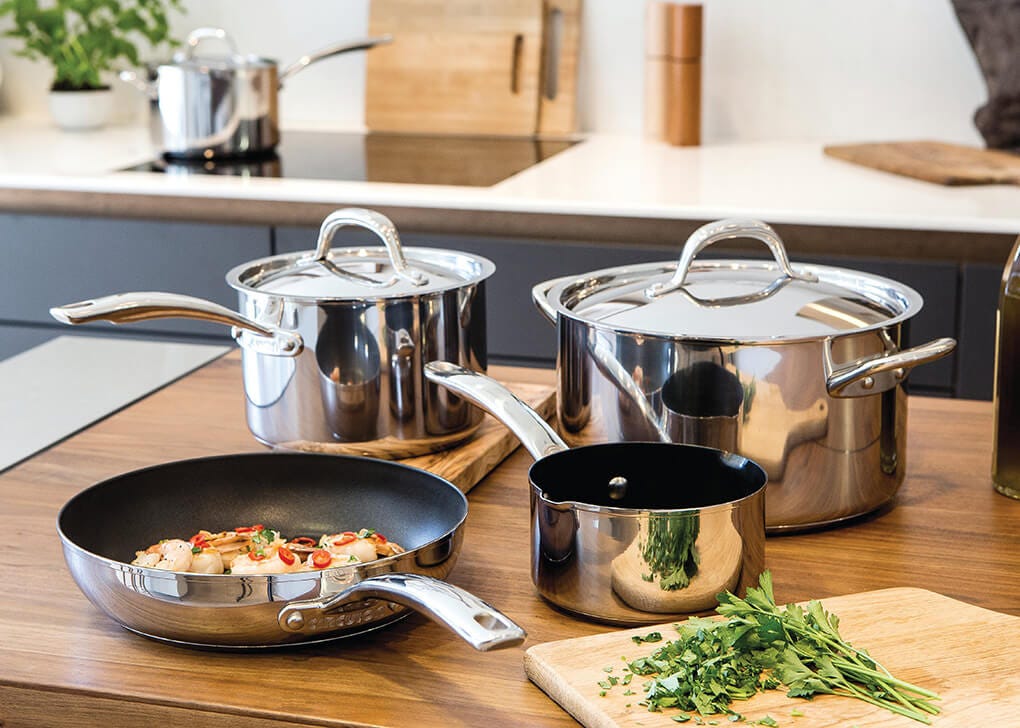 Circulon Ultimum High Performance Stainless Steel
Circulon has also produced a set of high performance stainless steel pans within the Ultimum range. Designed for long lasting use, these pans are made from high quality polished stainless steel. As with the forged aluminium ranges, they feature an edge-to-edge induction base making them suitable for all hob types. Also featuring Circulon's Ultra Total Non-Stick System, they are metal utensil safe. Strong durable cast stainless steel handles mean these pans are oven safe to a temperature of 240°C. Suitable for use on the following hobs: Solid plate, ceramic, ring, induction, halogen and gas. View the full range online >
Easy to clean
As a result of the exceptional non-stick performance of the Cirulon Ultimum range, cleaning is a quick and easy task. Normally we don't recommended washing pans with a non-stick coating in the dishwasher. But the clever people at Circulon have come up with a non-stick surface that can withstand the harsh properties of dishwasher detergent making them truly dishwasher safe. We would still wash by hand though for a really thorough clean and to prolong the life of the product.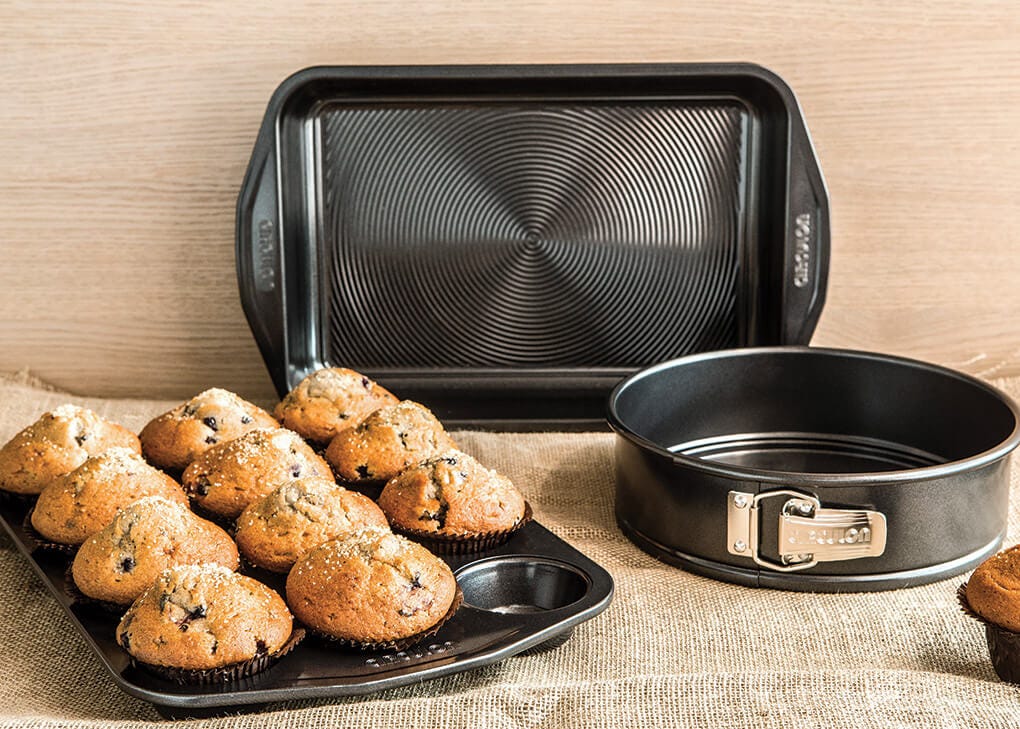 Circulon Ultimum Bakeware
Manufactured from 0.8mm thick carbon steel, Circulon Ultimum Bakeware provides perfect browning and even baking performance. Exceptional food release and easy cleaning is guaranteed. This is down to Circulon's Ultra Total Hi-Low Non-Stick System. The bakeware range is also tough enough to heat food from frozen. It is also dishwasher safe. View the full range online >
Hassle free lifetime guarantee
Circulon is so confident of their Ultimum range they offer it with a hassle free lifetime guarantee. If you are not satisfied with the performance of the Ultra Non-Stick System, Circulon will replace it for you completely free of charge.
---
Circulon Ultimum Tools
The range of nylon-headed kitchen utensils complete the Ultimum collection. Perfect for use with non-stick pans, the nylon heads are heat resistant to 230°C. Comfort-grip handles with built-in hanging loop complete the look of these stylish kitchen tools. For added convenience the tools are dishwasher safe. A Circulon quality assurance guarantee is provided with each item. View the full range online >
Ultra Total® Non-Stick System
The pans in the Circulon Ultimum range all feature Circulon's Ultra TOTAL® Non-Stick. Three layers of the most advanced non-stick coating available are combined with a Hi-Low Groove system. The raised circles (the 'Hi' bit in Hi-Low) take almost all the wear and tear dished out from cooking utensils. Hence this protects the majority of the cooking surface (the 'Low' bit in Hi-Low). Therefore the end result is a durable and hard-wearing super smooth surface that food literally can't stick to. And as only a small amount of oil is needed, this makes it a great way to cook healthily. For peace of mind all non-stick coatings are PFOA, lead and cadmium free.