Cookware Buying Guide - all you need to know
Investing in the right cookware for your kitchen is an important choice, and with so many factors to consider, that choice can be a little daunting.
Some pre-determined factors will narrow the choices available to you, such as the type of hob in your kitchen and the budget you have to spend, but for everything else this cookware buying guide will help you in your choice by explaining the different types of cookware available; the materials they are made from; what materials are suitable for all the different heat sources plus tips on cleaning and storage that will help to prolong the life of the product.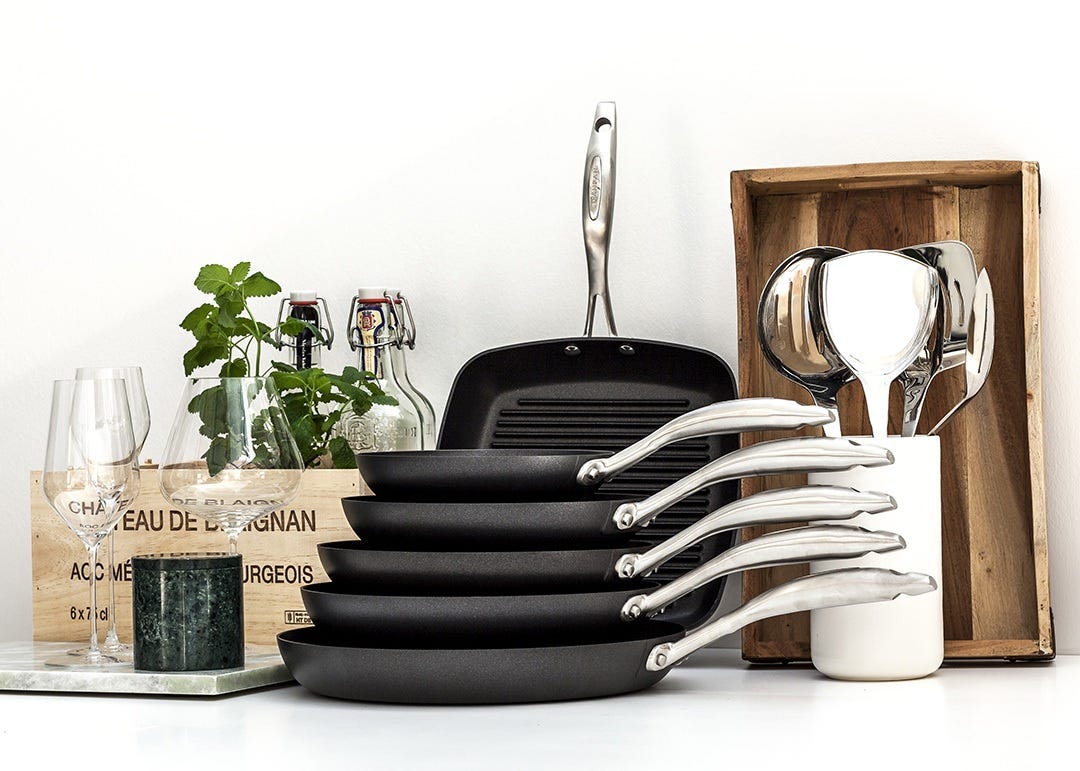 A frying pan is a frying pan, right? Also advertised as frys, skillets and sautes, there are a number of variations all of which cater for specific tasks. They are generally a shallower pan, used for higher temperature cooking (usually in oil or fat, rather than water).
Most of these are available in a range of sizes, materials and price brackets. Pans are measured across the inside of the rim, not the base. Here's a brief description of some of the most popular.
Frypan/Skillet - A fry pan or skillet will generally have slanted sides and a wide, flat cooking surface, ideal for quick frying. They commonly have a heavy base for distribution of heat, and many are supplied with a non-stick coating, which is good for convenience and easy cleaning, but will degrade over time with constant use at high heat.
Omelette - A small shallow frying pan, ideal for turning out the perfect omelette, smaller quantities, 1 or 2 fried eggs etc.
Griddle - A solid pan with ridges and channels to drain off excess fat and oil, and to suspend the food above the oil. Ideal for cooking fish and searing meat, giving you attractive char marks on your food.
Wok – Traditional woks are thin walled with a bowl shaped, designed for very fast, high heat cooking in a small amount of oil. They are made from carbon steel, with no non-stick coating, and are not washed up in water, but cleaned with some paper towel or similar to leave them with a film of oil, which over time turns the pan black and naturally non-stick. As this is not to everyone's taste, they are now also supplied with non-stick coatings for ease of use and ease of cleaning. These thin woks do not work on induction hobs, so there are woks now made with thicker sides and base to work on induction. Also called stir-fry pans.
Crepe - A virtually flat pan with a very small lip to avoid batter spilling off, flat bottomed for even heat distribution, lightweight for ease of 'flipping', and are great for crepes, pancakes, drop-scones or similar.
Chef's - A deep, round sided pan usually with a lid and can sometimes have two grab handles or one long handle. Similar in shape to a wok or stir-fry, these are a hybrid saucepan/wok, and are designed as an all-round pan for kitchen use. Deeper than a fry, but shallower than a wok, it has a larger cooking surface than a wok making it ideal for general frying, and has curved sides for stir-frying.
Sauté - The sauté pan is similar to a chef's pan, but with a larger, flat cooking surface and shallower, straight sides. It is ideal for searing off meat before adding a sauce for a slow simmer.
Paella- This is a very large pan with shallow sides, double handles but a smaller, flat base, this allows room for turning over ingredients.
---
A selection of our most popular frying pans
---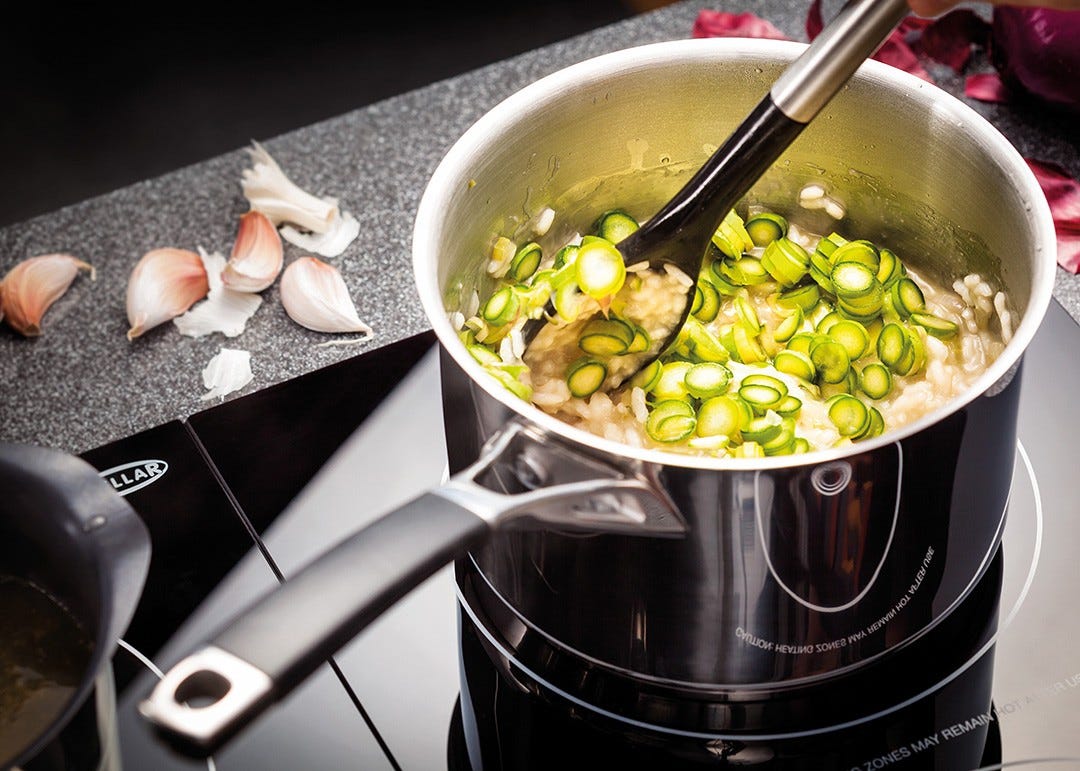 With less variations than a frypan, saucepans are the real workhorses in the kitchen and have many uses from boiling vegetables, cooking pasta and rice to making sauces.
As with the frypan always measure the diameter across inside of the rim of the pan, not the base. Generally used in lower temperature cooking, using water rather than oil or fat.
They can be supplied with a variety of lids, generally glass or stainless steel; can be made from a variety of materials; stainless steel, aluminium (not common any more), hard anodised, glass, cast iron; and with a variety of coatings, non-stick, ceramic, enamel or none at all.
Saucepan – Can be shallow or deep, generally with a lid. They all have a long handle on one side of the base, and larger sizes often have a helper handle. Available in a range of sizes and finishes.
Milk Pan - This pan will be fairly small with high sides. They generally do not come supplied with lids, and can have a pouring lip for accurately pouring hot liquids like milk and sauces. They are often supplied with a non-stick coating. There are variations now available called milk/sauce jugs, which are deeper still, and can be used like a jug, but with a saucepan base; ideal for gravies and sauces.
Stockpot – A stockpot is a large tall pan with high sides and double handles for comfortable lifting. The pan will include a lid and will be suitable for bulky ingredients for slow cooking. Can be used on the hob and in the oven.
Casserole– Basically a shallower stockpot. A round or oval type pan, with a domed lid for catching steam. Again used for long cooking and with double handles for easy use. Can be transferred to the oven.
---
Some of our most popular saucepans

---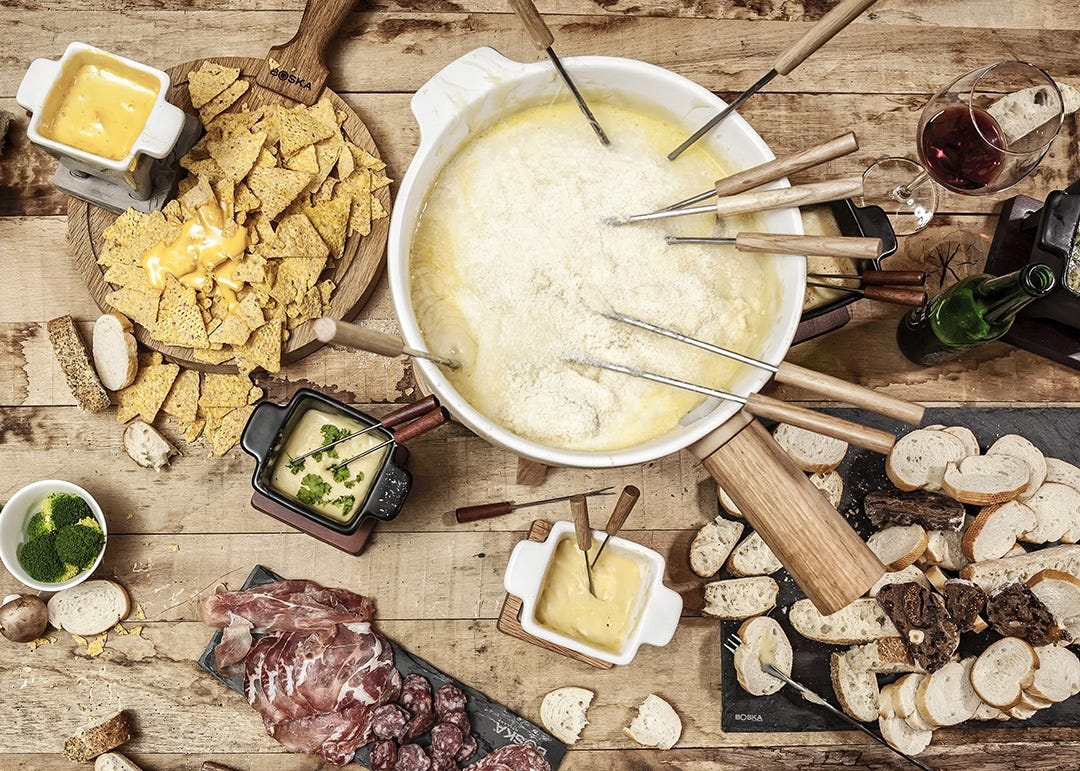 Specialist pans are generally designed to perform a certain task so some are limited in design and size.
Poacher – This pan will be extra deep with straight edges. A tray will sit inside to hold the removable poaching cups. Once the water is added the eggs can be poached. All parts can be removed for easy cleaning.
Mussel Pot - A compact two-part pot with handles on the lid and pot section. The lid stays on during cooking and whilst eating acts as a dish for your used shells.
Fondue - A fondue set is a pot that stands over a heat source to melt cheese or chocolate. Diners will have long forks for dipping food into the sauce inside the fondue.
Maslin - A very large pan with a main arched handle over the top for lifting. Used for making jam, marmalade and chutneys. Inside the pan will be marked measures in both imperial and metric for accuracy and a side handle used to tilt the pan for careful pouring.
Tagine - Usually a stoneware item, a tagine has a bowl-shaped base with a tall conical lid designed to catch rising steam which converts back to water and drops back down onto the cooking. Ideal for slow cooked dishes and spicy and aromatic foods. Some versions have a cast iron base for searing meat before the other ingredients are added.
Terrine - The edges of the terrine are tapered with a tight fitting lid and are generally rectangular or oval in shape. Ideal for making gourmet dishes and pate.
Pressure Cooker - A pressure cooker is a large straight-edged pan with a heavy, locking lid. Cooking food under pressure is much quicker than ordinary cooking. As the pressure rises, it effectively forces the heat and steam through the food, cooking it evenly without it drying out. It is also healthier as vitamins and nutrients stay sealed into vegetables, rather than being poured away with the water. Meat will also be more succulent and tender. Once thought of as old-fashioned, the pressure cooker is currently going through a bit of a renaissance thanks to advances in modern technology. Traditionally made of aluminium, most models are now stainless steel.
Porringer - A porringer (or double boiler) is a small pan used for delicate sauces and melting foods gently. The top part of the pan (called the bain marie) is held away from the heat source to prevent burning the contents, whilst the lower pan takes the heat from the cooking surface.
Chip Pan/Fryer - A chip pan/fryer is a deep pan with a separate basket for dropping food into hot oil to be deep fried.
Roasting - A roasting pan is a shallow rectangular or oval pan used in the oven for roasting or baking meats, vegetables and fish. A rack can be added to allow food to be raised above the liquids, and some versions can be used on the hob for making gravy.
---
A selection of speciality cookware available at Harts of Stur
Phenolic knobs and handles will stay cool to touch during hob cooking and can withstand oven temperatures of up to 350°F / 175°C.
Stainless steel knobs and handles can get hot during hob cooking (although generally they won't if a lower heat is used) and will need to be handled care until you are used to them. Can withstand oven temperatures of up to 500°F / 250°C.
Glass Lids. Great for keeping an eye on what's happening in the pan. If using in the oven will be safe up to 300°F / 175°C.
Stainless Steel Lids. Can withstand temperatures in the oven up to 500°F / 250°C, but make sure that the knob or handles on the pan or lid can also withstand these temperatures.
Draining Lids. A draining lid can be either glass or stainless steel. It will have a lip with draining holes that sits beneath the lid. This can be used to carefully drain liquids out of the pan from cooked foods without messy spillage.
Trivet / Pot Stands – Trivets and pot stands are available in a variety of materials and are designed for protecting surfaces from the hot base of your pans.
Steamers- Steamers come as a complete stacking set or as an additional item on to your existing pan and used for steaming vegetables, rice and fish for a healthy mess-free option.
Stainless Steel
Stainless steel is one of the most popular materials for many types of cookware. The finish of Stainless is resistant to rust and scratching, and maintains its appearance over time, making Stainless Steel very durable. The best stainless steel for cookware is 18/10 (18% Chromium, 10% Nickel), which offers the optimum balance of performance, shine and durability. Some cheaper pans use 18/8, which is perfectly serviceable, but will not retain its appearance as well. Stainless Steel has poor heat conductivity, so most pans have an 'encapsulated' base, with a core of either copper or aluminium, to ensure fast, even heat distribution across the base of the pan. The types with aluminium tend to be less expensive than the copper but copper has better heat conductivity. There also some laminated versions available, with the aluminium core forming the sides as well as the base of the pans. This means maximum and even heat distribution across the entire pan, reducing cold spots and cooking times.
Cast Iron
Cast iron is a popular choice because of its versatility and durability. Although it is deemed difficult to maintain, if you season your cookware correctly before first use and clean with care, this type of cookware is great to use. Good for long lasting heat distribution and can be used on a variety of cooking sources. Especially good for recipes that need to move from the hob to the oven, and ideal for induction hob use.
Enamel Cast Iron
Enamel cast iron has all the benefits of the cast iron but with the durability of an enamel coating which eliminates the need to season the cookware. As well as the additional benefits of the coating, the enamel also makes the cookware more appealing and can be bought in a range of colours.
Glass
Glass cookware items are very resilient and versatile for cooking most dishes. Glass conducts heat very well so ideal for roasting and browning. Glass is also very hardy when it comes to cleaning as it can be soaked for hours without damaging the surface.
Ceramic
Like enamel cookware, the ceramic cookware items can be purchased by colour to suit your collection. Ceramic cookware generates heat slower than other bakeware so ideal for recipes that need slow or long cooking times. The added benefit with Ceramic cookware is that the dish can be presented straight from the oven to the table due to the colours available.
Hard Anodised
Hard anodised pans are aluminium pans which, during manufacturing, have had a process that changes the natural surface into Hard Anodised. This creates a very durable surface which is resistant to abrasive cleaning utensils. Although heavier than other materials, hard anodised cookware is great for even heat distribution and therefore cooks food uniformly. This type of cookware will last for a long time and are not easily damaged.
---
Popular cookware materials
Gas
Gas hobs are easy to use and great for accurately controlling cooking temperatures with almost instantaneous results. All types of pans can be used on a gas hob, however when cooking make sure the flame does not reach further than the edge of the pan as this will discolour and damage your cookware.
Ceramic
A ceramic hob is a solid glass surface with Halogen bulbs under the surface that radiate heat through the surface. Stainless steel, cast iron, enamelled cast iron and hard anodised pans are all suitable for using on this type of hob. Enamel and stoneware can be used but can be a little bit abrasive on this type of surface, so use with care. All pans used must have a clean base as this can also scratch the surface. It's not advisable to use exposed copper or aluminium on this type of hob as it may leave a few bits of residue from material particles on the surface which over time build up and become difficult to remove without damaging the hob.
Induction
The most energy efficient of hobs, an induction hob uses a magnetic field to create an induction current to turn the cookware into the heat source. They are safe to use as there are no naked flames or exposed heat sources, easy to clean as spills won't burn onto the hob and are nearly twice as fast as conventional hob. The only drawback is that only pans with a ferrous (magnetic) base will work on them. See Are My Saucepans Suitable For Induction Hobs? The good news is most modern cookware is now manufactured to be induction compatible. It's also worth pointing out that ranges titled 'Induction' do work on other hob types, it's just the manufacturer getting the point over that they are induction compatible!
Range
Cast iron, enamelled cast iron, stainless steel, copper, hard anodised and stoneware are all suitable for the use on an Aga or Range style hob. The solid plate is best suited to a thick base and boasts an even heat distribution.
Cleaning
Cookware items will come with manufacturers' advice for care and cleaning and following these guidelines will extend the life of your well invested cookware. Stainless steel, cast iron, hard anodised and enamel all need to be cleaned gently in warm soapy water with a gentle cleaning utensil. For stubborn marks or spoils do not use wire wool as this will only damage the cooking surface. Do not leave items soaking for hours as this will gradually corrode your cookware, except glass and ceramic. Most cookware items are dishwasher safe, however prolonged use will reduce the life of your cookware, so we recommend NOT putting them in the dishwasher.
Storage
Pots and pans are generally designed to stack inside one another. Take care not to dent or scratch them when storing. Invest in a set of pan protectors to place between pots and pans (or use a couple of layers of kitchen paper). Try not to over stack cookware, but if you have to then make sure the heaviest items are at the bottom. Pans can be hung from racks too (either from the ceiling or the wall). There are also pot stands for cupboards or free-standing and hanging racks available which are easy to install.
---
Our most popular cookware storage solutions