Buying cutlery (sometimes referred to as flatware) needs time and thought as there are several factors to consider. Style is probably the best starting point – do you want a classic style or would a funky contemporary design be more your thing? Finish is another important factor. Stainless steel is the most common finish, but silver plate is another option (though more expensive). The size of your family and how regularly you entertain guests will determine the size of set you decide on. You can always add to these sets by purchasing individual pieces or accessories such as pastry forks or fish eaters. This guide explains the different types of cutlery, finishes and storage solutions available.
Canteen Set
A canteen set of cutlery can range from a 44 piece set to a 124 piece set and will come beautifully displayed in a wooden canteen with softly lined cut-outs for each piece to sit securely in. Canteen sets like these are perfect for dinner parties and special occasions as the cutlery in this type of set will be high quality 18/10 stainless steel. Canteen sets when not in use also look stunning on display on a dresser or sideboard.
A box set can be as small as 4 items of cutlery or as a large set with 124 pieces. These however will not be in a wooden lined canteen but in a cardboard box with the cutlery sitting inside a plastic tray to hold all the pieces securely. This set can then be stored in a cutlery draw or to fill an existing canteen you may have. These sets will mostly be high quality 18/10 stainless steel although some may vary.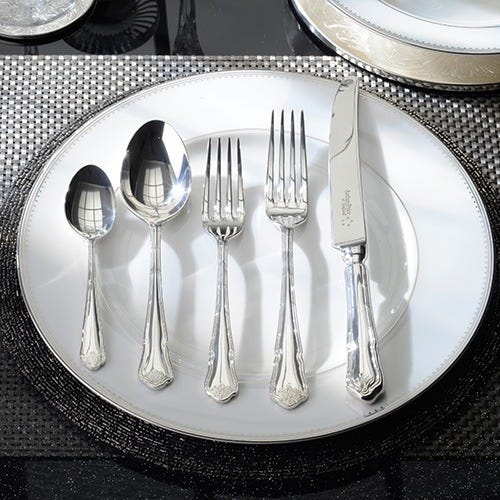 Accessory Set
Other items that complete your table include, cheese and butter knives, cake slices and dessert knives and forks. All of these can be bought separately to match your existing cutlery. These will also come in small sets or can be purchased individually. Steak knives and forks and fish knives can extend your cutlery set for those special meals. Although these come in smaller sets, some items are presented in pretty boxes which make great gifts for those trying to extend their collections.
Children's Set
Giving a gift of cutlery to a child is a tradition passed down through the generations. A child's cutlery set can start as a simple knife, fork and spoon with chunky melamine handles for their unsteady grips, and especially as they can feature a well-loved character on the handle like the Gruffalo or Belle & Boo. Cutlery for an older child is a higher quality stainless steel and will match the set used by the rest of the family but this will be a smaller design. Available in presentation boxes to give as gifts. [insert page='quality-design-craftsmanship' display='custom-product.php'] Individual pieces of cutlery can be purchased separately and are used and designed for a wide variety of tasks including your everyday meals.
Table Fork - Used for your main meal, this fork will be used alongside your main meal table knife and will be the largest fork in your set.
Pastry Fork – Mainly used for desserts like cheesecake and flans which contain pastry.
Fish Fork – A fork used together with the fish knife as a pair, used for eating fish. Dessert Fork – Used for desserts without pastry, like soft gateaux and sponge desserts.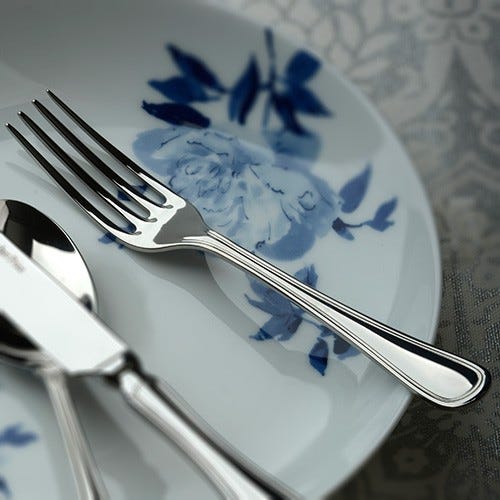 Knife
Butter Knife – A rounded knife for smoothly spreading butter, jams and other spreads.
Steak Knife – A long serrated knife for cutting steak, this knife will generally have a good grip handle.
Table Knife – Your main knife for the main meal course and will generally be the largest in the set.
Fish Knife – Use alongside your fish fork for delicately cutting fish and seafood courses.
Cheese Knife – Designed for cutting all types of cheese and will feature a prong on the end for picking up your cut cheese.
Dessert Knife – A smaller knife with a smaller blade and a longer handle, use with your dessert fork.
Spoon
Teaspoon – A small spoon used for tea and coffee and measure small amounts of ingredients.
Coffee Spoon – Slightly smaller than a teaspoon, this spoon will be used alongside serving coffee.
Latte / Sundae – A long handled teaspoon, designed for stirring long tall drinks and enjoying a tall dessert like a sundae.
Dessert Spoon – A dessert spoon is a little bit smaller than tablespoon and used for eating desserts and puddings.
Soup Spoon – A rounded spoon designed for scooping and eating soup.
Tablespoon – A deep large spoon used for serving and measuring ingredients.
Grapefruit Spoon – Similar in size to a teaspoon but the bowl of the spoon is more pointed and has serrated edges for cutting the fruit.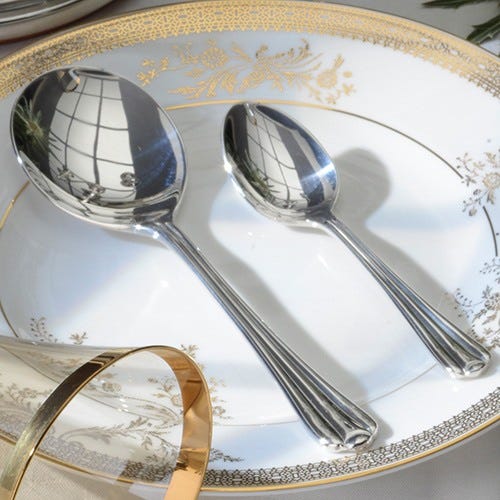 Serving
Mustard Spoon – A tiny spoon smaller than a teaspoon, perfect for serving a small amount of mustard. These spoons can be decorative or have a hook end to prevent them slipping into the mustard.
Straining Spoon – A straining spoon is slotted for draining vegetables from the cooking water or food from a sauce, once drained the vegetables or food can then be served.
Jam Spoon – A jam spoon is designed to serve jam, the spoon can have a kink in the handle that acts as a hook, preventing the full handle falling into the sticky jam.
Mint Sauce Spoon – A small teaspoon with a pouring lip on the side of the spoon head, this is used for pouring onto your lamb.
Cake Server – A cake server has a flat head, ideal for sliding under a slice of cake and lifting easily away for serving.
Honey Spoon - A honey spoon is designed to serve honey, the spoon can have a kink in the handle that acts as a hook, preventing the full handle falling into the honey.
Sugar Tongs – Sugar tongs are small tongs for picking up sugar cubes when serving tea or coffee, they are small enough to put with a sugar bowl and not be too intrusive.
Salad Servers – A pair of spoons, sometimes with prongs, designed for delicately picking up salad. Sometimes these can be joined together at the handle for easy handling.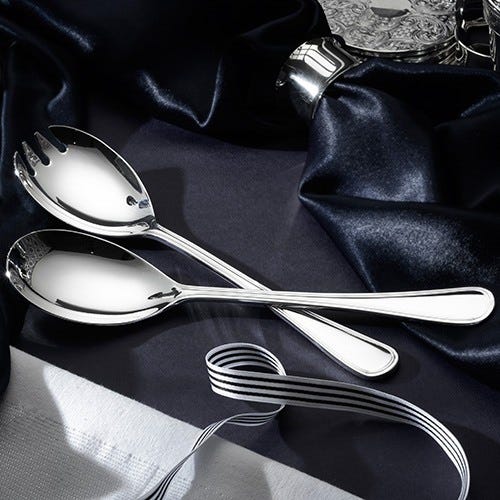 Cutlery Styles
There are two main styles of cutlery – classic and contemporary (or modern). Classic designs, such as Bead, Dubarry and Rattail are based on patterns that are hundreds of years old. These timeless designs are suited to formal dining and are usually made from high grade polished 18/10 stainless steel or silver plate. Contemporary patterns are usually sleeker in design and less flamboyant making them suitable for everyday use. Different finishes are available including matt, and coloured cutlery is currently on-trend, with coppers and golds being particularly popular.
Storage
Cutlery Tray – Designed to fit into a kitchen drawer or a dresser, a cutlery tray is a shallow tray with sections for all of your cutlery, these come in a variety of materials and sizes suitable for different types of cutlery. Adding a cutlery tray to your drawer will keep the cutlery from being mixed up and makes it easy when selecting the right cutlery for your table layout.
Cutlery Cabinet – A cutlery cabinet, also known as a canteen, is a wooden presentation and storage box. Inside the hinged lid and box will be a soft velvet lining to protect the cutlery from scratches and damage. The boxes vary in wood types and styles and are great to display.
Materials
Stainless Steel - Stainless steel is a commonly used material for cutlery because of its finish and quality. It provides strength and longevity as well as giving an attractive finish. The most commonly used grade of stainless steel is 18/10 for its strength and quality, however other grades are also sometimes used.
Silver Plated – Silver plating provides a high quality and high class finish to your cutlery. Different thicknesses of silver plating are available depending on the level of finish you require. Silver plated cutlery is ideal for entertaining and fine dining, though often reserved for special occasions.
Cleaning
All cutlery will come with a basic set of manufacturer's guidelines for cleaning your product, these should always be followed to prolong the life of your cutlery. Some may say they are dishwasher safe, however to avoid long term damage and loss of shine, washing in warm soapy water is recommended.