Dualit - British design and engineering at its best
One of the perks of working for a company like Harts of Stur is having the opportunity to see behind the scenes of some of the brands we work with. So, when an email dropped into my inbox, inviting me on a tour of the Dualit factory, I accepted it without hesitation. I've been the proud owner of a Dualit Classic Toaster for over 18 years. It was the first big purchase my partner and I made together, and the toaster took pride of place in our tiny little kitchen. Several house moves later, and in constant use (partly thanks to the addition of two, ever-hungry daughters to the family) it still works as well as it did when it was first taken out of the box all those years ago. I was looking forward to finding out more about Dualit as a company and taking a tour of the factory where their Classic toasters are made.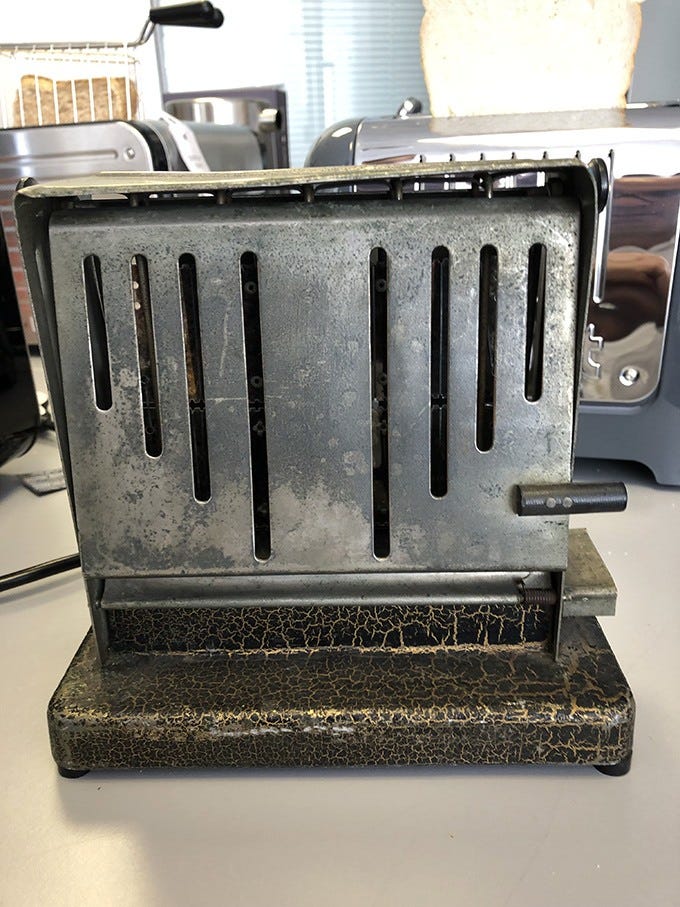 The original Dualit toaster that was the catalyst to their success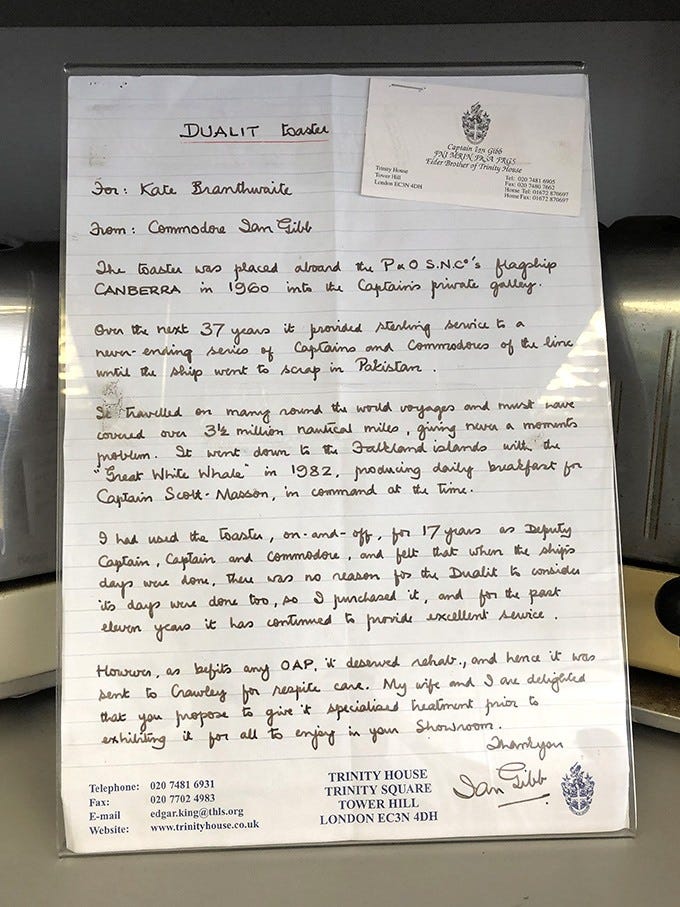 A letter from Commodore Gibb praising the Dualit toaster for its sterling service
The Dualit story - a passion for invention
Dualit is an independently-owned British company with an interesting history.
The company was founded by Max Gort-Barten, born in Germany in 1914. At the outbreak of the Second World War, Max found himself in England where, after spending five years in the army, he purchased a factory in Camberwell to manufacture his many inventions. One such invention, the dual-light electric heater was to inspire the Dualit company name. Another, the flip-sided toaster, would become the catalyst to the company's ultimate success.
In the early 1950s Max designed a new commercial six-slot toaster which bears a strong resemblance to the Classic toaster we know and love today. This new toaster, with its mechanical timer and manual eject lever, kept toast warm until required.
By the 1960s the company had relocated to new premises on the Old Kent Road whilst the design and engineering of the toaster continued to evolve. The Dualit toaster's popularity grew, becoming a ubiquitous part of commercial kitchens up and down the land, even making it aboard the QE2.
The 1970s saw the commercial toaster appearing in more and more retail outlets. By the late 70s Dualit had employed a design graduate from the Royal College of Art who enhanced the toaster's styling.
The 1980s saw a huge explosion in demand for Dualit. Increased overseas sales and the trend for commercial kitchen appliances in the home meant sales quadrupled overnight. The factory was extended to keep up with increased demand. Dualit also broadened its horizons, developing the Combi Toaster and sandwich cage, along with their first ground coffee machines.
The 1990s was a decade of innovation and awards for Dualit, launching their first kettle and a range of professional products specifically designed for use in bars. In 1999, and exploiting Space Shuttle technology, the ProHeat element was developed, winning them a Millennium award.
Dualit outgrew their Old Kent Road premises in 2003, relocating to a larger factory in Crawley, developing new products including their first food processor in 2007.
Today the company is still a successful family owned business. Max's son Leslie, who joined the company in 1972, is now Managing Director and Leslie's son Alex, is a Company Director, having worked previously as a product designer in both Hong Kong and London. Many of the 90 strong workforce have been with the company for 30 years or more, often including more than one member of the same family. It's good to see that Dualit values, trusts and rewards its employees and that their loyalty helps Dualit create such great products. Never a company to rest on its laurels, Dualit developed its own coffee capsule production plant in 2013, putting their engineering experience to good use by developing a range of patented coffee capsules. An on-site coffee roastery enables them to roast and grind coffee beans, producing a range of coffee products including aluminium capsules and compostable coffee bags.
---
Popular Dualit Classic Toasters
Having learnt about Dualit's interesting past and seeing some of the amazing old toasters and products on display, it was time to learn more about their range of toasters and have a go at making toasted sandwiches.
Obviously the aptly-named Classic toaster is Dualit's flagship model, but Dualit produce four other ranges of toaster - Lite, Domus, Studio and Architect.
Each range boasts unique features and styling, but all of them produce consistently golden brown toast, essential to pass Dualit's famous 'Crunch Test' ensuring the toast they produce is crunchy on the outside, whilst remaining soft and fluffy on the inside.
We were going to be using the Dualit Classic toaster to make our toasted sandwiches in, so we spent a bit of time getting to know the unique features of this kitchen icon. The Classic toaster hasn't become one of the most recognisable kitchen essentials by accident. Through constant development it delivers on the three factors that are most important to customers - practicality, technology and style. With its roots in the catering industry the Classic toaster is built to last, with reliability and performance an integral part of the design. Patented ProHeat elements contain more winds per square centimetre than other elements which produces evenly toasted bread. Each element is covered in a virtually unbreakable protective film which protects the filaments from dirt and damage. Made from Mica, the protective covering allows heat from the filaments to pass through whilst being totally safe for food. The ProHeat elements can be replaced when required, prolonging the working life of the toaster. The mechanical timer is also replaceable if required. Other patents on the Classic toaster include an adjustable rear foot and a thermal protection device.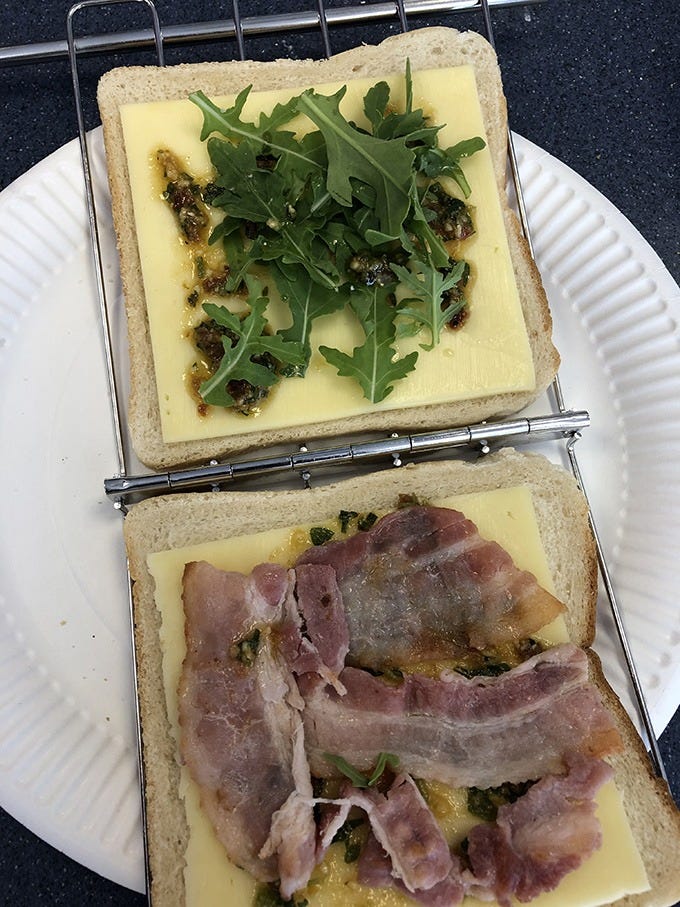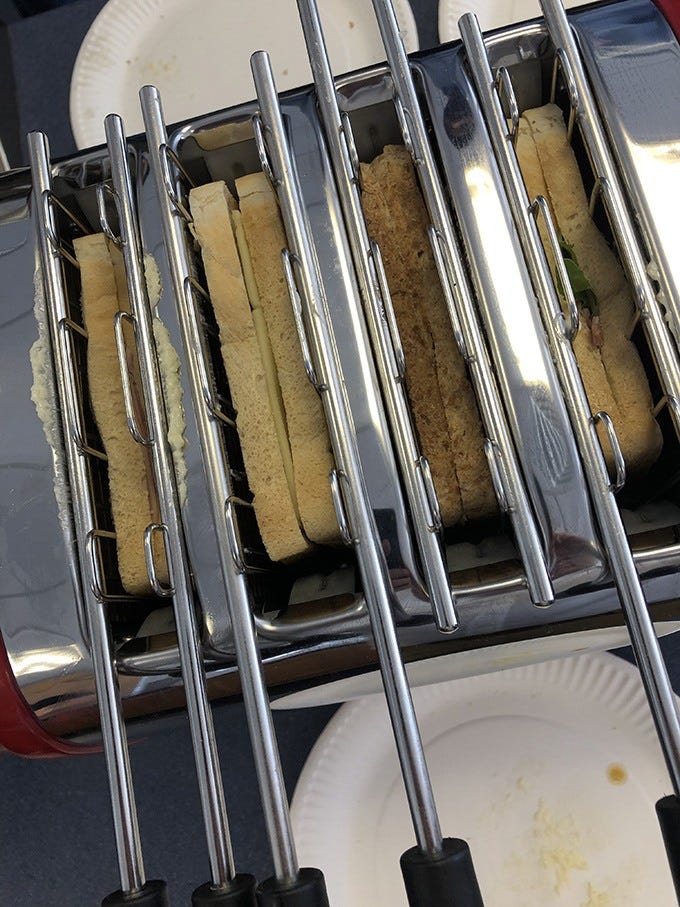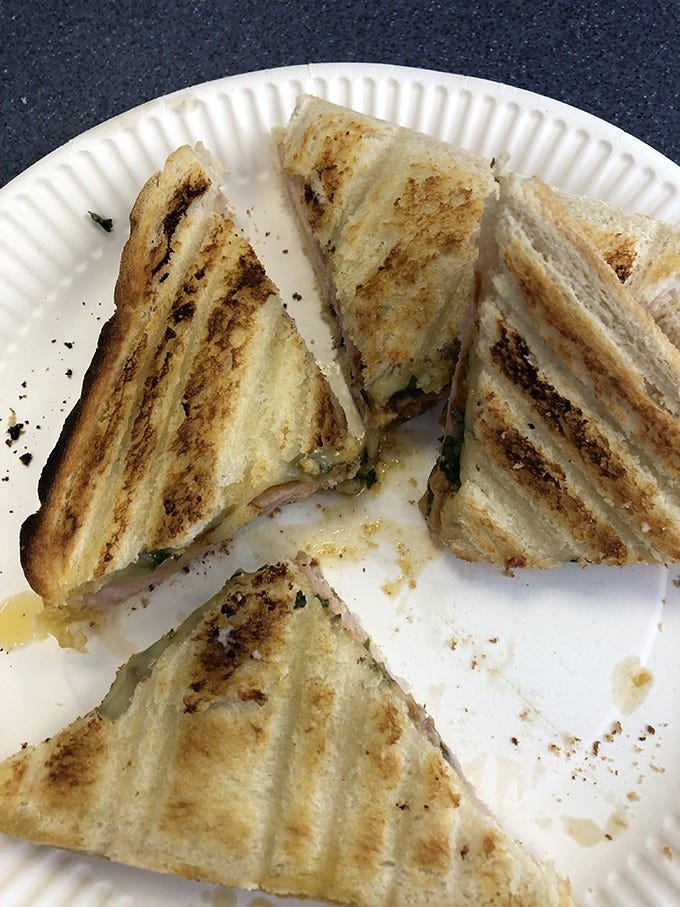 So, now we get on to making toasted sandwiches. To make them in the Classic toaster requires a sandwich cage. The process is super quick and easy. Butter 2 slices of medium sliced bread, placing one slice buttered side down on the open cage. Add your ingredients - we went for a tasty combination of cheese, ham and pesto - then place the other slice of bread on top, buttered side up. Close the sandwich cage carefully and toast for a couple of minutes until crispy and golden. A good tip is to leave the sandwich in the toaster for a couple of minutes to allow the cheese to fully melt. For a sweet alternative we also made chocolate brioche using slices of brioche loaf, chocolate spread and a dusting of icing sugar to finish. I couldn't believe how simple and effective the sandwich cage is. It's great for a speedy snack, and once you've mastered the basics the options are endless. If you own a Classic toaster and don't already have a sandwich cage I would heartily recommend getting one. I purchased a couple the very next day which certainly earned me some brownie points from my eldest daughter!
Once all the toasted sandwiches had been eagerly devoured, it was time for a tour of the factory to see the Dualit Classic toasters being made.
---
Dualit Naturals Collection
The Naturals Collection is the second collaboration between Dualit and global colour and trend forecaster Anna Starmer.
Over the last two decades Anna has become globally known for her obsession with texture and colour, leading her to work with and influence many leading brands in the world of product design and fashion. Inspired by her travels around the world Anna's bi-annual book, Luminary, is an authoritative colour bible now in its 21st edition.
---
Where exacting standards & skilled craftsmanship meet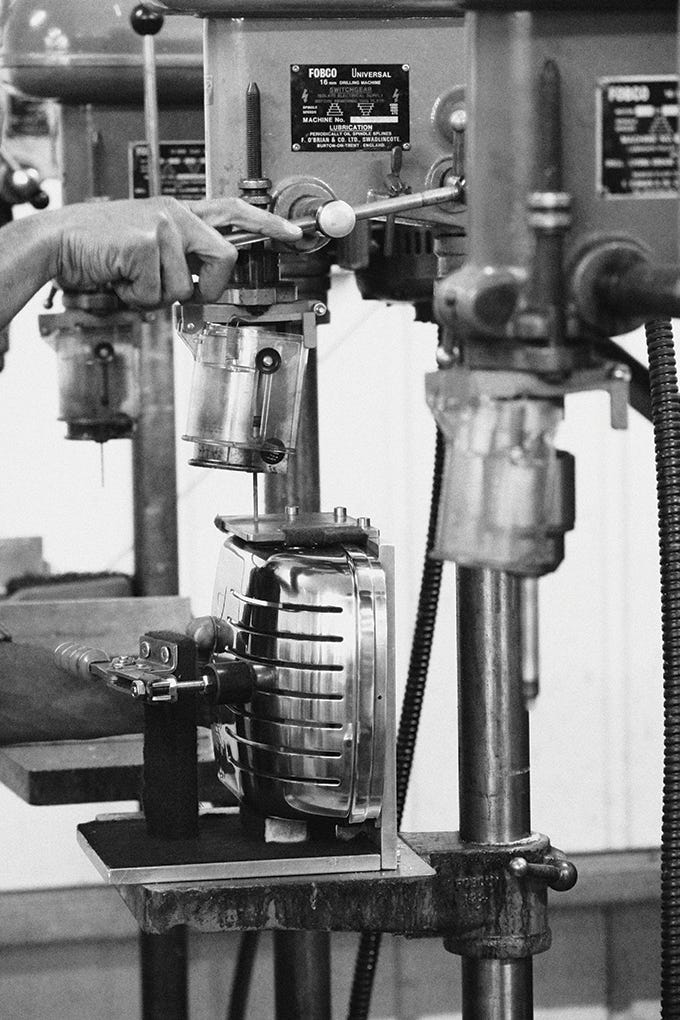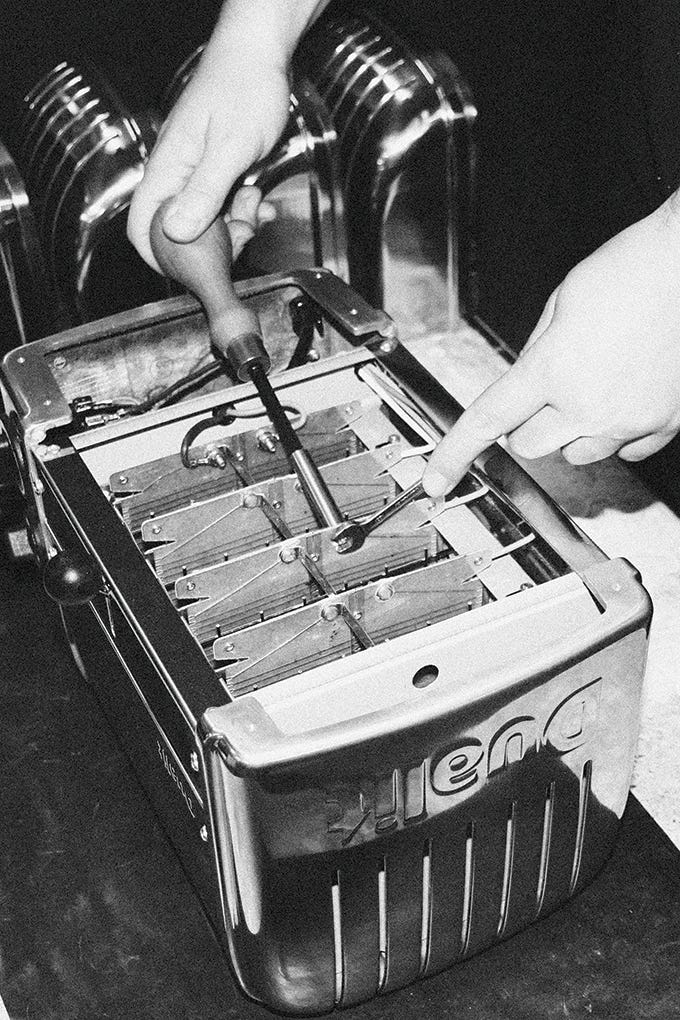 When broken down, the components of a Dualit Classic toaster resemble a big Mecanno set, which, in essence, it is. Good engineering, continual development and refinement of a product that cut its teeth in a commercial environment has resulted in components that do their job well, are built to last, and if they do go wrong, can be repaired or replaced. You won't find any robots in the Dualit factory, what you will see however is a team of skilled craftsmen with many years of experience under their collective belts, who are committed and passionate about the job they do.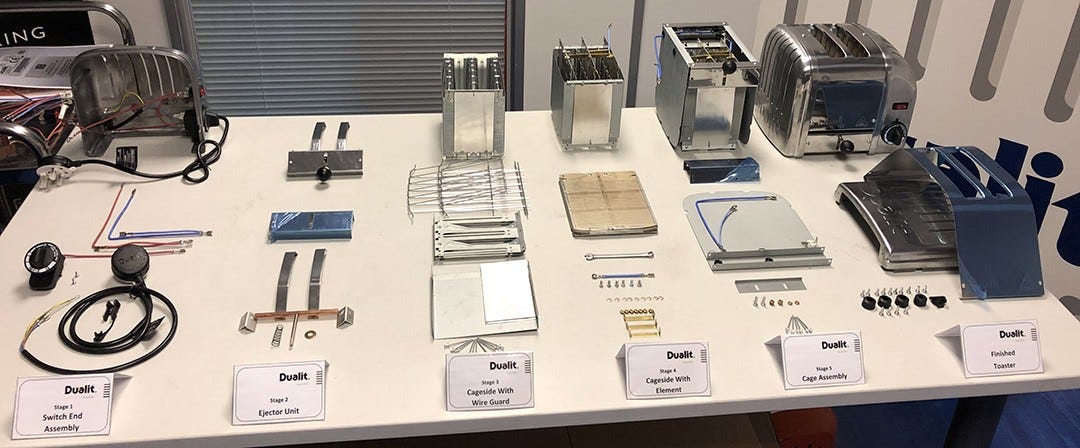 The individual components that make up a Dualit Classic 2 Slot Toaster
The factory is divided into three main areas - preparation, assembly and testing. The first process is to spot-weld all the components of the high-lift mechanism together. Control checks are made periodically throughout the day, ensuring the quality of welding is up to standard. The next process is to cut, stamp, drill and form the side panels of the toaster, ready for assembly - thanks to good engineering, very little waste is created during this process. The Classic toaster is available in a range of colours - from bold accents to calm pastels. To get the best possible finish, colour is applied using a powder coating process. The panels of the toaster are cleaned and prepped ready for the powder coating to be applied via a hand-held spray gun. The toaster panels are then baked in a hot oven to cure the powder coating, producing a uniform and durable finish that won't chip or wear over time. Finally the panels are quality-checked for any imperfections. Even the slightest blemish will prevent the panel progressing to the assembly stage.
We then headed to the Classic toaster assembly area. Every Classic toaster is assembled by one person from start to finish. As a mark of quality, every Classic toaster features the name of the assembler on the baseplate. The baseplate also has details of the product code, model and serial number.
Once the Classic toaster has been assembled it goes to the testing area where it undergoes a series of electrical and safety checks. The toaster has to pass all the electrical tests for it to be passed for release. It's reassuring to know that every toaster is checked before leaving the factory and yet another mark of the quality and care that Dualit take when producing their toasters.
The final stage of the Classic toaster's journey is packing. Each toaster gets a final visual inspection and polish before being carefully packed into its box, ready for despatch.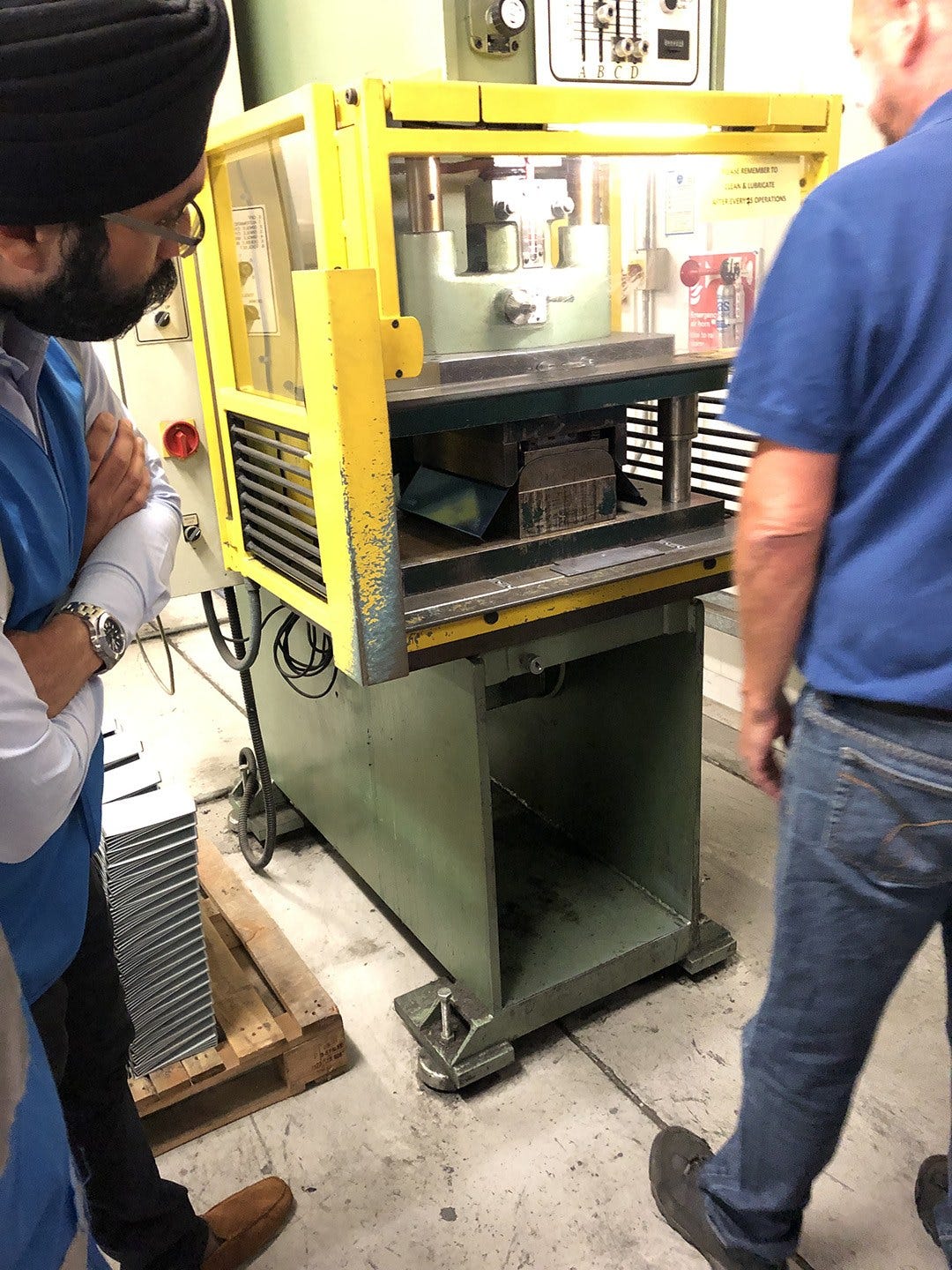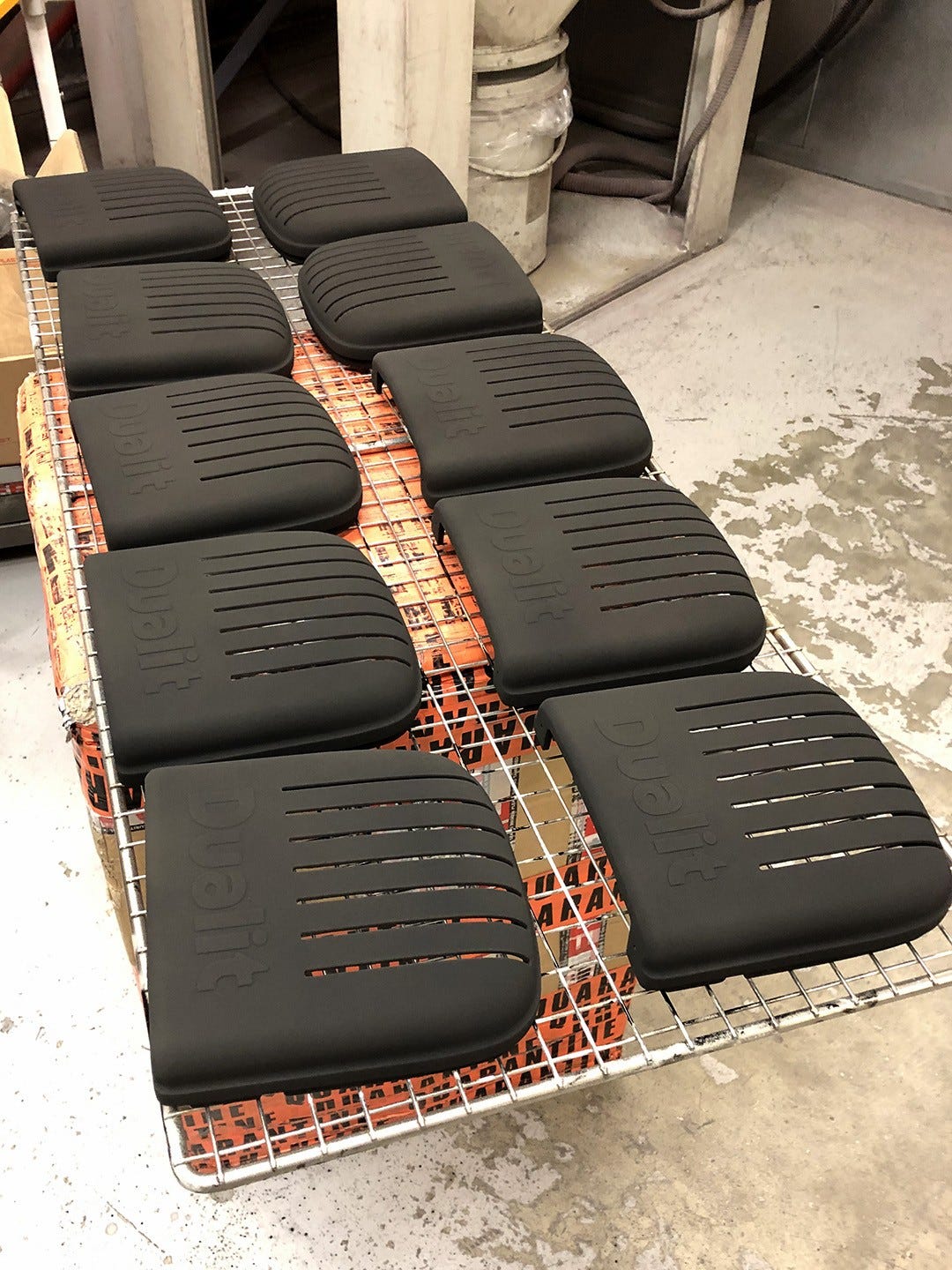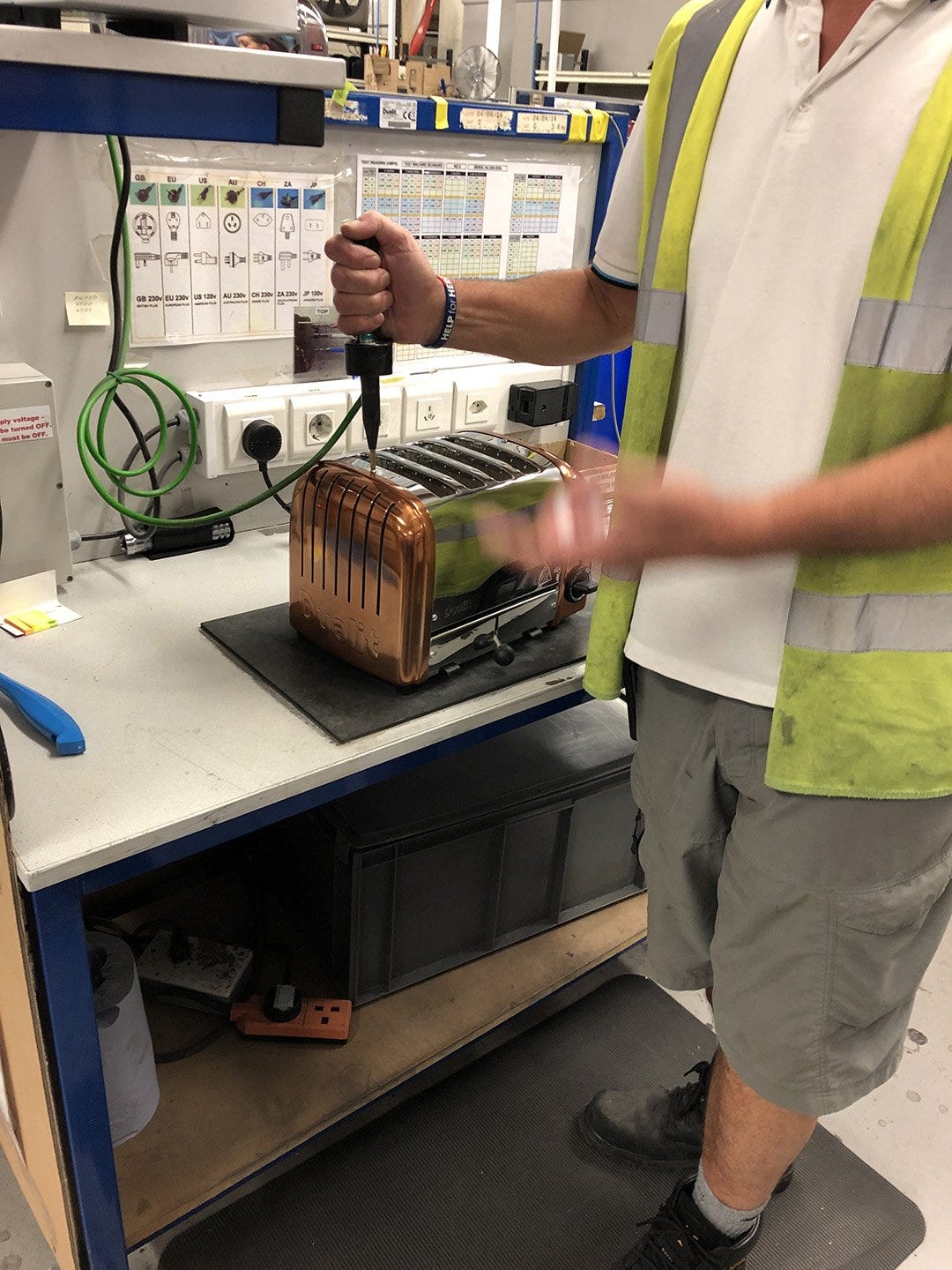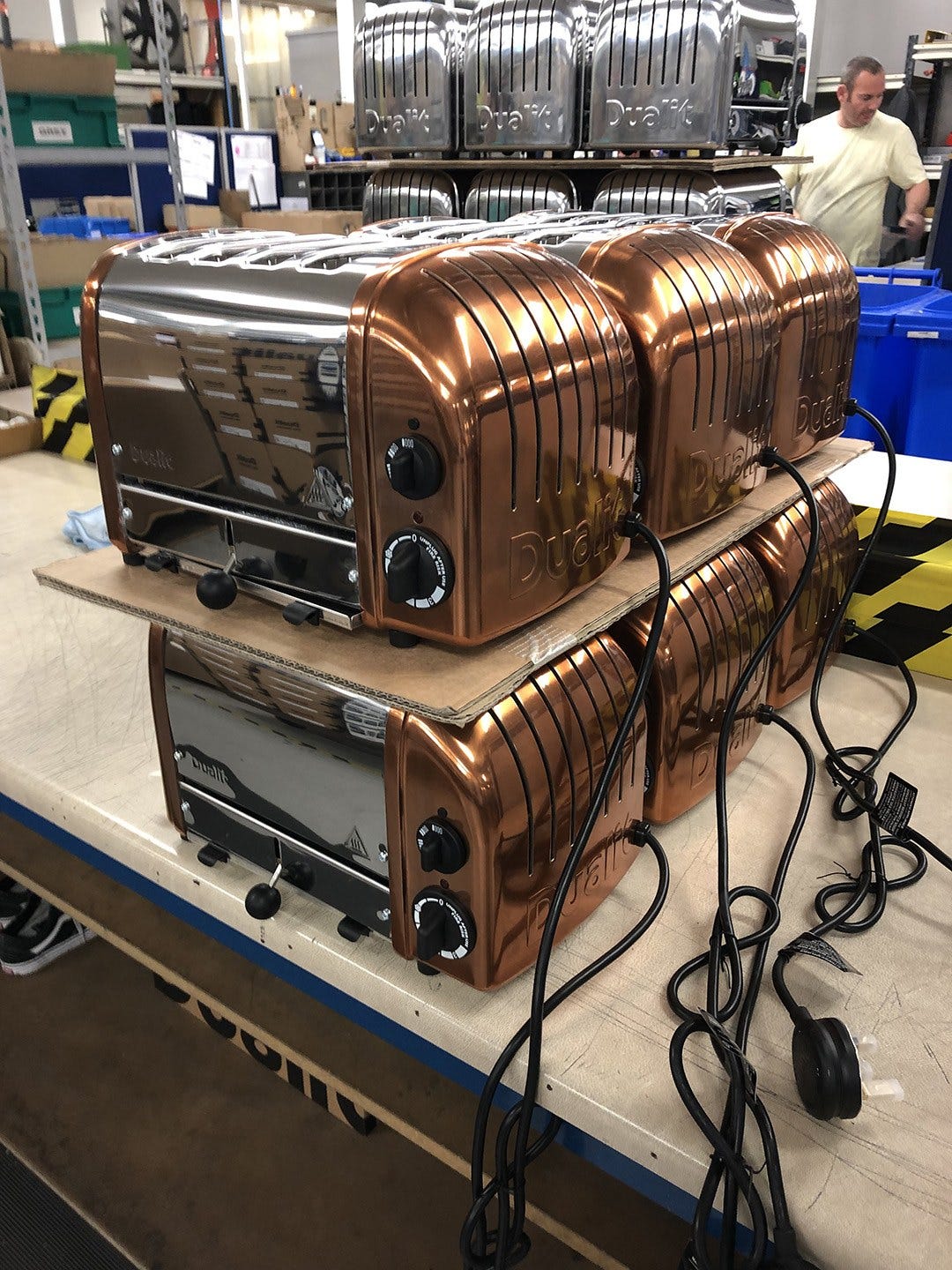 To conclude our factory tour we visited the repair shop. The fact that a Classic toaster (as well as several other Dualit products) is designed to be fully repairable makes it stand out from the crowd. As I mentioned earlier, my toaster has provided over 18 years of trouble-free service, but should the time come when something does go wrong, you won't catch me throwing the toaster in the bin. It's a cherished part of our family, so will be sent off for repair - ready for another 18 years of service. Which is what lots of people do, judging by all the items in the repair shop. One such toaster back for repair was made by Paul in 1997 (we know this from checking the stamp on the base plate), the same Paul we had just met in the assembly area! Often, all that's needed is a replacement element or mechanical timer, but if the repair is more involved, the customer will receive a quote prior to the work being undertaken. Once the repair has been carried out, the item is safety checked and given a quick clean and polish, before being returned to its grateful owner. Such a great idea in this throwaway age. We also learnt that many Dualit Classic toasters get handed down through the generations, such is their longevity.
The rest of a very enjoyable day was spent learning about, and using Dualit's range of coffee machines. I even had a go at latte art, let's just say I need more practice! We also got to use the Dualit hand mixer (as used on the Great British Bake Off) and the powerful Dualit hand blender, making a variety of delicious and healthy smoothies and less healthy, but equally delicious desserts!
---
---
I'd like to thank Beam and Dualit for allowing me the opportunity to see behind the scenes and making me feel so welcome. I came away impressed with Dualit's commitment and passion they have, both for the products they design and engineer and the staff they employ. Now, where did I put that sandwich cage...