Everything you need: Jam or Chutney Making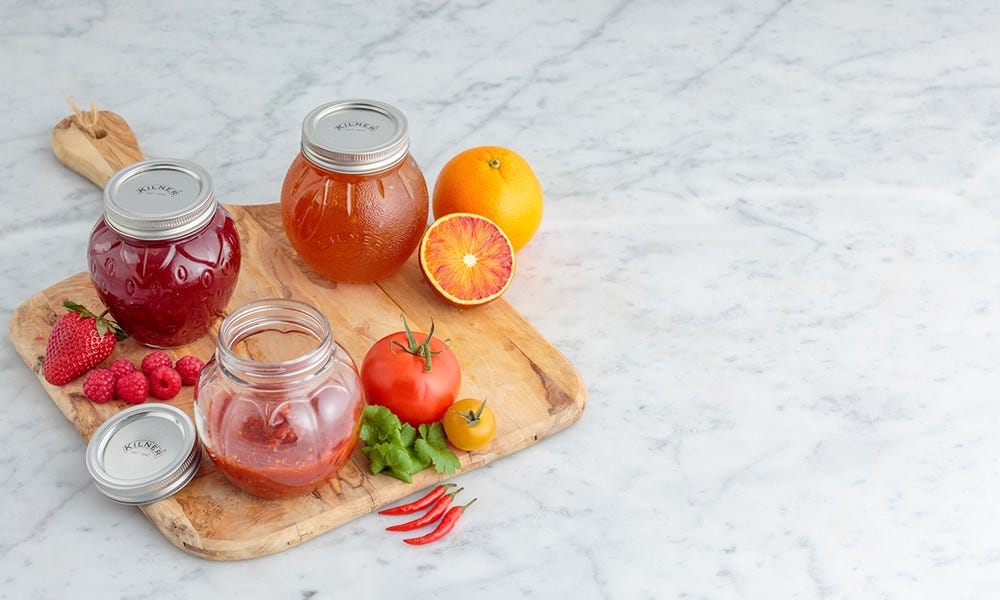 Whether you're a complete beginner or religiously make it every year, it's jam/chutney making season and this guide is packed FULL of products, tips and recipes to get you experimenting with different flavours.
5 Essentials for Jam Making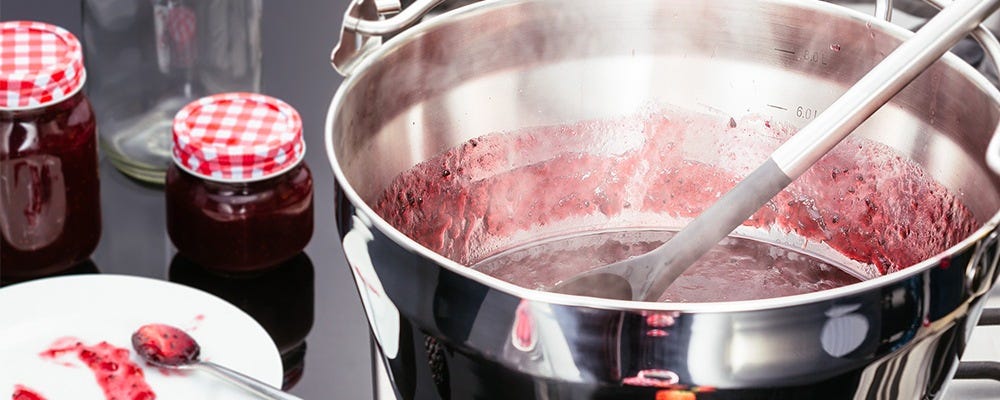 Preserving, Maslin & Jam Pans
If you're a regular jam maker, a maslin pan is well worth investing in. The biggest advantage to a maslin pan is its size, its large capacity helps to create large batches of your favourite jams, jellies and preserves in one go. Maslin pans are shaped with a wide opening at the top, which allows for quick and effective evaporation of the water in the fruit.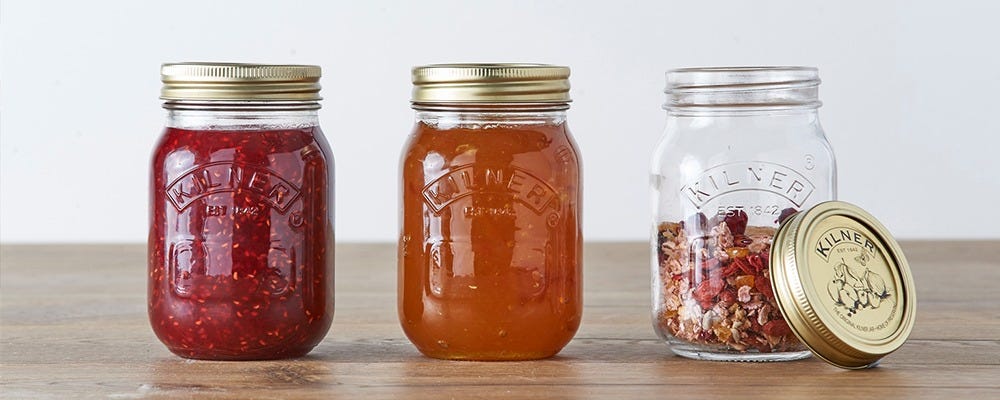 Preserve/Jam Jars & Bottles
Preserve jars and/or bottles are an obvious necessity, and here at Harts we stock a wide range of choices. Choose from a range of sizes from 43ml to 2L+. We have different shapes and different lid types – from twist top to clip top jars and bottles. Take a look at the collection!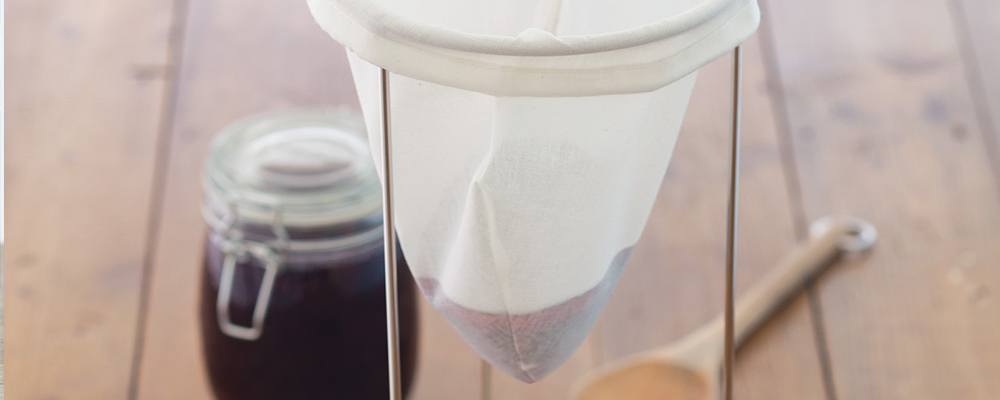 Jam Straining
To remove pips and seeds for clear jellies and jams, jam straining is an important process. Our Jam Straining accessories include straining kits, additional straining bags and funnels. All are designed to make jam straining a simple and easy process.
Lids, Labels and Covers
Whether you're giving them as a gift, or keeping as a treat for yourself, give your home made jams and preserves the best finishing touches with great looking lids, labels and covers. A number of different designs and styles are available, from Polka Dot patterns to Gingham finishes.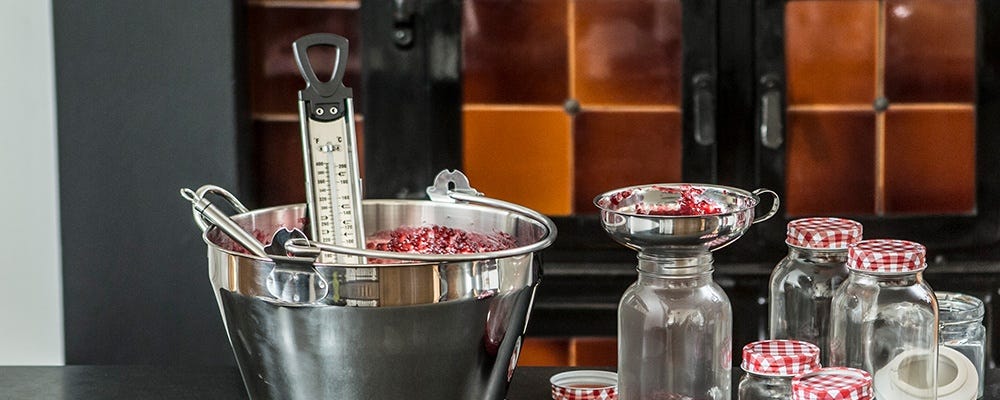 Jam Thermometers
A jam thermometer is essential to know when your jam is at the perfect temperature in order to get a great tasting jam with the right consistency. The ideal jam thermometer will clip to your maslin pan so you're free to stir and will have easy and clear markings. Some specialist jam/cooking thermometers have indicators at specific temperatures to make it even easier to see when it's done.
Classic Strawberry Jam by Kilner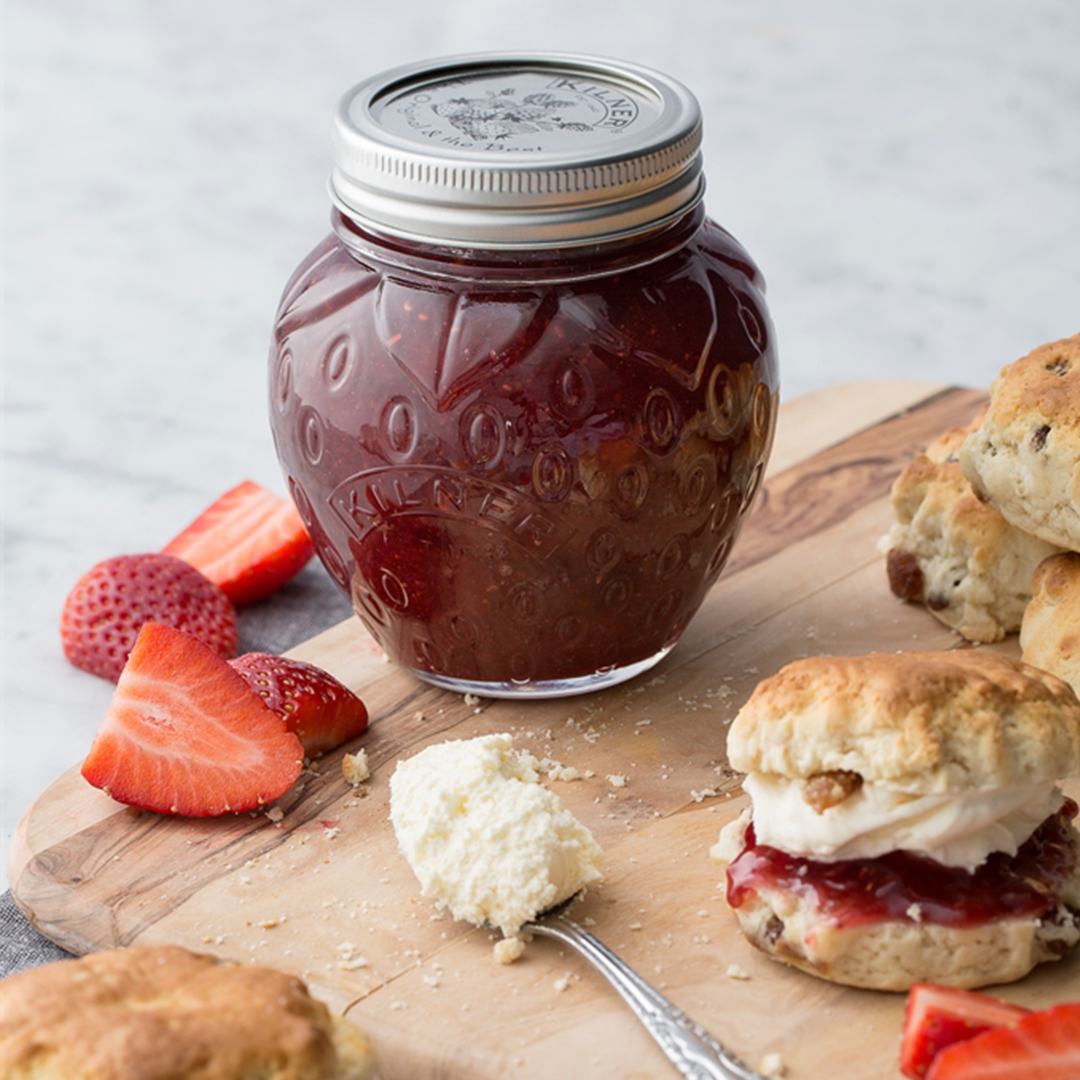 INGREDIENTS
900g fresh Strawberries, washed and hulled

800g Caster sugar

4 tablespoons Lemon juice
METHOD
1. Add all of the strawberries into a preserving pan and crush with a potato masher.
2. Add the sugar and lemon juice. Stir over a low heat until all of the sugar is dissolved.
3. Increase the heat to high and bring the mixture to a rolling boil until the mixture reaches 105°C/ 220°F whilst still continuing to stir.
4. Cool slightly and transfer the mixture into hot sterile Kilner® Jars, leaving about 1cm/ 1/2 inch space between the lid and seal your jar.
Keeps for 6 months in a cool, dark cupboard. Once opened, refrigerate.
Le Creuset Bramble Apple Chutney Recipe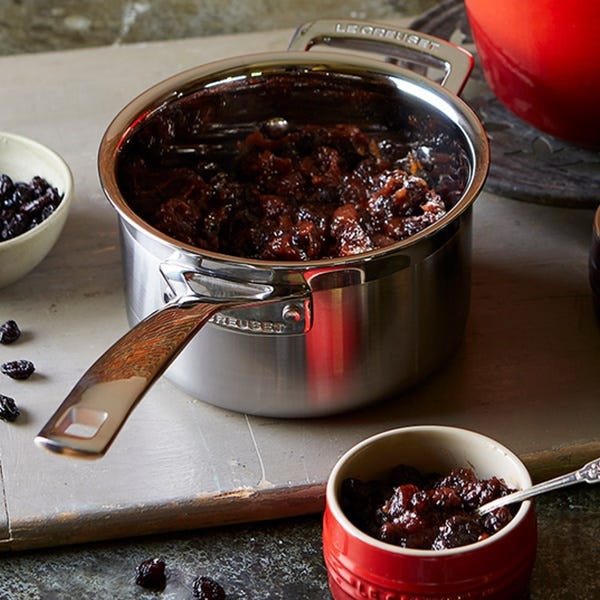 INGREDIENTS
300g Braeburn Apples

300g Tomatoes

300g Grapes

200g Sugar

100ml Water

250ml White Cooking Wine

350g Raisins

150ml White Wine Vinegar
METHOD
Peel, core and chop the apples. Skin, deseed and then chop the tomatoes. Pick and wash the grapes.

In the saucepan, make a light caramel with the sugar and water then add the tomatoes, apples and grapes. Once the fruit has released its moisture, simmer the mixture gently until the liquid has evaporated, then add the white cooking wine and raisins, reduce.

Once the wine has reduced add the vinegar and repeat the process. The mixture should be sticky and 'savoury-sweet'.
COOK'S NOTES:
Pears can be used as an alternative to apples.
You can alter the recipe by swapping the grapes for apricots in the summer, or white to red wine in the winter months for a richer chutney.
Fig Chutney Recipe by Kilner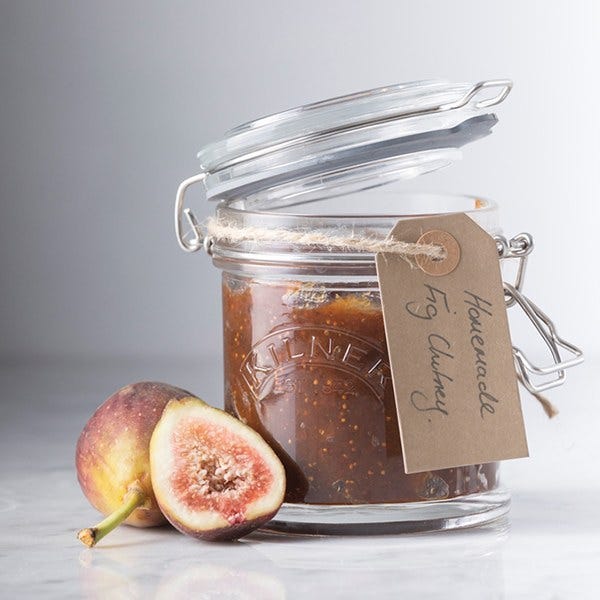 INGREDIENTS
10 large figs

2 red onions peeled and chopped

125ml balsamic vinegar

100ml red wine vinegar

250g light muscovado sugar

1 teaspoon mixed spice

½ teaspoon each of salt and pepper

1 tablespoon of olive oil
METHOD
1. Peel and slice the red onions, remove the stalk from the figs and cut them into quarters.
2. Heat the oil in a Kilner® Preserving Pan and add the onion, fry over a medium heat until it has softened and is translucent. Add in the balsamic and red wine vinegars, sugar, mixed spice, salt and pepper.
3. Bring to a boil then reduce the heat and simmer for 30 minutes.
4. Once the liquid has reduced to a syrup add in the figs and cook for 15 minutes.
5. Place into warm sterilised Kilner® Preserve jars, put on the lids and process the jars in a water bath.
Le Creuset Sweet Tomato and Chilli Jam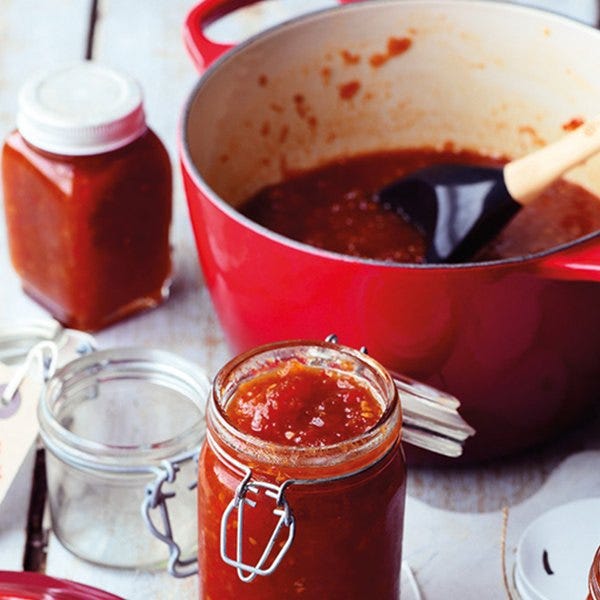 INGREDIENTS
25g garlic cloves
50g medium-hot red chillies, deseeded and roughly chopped
50g peeled fresh ginger, thinly sliced
900g vine-ripened tomatoes, skinned
300g caster sugar
100ml red wine vinegar
1 whole star anise
2 tablespoons Thai fish sauce
METHOD
1. Put the garlic, chillies and sliced ginger into a food processor and blend to a paste. Add the tomatoes and whizz once more using the pulse button to coarsely chop the tomatoes.
2. Tip the mixture into the 18cm Saucepan and add the sugar, vinegar, star anise and fish sauce. Bring to the boil, reduce to a simmer and leave to cook, stirring now and then and then more frequently towards the end, for 50 minutes - 1 hour or until the mixture is well reduced and jammy. Remove and discard the star anise and leave the jam to cool. It will thicken even more as it cools.
3. Pour the jam into sterilised jars and seal with airtight lids. This will keep well in the fridge.