Joe Wicks Quick & Even Cookware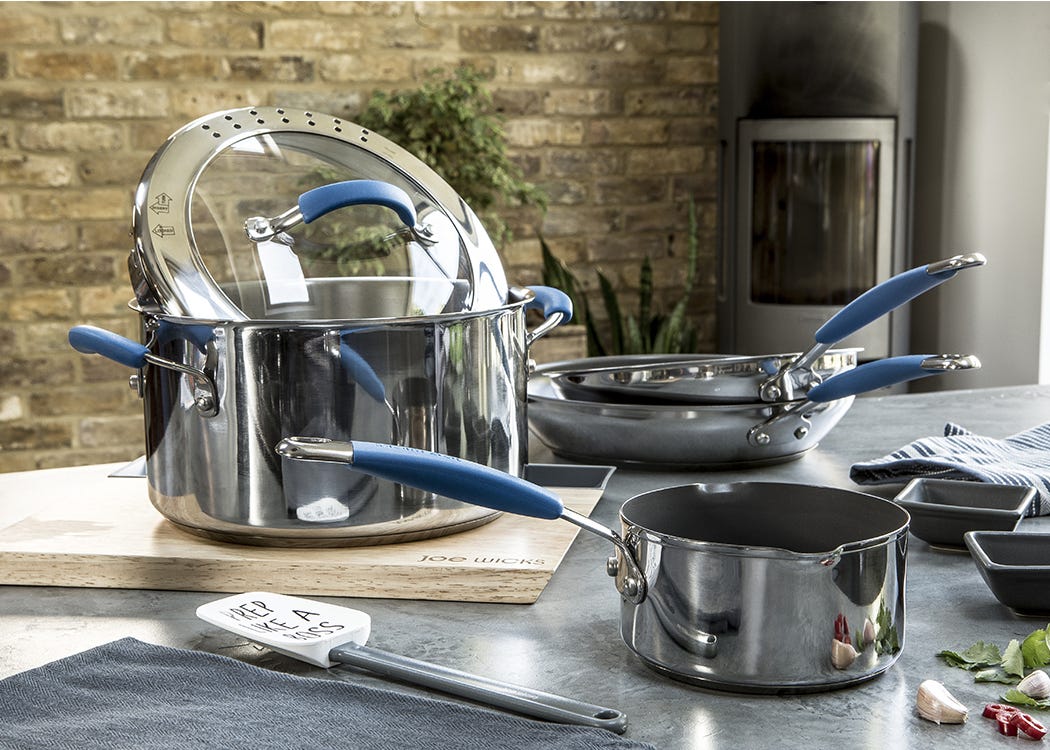 Following on from our previous Joe Wicks blog. Clare and Matt, our volunteers following the 90 day plan, test out the Joe Wicks Quick & Even Stainless Steel Cookware and discuss their progress.
 Clare's Progress
Nearing the end of Cycle 1, I have noticed a huge difference. Not only my body and how my clothes fit but also my attitude towards food and eating. I have found it really easy to resist temptation, even when eating out. Making sensible choices. The tailored plan on the Joe Wicks 90 day plan keeps my hunger at bay but also because the recipe suggestions are really quite delicious. I already have favourites that I have mastered and enjoy cooking. I am really looking forward to submitting my results and starting the next phase of the plan. Learning fresh and healthy new recipes to cook at home. In the past it was too easy to skip breakfast. Eat too many empty carbohydrates at lunch time, then after having a sugar crash in the afternoon. Therefore tucking into a packet of sweets to keep those sugar levels high! When the evening meal came around, forget portion sizes, I would cook mountains of food making sure everyone was full to the brim.
An important part of the Joe Wicks 90 Day Plan is food preparation. This makes sticking to the plan easier and practical when planning out meals for the week. Working full time and with the addition of a new puppy to our household, time can be a bit of a juggle. Planning out meals for the week make shopping easier too. If you have a shopping list prepared before going to a supermarket, you can pick up exactly what you need without being tempted by naughty foods. For me, making sure that I have a prepared lunch has been key to staying on track. Cooking ahead of time and storing in the fridge is essential. Each day you can choose a prepared lunch, just adding a few fresh ingredients on the day. This saves an enormous amount of time. In the evening, depending on whether I have done a HIIT workout, I either choose a carb refuel meal or if I am on a rest day I have a reduced carb meal. Both of which I generally cook from fresh. Using the Joe Wicks Quick & Even cookware has helped me enormously. Cooking both the fresh meals or the prepared meals.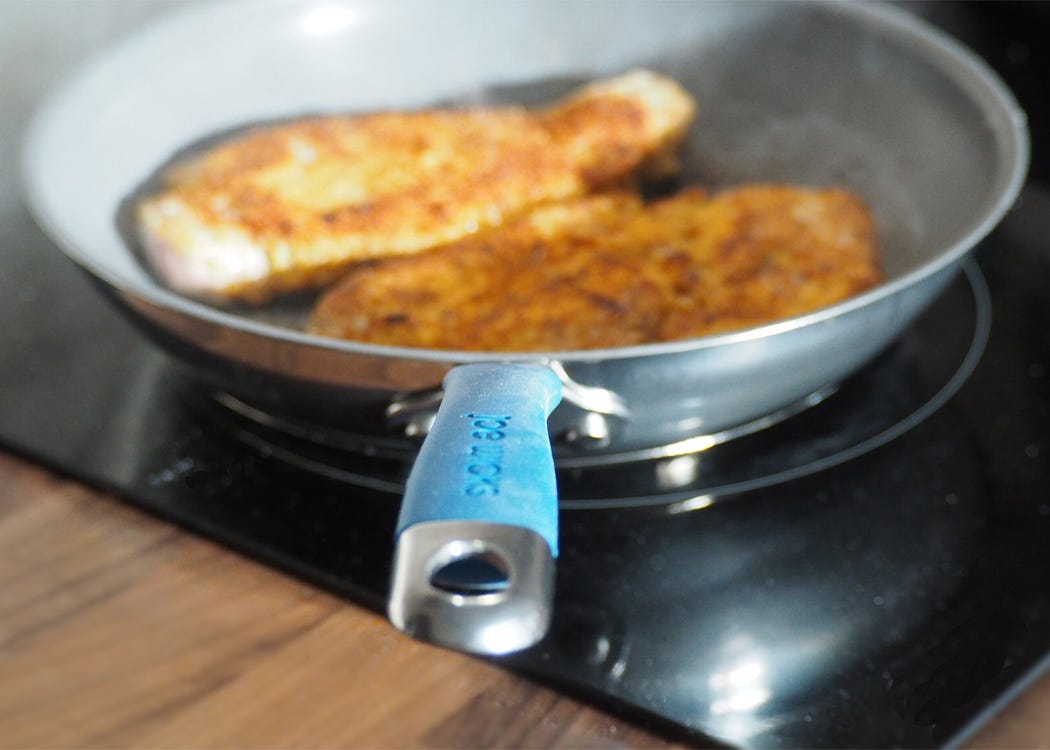 My cookware pick:
The Quick & Even Stainless Steel 20cm Non-Stick Frypan with the super grippy handle is comfortable to use and provides a firm grip. The mirror polished stainless steel exterior looks really stylish in my kitchen and is the perfect weight when serving food. The non-stick Quick & Even frypan features a non-stick cooking surface. It heats up quickly and distributes heat throughout the complete cooking surface evenly. This prevents hot spots so all of your food is cooked well for a delicious dish. The non-stick surface is great to use with a variety of cooking oils. It releases food easily without leaving a sticky mess behind. Complete with a 90 day money back guarantee and a 5 year manufacturer's guarantee. This frying pan is the ideal cookware to use alongside Joe's 90 day plan. 
 Matt's Progress
I'm looking to gain a few things from doing the plan. Part of the reason is to get lean. Although I'm not exactly overweight, I have a job that has me sitting at a desk for most of the day and I don't want to get complacent. I feel that it's important to ensure that I'm active when not at work to avoid putting on weight and to stay healthy. Another reason is to eat more healthily. I love a takeaway as a treat after a long week, but sometimes laziness can mean that this happens more often than it should! We have been getting vegetable and meat boxes for some time at home so we have fresh and seasonal produce for dinners, so we generally not too unhealthy in what we eat. However, I haven't regularly had breakfast for years and lunches have been sandwiches, crisps and chocolate bars or cakes. This is mainly because I've always felt it's just so much easier to make a sandwich. I don't always have the time or imagination to plan ahead for lunches. As a result my hunger and energy levels have often been up and down throughout the day. Starting the plan has really changed that. I have a smoothie in the morning for breakfast which more than keeps me going until lunchtime. The rest of the team in the office no longer have to put up with my stomach rumbling mid-morning.
Lunches are now a lot more substantial than I was having before, more nutritious and lower in carbs. I'm finding that I am less tired and hungry towards the end of the day. Having recipe measurements that are tailored to my own nutritional requirements means I can be sure I'm getting the right amount to eat each day, which I think has been a problem in the past! We're nearing the end of Cycle 1 of the plan now and it has been quite demanding. I do find myself occasionally craving a pizza, but have found the food in the plan to be tasty enough to keep me on track. Fitting in the plan workouts has been a little tricky. Most having to be done in the evenings, but this has worked reasonably well. There is quite a bit of cooking involved, but prepping for a few days lunches at a time does save time. I have got breakfast smoothie making down to a fine art now.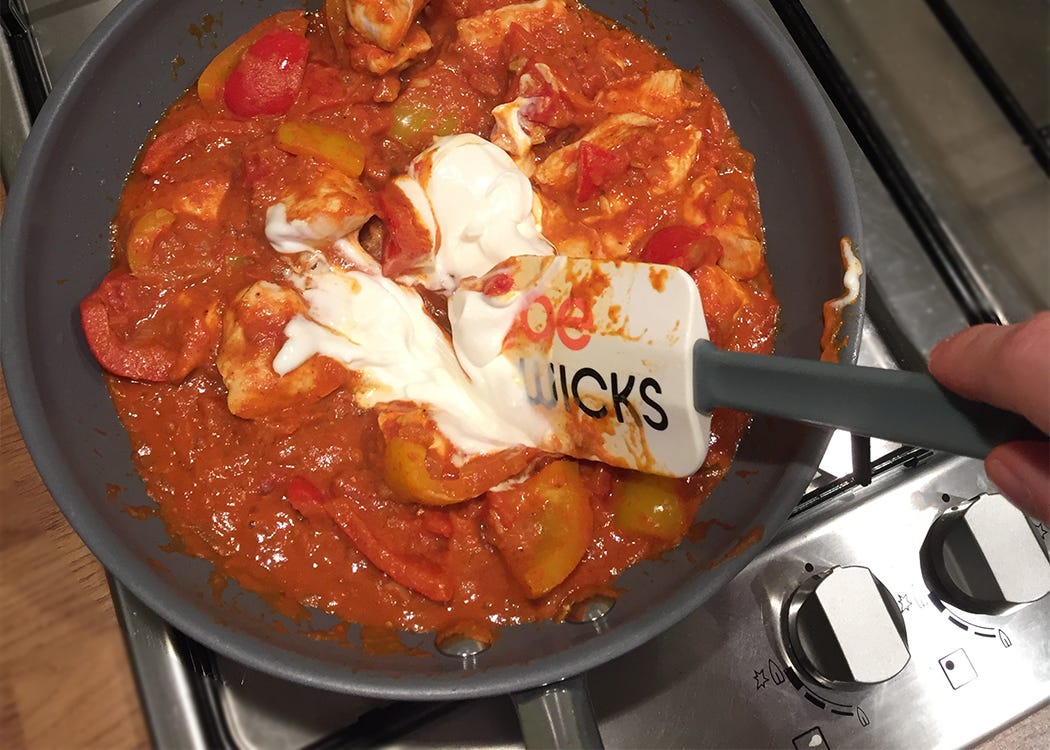 My cookware pick:
The Quick & Even 26cm Non-Stick Stir Fry. I'm quite messy when cooking. My portion sizes for the plan are quite large, so the Stir Fry has been great for me. The sides are high enough that I don't end up spilling food on the hob. So far, I've found the non-stick coating to live up to its name and I've found that it does heat evenly. I also really like the design. The blue, grippy handle makes it distinct from most other pans out there and lets you show a bit of character in the kitchen! The 90 day money back guarantee (in addition to the 5 year manufacturers guarantee!) is a nice touch as well, as you can use it for the full 90 day plan.