Kitchen Accessories & Gadgets Buying Guide
Kitchen accessories and gadgets are an essential part of daily routines in our kitchens and homes often without us even realising. Everyday tasks would be very tricky without them and even though some of these gadgets and tools can be very simple or small they make a big difference. The guide below is an indicator for the best use of each one. Some gadgets serve a unique task, others have multiple uses.
Bin / Bin Bags There are a wide variety of bin bags, especially as more and more household items now have to be recycled. Bags for food bins are biodegradable and are relatively small as they need to be changed regularly to prevent bad odours. Other bin bags are sized to fit small pedal bins, kitchen bins and larger household bins. The handles can vary from tie handles to ones that gather the bin bag together at the top for easy closure.
Blow Torch Blow torches are traditionally used for the finishing touches on desserts and dishes. They are relatively small and light weight and are ideal for browning meringues, caramelising desserts and crisping meats. Blowtorches have a refillable cylinder so they can be used time and time again.
Candles / Reed Diffusers Candles can be used around the home - as a centrepiece on a table using tall and thin table candles, or as a decorative ornament with thick pillar candles. Some candles are fragranced and can be used to neutralise unpleasant smells around the home. Larger candles can burn for as long as 80 hours or more. Reed diffusers are also quite decorative as the tall reeds usually sit inside a glass jar full of a fragrant oil. Reed diffusers last a long time as the oil slowly seeps into the sticks releasing the fragrance into the air, again neutralising any unpleasant aromas. Available in a wide range of fragrances.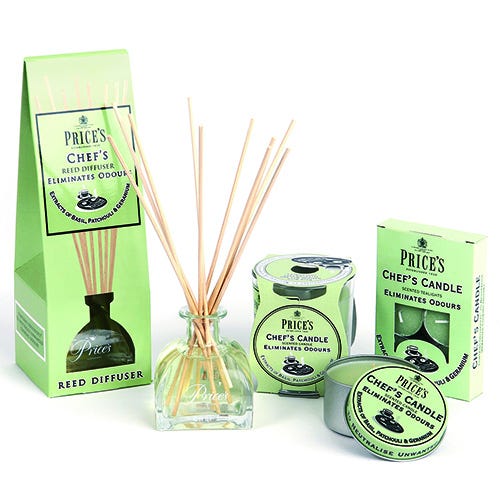 Cheese There are many gadgets and accessories available to make serving cheese easier. A cheese wire will cut cheese with accuracy and ease. A cheese wire will have a small handle at each end to keep your fingers safe when in use, or it can be part of a cheese board. A cheese planer slides across the surface of the cheese giving you slices which are perfect for sandwiches. Cheese bakers are used for baking Camembert and other soft round cheeses in the oven. Normally made from ceramic, they will have a lid and they can also be used to store the cheese in the fridge containing most of the cheese's distinct aromas!
Clips / Ties Clips and ties are used for sealing up bags containing food or ingredients when being stored in a cupboard. The clips are designed like pegs that will hold a folded bag together and come in a range of sizes. Ties are a plastic coated piece of wire that can be wrapped around a scrunched up bag top to keep it closed. Both are ideal for keeping food fresh until you need them again.
Colanders / Sieves Colanders and sieves are used for draining, sifting and rinsing foods. Sieves generally are a mesh shape dome with a long handle used for sifting fine ingredients like flour and icing sugar, this ensures a lump free recipe. Colanders are used for rinsing fresh ingredients and draining cooked foods from boiling water. Colanders have feet or a base so they can be rested on a drainer top.
Clocks Clocks are an attractive feature that can be added to your kitchen and home as a finishing touch. Many clocks can be coloured matched to your colour scheme or theme. Large clocks can be featured like a painting, if displayed in the correct location and can be very eye catching.
Cookbook Cookbooks are essential in your kitchen for the adventurous and those who want to learn the basics. With such a great variety to choose from there is always a cookbook suited to all tastes and dietary requirements. Book stands are used for propping open your cookbook whilst cooking and saves the pages becoming dirty. These book stands are always worth investing in to secure and display your favourite cookbook.
Cookware / Hob Accessories Scrapers are a flat blade that can be used for scraping dried on foods from a flat hob like a ceramic hob. Lighters are used for gas hobs for igniting the gas, most are refillable and have a nice long handle to keep your hands away from the flame. These long handled lighters can also be used for lighting candles.
Drawer Inserts Inserts and trays for holding your cutlery inside your drawer are great for organising and keeping together sets of cutlery and small utensils. Getting the perfect fit can be achieved by measuring and buying a suitable organiser, however some drawer inserts are available that can be expanded in one direction to fit the width of the drawer. These drawer inserts are generally constructed from wood or moulded plastic, both can be wiped clean.
Dressing / Oil Bottles for dressing and serving oil and vinegar are an essential item in the modern kitchen. The oil and vinegar bottles are sometime sold as a matching pair that complement each other. Glass bottles are the most popular because the contrasting colours of the dark balsamic vinegar and the light oil make an attractive feature.
Egg Eggs have a wide variety of tools and gadgets for storing, separating and cooking. Egg storage baskets allow eggs to be stored at room temperature in either a wire frame basket or a tin pail. Separating the egg white from the yolk can sometimes be a challenge, but there are gadgets designed to make this job easy for you. As for cooking eggs, most methods are pretty straight forward but poaching can be a little tricky, therefore there are gadgets and tools that will assist in cooking the perfect poached egg. Slicing eggs can be a little awkward, so egg slicers can help by holding the egg in place and using wires to slice through it.
Fish / Shellfish The modern day love and availability of seafood brings forth with it problems of preparing and serving. Oysters can be exceptionally tricky and a specially designed oyster knife needs to be used for this task. The guarded knife will prevent your fingers getting cut on the shell from slipping. Other tools for seafood include crab and lobster crackers for breaking the shell.
Food Cover Food covers are net covers in a dome shape used for covering food from insects, naughty animals and environmental fibres. Ideally used for large baked batches and cakes or covering food served outside like salads or sandwiches. Covers can be decorative and in a colour or theme.
Food / Vegetable Mill / Ricers Gadgets used generally formashing vegetables are known as mashers, ricers or mills. They all work slightly differently but have the end result of creating a mash. Most of these items require pressing the cooked vegetables through the grater by squeezing the handle or pushing down onto the vegetables.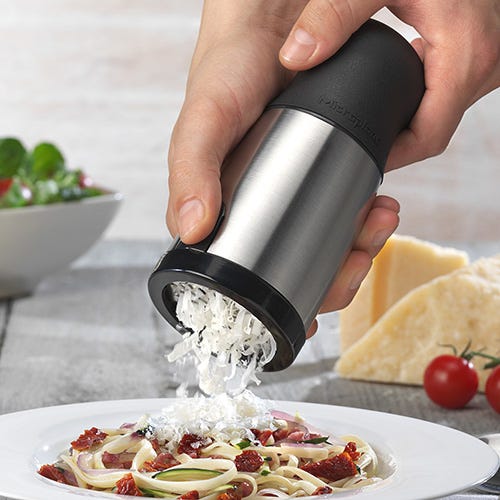 Garlic There are many ways to cut and mince garlic, but being so small and fragrant it can sometimes be tricky. Garlic presses squeeze the garlic clove through perforated holes to mince it, there are several different versions of this. Chopping garlic can be easily done with a specific chopper, the cylinder will contain the garlic in place whilst pressing the top down will chop the garlic, these are ideal for keeping the garlic all together.
Grater A grater is commonly used for grating cheese or shredding vegetables for making salads and coleslaws. The grater will have angled holes across the metal plane. These holes can vary in size from grater to grater, and the holes will affect the size of grated cheese or vegetables.
Gravy Jug / Separator Gravy separators are jugs designed to separate oil and fat from the meat juices after meat has been cooked. After pouring the juices into the jug, the oil and fat will rise to the top. Thanks to the position of the spout at the base of the separator you can then pour out the juices leaving the oil and fat in the separator. The juices can then be used as a stock for a tasty gravy.
Herb & Spice Herbs and spices are used every day in the modern kitchen and need to be stored and dispensed. Ground herbs can be kept in jars in a rack or carousel and can be refilled and relabelled as required. Spice grinders are small mills that can be used specifically for grinding your own fresh spice mixes and storing them yourself. Herb cutters can strip can chop herbs for you to collect and store for a short time.
Hooks 'S' shaped hooks can be used for looping one end over a structure and the other for hooking on a towel apron or utensil. Other pan and utensil hooks can also connect via different ways to an existing rack, with particular hooks for that rack like a swivel hook.
Ice Cream / Lollies / Jelly Ice cream and lolly mouldsare a great activity to get kids involved in making and they certainly enjoy eating them. In fun, colourful and novelty shapes, the ice cream and lolly moulds are sure to entertain especially during the summer holidays and parties. Jelly moulds can also be fun, seeing the wobbly monster or animal come to life, these moulds are a must-have for any childrens' get together.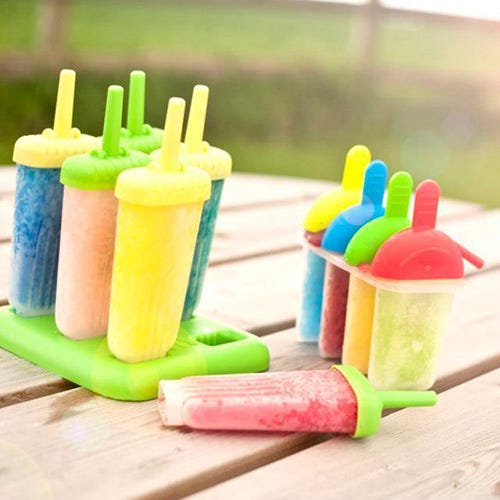 Jam / Preserve Everything you'll need to make your own home-made preserves, jams and pickles. After cooking your fruit or vegetable you will need a straining bag to get all of the puree and jam out, the bag will be made from a fine cloth to hold back all of the pulp, these bags can rest over a bowl in a frame or hang above with a hook, once all of the jam is collected there is a massive range of jars, pot covers and lid and labels, to store, gift and serve your preserve from.
Juicer / Reamer Used for extracting the juice from any citrus fruit, a juicer can be a simple handheld gadget or a full press. The handheld version will be a wide ribbed tool that when pressed into the fruit and squeezes out the juice. Similar to this are dishes with the reamer attached so the juice is collected. Presses use a lever to press the cut half fruit down onto a small domed reamer and the juice is collected underneath in a container.
Mandoline / Slicers / Choppers These gadgets are used for cutting, slicing and chopping fruits and vegetables with less mess and fuss. Slicers and mandolines use a guard to feed the vegetables through pressing them onto the slicing blade. Using a back and forth motion slices with be made and collected underneath the blade. Spiralizers fall under this category too. Different types of blade are used to cut vegetables into long spaghetti-type strips or ribbons. There are two main types of spiralizer – a hand held version which you manually use to create the strips and the worktop version where you use a handle to spin the vegetable around to create the strips.
Measuring / Scales There are many ways of measuring food and ingredients accurately at home in your kitchen. Measures are available that can selected portion sizes for spaghetti or marked measuring jugs for liquids. Measuring spoons and cups some in a set and are held together with a ring, all are marked with the measuring size on them. Scales on the other hand have several functions and can be adjusted to measure different units, usually pounds, ounces and grams. Some more advanced digital scales can work out calories and fluid measures.
Mincers / Sausage / Burger Makers Making burgers at home can be a bit tricky, especially getting all the ingredients to stick together, so using a burger press will compact the mix and shape the burger at the same time. You can use paper discs to prevent burgers sticking together when chilling or freezing them prior to cooking. A mincer can be used to make your own burger or sausage meat. Feed pieces of meat into the machine and turn the handle to grind and force the meat through a disc creating the mince. The mincer is held securely in position on the worktop with either a suction clamp or screw clamp. Some mincers come with a sausage making nozzle, but if not a sausage maker is available. Place the sausage meat into the machine and turn the handle which forces the meat out of the nozzle into the sausage skins. Both these machines allow you to know exactly what is going into your burgers and sausages.
Mixing Bowls Mixing bowls are generally used for mixing cakes, sauces, bread and biscuits although essentially they can be used for most things. Mixing bowls can either be stainless steel, glass or ceramic. Glass bowls are better for using with electric mixer as the noise is reduced against the surface. Bowls start from small sizes, ideal for small amounts like whisking eggs right up to a generous size for making a big batch of cake or bread mix.
Nut Cracker Nut crackers are used to break through the shell of nuts to be able to get to the nut itself. The two handled tool is designed to squeeze the nut where to two handles meet, there is usually a grip here too that will hold the nut in place.
Pantry Bags Pantry bags are linen bags ideal for keeping your onions, potatoes and other root vegetables out of strong light and keeping cool in your larder. The bags will be sturdy and thick to allow the vegetables to be in the dark, this prevents them from spouting roots or eyelets to reseed. Keeping these foods cool are essential to prevent the vegetable softening.
Pasta Fresh home-made pasta is always a joy to make when you have the right tools for the job. A pasta machine will roll perfectly sized pasta to your desired thickness ready for you to turn into your favourite pasta. The thin rolled pasta can then be cut using a pasta cutter to a desired shape or pressed into Ravioli.
Picnics / Cool Bags Picnic and cool bags are essential when eating out and about, days at the beach or a picnic in the park. Ideal for storing cool drinks, salads and sandwiches, the bags are insulated and protective against all elements. Smaller versions of these are great for school lunches and lunches for work where no cooling facilities are available.
Pot Racks Pot racks can hang fromeither the ceiling or the wall. They will have many hooks on them used for hanging saucepans and other pots with handles. The racks can be just a single line or several in a complete rack. Hooks can be added later if more are required. Racks are generally made from a strong metal and sometimes wood and come in a variety of finishes.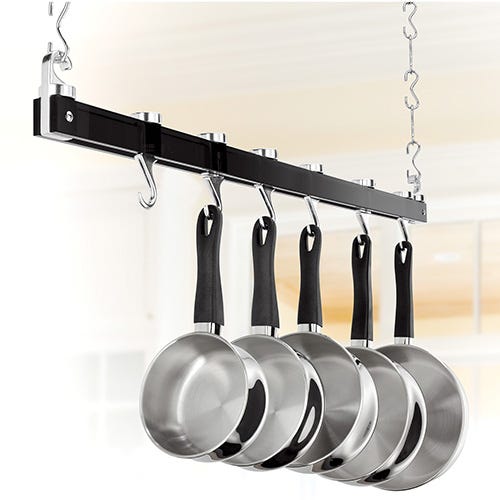 Roasting Roasting bags are ideal for cooking meats and marinated food in the oven, after marinating meat and adding other ingredients, the bags can be sealed and put on a baking tray. This will keep everything together whilst roasting. Also for a roast dinner the bags will help crisp up the meat and cook through perfectly.
Salad Spinner / Accessories A salad spinner is used to remove all moisture from washed salad. Place the leaves or vegetables in the basket after being washed, pop on the lid and spin with the handle, all the water will be spun off through the basket and be collected in the bowl. Ideal for serving a fresh salad straight away.
Sink Organising your sink to keep fresh and clean can be easily done with a few accessories. A long thin wire brush is ideal for keeping the plughole free of debris and clear from blockages, in the same way a plughole cover will catch debris and prevent blockages. A drainer organiser is perfect for keeping together your sponges, brushes and liquids without creating mess and clutter.
Skewers Skewers are ideal for summer barbeques and evening treats. You can skewer on meats and vegetables or seafood and place across your barbecue or oven grill to create an interesting meal. Skewers can be made from wood for one time use or metal for use time and time again. Metal skewers tend to have flattened side to help stop the meat and vegetables from spinning around when you turn the skewers over.
Storage Correct food storage is essential to avoid waste and mess, especially after something has been opened but not fully used. This applies to liquids and food alike. Freshness is a key factor and keeping bacteria at bay is also very essential. Plastic tubs with seals and clipped lids work perfectly as the lids are safe and secure and even leak proof for liquids. Check each product for dishwasher and microwave safety as they may not always be suitable.
Timers / ThermometerAn essential item in the kitchen for getting timing right for intricate recipes, a timer needs to keep track whilst you are busy juggling. Thermometers will make sure that your meat and oven temperatures are ready too. Thermometers range from meat thermometers to baking/sugar thermometers.
Cleaning and Storage
Cleaning
Most kitchen tools and gadgets are generally ok for dishwasher use, however always check the manufacturer's guidelines on this as some may not wear well after prolonged dishwasher use. Alternatively, clean gently in hot soapy water.
Storage
Some items are designed to be stacked together but delicate items like china and glass should be handled carefully and not stored with other heavy or sharp items that could damage or break them. Bulkier items should be stored separately and not stacked where they could damage other smaller delicate items.