Kitchen Electricals Buying Guide - Beverages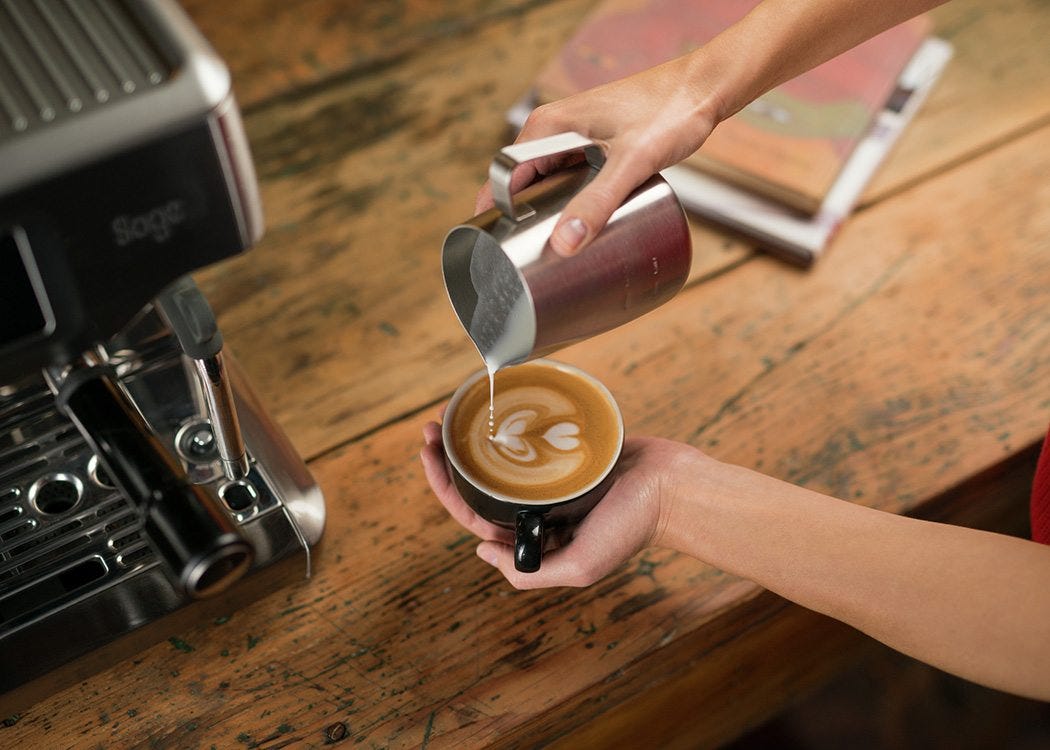 Enjoying a perfect cup of tea or coffee is one of the daily pleasures we all enjoy and there are many products now available to enable us to achieve that pleasure with outstanding results.
This guide explains some of the different electrical products available to make the best beverages.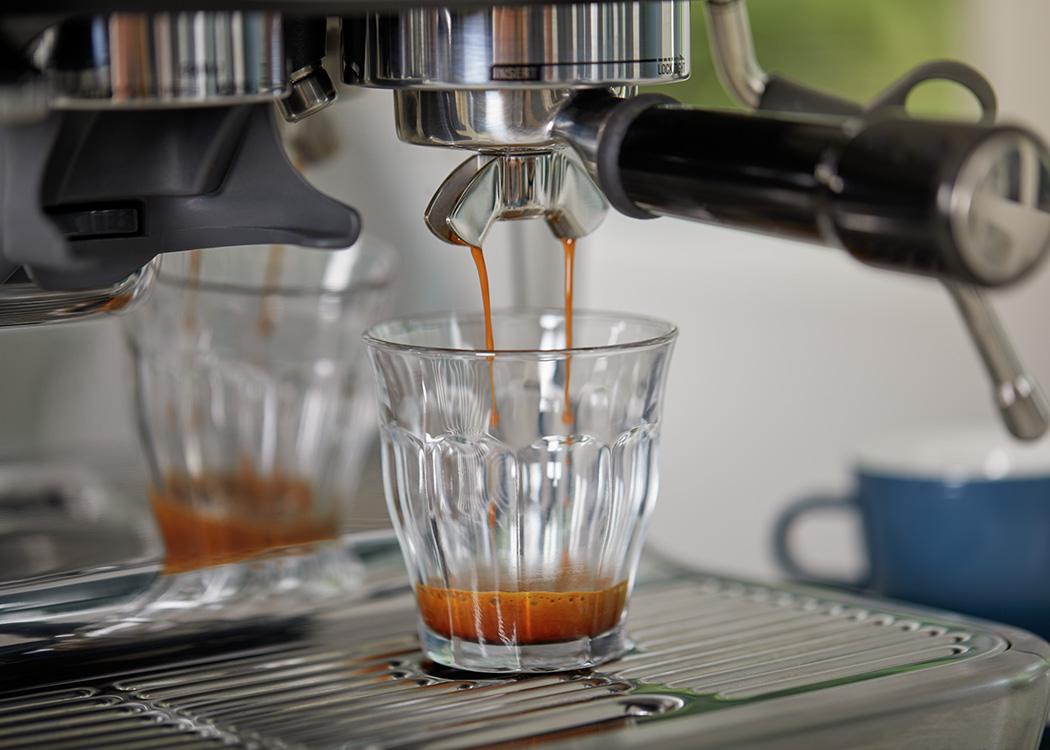 Having a cup of fresh coffee in your own home is one of life's pleasures. But it can be quite a minefield when it comes to choosing the right coffee machine.
Electric coffee machines can be split into four main categories - Filter Coffee Machines, Pod/Capsule Coffee Machines, Manual Espresso Machines and Automatic Bean-to-Cup Coffee Machines.
Filter coffee machines are simple to use and produce a beautifully smooth tasting coffee. Coffee grounds are placed in a paper or metal filter set over a carafe. Hot water is then poured over the coffee grounds which release the full flavours and aromas of the coffee. Some filter machines have built-in timers allowing you wake-up to the smell of freshly brewed coffee.
Pod or Capsule coffee machines are the epitome of speed and efficiency. Simply insert a coffee capsule of your choice and the machine does the rest. Great if you are short for time or not bothered too much about personalising your coffee.
Manual Espresso coffee machines allow you to create barista style coffee in your own home - great for coffee enthusiasts. They require more manual interaction but this allows you to customise and tweak to your hearts content until you get that perfect cup of espresso - the base of so many styles of coffee. Some manual espresso coffee machines have an integrated burr grinder and/or a steam wand for texturing milk.
Automatic Bean To Cup coffee machines use freshly ground coffee beans to make coffee at the touch of a button. Select your desired drink, press the button and away it goes. The machine will automatically grind the correct amount of coffee, heat the water to the correct temperature and texture and add milk if it is required. Many machines self-purge after use. Automatic bean to cup coffee machines normally come with a price tag that reflects the technology the machines use.
Ideally you'll want to select a machine that matches your lifestyle - whethere you need a no-frills machine that makes coffee quickly and consistantly or one that allows for customisation if you are a budding barista! Budget is another important factor as some of the high-end automatic bean to cup machines are very expensive. Another factor to consider when choosing an electric coffee machine is whether you like your coffee with or without milk. Some machines include the facility to make frothy or textured milk or there are stand alone alternatives. Again this will affect the price of the coffee machine.
A SELECTION OF OUR BEST SELLING COFFEE MACHINES
Coffee Machine Finder
Welcome to our coffee machine finder, designed to help you find your perfect electric coffee machine. We have put together this helpful tool that lets you sort through our coffee machines and select the one that is exactly what you're looking for. The coffee finder does the hard work for you and returns a list of the best matches based on your responses to a short list of simple questions. Why don't you give it a go and see which coffee machine is right for you?
---
Milk Frothers
Electric milk frothers are a quick and easy way of making foam to add to a shot of espresso if your coffee machine doesn't have a milk steaming or texturing option. Perfect for cappuccinos, lattes, flat whites and macchiatos, they can also be used to make an indulgent hot chocolate. Electric milk frothers fall into two main categories - handheld frothers and jug frothers...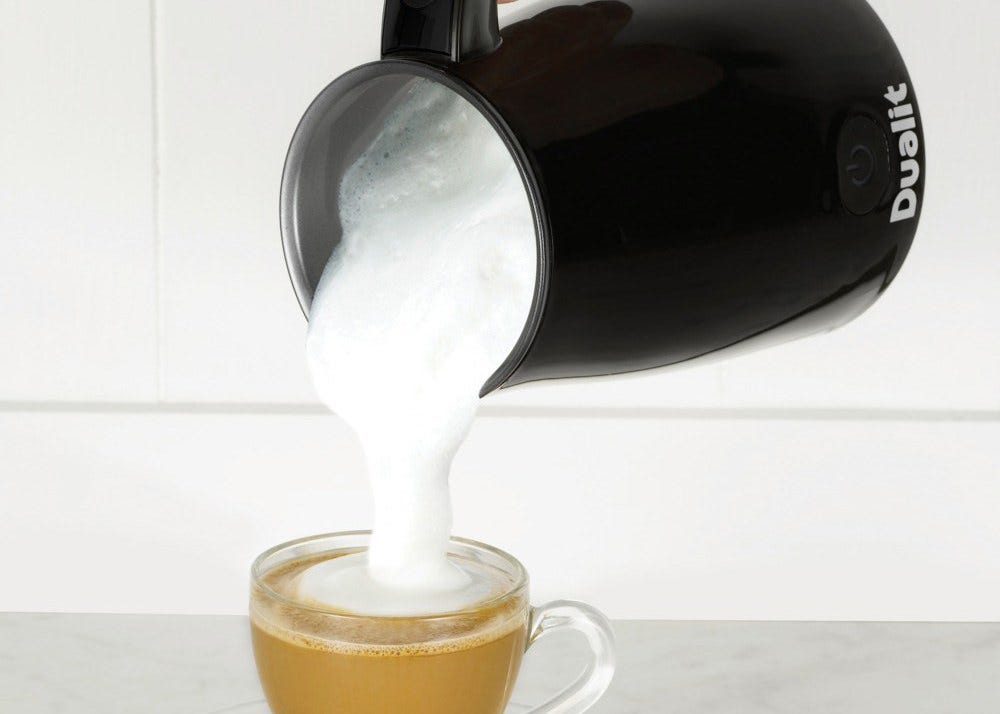 Handheld frothers are wand-like devices with a small battery-powered motor which powers a small whisk at high speeds. Inexpensive and compact, they can froth hot or cold milk straight in a cup or jug.
Jug style milk frothers as the name implies look like a jug with a small induction ring in the base to power the whisk. Available in varying sizes, some have a handle to make pouring easier and many have the facility to heat the milk as it is gets frothed. Certain jug frothers also have the ability to select the volume of foam.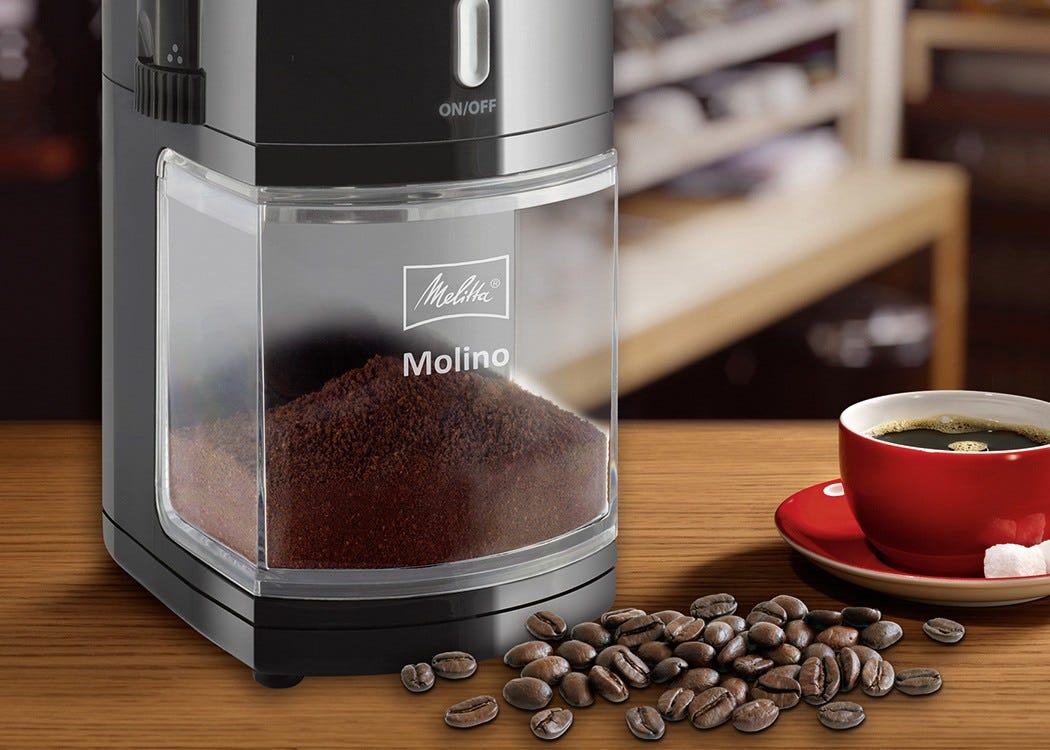 Coffee Grinders
The best way to make coffee is using freshly ground beans. If your coffee machine doesn't have an integrated grinder you will need a separate machine to achieve this. There are two main types of coffee grinder available - burr grinders and blade grinders.
Blade grinders offer a cheaper solution and use a blade to cut the fresh beans. The downside is they don't produce consistent-sized ground particles and there's less control over the size of the grounds. Another downside is the heat generated from the speed of the blades can affect the quality of the coffee.
Burr grinders tend to be more expensive but, although slower, produce consistent results with the ability to select the size of coffee grounds - fine grounds for espresso machines, medium grounds for filter machines and coarse grounds for cafetieres. Burr grinders use two revolving plates (or burrs) inbetween which the beans pass and are ground. Some top of the range burr grinders also work out the exact dosing amount for the perfect cup of coffee, automatically adjusting the grind time to the grind size.
SOME OF OUR MOST POPULAR ELECTRIC COFFEE GRINDERS
Tea Makers
Electric tea makers are very similar in appearance to a traditional electric kettle and in essence that is what they are with the addition of a tea infuser to extract the maximum flavour from loose tea leaves. On some models the infuser automatically lowers and raises to achieve the optimum steep time. Most electric tea makers have variable temperature settings - lower temperatures for delicate infusions such as green tea through to higher tempereatures for coarse infusions such Assam. Of course electric tea makers can also be used for boiling water just like a traditional kettle.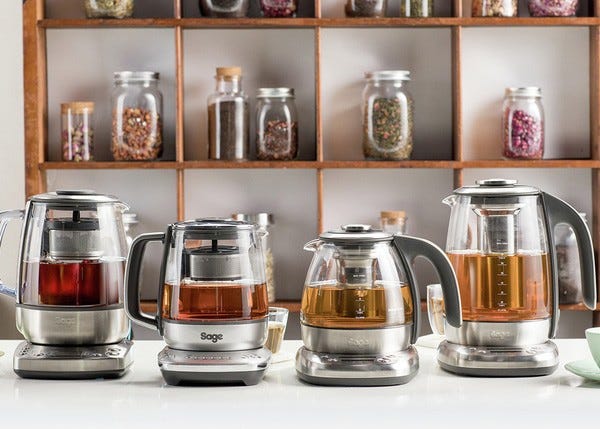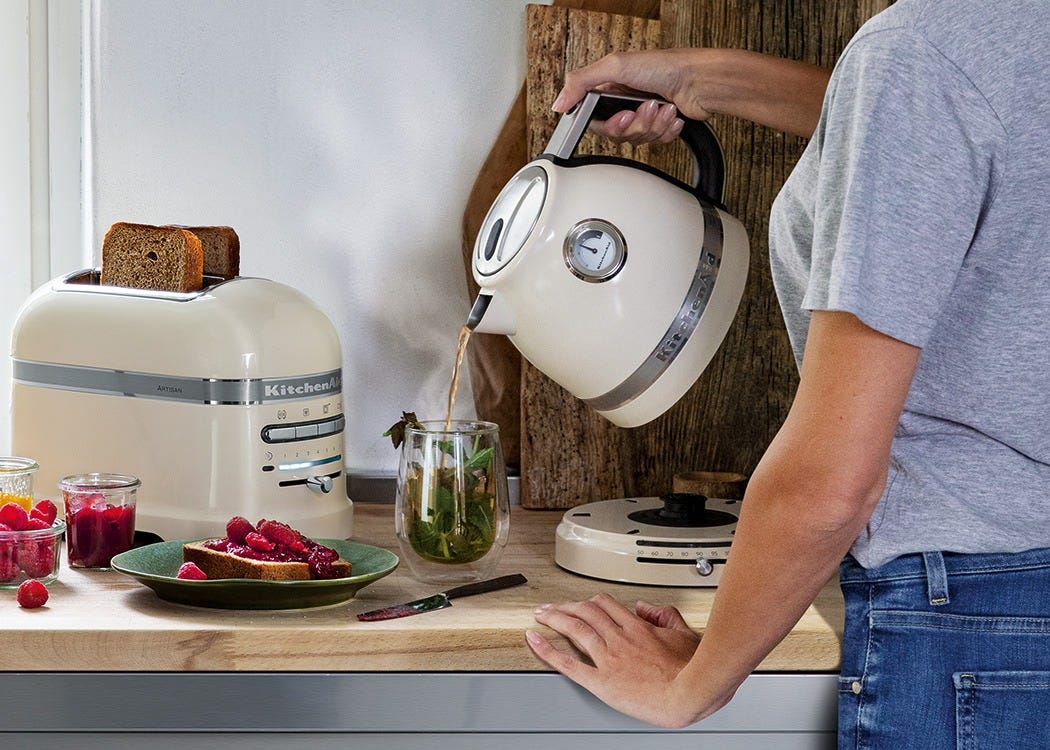 Electric Kettles
Today electric kettles have become extremely efficient devices for quickly boiling water. Heating elements are concealed and more powerful than a few years ago. Rapid boil kettles tend to be quite noisy though, so look out for models with the Quiet Mark if you think this may be an issue.
Most modern kettles are cordless to make filling and pouring easier and safer. These will have a 360° power base that they sit on when in use. Available in a range of sizes, electric kettles normally have a water window with cup measures allowing you to boil just the amount of water required to save time and energy.
A comfortable handle and non-drip pouring spout are important factors to look out for, as are safety features such as boil-dry safety cut-off.
Many modern electric kettles now feature variable temperature controls - perfect for making delicate infusions such as green tea.
There are many designs of electric kettle available - from traditional to contemporary available in a range of materials including stainless steel, glass and plastic. So whatever your style of kitchen, there will be a kettle that will match it perfectly.
THREE OF OUR FAVOURITE ELECTRIC KETTLES
---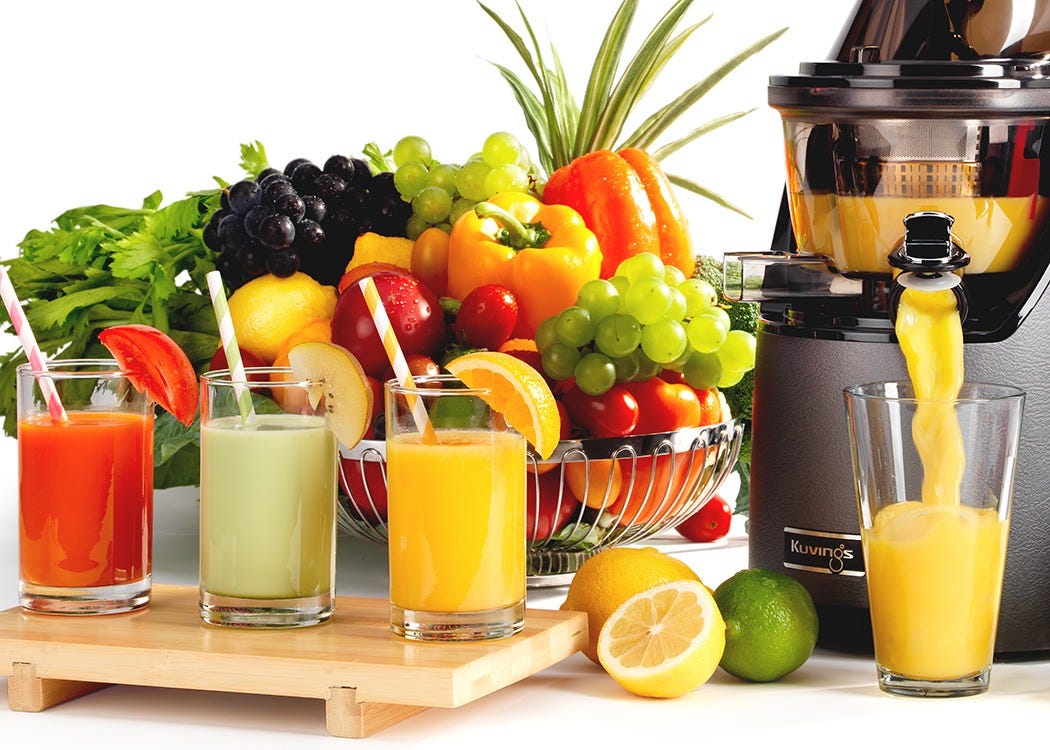 Electric Juicers
An electric juicer is a great way to get your five-a-day. There are two main types of electric juicer - centrifugal and slow or cold press.
The most popular and affordable option are centrifugal juicers. They use a high speed spinning blade surrounded by a sieve to separate the juice from the pulp. Centrifugal juicers usually have two speed settings for soft and hard fruit and vegetables. Although they can be quite noisy to operate and not as good at juicing certain ingredients. they are cheaper to buy and easier to clean.
Masticating or slow juicers use slowly rotating augers (gears) to press the juice through a sieve. The slower speed of this type of juicer provides a better quality of juice with a higher yield (you are left with a dry pulp). Leafy greens such as kale and wheatgrass are processed much better than by a centrifugal juicer and there is no heat transfer that can affect the antioxidants and enzymes in the juice. Masticating and slow juicers tend to be more expensive than centrifugal juicers.
A SELECTION OF ELECTRIC JUICERS FROM OUR LARGE RANGE