Le Creuset Deep Teal Collection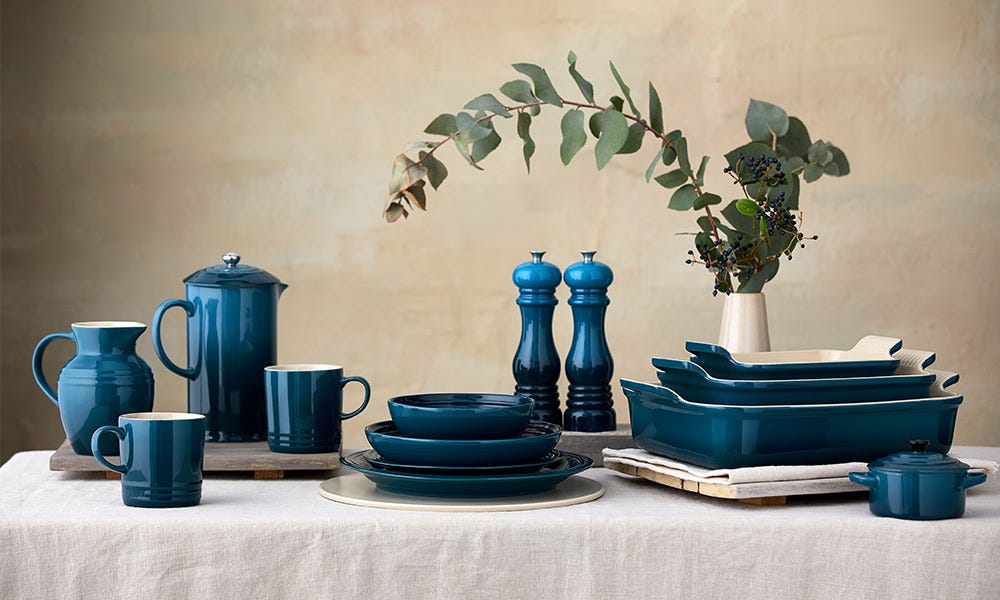 Velvety and vibrant, the exciting Le Creuset Deep Teal collection will add a touch of class and sophistication to any kitchen. Combining the calming properties of blue with the renewal qualities of green, Deep Teal is a revitalising and rejuvenating shade. As shades of blue continue to lead interior trends, this darker, rich hue embodies an inviting atmosphere in the home encouraging relaxation.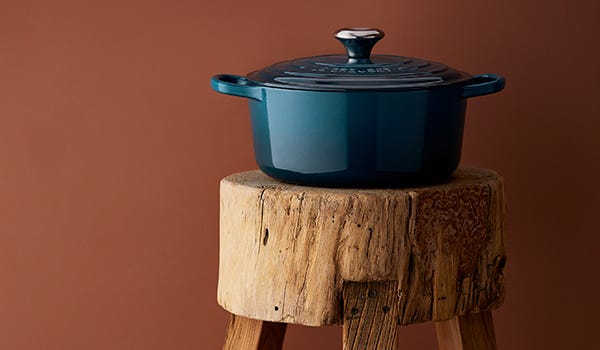 Le Creuset Signature Deep Teal Cast Iron Round 24cm Casserole
Versatile and an essential kitchen classic that is perfect for one-pot recipes including stews, pasta and even baked bread or cakes. Ergonomic stainless steel knob - stylish and durable brushed stainless steel finish. Easy comfortable natural grip, that is suitable for all temperatures.
The engineered lid boasts a tighter fit with built in stabilizers for enhanced moisture lock in and flavour when cooking.
Le Creuset Signature Deep Teal Cast Iron 30cm Shallow Casserole
Considered the most versatile of Le Creuset cast iron cookware, the shallow casserole is perfect as a stir-fry pan, baking and serving dish. From tender and flavourful meat to creamy risottos, the large flat shape and shallow sides of the Shallow Casserole are ideal for browning meat and vegetables, simmering casseroles, stir frying and baking.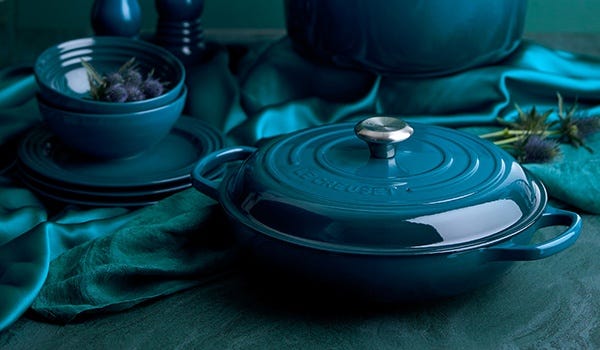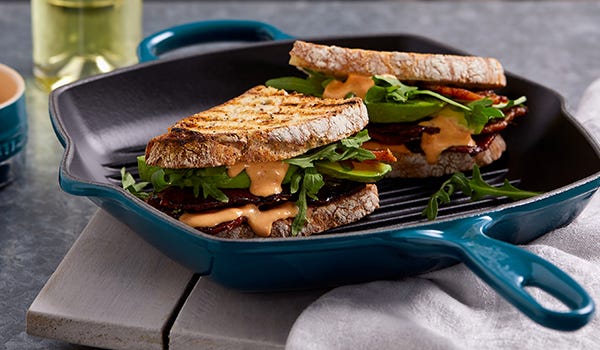 Le Creuset Signature Deep Teal Cast Iron 26cm Grillit
The cast iron Grillit is coated with Le Creuset's satin black enamel finish which is both durable and easy to clean. Ideal for searing meat, vegetables and fish, the natural patina that develops over time enhances the pan's searing and frying capabilities. The Le Creuset Deep Teal Signature Cast Iron 26cm Grillit is a healthy and professional way to sear and fry meat, fish and vegetables.
Recipe: Creamy Butternut Squash Linguine - Serves 6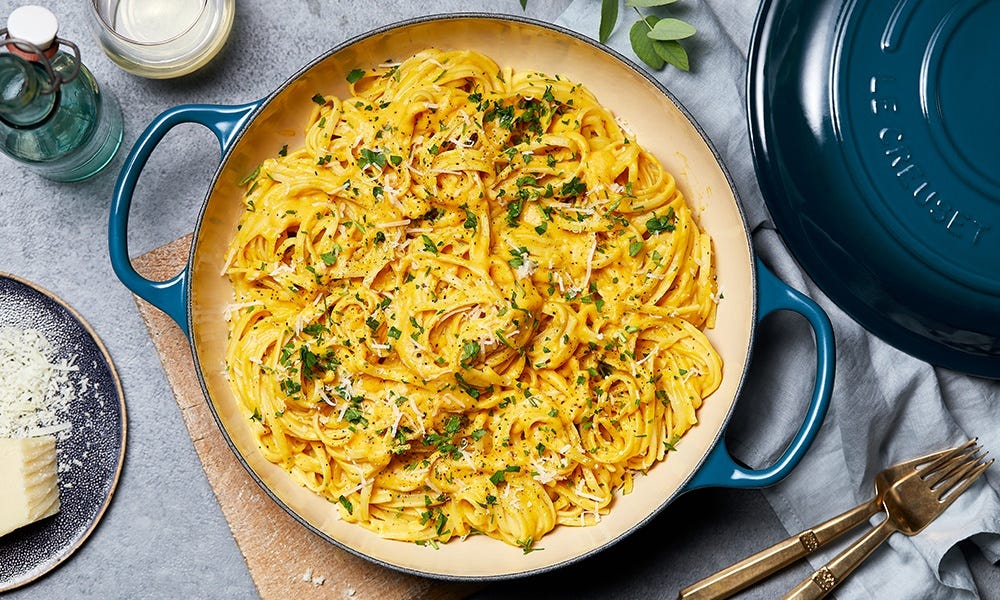 Preparation time: 5 minutes | Cooking time: 35 minutes
INGREDIENTS
750g butternut squash, diced
1 white onion, roughly chopped
2 garlic cloves, peeled
2 sage leaves
5 thyme sprigs, leaves picked
½ teaspoon ground nutmeg
Sea salt and cracked black pepper
1 tablespoon oil
400ml vegetable stock, warm
180ml double cream
50g Parmesan cheese
500g fresh linguine
Fresh parsley, roughly chopped to serve
METHOD
Preheat the oven to 180°C/ 160°C Fan/ Gas Mark 4.
Place the diced butternut squash in the Signature Cast Iron Shallow Casserole along with the onion, garlic, sage, thyme and nutmeg. Season with salt and pepper before drizzling over the oil.

Give all the ingredients a toss in the oil and then roast in the preheated oven for 20 minutes. After this time, turn the butternut squash and continue to roast for a further 10 minutes (you don't want to colour the squash, rather just soften).

Once the squash is cooked through, remove from the oven and spoon into a blender. Add the stock, cream and Parmesan before blitzing into a smooth, silky sauce.

Return the sauce to the casserole and place over a medium to low heat. Add the fresh pasta and warm through until the pasta is cooked - this will take 3-5 minutes. If the sauce is a little thick, add a splash of warm water.

Finish with the roughly chopped parsley.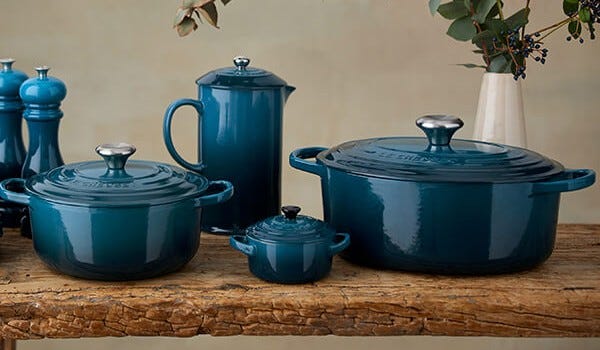 Le Creuset Deep Teal Stoneware Petite Round Casserole
Perfect for cooking and serving single portions or individual side dishes. It is also the ideal size for dips, condiments, and nibbles. The lid makes it practical for heating up sauces in the microwave or keeping snacks fresh.
Le Creuset Deep Teal Stoneware Cafetiere
Designed to let you enjoy coffee in colour! Coarsely ground coffee beans are steeped in boiling water, and then filtered by plunging the mesh sieve through the press.
Direct contact between the beans and the water means a stronger flavour. Loose tea leaves can also be used in a cafetiere. 1L capacity.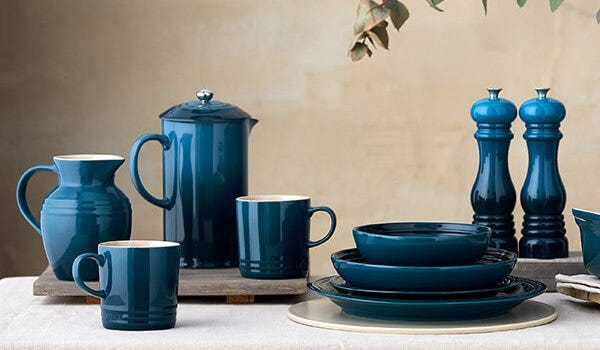 Other Le Creuset Stoneware items pictured
Recipe: Stuffed Baked Apples with Hazelnut Crumb & Cider Caramel Sauce - Serves 4
All the flavours of autumn, these baked apples are stuffed with plump sultanas, mixed spices and brown sugar. Topped with a hazelnut crumb for a little crunch, these apples are finished with a decadent cider caramel sauce for a hint of sweetness. Use the Le Creuset Deep Teal Stoneware Petite Round Casserole.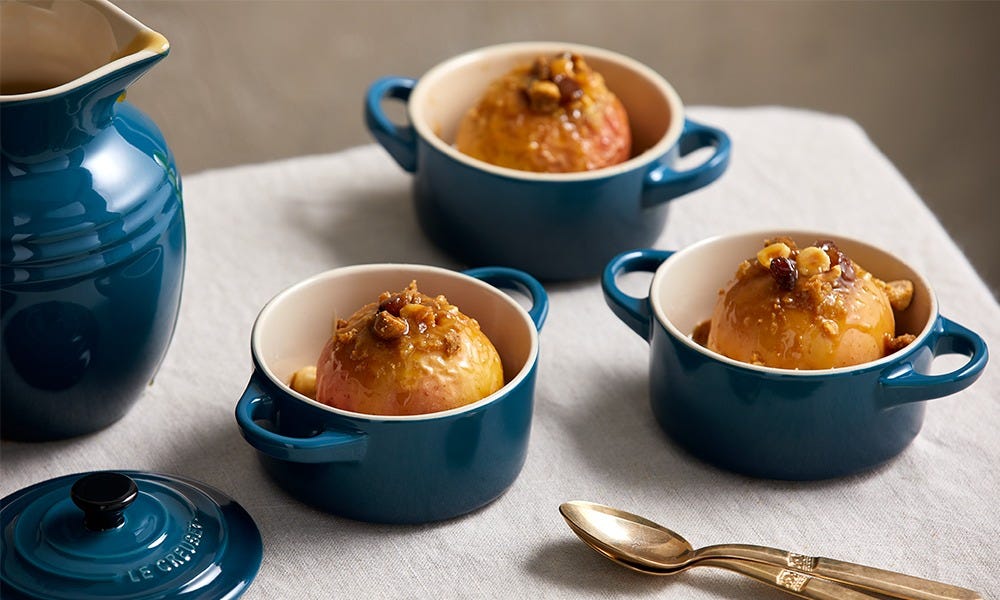 Preparation time: 5 minutes | Cooking time: 25 minutes
INGREDIENTS
4 apples, medium sized
2 tablespoons softened butter
2 teaspoons mixed spice
1 teaspoon vanilla extract
30g sultanas or raisins
2 tablespoons demerara sugar
For the hazelnut crumb
25g butter
50g plain flour
25g muscovado sugar
20g blanched hazelnuts, roughly chopped
For the cider caramel
50g butter
50g muscovado sugar
75ml apple cider
60ml double cream
METHOD
Preheat the oven to 180°C/ 160°C Fan/ Gas Mark 4.
Core and score round the middle of each apple - place one in each petite casserole. In a separate bowl, combine the butter, mixed spice, vanilla and sultanas. Divide the butter mixture between each apple and fill the cores with the mixture.

To make the hazelnut crumb, use your fingertips to rub the butter into the flour and sugar to form a sandy texture. Add the hazelnuts, then sprinkle the mixture over the top of the apples. Place in the oven and bake for 20-25 minutes until the apple is soft.

In the meantime, make the cider caramel sauce. Place the butter, sugar and cider in a heavy-bottom saucepan. Simmer over a medium heat for 8-10 minutes until thick and sticky. Take off the heat and stir through the cream.

Return the sauce to a low heat and simmer gently for a further 3-5 minutes until a thick glossy sauce is achieved. Keep warm until ready to serve.

Remove the baked apples from the oven, pour over the cider caramel, leave to cool a little and then finish with a scoop of vanilla ice cream.