Stellar Rocktanium - non-stick that'll rock your world
We've all owned a 'non-stick' pan that does the exact opposite of what it's supposed to do. Everything you put in the pan sticks and ultimately burns. Or even worse - bits of the non-stick surface peel off and stick to the food you are cooking. Not nice and potentially harmful if ingested. But it doesn't have to be this way. There's a new star in town and it comes with some great credentials. Meet Stellar Rocktanium.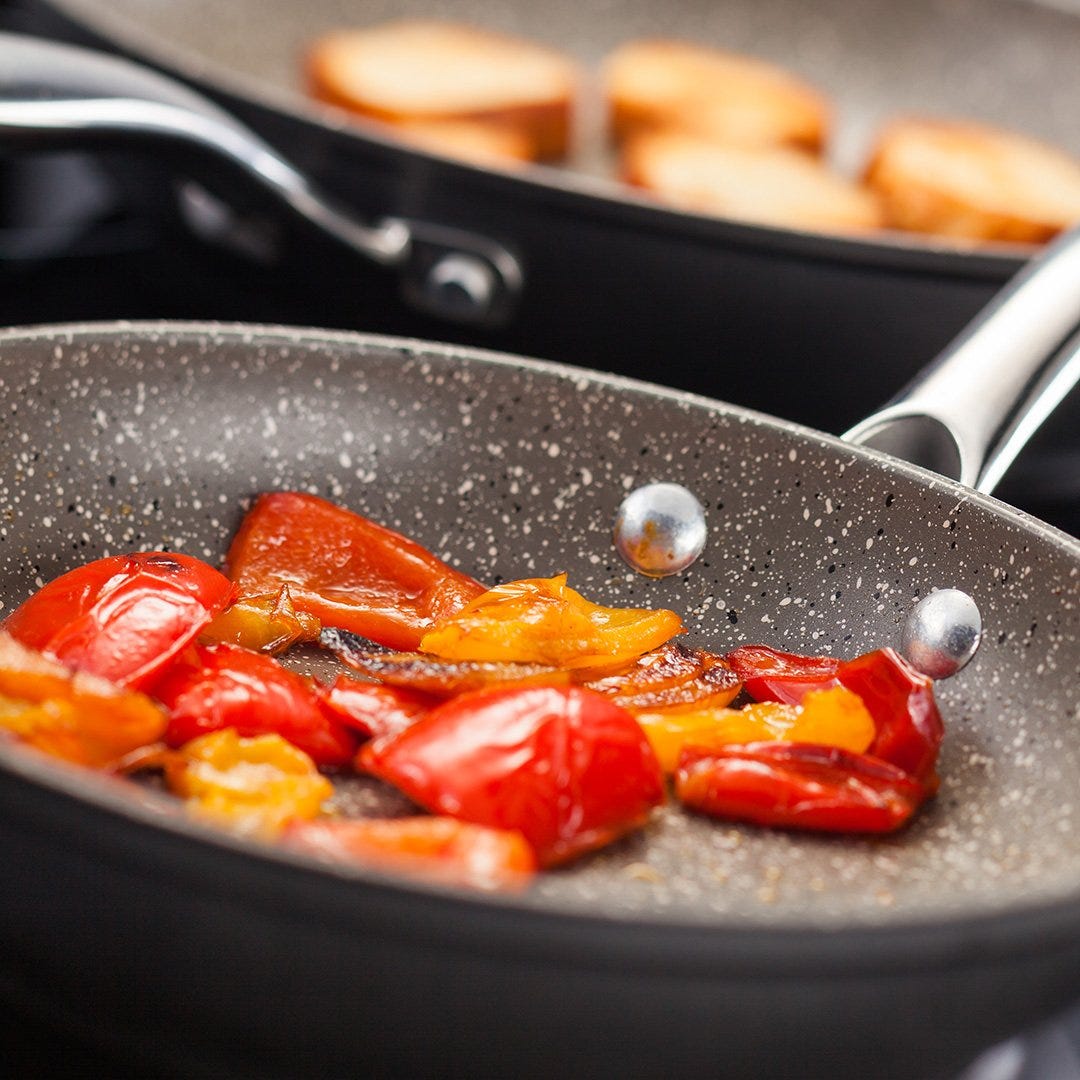 Stellar Cookware - a fine heritage
Stellar are renowned for producing top quality cookware which performs well and is also kind on the wallet. Take their classic 1000 range of stainless steel cookware as an example. It is a tireless and reliable workhorse in the kitchen. I should know. I was given a set of these saucepans as a gift to see in the millennium (long before I started working at Harts, but purchased from us none-the-less).
Fast forward just over 18 years and they are as good as new. They have survived punishing daily use which has included the raising of two children. And are chucked into the dishwasher on a daily basis, from which they always emerge sparkling and shiny. But what qualities does the Stellar Rocktanium range bring to the table, or more accurately, the cooker? Read on to find out.
Some of our best selling Rocktanium cookware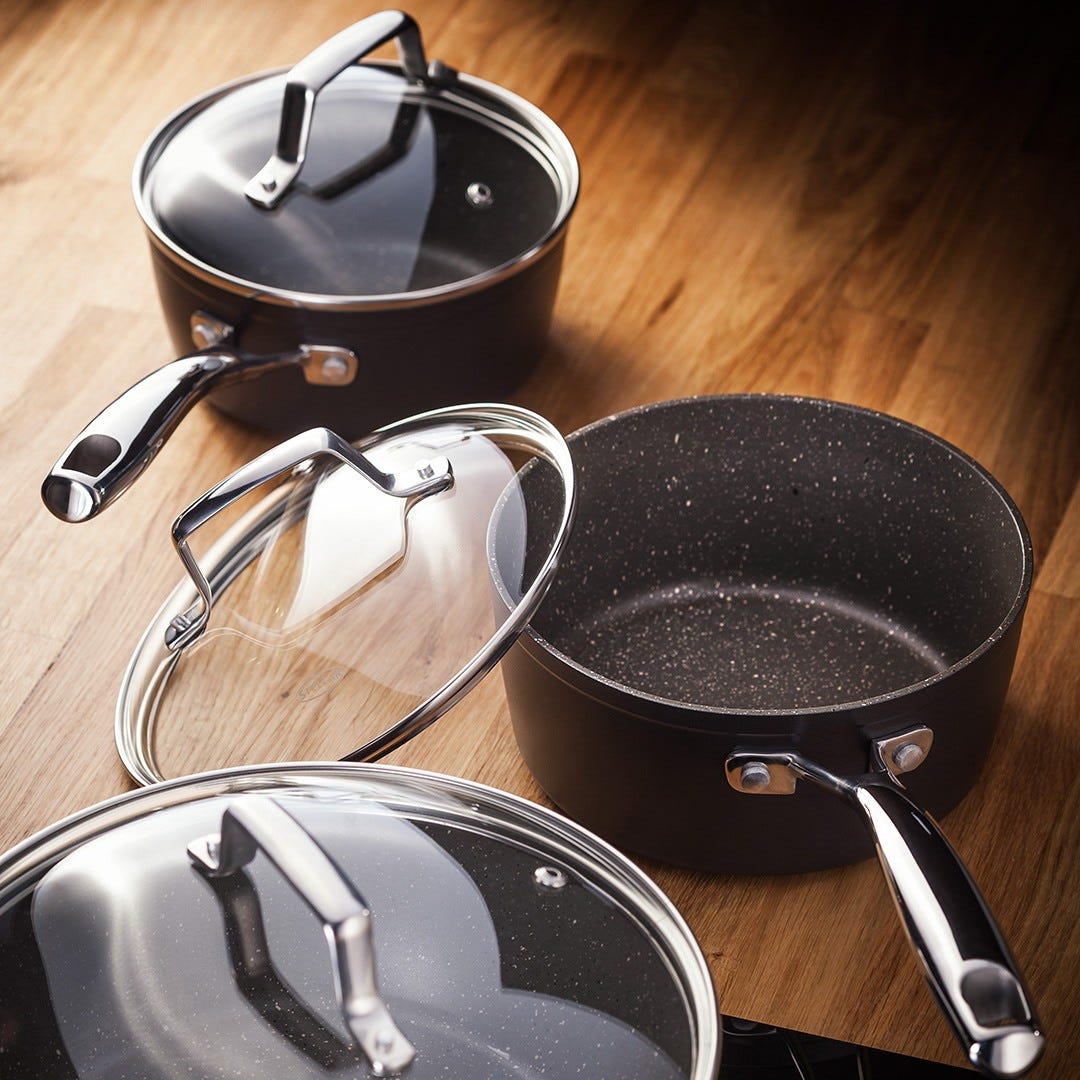 Stellar Rocktanium - features and benefits
Well, for a start it is harder and more durable than conventional non-stick cookware, so is less prone to scratches and chips. It looks great too. Rocktanium cookware features a stone-effect interior which complements the cool grey exterior. This QuanTanium non-stick surface is PFOA-free, ridiculously easy to clean and requires little to no oil, so there are added health benefits too.
The thick aluminium construction provides excellent heat distribution so you won't end up with annoying hot spots. It is also suitable for any type of hob including the increasingly popular induction models.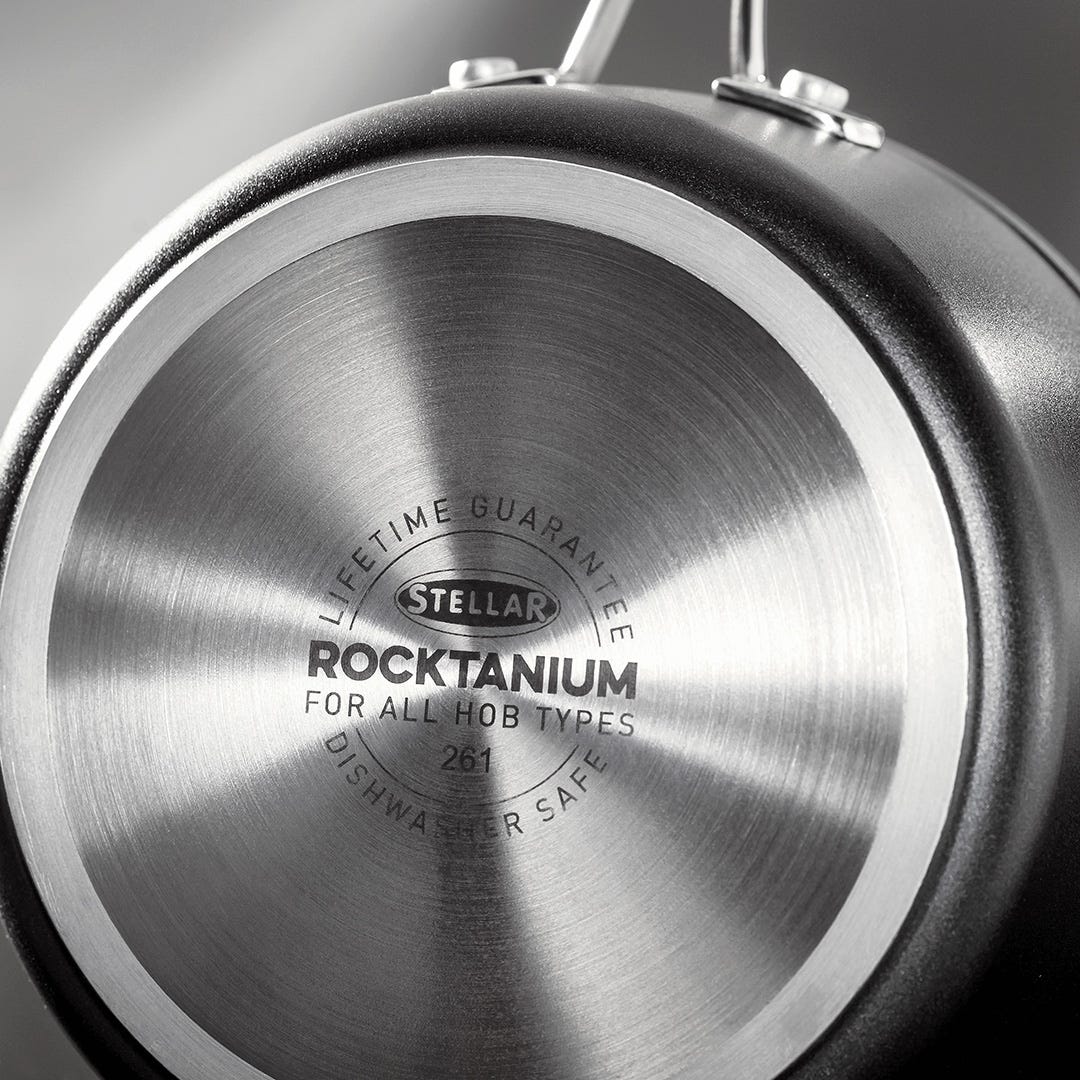 Suitable for use on all hob types including induction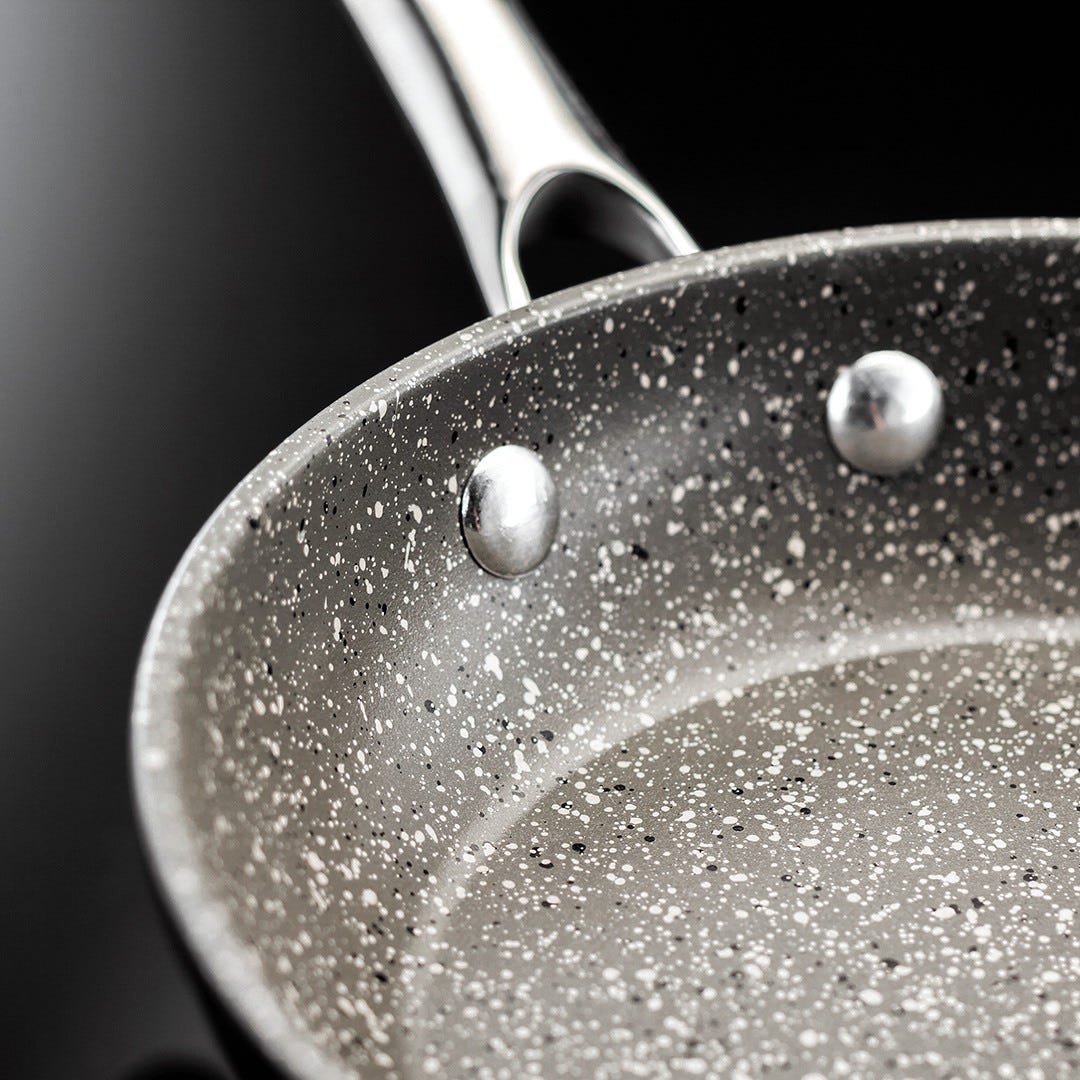 Tough, scratch-resistant and non-stick surface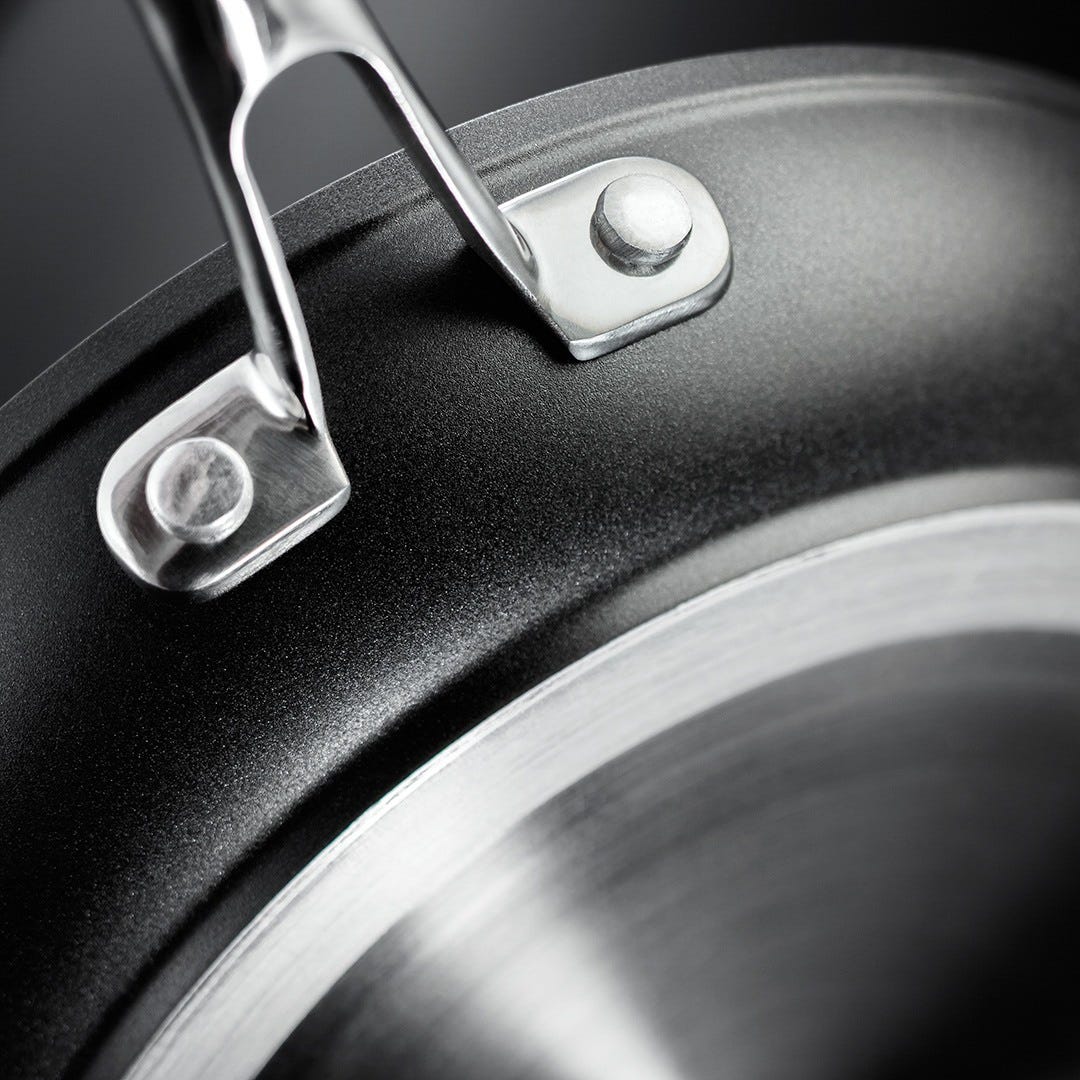 Riveted handle for extra strength and durability
The Stellar Rocktanium range includes five sizes of frying pan (from 20cm up to a family-sized 30cm), a milk pan, a milk/sauce pot, three sizes of saucepan (16cm, 18cm and 20cm all with glass lids), a 30cm wok, a 26cm grill pan, a 20cm multi steamer casserole and a 24cm saute pan, again with a glass lid. There are also various Rocktanium sets which offer great savings compared to buying individual items of cookware.
The hollow cast riveted handles provide a comfortable and sturdy grip and help to reduce any heat transfer from the pan. The handles also allow this cookware to be used in the oven up to a temperature of 210°C. This is handy when cooking dishes that require finishing in the oven - such as frittatas or frying pan pizzas. Just remember that the handles will heat up when placed in the oven. So always wear oven gloves or use a tea towel when removing from the oven.
The lids provided with the saucepans and saute pan are made from glass. They are vented to prevent pressure build-up and allow you to keep an eye on your cooking without having to remove the lid which allows heat and steam to escape.
More popular Stellar Rocktanium cookware
Stellar Rocktanium - dry frying an egg
This short video shows just how effective the new titanium-based QuanTanium non-stick surface is.
And this video shows Mal Harradine making a one egg omelette and literally blowing it out of the frying pan!
A mark of a good pan is the length of guarantee it is provided with. Stellar Rocktanium ticks all the right boxes as it comes with a Stellar lifetime guarantee and a 10 year non-stick guarantee.
So, is Stellar Rocktanium for me?
The only reason I would replace my beloved Stellar 1000 pans is if I ever changed over to an induction hob.
The problem is my saucepans were made 'pre-induction' era, so therefore aren't induction compatible (they failed the magnet test - I know, I've already checked).
After seeing how well Stellar Rocktanium cookware performs and its high credentials, I think it might be time for me to get an induction hob! They are solid as a rock with the perfect non-stick that every kitchen needs.