Textiles are one of the main elements that complete the overall design and style of the modern day kitchen. They have a large range of uses – from protecting you whilst cooking to adding the finishing touches to a table setting.
Modern designs add colour, style and even fun to functional products, bringing your home to life. Textiles are generally a personal choice and for this very reason and we'd like to help you make that choice a well-educated one.
Aprons Aprons are used in the kitchen for keeping your clothes clean when cooking or baking. There are several styles of textile aprons but the most popular is the long apron that ties around the waist and neck. These aprons feature a bib with a pocket or a pouch on the front. Aprons can feature fancy designs and some feature novelty images or slogans.
Bag Dispenser A bag dispenser is fashioned like a tube, with an elasticated opening either end. It is used for storing and dispensing plastic shopping bags. The bags can be pulled from the opening one at a time. The top of the bag will feature a loop or strap so the bag can be hung up easily for easy dispensing.
Bread Basket Bread baskets are square with tie corners and formed from slightly padded cotton. The side panels and the base are reinforced so the square holds its shape. The bread basket is ideal for serving bread to guests and it also makes an attractive table feature. Bread baskets are lightweight and can be folded flat to allow them to be stored away easily.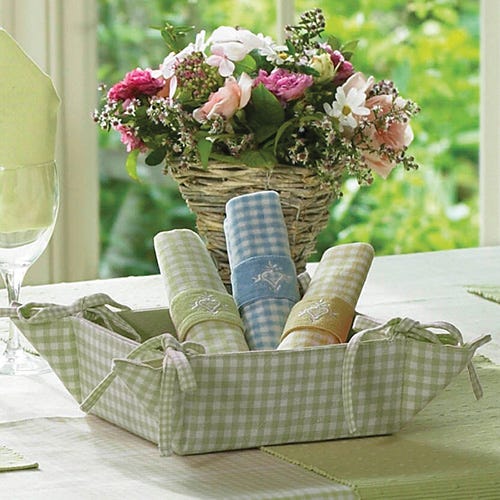 Bunting Bunting is a long piece of thin material tape with triangle shaped flags hanging all the way along. Available in a variety of lengths, the bunting is usually very decorative in pattern and design and can be used for fetes, garden parties and other special occasions.
Cushions/Seat Pads Fabric cushions and seat pads are generally used to add extra comfort on hard wooden or metal chairs. They are made from fabric and can be hand cleaned and are easy to maintain and store away. Some feature small ties to keep them in place on the chairs, others use elasticated straps.
Napkins Napkins are available in both paper and fabric forms. Paper napkins are great for parties as they can be disposed of once used. They come in a range of sizes and styles - plain colours through to patterns and can be themed to fit in with your style of party. Fabric napkins add the finishing touch to your dining table especially with the addition of a napkin ring. Again, the napkins come in a range of sizes and styles to tie-in with your room décor or table styling. Fabric napkins can be machine washed, just follow the manufacturers guidelines on this.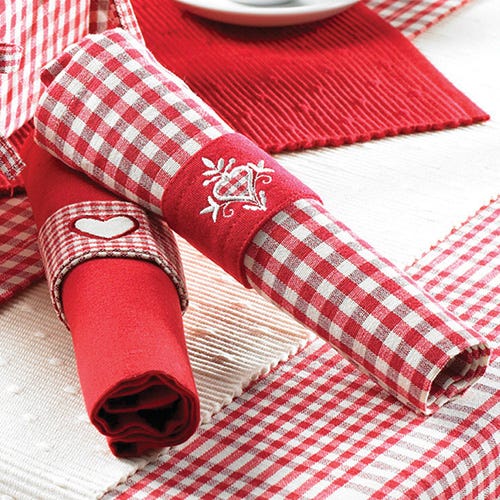 Oven Glove/Mitt Oven gloves protect your hands from heat when removing hot items from the oven, or transferring hot pans or plates. They are available as a single oven mitt or a double oven glove. They are constructed from fabric with a heat insulating inner material and normally have an integral hanging loop. There are a large range of textile styles and patterns to choose from – anything from plain colours through to patterns and designs that form part of a matching range. Always take care when handling hot items and make sure that your oven glove doesn't come into direct contact with any heat source. Due to the nature of the materials used, oven gloves won't protect you from hot liquids.
Pan Handle/Pot Holder A handle or pot holder works in a similar way to an oven glove, protecting your hands when cooking or transferring hot items around the kitchen. A pot holder (or grab) is usually square or oval in shape and is used like a glove or mitt. You can also place it under a hot pan to protect worktops. Handle gloves (either the long type for saucepans or the short type for casseroles) are placed over the handle itself, allowing you a firm grip whilst protecting against heat. Again, these products normally have an integral hanging loop for storage and come in a range of colours and patterns to match your kitchen or other textiles.
Peg / Laundry Bag Peg bags are used to store clothes pegs. A large pouch allows you to easily take out the pegs and a hook will allow you to hang the bag on the washing line whilst you are hanging out the washing to dry. Laundry bags are used to carry laundry from your laundry basket to the washing machine. The top has a drawstring closure to stop the contents from falling out. Both are designed to be hard wearing and sturdy.
Placemat A linen placemat is an attractive alternative to a cork-backed placemat. Normally sold as a set of four they come in a choice of colours to match your table layout. The linen will be thick enough to protect your table from heat and also protect it from minor drips and spills. The linen placemats are machine washable, but always follow manufacturer's guidelines on laundry care.
Shopping Bags Cloth shopping bags are a must-have now that the new bag tax is in place. They are great for folding up and popping inside another bag or pocket for convenience. PVC coated shopping bags are firmer than the linen-only versions and the PVC coating provides extra durability.
Table Cloth A table cloth not only protects your table it also determines the colour scheme of your table layout. Available in a range of sizes, table cloths are commonly made from 100% cotton and are machine washable (always follow the manufacturer's instructions when cleaning table linen).
Table Runner A table runner is designed to lay along the length of your table but to only cover the centre section and then overhang either end. The table runner's purpose is to lay on top of the cloth or straight onto the table and is designed to become a part of the centrepiece of your table layout.
Tea Cosy A tea cosy is a padded cover for your tea pot and is designed to keep your tea warm. The tea cosy itself can be a padded material or a knitted wool design and comes in a variety of sizes. Both types can be styled to suit your kitchen theme.
Tea Towel A tea towel is a useful multi-purpose item. Use it for drying the washing up; mopping up spills in the kitchen; you can even use it as a temporary cover. A dampened tea towel placed under a chopping board will stop the board from sliding on the worktop designed. They are normally rectangular in shape and made from 100% cotton. Tea towels come in many different designs – from novelty designs to patterns that match a range of kitchen textiles.