The Final push up with Joe Wicks
Posted in:
So here we are at the end of this Joe Wicks 90 day plan. After the three months of prepping like a boss and intense HIIT workouts. Our two brave warriors have been released from the clutches of the Body Coach, only to speak of all the great benefits they have gained.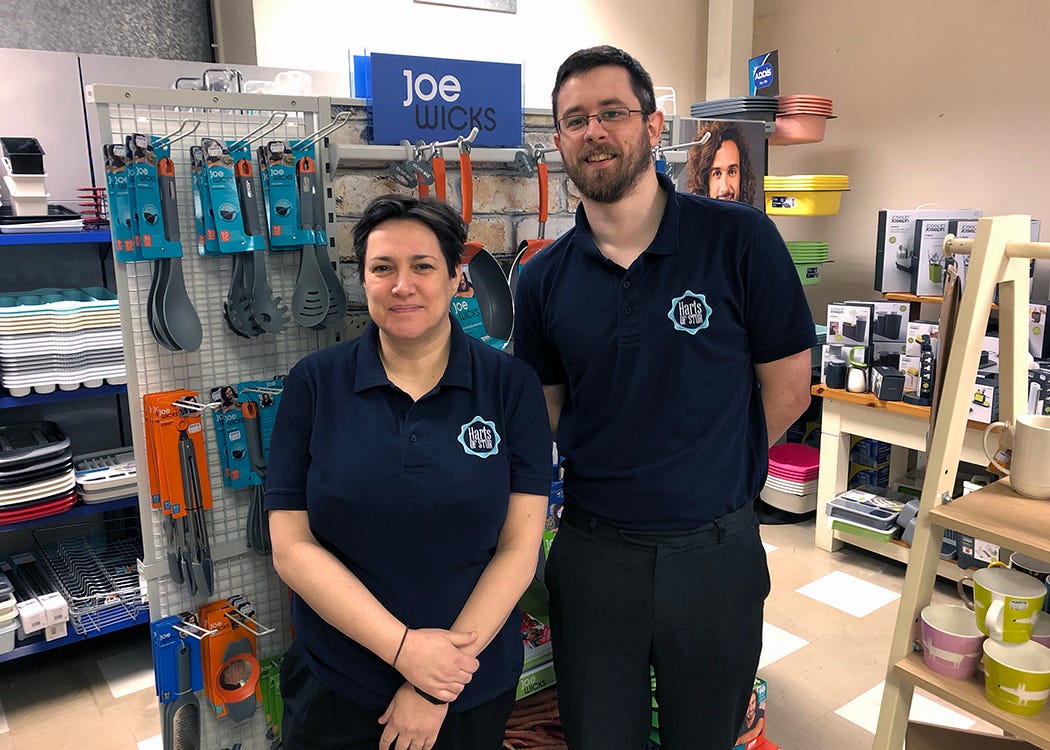 Every step of the way the duo were accompanied by the Joe Wicks range of cookware, bakeware and accessories plus the hydration and storage range. Read our previous blogs to discover how handy these products were in the kitchen whilst following the plan. We finish off this series of blogs with a review of the Joe Wicks Hydration and Storage ranges. Designed to keep you hydrated all day long in different shapes and sizes to suit your lifestyle. The storage containers are a great help when preparing food ahead of time, something that Joe fully encourages throughout his plan.
I actually really loved doing the 90 day plan, and was quite sad when I came to the end, even though getting close to Christmas my motivation had been tested. This time of year all the lovely party food and delicious treats start appearing in the supermarket aisles. Many of them make it to the office, to be paraded past my desk. But I resisted until the end of the plan. However, I am still following the food plan as I want to continue on the journey I have started. I am planning to do a further plan in the new year, but will take a slight break over Christmas. I don't plan on going crazy and piling all the weight back on, as I am still following the plan, but may allow myself a treat or two along the way. In regards to weight I lost a total of 9.5kg which is approximately 1.5 stones and really felt the benefits of this. Alongside the weight loss, I lost a few inches from my waist and hips, improved the tone of my biceps and strengthened my thigh muscles enormously. Although I'm not a massive fan of squats, they definitely toned and strengthened my legs. My stamina also improved by quite a large amount and found that I don't get out of breath so much when exercising. I would highly recommend the plan to anyone, not only because of the previously mentioned benefits but because of the delicious recipes for great healthy meals. I had many favourites along the way and it made such a difference being able to batch cook. Having good quality and durable storage for these pre-cooked meals is a must and the Joe wicks range of storage was perfect for the task. Available in different colours, sizes and sets with firm fitting lids for a leak proof solution.
My storage top pick

I chose the Joe Wicks Rectangular 4 piece set in blue. This set of containers each have a generous capacity, holding a single portion of a pre-cooked meal or for storing fresh ingredients in your fridge or freezer. The lids snap really tightly onto the box giving peace of mind, especially when popping into a bag for transporting. Easy to clean in the dishwasher and safe for use in the microwave when heating up the contents. I would highly recommend this set of 4 containers for your food prepping journey.
I finished the plan slightly later than planned due to a family holiday during the last month. Going on holiday can sometimes be tricky when trying to stick to a certain diet, but because of the variety of food available it actually turned out not to be too difficult. In regards to the 90 day plan though, as I have said before the aim really wasn't to lose weight, but to make healthier choices when shopping for food and when eating out. My thinking now towards food and portion sizes has certainly improved. I no longer measure or weigh my ingredients. Partly because I have learnt visually what my allowances are but also because I don't really want to revert to bad habits. When it comes to meals I am still making some of my favourite recipes from the plan. Although the weekly workouts weren't my favourite part of the plan, I really benefited from the regular exercise. It built up my stamina and strength which I noticed had improved considerably especially when playing hockey. I would also recommend the Joe Wicks 90 day plan to anyone who would like improve their health through their diet and hydration. I found the recipes really straightforward and easy to follow and make and especially batch cook for easy lunches and dinners. If fitness is something you want to improve then the graduated exercise plan will ease you in and step by step improve your stamina and strength.
My hydration top pick

I chose the Joe Wicks Blue 700ml Sports Bottle. The bottle is itself is made from BPFA free tritan plastic, that is strong whilst remaining clear. The top of the bottle clicks shut firmly preventing drips and spills whilst still opening for drinking. Great for when exercising and on the go at the gym. It is important to stay hydrated all day and this sports bottle is perfect for that. The bottle also has a loop for carrying which is really handy. The Joe Wicks sports bottle is also dishwasher safe for cleaning quickly and getting back to fresh hydration.
950ml capacity

Suitable for fridge, freezer, microwave and dishwasher

Sectioned storage