The Mousetrap Theatre - La Fosse
Harts of Stur are proud to be sponsoring the Mousetrap theatre at the Sturminster Newton Cheese Festival for the third year running. We have a great line up of demonstrations including great chefs featuring delicious recipes, baking fun for the kids and professional masterclasses in wine-making, butchery and curing to name but a few. In the build up to the festival we will be introducing each demonstrator in a mini-bio and series of questions and answers about their work and what they enjoy about the cheese festival. The last blog in our series is all about Mark Hartstone from La Fosse, Cranborne.
Introducing Mark Hartstone from La Fosse
Mark Hartstone also known as 'The Dorset Demo Chef' is the owner and head chef at the award winning La Fosse, Cranborne in Dorset. La Fosse also sits close to the Wiltshire and Hampshire borders. Close to the coast and a short drive to the New Forest, La Fosse is the perfect location for a beautiful restaurant and B&B.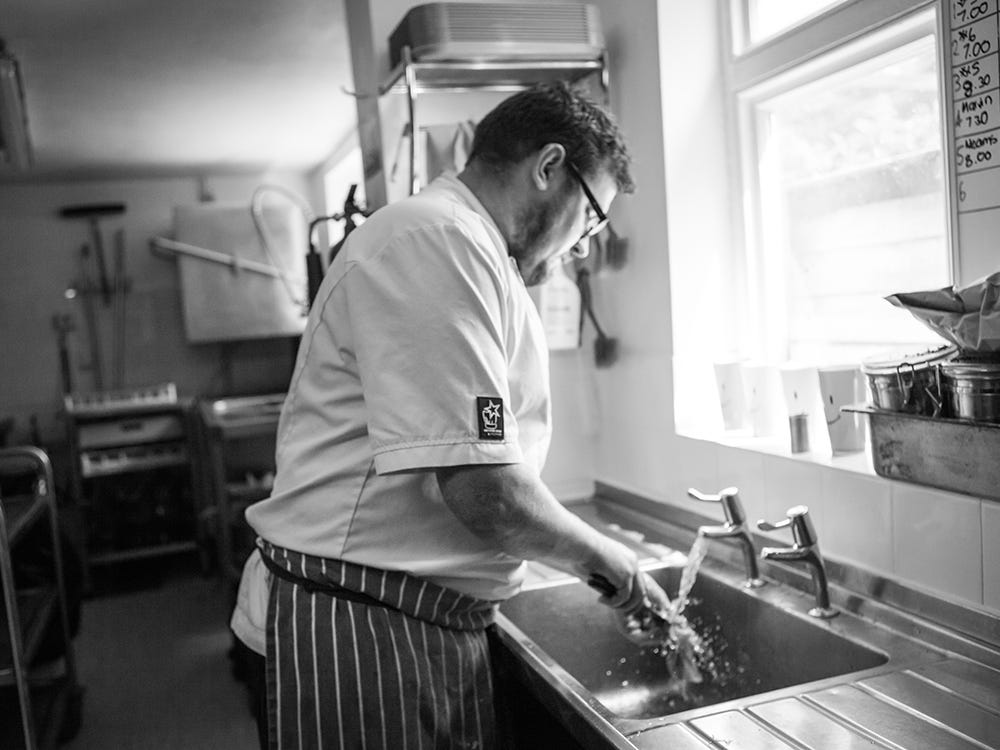 Tell us who or what inspired you to start La Fosse?
My wife Emmanuelle and I met whist working at the world renowned Chewton Glen. It became apparent we both had similar dreams of our own establishment. Accommodation with 6 bedrooms and a small restaurant in a beautiful village setting. It took 4 months for us to find La Fosse at Cranborne searching all over Hampshire, Dorset, Wiltshire and Somerset and several more for the sale to go through.
What are you most looking forward to seeing or doing at the Cheese festival?
Other than my demo in the mousetrap, meeting up with the producers and discussing their new projects. Most of the stands are manned by the artisan or owner themselves. It is a great opportunity to pick their brains. I also plan to wander down the High Street too to visit the Harts of Stur store, Oxford's Bakery and the likes of Comins tea House. All great independent family run businesses like La Fosse.
What is your favourite Cheese?
My favourite cheese is very difficult to say, although I love soft gooey full flavoured cheeses. I can always eat a large hunk of Tilly Whim or Stoney Cross, made at Chalke Valley Cheese and Lyburn farm respectively. Both are fairly mild though have great depth in flavour and are semi-hard cheeses matured with a couple of different cultures. One of my tests, when choosing cheese, is whether I'd be prepared to eat it as a ploughman's. A lot of cheeses I love, though after a few bites I am ready for something else!
What would be your food heaven and what would be your food hell?
My food heaven is freshly picked vegetables. Cooked Al fresco where they were grown with friends and family, preferably over wood or charcoal. Served with a glass of Cranborne Chase cider or Sixpenny Gold brewed in our village. Food hell would have to be something like a pot noodle. I remember as a student eating one, over 20 years ago, never again!
When and Where?
You will be able to see Mark on stage at the Mousetrap Theatre on Saturday 9th & Sunday 10th September at 1pm. Please come along and we hope you enjoy the Cheese Festival.