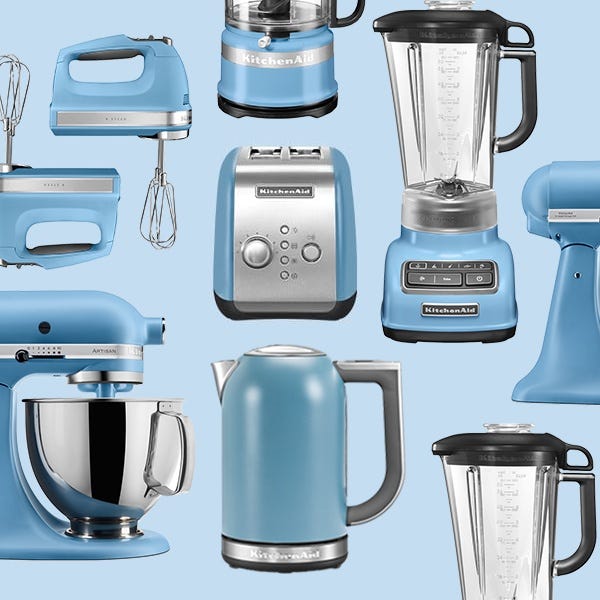 KitchenAid Velvet Blue Collection
Introducing the beautiful and brand new colour suite exclusive to Harts of Stur from KitchenAid - Velvet Blue. This sweet and airy collection of KitchenAid appliances is perfect for updating your kitchen with a splash of Blue. This exclusive KitchenAid Blue Velvet Collection comprises a 4.8L Artisan Stand Mixer, Diamond Blender, 9-Speed Hand Mixer, 1.7L Kettle, 2-Slot Toaster and Mini Food Chopper, ideal for those in need of a sophisticated refresh for their kitchen.

Introduce some elegance into your kitchen with the KitchenAid Velvet Blue collection. This set of six kitchen electricals will add a playful pop of colour to any kitchen. The range includes the following;
KitchenAid Velvet Blue Stand Mixer
The KitchenAid Stand Mixer is a true workhorse in the kitchen. Although it is the perfect companion for any home baker, it is a truly versatile piece of kit. Made from solid, die-cast metal, this Velvet Blue model comes with two stainless steel bowls in 4.8L and 3L. The pouring shield prevents a mess when adding ingredients to the bowl. The wire whisk is just the thing for whipping perfect meringues while the flat beater is best for heavier cake mixes and mashed potatoes. The dough hook is ideal for bread, pizza and pasta doughs. Finally, the flex edge beater is perfect for general mixing and removes the need to scrape down the bowl with a spatula after use.
KitchenAid Velvet Blue Diamond Blender
This diamond blender has a BPA free 1.75 litre blending jug. The diamond design along with the stainless steel blades create a vortex that makes for a superior blend.
KitchenAid Velvet Blue 9 Speed Hand Mixer
The 9 speed hand mixer is ideal if you don't have a lot of space in your kitchen. This Velvet Blue model comes with two stainless steel turbo beaters, a wire whisk, and two dough hooks. With 9 speeds and a soft start this means it is perfect for a range of kitchen baking tasks.
KitchenAid Velvet Blue Mini Food Processor
The KitchenAid Mini Food Processor is a popular machine, and for good reason. It's small enough that it doesn't take up much kitchen space, but powerful enough to be easy and convenient to use. As with the rest of the KitchenAid Velvet Blue range, the Mini Food Processor is exclusive to Harts Of Stur.
KitchenAid Velvet Blue 1.7L Kettle
The kettle is perfect for everyday use and will look stunning on the kitchen counter, especially surrounded by other items from the range. It has a generous 1.7L capacity and 6 variable temperature settings.
KitchenAid Velvet Blue 2 Slot Toaster
Another everyday kitchen item that will look fab on display in your kitchen. The KitchenAid Velvet Blue toaster has 7 settings for browning your toast to your preference. It also has cancel, keep warm, froze and bagel functions meaning it packs more features than your average toaster.