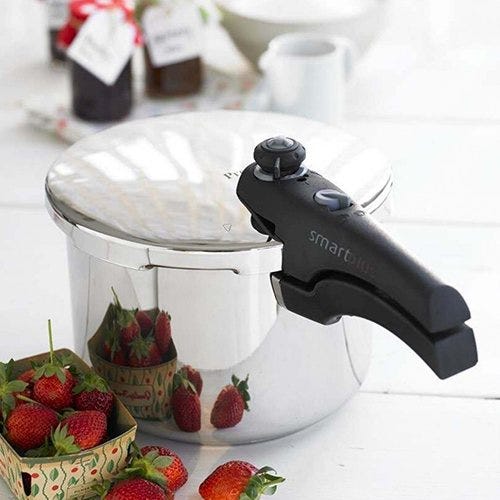 Prestige Pressure Cookers
Prestige pressure cookers are an ideal way to enjoy delicious meals with much less cooking time. These Prestige cookers have an air tight safety seal that traps steam inside. This super heated steam means food is cooked up to 70% quicker than on the hob. With a Prestige pressure cooker you can make a wide range of meals from tasty curries to the perfect risotto. Due to the significant reduction in cooking times with a pressure cooker they are a great way to help get food ready quicker during a busy week. There are a wide range of capacities in the Prestige range which will suit a variety of family sizes. In addition, the cooking process ensures a high nutritional value as there is an absolute minimal loss of nutrients. Cooking in just a single pan is also great for added convenience. There are a few different types of pressure cookers in the Prestige range, which includes Prestige stainless steel pressure cookers and also aluminium pressure cookers.
Prestige SmartPlus Pressure Cooker
The Prestige SmartPlus Pressure Cooker has been designed to make things even easier and more convenient. There are two different pressure settings 8lb and 12lb to add additional versatility to your cooking. The SmartPlus pressure cooker is also induction compatible and the body is dishwasher safe for quick and easy cleaning.
Prestige High Dome Pressure Cooker
In addition to some of the great features of the other Prestige pressure cookers, the Prestige High Dome Pressure cooker has a high dome lid that allows for additional capacity, ensuring that this model is perfect for cooking larger volume meals.