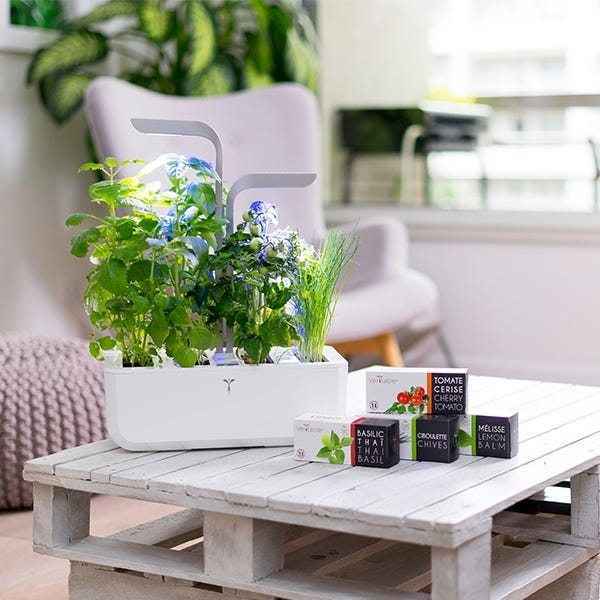 Veritable Indoor Gardens
All Veritable Indoor Garden models boasts a water tank that can hold up to 3 week's worth of water, meaning your plants and herbs are taken care of whilst you're away on business or holiday. The automated day and night cycle ensures your Indoor Garden is automatically turned on for 16 hours and turned off for 8 hours. This light is designed to imitate the natural daylight cycle. No need for natural light, Veritable Indoor Gardens can be use in a room without a window.
Veritable Classic Indoor Garden - Designed for easy growing of herbs, edible flowers or even baby vegetables, the Veritable Classic 4-Slot Indoor Garden is perfect for all year round use without any effort. This indoor garden gadget works independently, providing automated light, irrigation and nutrients to your plants. Boasts a built in water tank that holds up to an impressive 3 week's worth of water. Employs a colour spectrum adapted specifically for edible plants.
Veritable Smart Indoor Garden - The Smart Indoor Garden automatically adjusts the LEDs intensity to the ambient light, to distribute the perfect amount of light to your plants. The light is automatically controlled, it remains active for 16 hours a day and off during 8 hours in order to imitate the natural daylight cycle.
Veritable Connect Indoor Garden - The smart and connected Veritable Indoor Garden, with a dedicated free application that enables you to follow the development of your plants via your mobile. The app allows you to choose the lighting mode and be warned when the water tank is empty.
Veritable Classic Exky Indoor Garden - Perfect for those particularly limited space areas, the Veritable Exky 2-Slot Indoor Garden is the smallest and most efficient smart indoor garden, that allows you to grow effortlessly herbs, greens and vegetables in your kitchen.
Veritable Smart Exky Indoor Garden - Similarly to the Classic Exky, the Smart Exky Indoor Garden is perfect for limited space areas, but unlike the Classic boasts Adapt'Light technology which adjusts the grow light output according to the ambient light.