KitchenAid Blender Comparison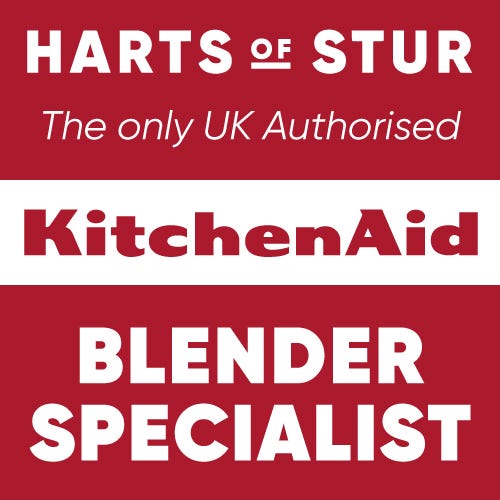 PERFECT BLEND. PERFECT TASTE.
KitchenAid believe that PERFECT TASTE = PERFECT TEXTURE.
The PERFECT TEXTURE is achieved through a perfect combination of motor power, jar shape and blade design.
KitchenAid blenders deliver the performance that you need to create the best tasting, healthy food.
Our comparison chart below breaks down the differences between the different models to help you make a more informed decision on which one is right for you.
As the only authorised KitchenAid blender specialist in the UK, we are more than happy to help advise you. Either visit us in store, email, or give us a call if you have any questions about the full range of KitchenAid blenders.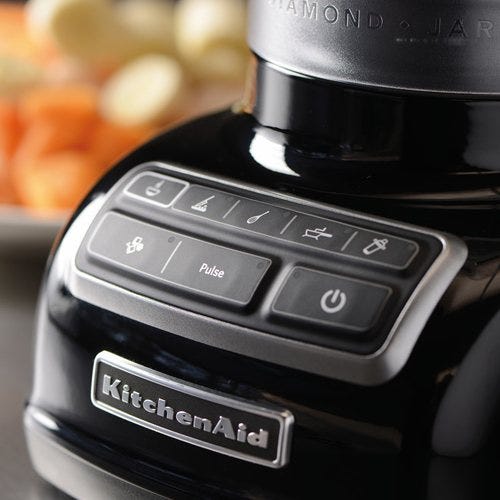 Die Cast Metal
All models of KitchenAid blender, including the Diamond blender feature a die cast metal base. This means they are not only long lasting, but solid and sturdy when blending.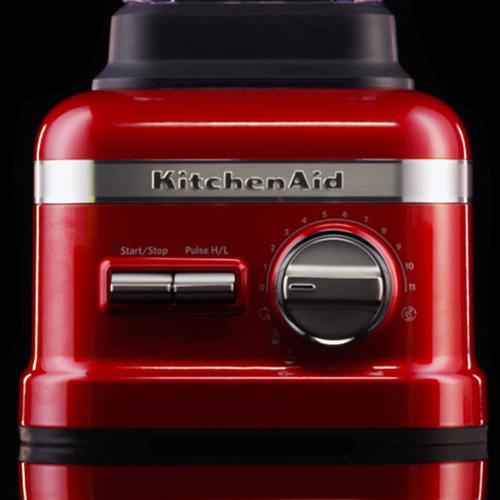 Intelli-Speed Motor
All models use the Intelli-Speed motor control. This system uses electronic sensors to monitor and automatically adjust blade speed to suit the density of food being blended.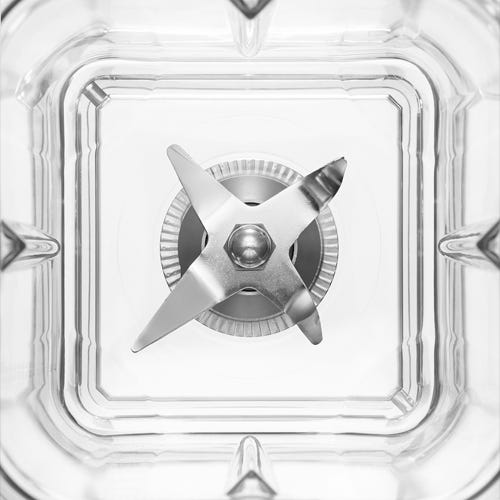 Stainless Steel Blades
All models have patented blades of a stainless steel construction. Designed to work quick and efficiently, they combine with the powerful motor to deliver the perfect blend.
KitchenAid Diamond Blender
The KitchenAid Diamond blender is the ideal machine for all manner of smoothies, soups and sauces. This blender is available in five classic, stunning KitchenAid colours; Empire Red, Candy Apple, Almond Cream, Medallion Silver and Onyx Black. It comes with a patented diamond shaped 1.75 litre jug with a firm fitting lid and an ingredient cap that can be used for measuring. With 5 speed settings, pulse and ice programs, as well as soft start for hot foods, the Diamond blender is great for all manner of kitchen tasks. The soft touch control panel sits in a die cast metal base and the machine comes with a 2 year KitchenAid guarantee - showcasing the build quality of this model!
KitchenAid Artisan K400 Blender
The KitchenAid K400 is the latest in the blender range. The K400 comes in a wide range of colours; Candy Apple, Cast Iron Black, Onyx Black, Almond Cream, Empire Red, Medallion Silver, Pebbled Palm, Pistachio, and Silk Pink. With a die cast metal base, a powerful 1.5 HP motor and a glass jug, this blender has been crafted from quality materials to give a great performance. With a great range of features and a 5 year guarantee, the KitchenAid Artisan K400 is the perfect kitchen companion for making smoothies, sauces, soups and more!
KitchenAid High Performance Blender
The KitchenAid High Performance blender is a step up from the Diamond and Artisan models. Available exclusively in White and Black, the High Performance blender features an incredibly powerful 3.0 HP motor. The 9 speed settings allow full control when making soups, smoothie and sauces at home and includes a pulse function for an extra boost when you need it. The blender features a BPA free 2.6 litre jug which can be placed in the dishwasher for easy clean up. This is the perfect introduction to the range of super blenders, introducing your food preparation to fast and efficient cooking. The High Performance blender comes with a 10 year KitchenAid guarantee.
KitchenAid Power Blender
The KitchenAid Power blender represents the next level of super blender. The 3.5 horsepower motor is even more powerful than the High Performance and is available in Empire Red, Almond Cream and Onyx Black. The KitchenAid Power Blender has 11 speed settings for complete control when preparing smoothies, soups and refreshing drinks and also includes a pulse button, just to make sure everything gets in the mix. The cast metal body provides a sturdy base for blending, even at the speed of the Power blender. This machine is great for families or individual use and comes with a 10 year KitchenAid guarantee.
KitchenAid Power Plus Blender
The KitchenAid Power Plus blender is top of the range! Available in Cast Iron Black, Candy Apple Red and Medallion Silver, the blender has a die cast metal body for extra stability and durability. This powerful machine boasts a 3.5 HP motor for all types of preparation, from super tasty smoothies to aromatic hot soups. In addition to 11 speeds and a pulse setting, the Power Plus has 3 pre-set programs, including a soup function. The KitchenAid Power Plus blender exclusively includes a thermo double walled jug with a vented lid for keeping your freshly made soup hot and icy smoothies chilled. For extra convenience there is a cleaning program which can be run once you are finished using the machine. Perfect for a families or individuals who enjoy healthy recipes, the Power Plus blender comes with a 10 year KitchenAid guarantee.