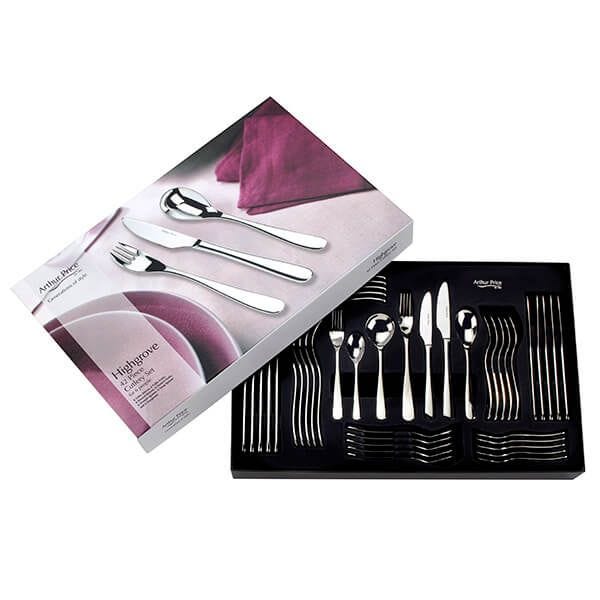 Arthur Price Special Offers
Great value Arthur Price cutlery box and gift sets available in a range of different styles. Take advantage of these great savings today.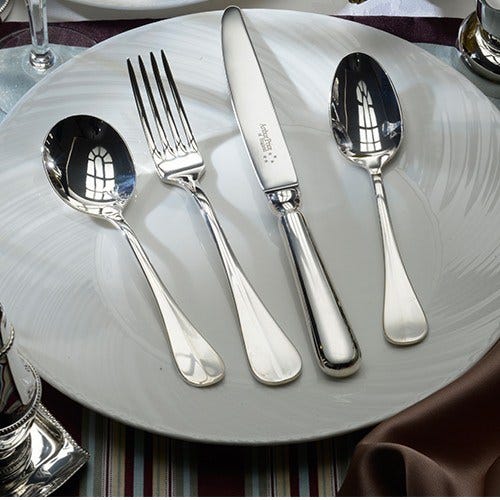 Arthur Price Of England Cutlery
This premium range includes all the great classic cutlery designs made to excellent quality using the highest craftsmanship. Arthur Price Of England is available in Sovereign Silver Plate and 18/10 Sovereign Stainless Steel.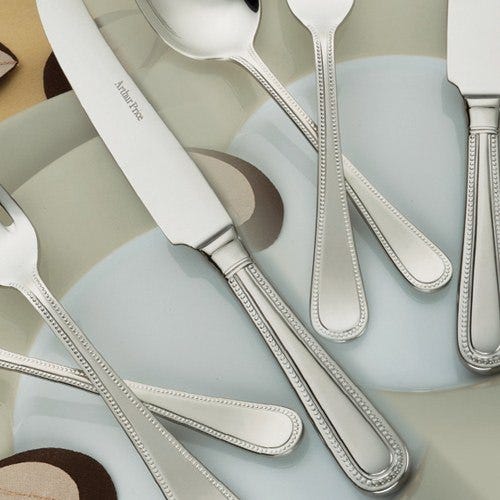 Arthur Price Everyday Classic Cutlery
The same classic patterns that are available in the Arthur Price Of England range but at a great, everyday price. These classic cutlery styles are maufactured to a high standard from 18/10 stainless steel.
Few things grace a home and define its style with quite such ease and elegance as a table dressed with the finest cutlery. At Arthur Price, their passion for producing luxury Stainless Steel and Silver Plated cutlery to the highest standards of quality and craftsmanship remains at the heart of their business.
Since 1902, and four family generations later, Arthur Price still insist on hand crafting each individual piece of the Arthur Price of England range, from the refined sophistication of beautiful silver sets to contemporary, chic designs in the most excellent stainless steel. The Arthur Price of England collection is simply the finest cutlery that money can buy, Each individual item is afforded the same level of skill, technological innovation, styling and commitment to quality.
It was Arthur Price's dual passion for quality and cutlery which first led him to found the company in 1902 and later pass it on to his two sons, Arthur Junior and Frederick. Arthur Price's profound belief that only the very best will do still remains the watchword of the companies owner and his great grandson, Simon Price.
With only a brief break during World War II when the Sheffield factory produced munitions for the armed forces, Arthur Price has never sacrificed quality to follow short-tern trends, This dedication was awarded in 1976 when Arthur Price was commissioned to design an create the cutlery for the launch of Concorde. The following year Arthur Price were granted the Royal Warrant by appointment to H.M The Queen in her Jubilee year, and in 1988 their second Royal Warrant, this time to H.R.H. The Prince of Wales.
Starting you Arthur Price of England collection is a deserved luxury and one of the most worthwhile investments you can make. After all, it will provide so much pleasure and exceptional service for many, many years, both for your family and guest alike.
This is why it is also well worth considering the additional benefits of choosing silver plate. To give the widest possible choice Arthur Price provides three grades of Silver Plated Cutlery, Arthur Price 25 Year Silver Plate , Arthur Price Sovereign Silver Plate , each produced to an incredibly high specification and benefit from silver's unique radiance and warmth.
So confident is Arthur Price in the quality of their Arthur Price of England cutlery that they offer an unconditional guarantee and in some cases forever. In the unlikely event of something going wrong with the quality of the workmanship or materials during the guarantee period, Arthur Price promise to repair or replace it absolutely free of charge.
With Arthur Price Of England cutlery, not only can you collect the standard seven piece place setting and serving spoons in your chosen design, but you can also collect a further seven other cutlery pieces including coffee spoon, grapefruit spoon, fruit spoon, fish knife, fish fork, fruit fork, pastry fork and almost twenty accompanying pieces.