Kitchen Magazine
People say print is dead. At Harts of Stur we beg to differ. And that's why we launched Kitchen, our very own in-house magazine, back in September 2016. Our aim was to produce a publication with high production values that offers an insight into the range of products we sell. We didn't want it to be 'just another catalogue', it needed to be interesting, informative, immersive and useful. Something the reader would want to read from cover to cover. Part blog, part lifestyle magazine, we think Kitchen ticks all the boxes. And we are not alone. In 2017 it won us a national awards for retailer initiative at the Excellence in Housewares Awards.
Each edition is packed full of the latest kit for your kitchen. It also features interesting articles on the history behind some of our most iconic brands plus features on perennial kitchen classics. Seasonal recipes from top TV chefs and well respected local chefs are augmented by essential kit lists. Kitchen also provides the reader with a unique opportunity to find out a bit more about us - both as a company and individuals of the team.
If you've purchased something from us in the last few years or have visited our store, chances are you will have seen a copy. But don't worry if you haven't or you've missed an edition, you can view the entire collection online - see below. You can also browse the products featured in each magazine easily by clicking the corresponding 'shop now' link.
We hope you enjoy the magazines as much as we have enjoyed putting them together.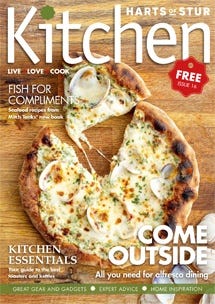 Welcome to Issue 16 of our Kitchen Magazine. The time has at long last arrived when we are once again able to embrace family and friends we have not seen for a long time, or celebrate eagerly-awaited weddings.
A favourite new product is the Sage Pizzaiolo, delivering wood fired style pizza in just 2 minutes, replicating the three types of heat generated by a traditional brick oven. All this and suitable for use indoors, which is always a plus with the British weather.
Other highlights include Wax Lyrical candles and reed diffusers (which make fabulous gifts) and our exclusive Stoven Professional Induction 5 piece cookware set.
Browse the products that were featured in this issue.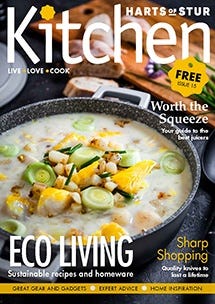 In Issue 15 of our Kitchen Magazine we have fresh inspiration for healthy dinners including flavoursome soups and homemade pasta. If you love gluten-free treats then there are plenty of ideas here for you to make alongside a stunning range of sustainable products.
We aim to choose manufacturers with a strong design history, like our Kitchen Icon features the fascinating story behind Riedel, the world's oldest family owned and run glassware company.

Other issue highlights include KitchenAid cookware and our buyers guide on juicers and steamers. Spring cleaning essentials and a great way to grow your own herbs at home for adding flavour to everyday cooking.

There is also an opportunity to win a set of Global fluted knives which are exclusive to us here at Harts Of Stur.
Browse the products that were featured in this issue.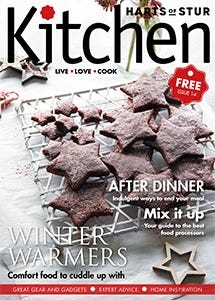 Welcome to Issue 14 of Kitchen Magazine. After such a surreal year, not only in the high street but in homes across the country and worldwide, we at Harts of Stur are aiming to finish the year on a higher note.
Hopefully these pages will help you see the year out similarly, and start 2021 with some much-needed seasonal cheer. Enjoy a selection of comfort food on autumnal nights and keep away the winter blues with a delicious selection of recipes that you can make at home for friends and family or even enjoy snuggled up by yourself.
Browse the products that were featured in this issue.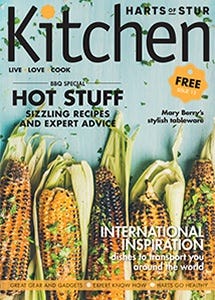 In this issue of Kitchen Magazine we focus on eating outdoors and enjoying the outdoors as much as we can. Cooking and eating outdoors is always a pleasure, especially barbecuing.
Check out the Sticky Chilli Barbecue Ribs recipe found on page 14. Kilner are our Kitchen Icon for this edition. The Kilner jar, with its distinctive pressure seal and iconic design, is trusted by generations of households all over the world for preserving and dates back to 1842. Find out more about their heritage on page 33.
Browse the products that were featured in this issue.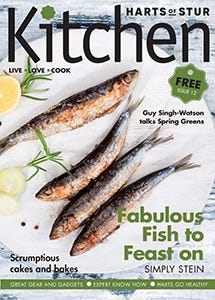 In this 12th Issue of our award winning Kitchen Magazine, we take a step into spring with delicious spring lamb recipes and fabulous fish to feast on with Rick Stein.
Enjoy the perfect wine with our expert and make perfect poached eggs with our tips. We have a delicious recipe from Bake Off's Michelle Evans plus a selection of super healthy snacks from local experts.
Take part in our competition to win a fantastic Sage Bluicer for all your health needs, perfect for boosting your immune system. Plus much much more.
Browse the products that were featured in this issue.
Issue 11 - Autumn/Winter 2019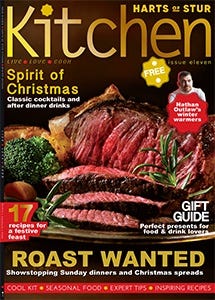 Our final edition of 2019 sees the conclusion of our Centenary celebrations. We have had a great time sharing this special occasion with all our customers this year and are immensely proud of this achievement.
The last Centenary theme is roast dinners - which ties in well with Christmas! We're dropping some tips on how to get the perfect roast every time.
This issue has a range of recipes that includes festive bakes and drinks. We list our some of the newest additions to our product catalogue as well as some old favourites that will smarten up your table this Christmas. There is also a separate gift guide with our best recommendations for gift giving this year!
Browse the products that were featured in this issue.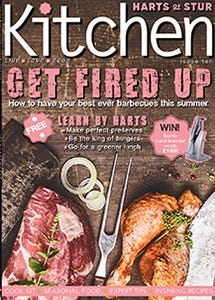 The Centenary celebrations continue! Find out more about the events and offers we are running this year to celebrate our 100 year anniversary.
Our second Centenary theme is another great family event and summer favourite - the barbecue! Take a look for our top tips on making your BBQ a flamin' success...
This issue has recipes for unbeatable burgers, and some great supporting sides. It also features some recent additions to our product range, as well as highlighting some of our favourites. There is even a buying guide to the eco friendly products that we stock. We really hope you enjoy this issue!
Browse the products that were featured in this issue.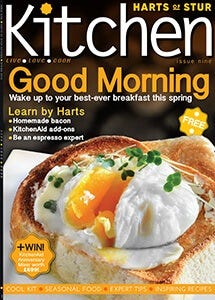 2019 marks an important year for us here at Harts Of Stur as we celebrate our 100 year anniversary! You can find out more about our Centenary and how we are celebrating here.
As part of the Centenary celebrations we are running a number of instore and online events that revolve around three themes. As a family business we have selected family-themed events - the first being the Great British Breakfast!
This issue of the magazine focuses on ideas and inspiration for breakfast, with some top tips and advice from our local chefs and suppliers. We hope you enjoy this edition and our related Centenary events and offers!
Browse the products that were featured in this issue.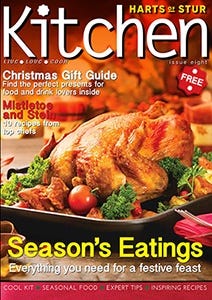 In our final issue of 2018 we dropped some top tips on cooking a great roast dinner - not just turkey, but beef, goose, and vegan options too!
This issue also starred KitchenAid as our Harts Kitchen Icon, with a breakdown of their range of blenders.
Other features include; a guide to coffee machines and makers, advice on the best wine pairings for cheese (two of our favourite things!), and a whole host of other recipes, information and product recommendations selected by us.
Browse the products that were featured in this issue.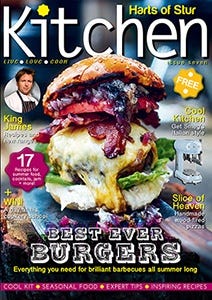 This summer 2018 issue took full advantage of the great weather and showed you how to make the best of your BBQ and al fresco dining - from burgers and kebabs to BBQ lobster and wood fired pizza.
Our Harts kitchen for this issue was Smeg, and their range of retro, vintage small appliances, including mixers, kettles, toasters and more.
We also featured ice cream and ice lolly makers and recipes, a guide to sumptuous summer cocktails. Plus more recipes, top tips and product recommendations straight from the team here at Harts.
Browse the products that were featured in this issue.
Issue 6 - Spring/Summer 2018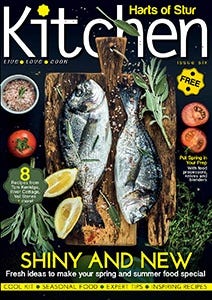 Issue 6 featured the best of British. Recipes included a fresh, seasonal asparagus dish and a warm salad of spring lamb - plus puddings, cakes and tarts.
Our issue 6 Kitchen Icon was Denby, detailing their history, growth and commitment to quality craftsmanship and showcasing their ranges.
Our kit guide gave tips on hand blenders, steamers and food processors. We also featured guides on cooking with fish, Furi knives, and advice on the best glass types for artisan beer and ales - cheers!
Browse the products that were featured in this issue.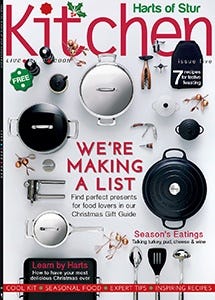 Our Christmas edition in 2017 was issue number 5 and featured the essential recipes for Christmas; turkey, sprouts and Christmas puds (as well as trimmings!).
The Harts Kitchen icon was Arthur Price and we explored the history of this family business with the founder's great-grandson and current CEO, Simon Price.
Also covered in this issue were raclette (yum!), edible Christmas gifts, a guide to a copper Christmas, tips on the perfect wine parings for Christmas dinner and, of course, our 16 page Christmas Gift Guide!
Browse the products that were featured in this issue.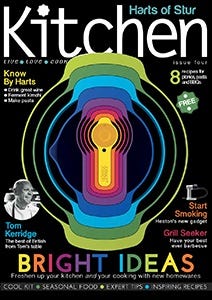 The fourth issue of the Kitchen Magazine featured recipes for picnics, BBQs and outdoor dining. We also had recipes from Tom Kerridge, and a look at his kitchenware (made in the UK!).
Our Kitchen Icon for issue 4 was Joseph Joseph and their colourful kitchen tools, gadgets and utensils.
We also featured grilling tips from a local chef, Mark Hartstone, as well as guides to kitchen bins, wine glasses, baking kit and capsule coffee machines.
Browse the products that were featured in this issue.
Issue 3 - Spring/Summer 2017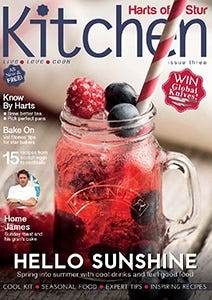 Issue 3 of the Kitchen Magazine included some delicious recipes - scotch egg, leek, potato & Dorset blue cheese soup and a number of favourites from James Martin were all on the menu.
Our Kitchen Icon was Kilner, whose jars have been gracing kitchens for 175 years, and continue to be a household name today.
This edition also featured recipes from Bake Off star, Val Stones, kettle, blender and cookware buying guides, tips and recipes from Magimix and a number of product recommendations hand selected from our extensive range by our own team.
Browse the products that were featured in this issue.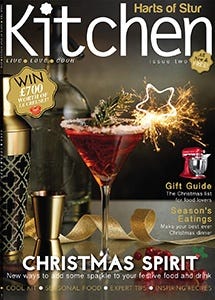 Our second issue was our first Christmas magazine and included festive recipes for clementine & sultana frangipane tart, bramley apple chutney and brussell sprouts from Michelin-starred chef, Russell Brown.
We included a number of Kitchen Icons in this edition, highlighting Dualit, Stellar (with a focus on their 1000 range), and Global Knives.
Issue 2 was also jam packed with helpful tips and advice, including recipes from Paul Hollywood, some classic favourites from our local producers (sausages, pies, and cheese!), guides on coffee machines and makers, hydration, peelers and knives. Plus loads of recommended and new products from us here at Harts!
Browse the products that were featured in this issue.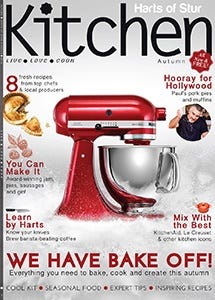 The first issue of our Kitchen Magazine was published in Autumn 2016 and included recipes from Jeremy Pang, alongside some classic baking from Paul Hollywood.
We featured two giants of the kitchenware industries as our Kitchen Icons; KitchenAid - with the classic Artisan mixer taking centre stage, and Le Creuset.
Other content included guides on coffee makers, hydration, peelers, knives and knife sharpeners. We also showcased our latest, favourite and best products - all based on recommendations from our own team here at Harts.
Browse the products that were featured in this issue.