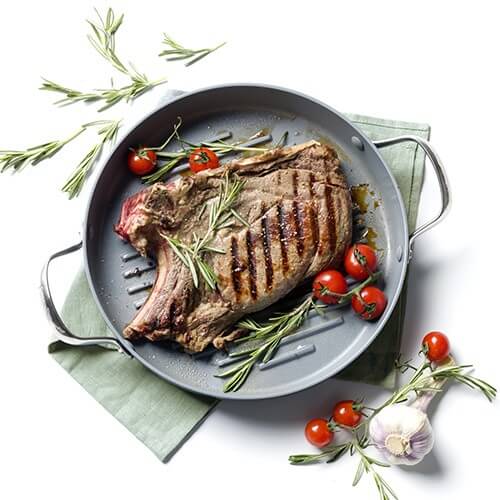 Greenpan Pots & Pans
Not all cookware is created equal. As the inventor of healthy ceramic non-stick cookware, GreenPan is the trusted go-to brand for non-toxic, easy to clean and easy to use pots and pans. Free from PFAS, PFOA, lead and cadmium allows you to create healthy meals with confidence. There's no risk of toxic fumes or harmful pollutants being released either if you accidentally overheat your pan. Using minerals instead of plastic and upcycling stainless steel and aluminium adds to GreenPan's already green credentials.
History of the GreenPan Brand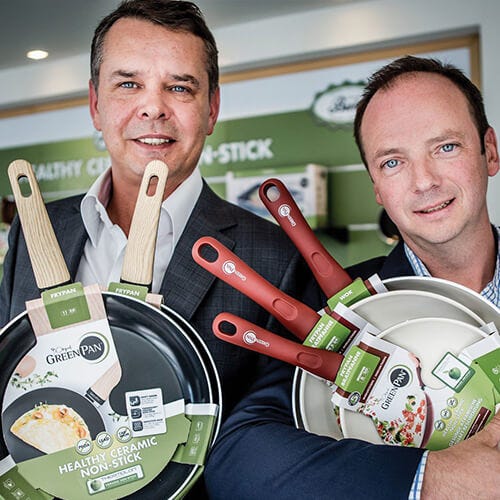 Belgian brand GreenPan has an international reputation for producing healthy cookware since 2007. Regarded as the founders of ceramic non-stick cookware, GreenPan are constantly pushing the boundaries of healthy cooking technology through innovation, outstanding functionality and ingenious design. GreenPan is the brainchild of two school friends - Wim De Veirman and Jan Helskens. The duo set about creating a healthy alternative after they discovered that traditional non-stick cookware uses PFOA in the manufacturing process of the coating and that, if overheated, toxins could be released into the environment. After much searching a suitable mineral alternative was discovered - a ceramic coating entitled Thermolon. The next step was to put together a team of experts to create a range of cookware that was aesthetically pleasing, provided exceptional performance and enhanced the pleasure of cooking.
GreenPan's manufacturing process
The main material of GreenPan's Thermolon ceramic coating is a sand derivative. This sand derivative is turned into a sprayable solution using a Sol-Gel procedure which negates the need for any chemicals such as PFAS. The solution is then sprayed onto the frying pan body (again, no need for any additional additives or glues) before being cured in an oven. Compared to traditional non-stick coatings this process produces 60% less CO2 emissions.
GreenPan cookware isn't just about its ceramic coating. Their cookware also boasts a number of innovative features and technologies, the most important of which include:
• Reinforced 'scratch guard' surface technology - providing a perfect fusion of scratch resistance and strength.
• Hard anodised exterior for durability and toughness.
• Magneto energy-saving induction base - leading performance on all types of heat source.
• Oven safe handles that are comfortable and durable.
• Upcycled aluminium and stainless steel are used whenever possible.
Not content with inventing ceramic non-stick cookware, GreenPan are constantly pushing the boundaries at the forefront of healthy cooking technology. GreenPan's latest range of cookware features the 5th evolution of its innovative Thermolon coating. Now reinforced with diamonds for improved resilience, performance and durability, this latest evolution is Greenpan's best ceramic non-stick coating to date.
The benefits of GreenPan's healthy non-stick ceramic coating
The main benefit to GreenPan's non-stick Thermolon ceramic coating is that it is made from natural materials, negating the need for using potentially toxic chemicals such as PFOA (Perfluorooctanoic acid) or PFAS (per- and polyfluoroalkyl substances) during its production. This makes it safe for you, your family and the environment.
Thermolon is extremely resistant to high temperatures (up to 450°C). Unlike traditional non-stick surfaces, Thermolon won't blister or peel and won't release toxic fumes if the pan is accidentally overheated (cookware can overheat in as little as 3 minutes if left unattended).
Thermolon is also a great conductor of heat, so your pan will reach temperature faster and your food will cook more evenly. It also allows you to cook on a lower heat setting, saving energy. Good news for your energy bill!
Greenpan's Thermolon ceramic coating also boasts excellent non-stick properties. Peerless frying results can be achieved using less oil or butter, making it a healthy option. The ceramic non-stick surface releases food easily, so cleaning GreenPan cookware is a doddle - no need for scrubbing, just a quick wipe in warm soapy water and a soft cloth should suffice.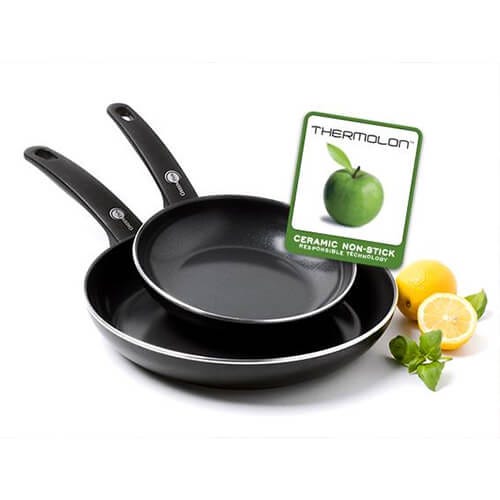 GreenPan and Harts of Stur