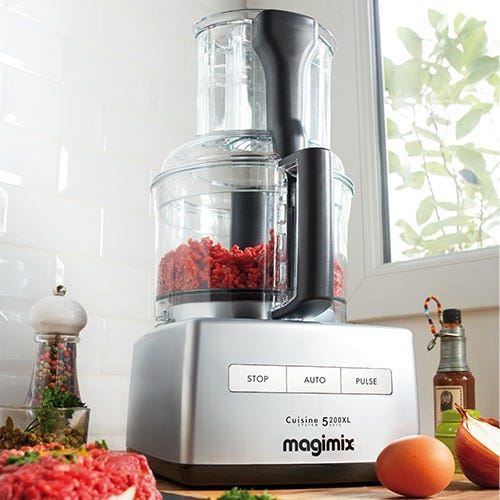 Magimix 5200XL Premium Food Processor
The 5200XL Premium has a simple, three button operation; on, off and pulse.
The following accessories are included; extra-large feed tube, triple pusher, stainless steel blade, BlenderMix, dough blade, egg whisk, 2mm & 4mm slicing discs, 2mm & 4mm grating discs, additional 3 disc Creative slicing kit (parmesan, 1mm slicing, 6mm grating), SmoothieMix Juicer kit, Dice & French fry kit, spatula, storage box, recipe book, citrus press.
The 5200XL Premium comes with a Magimix 3 year parts guarantee and a 30 year motor guarantee.
The Magimix 5200XL Premium is the ultimate multifunction food processor, which can be used for a wide range of kitchen tasks; mix 1.7kg of pastry, 1.3kg of bread dough or 1.1kg of brioche; whisk up to 8 eggs; chop 1.4kg of meat; make home-made mashed potato, purees and baby food; citrus press and juice extraction with 90% efficiency; 1.8L blending, 1.4kg grating and 1.4kg slicing.