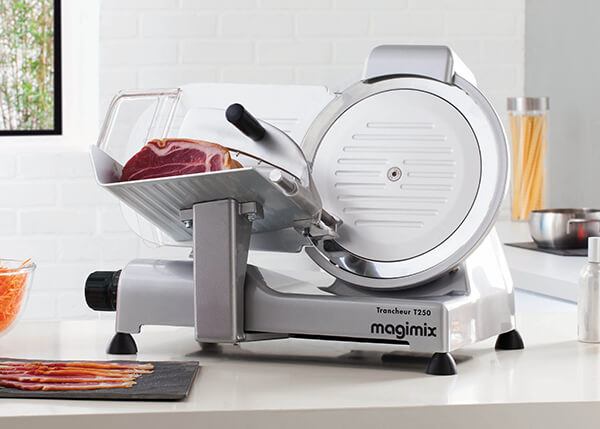 Magimix Kitchen Appliances
The Magimix range of specialist kitchen appliances include the Multi-Function Steamer and the Metal Food Slicer. Professional quality machines and features for the home kitchen.
The Multi-Function Steamer is a healthy way of cooking food, maintaining valuable nutrients and flavours.
The Metal Food Slicer is built to professional standards and can be used for slicing meats, sausages, bread and cheese. Safety is paramount with a child safe two-stage operating procedure, on/off switch and storage lock. All appliances are covered by a 3 year guarantee.
Magimix Multi-Function Steamer - 4 settings: Steam, Fish, Reheat and Yoghurt. Two 5.5 litre stainless steel baskets. 2 litre stainless steel multi-function bowl. Glass lid with heat-insulated handle. 1.2 litre stainless steel water tank.
Magimix Metal Food Slicer - 19cm serrated blade. Fully adjustable from 0mm to 28mm. Extra large 20cm tray. Child safe two button operating procedure plus on/off button and storage lock.