Chocolate - the food of love
Valentine's day might be a little different this year, but there's no excuse not to make the 14th February more special than ever. Chocolate and Valentine's Day go together like strawberries and cream, Romeo and Juliet and hugs and kisses, and the giving and receiving of chocolate is one of the most popular ways to celebrate this special day. So why not go one step further and use this food of love to create something extra special for your loved one. These three delicious recipes from Le Creuset all include chocolate as their main ingredient and are all easy to make. The chocolate souffle and white chocolate, cardamom and raspberry mousse both make for a romantic dessert whilst the white chocolate truffles are perfect for a romantic gift.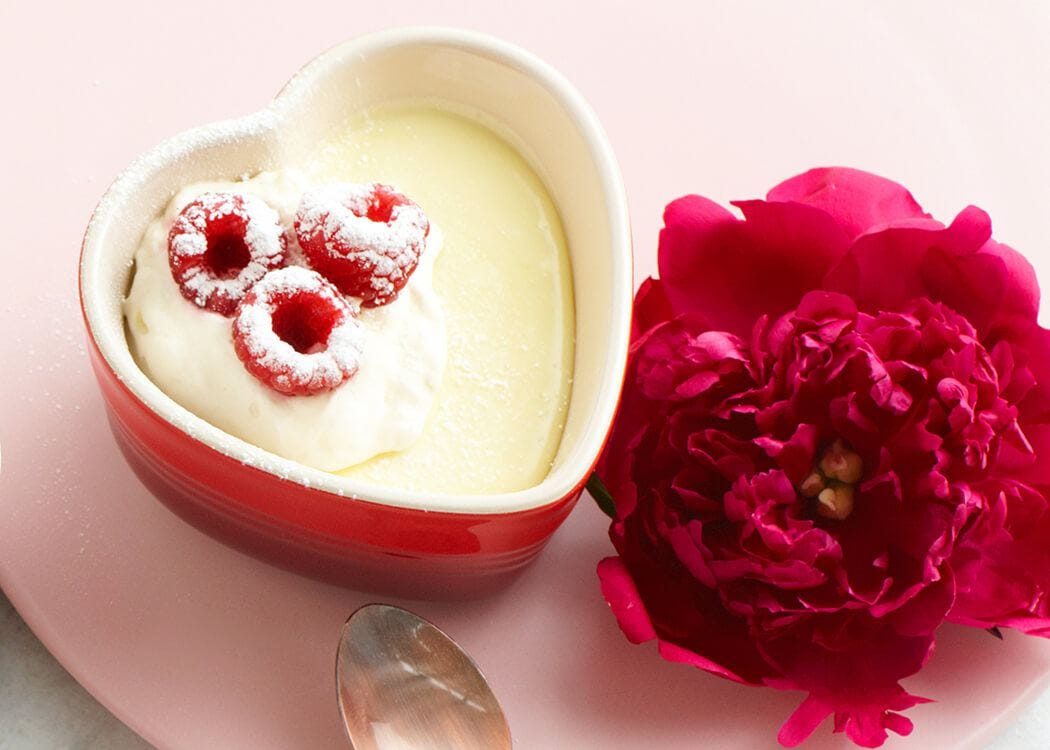 Chocolate Soufflé
Serving: 4
Rich dark chocolate provides an intense flavour to this light, baked dish. It is the perfect dessert to finish your romantic homemade meal for two.
Preparation time: 10 minutes. Cooking time: 20 minutes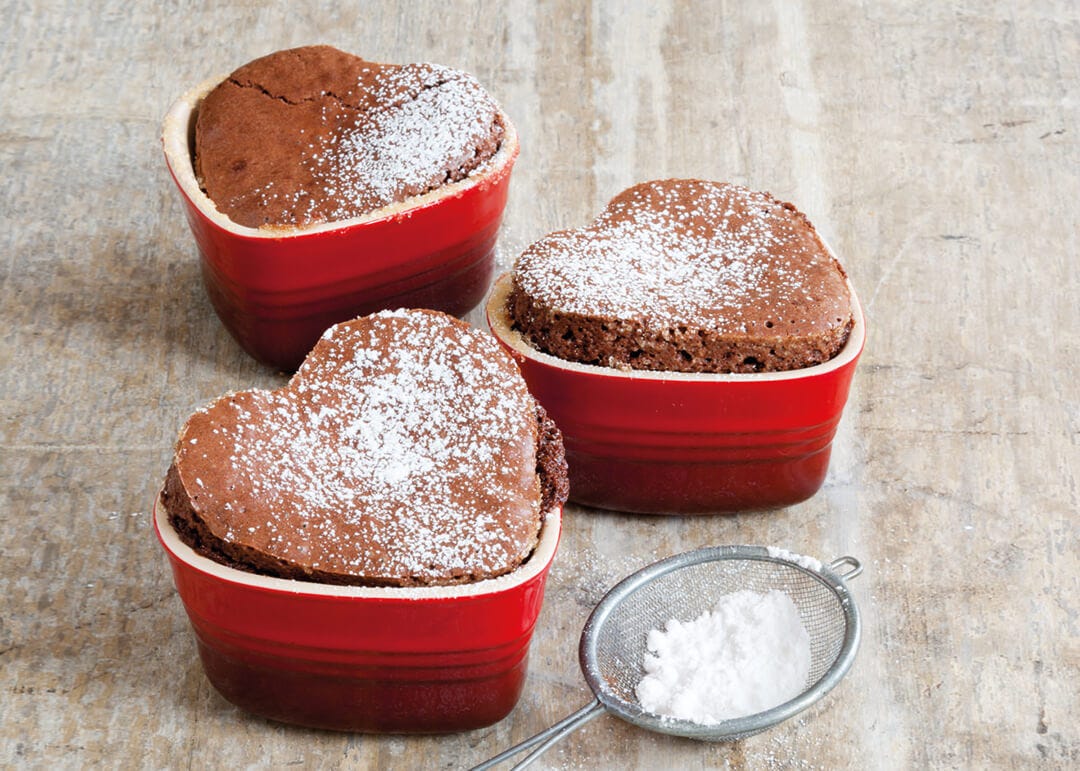 Ingredients
3 tbsp butter
2 tbsp cocoa powder
85g chocolate
½ tbsp vanilla extract
2 eggs, separated
2 tbsp sugar
Pinch salt
Pinch of cream of tartar

Method
Preheat oven to 180°C/ Fan 160° / Gas Mark 4
1. Use 1 tablespoon of the butter to grease 4 ramekins (Le Creuset cerise stoneware heart ramekins would be ideal for this). Coat the inside of the ramekins with the cocoa powder, tapping out the excess and re-using to coat the remaining ramekins.
2. In a large bowl over a pan of simmering water, melt the chocolate and remaining butter. Stir occasionally until smooth. Remove from the heat and add the vanilla extract. Whisk in the egg yolks one at a time until smooth. Set aside.
3. In another large bowl beat the egg whites with the sugar, salt, and cream of tartar until stiff peaks form. Using a metal spoon, gently fold the egg-white mixture into the chocolate. Divide the mixture between the 4 ramekins.
4. Bake until puffed and set, this will take about 10-15 minutes. Serve immediately.
White Chocolate Truffles
Serving: 18 - 20 chocolates
An indulgent treat ideal for creating as a gift, these truffles are made with creamy white chocolate and whipped cream. For an extra decadent flavour try adding orange liqueur.
Preparation time: 15 minutes. Cooking time: 30 minutes (plus cooling overnight)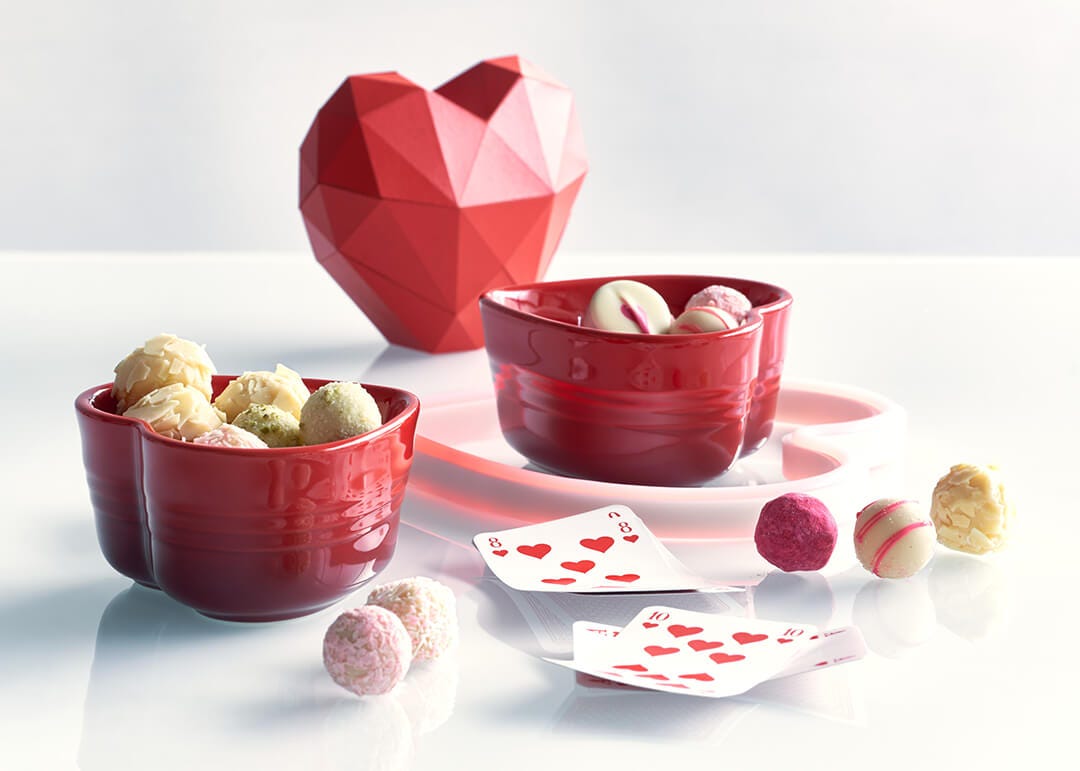 Ingredients
200g white couverture or chocolate
50g of whipped cream
30g unsalted butter, cubed
Optional 1 tbsp rum or orange liqueur
DECORATION (optional)
Sugar sprinkles
Desiccated coconut
White chocolate flakes, chopped
Chopped nuts (optional)
Icing sugar (optional)

Method
Preheat oven to 180°C/ Fan 160° / Gas Mark 4
1. Begin by roughly chopping the couverture/chocolate and butter into small sized pieces.
2. Bring the cream to the boil, remove from the heat, add the chopped couverture/chocolate and the butter, stir until everything is melted. Allow the creamy mixture to cool a little and then stir in the orange liqueur.
3. Put the mixture in the refrigerator overnight.
4. The next day, shape the truffle mixture into small balls (approx. 2.5 cm in diameter) and roll them in either the coconut flakes, chocolate flakes, chopped nuts or icing sugar. Mix and match your flavours here to create different truffles.
5. The truffle mixture will warm up very quickly and stick to the hands. Therefore, shape quickly and rinse your hands in cold water between shaping.
6. Once all truffles are made, serve them in a Le Creuset heart ramekin.

Cook's Notes: Store the white chocolate truffles in the refrigerator for 3-4 days.
White Chocolate, Cardamom and Raspberry Mousse
Serving: 2
A great dinner party dessert, this velvety white chocolate mousse features a touch of sophistication by the addition of cardamom. The cardamom seeds in this mousse are an acquired taste and can be left out if you prefer.
Preparation time: 15 minutes. Cooking time: 5 minutes. Setting time: 1-2 hours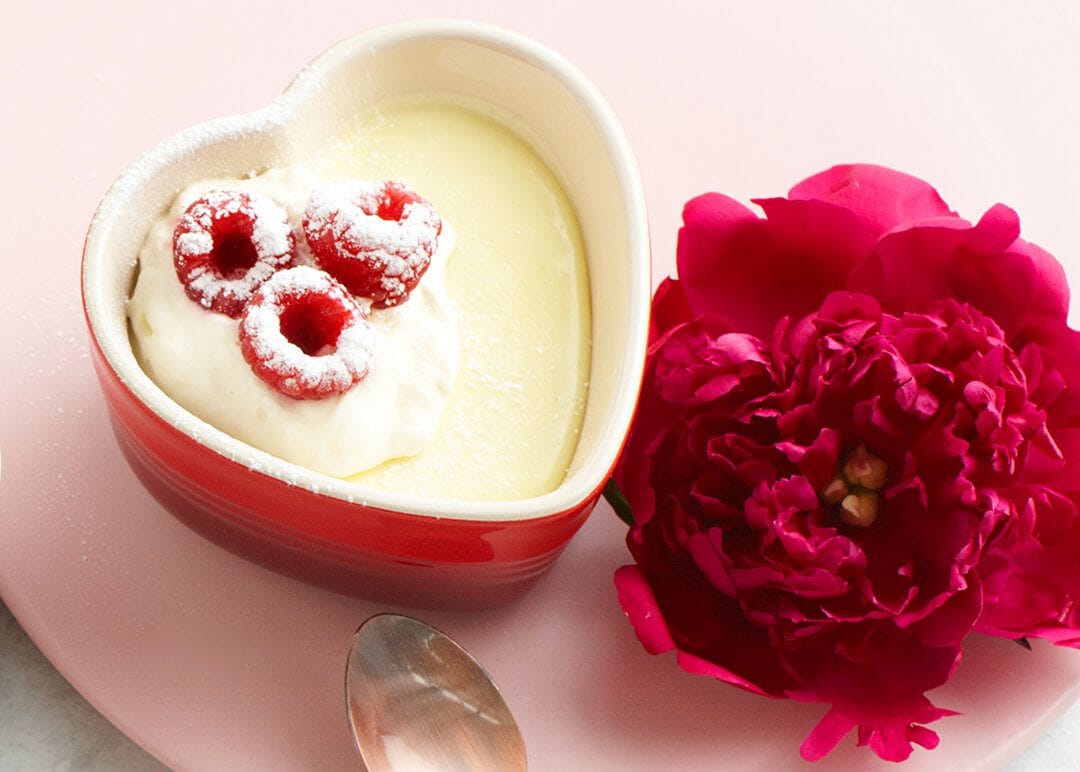 Ingredients
3 cardamom pods
100g white chocolate
1 large egg
25ml caster sugar
125ml cream, whipped
TO SERVE
125ml cream, whipped
Fresh raspberries
Icing sugar, for dusting

Method
1. Hold a cardamom pod over a pestle and mortar and gently squeeze the pod between your thumb and forefinger to crack it open. If the pod is green and difficult to crack, place it into your mortar and gently crush it open with the pestle. Crush the seeds with the heavier, rounded end of the pestle. A firm, slow grinding motion is all that is needed to pulverize the seeds.
2. Break the chocolate into pieces and place together with the crushed cardamom seeds in a heatproof bowl over a pan of simmering water. Don't let the bowl touch the water. Stir until melted. Remove and leave to cool slightly.
3. Beat the egg and sugar in a mixing bowl until pale and thick. Fold in the cooled chocolate until combined.
4. Use a large metal spoon to carefully fold in the whipped cream.
5. Spoon the mousse into two heart ramekins and chill in the fridge for at least 2 hours.
6. Top the mousse with whipped cream and decorate with fresh raspberries and a dusting of icing sugar.