Fire up the Barbecue for Summer cooking
The great British summer is one of those occasions that we all look forward to as soon as it looks like the warmer weather is on its way. Many of us plan a family barbecue in advance, whilst keenly watching the weather forecast ahead of time and getting prepared, visiting the shops before the rush. Others wait until the day and decide, which also includes a trolley dash to grab chilled accompaniments, cool drinks and lots of tasty food to grill.
Making your own food to cook on your outside grill or barbecue is one of the best ways of preparing for the occasion. Delicious fresh ingredients mean that you know what the food you have prepared contains but also you can add your favourite spices, herbs and flavours.
Barbecued food alone is really delicious but it is also nice to serve with a selection of sauces, dips and dressings. Most of these dressings and sauces can be made at home with a few simple fresh ingredients and store cupboard staples. Herbs and spices are commonly used when flavouring dishes and are easily adjustable to your own taste.
If you fancy something a little different for grilling on the BBQ, here are a small selection of recipes for you to try.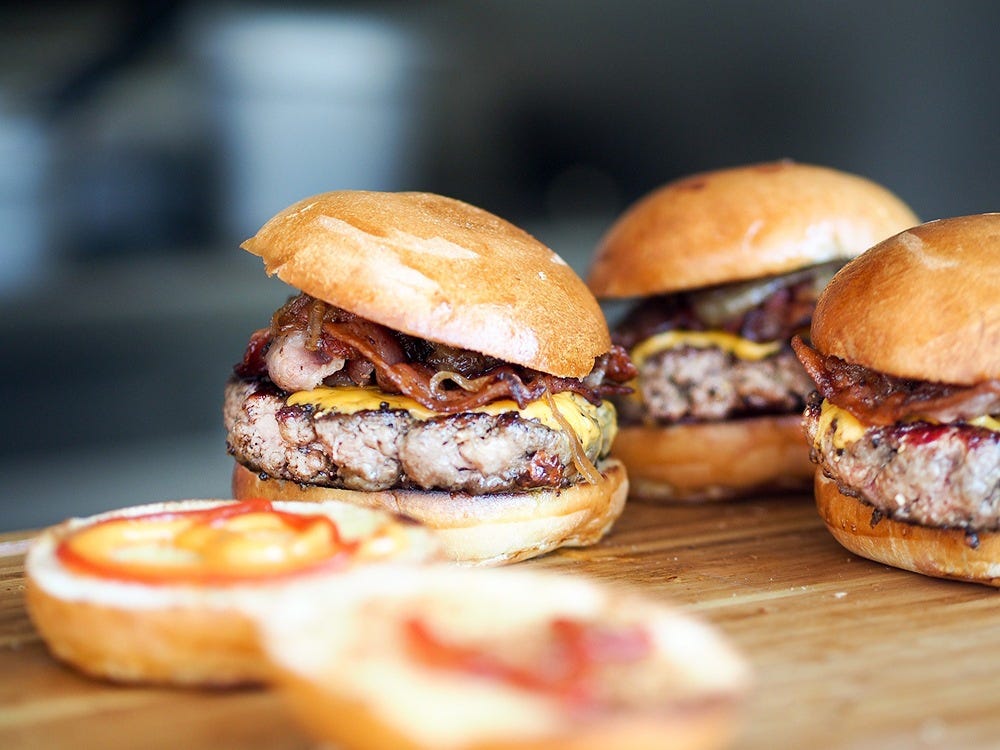 Turkey burgers are a great alternative to beef, the white turkey meat absorbs flavours easily for a delicious taste. Turkey burgers can be lower fat than beef but this also means they can dry out easier. It is important when binding the burger mince together that it stays together neatly.
500g turkey mince
1 white onion, finely chopped
1 garlic clove, minced
1 egg
Salt & pepper
1 handful chopped coriander
1. In a bowl mix together the turkey mince and finely chopped onion.
2. Add garlic, salt & pepper and coriander and mix well.
3. Whisk the egg and in to combine all the ingredients.
4. Roll into 8 balls and flatten slightly into patties onto baking paper.
5. Grill on a medium heat until cooked all the way through.
6. Serve in a bun with mayonnaise or a sauce of your choice.
Skewered Lamb Kofta with Minted Yogurt Sauce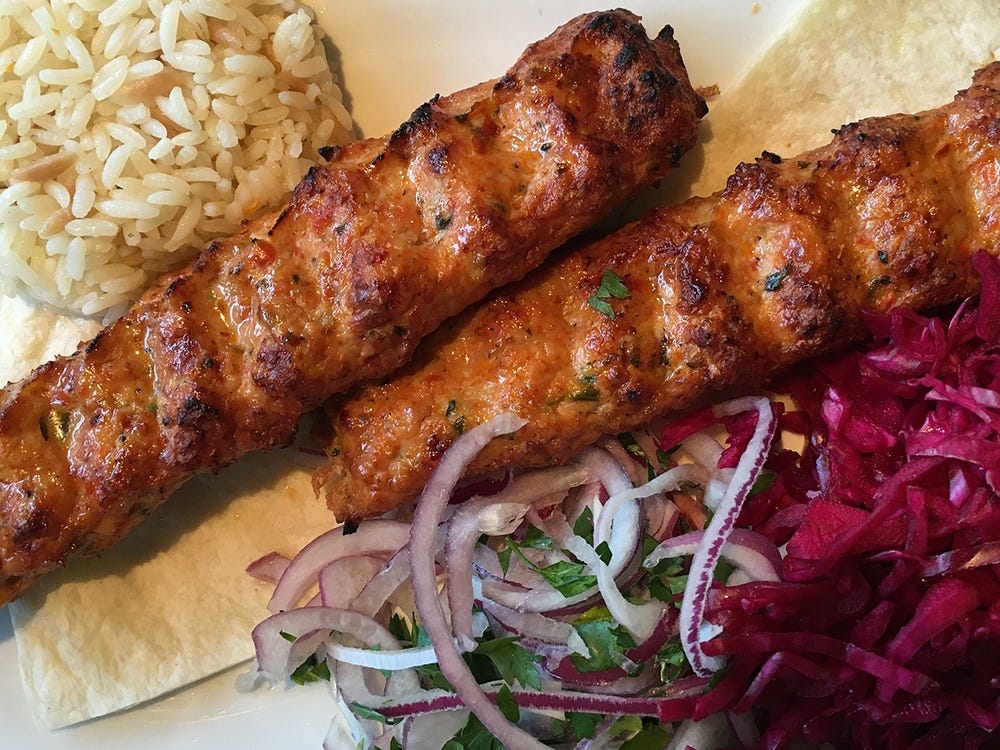 Lamb koftas are a great way of incorporating lamb into your barbecue menu. The flavoursome meat needs little added flavours, only those that will enhance its own flavours. The koftas can be served with a fresh yogurt sauce and flatbreads for a satisfying dish.
For the koftas:
500g lamb mince
2 shallots, finely chopped
1 egg
1 tsp cumin
1 tbsp chopped mint
A dash of olive oil
Salt & pepper
Flat wooden skewers
For the yogurt sauce:
3 tbsp greek yogurt
2 tsp mint sauce or 1 tbsp fresh mint
1. In a bowl, mix the lamb mince and finely chopped shallots together.
2. Add the cumin and the minced garlic clove, again mixing until fully combined.
3. Add the egg, salt and pepper and chopped mint.
4. At this point mix and squeeze the mixture with your hands, this will make sure the mix sticks together better.
5. Shape a handful of the lamb mince mix along the skewer into long sausages.
6. Roll into cling film and place in the fridge for an hour to firm up.
7. Serve with pitta or flatbreads, slightly toasted on the grill along with the lamb koftas.
8. Mix the yogurt and mint and drizzle over the lamb koftas.
Mackerel with Orange and Dill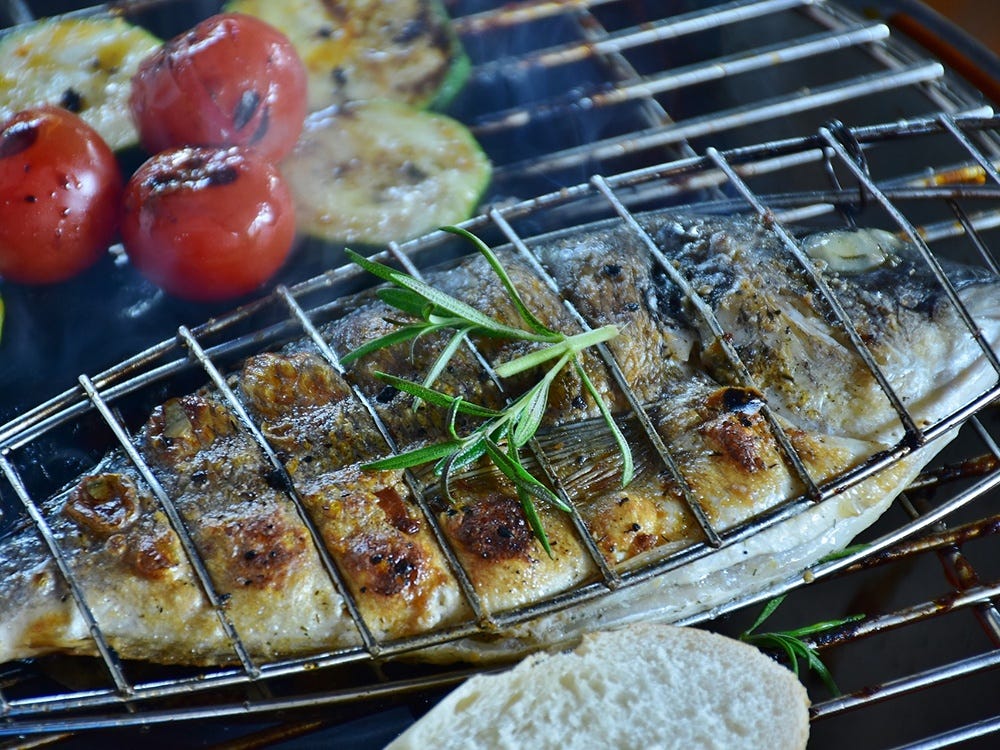 Fish is a tasty and healthy alternative on the bbq, especially if you are following a vegetarian diet. Fish can be either cooked whole or filleted and cooked in a parcel of some form. Fish will take on the flavours of herbs that you cook with them and remain succulent if cooked properly.
1 whole dressed mackerel
1 orange
1 handful of dill
Olive oil
1. Wash and pat dry the fish ready for preparation.
2. Massage the fish skin all over with olive oil.
3. Peel and slice the orange across the segments. Lay inside the fish overlapping slightly.
4. Add the fresh dill on-top of the orange slices and secure the fish together with string that has been soaked in water.
5. Grill for 5 minutes each side then allow to rest before serving.
Note: Instead of using string to keep the fish together for cooking, if you have one you can use a purpose built cage for cooking fish.
Boogie Woogie Relish by Mark Hartstone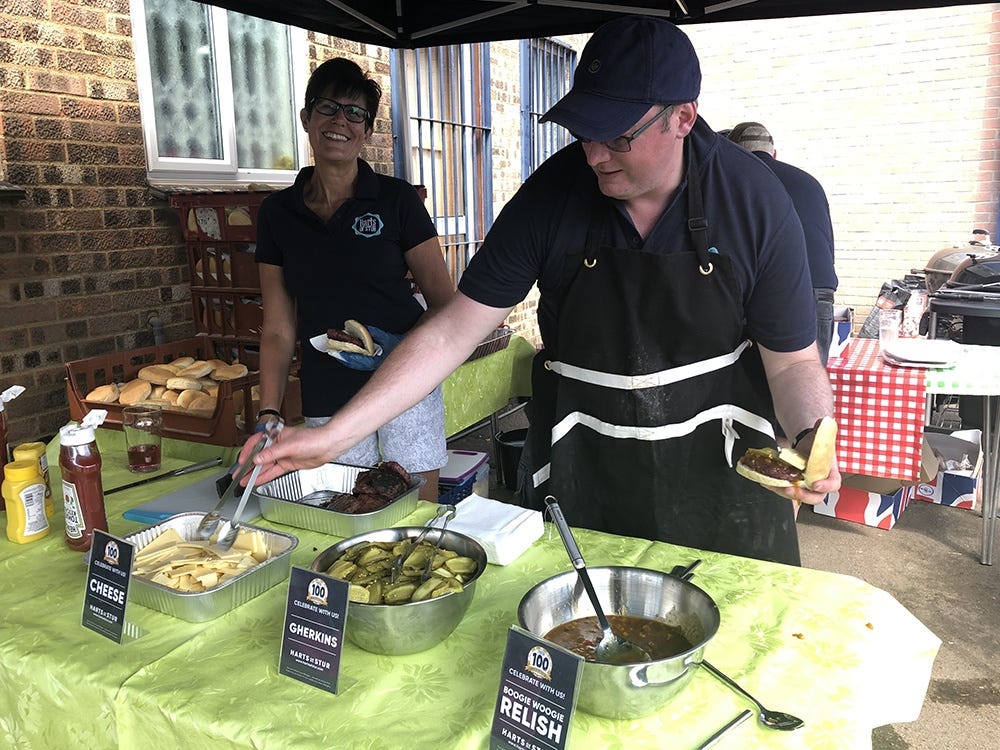 This delicious relish was developed by Mark Hartsone especially for our Centenary BBQ events. The relish itself is inspired by the origins of boogie woogie in the deep south and contains the colours of the Dorset flag as a slightly warming piquant relish.
1 courgette peeled and diced
1 chopped red onion
1 chopped white onion
1 yellow pepper
1 red pepper chopped
1 chilli finely chopped
200g sweet corn
Salt to taste
200ml cider vinegar
80g sugar
1/2 bulbs crushed garlic
1 tsp mustard seed
2 tsp allspice
1/2 teaspoon of turmeric
1 teaspoon cumin
40g Potato starch to thicken
Marinade both groups of ingredients separately the day before. Cook the two groups of ingredients until they reach the desired consistency, then combine in a harmonious mix.