Global Knives - differences between Classic & Ni ranges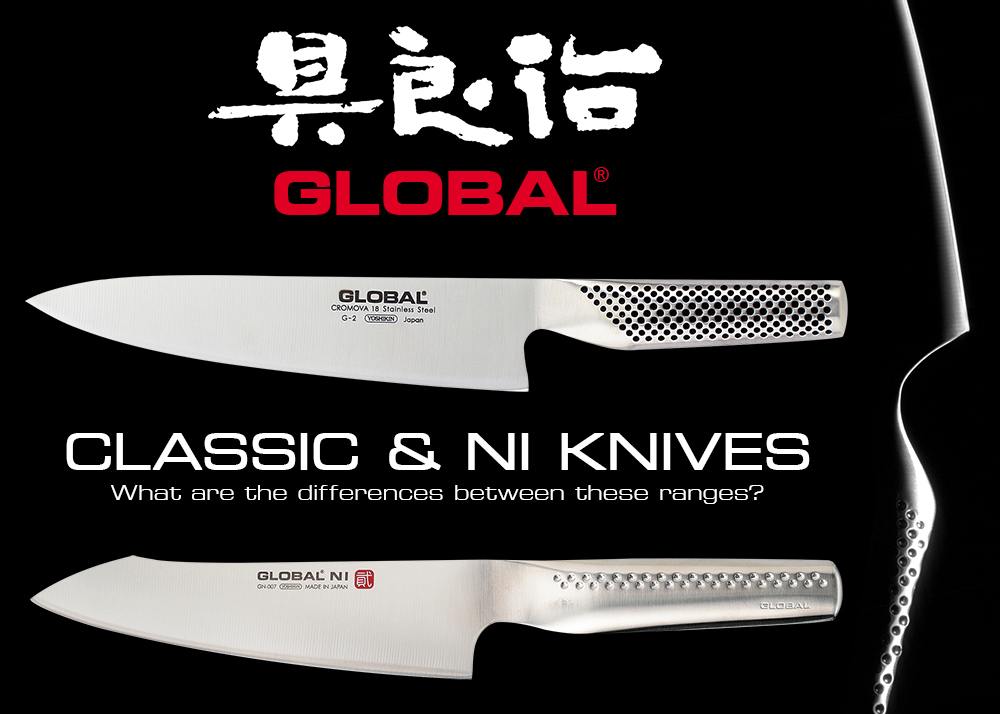 We are often asked "What is the difference between a Global Classic and a Global Ni knife?" At first glance you would probably say 'Not a lot', but read on and we'll explain the subtle differences and improvements between both ranges of Global knives.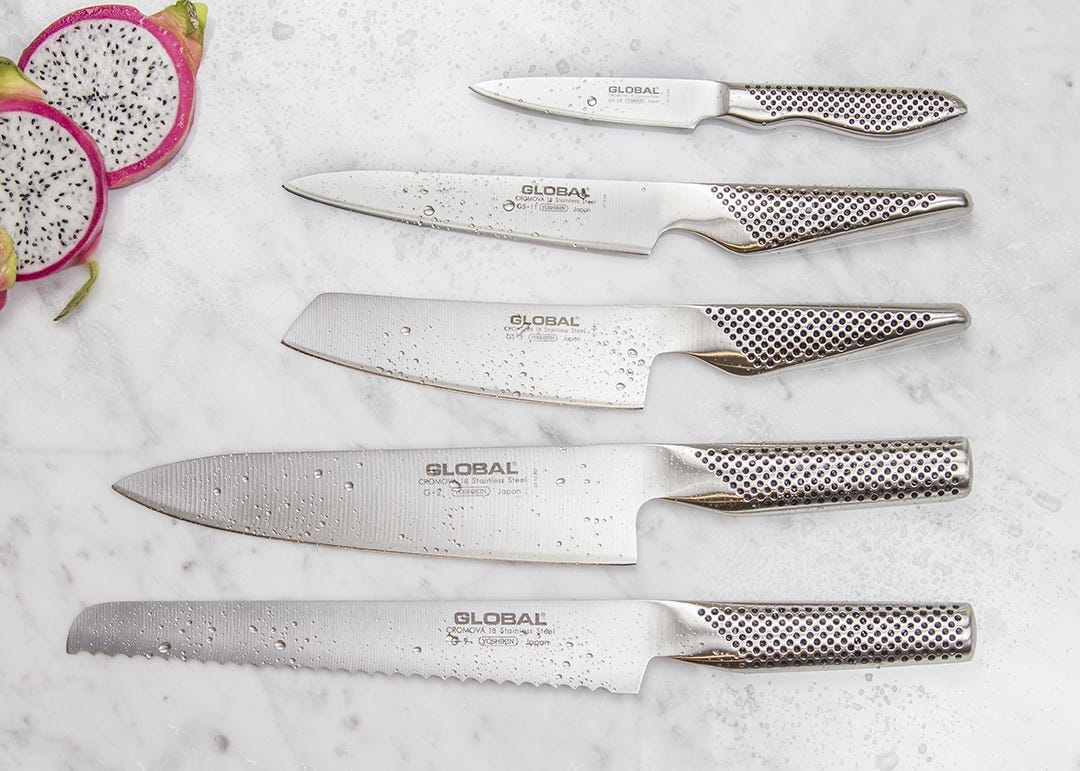 Created in 1985, Global knives were designed by creative visionary, Komin Yamada. He was commissioned to develop a set of knives made from the very best materials available using the latest manufacturing techniques and be of a revolutionary design. And so the Global Classic knife was born. Loved by amateurs and professional chefs, the knives achieve a perfect combination of balance and comfort with outstanding sharpness and performance all encapsulated in an iconic design.
The extensive range encompasses every type of knife you will ever need – from a peeling knife right up to a 27cm Cooks Knife. One of the innovative features created by Yamada was how he balanced the knife. Instead of using a traditional bolster and tang to add weight to the handle, he created a hollow handle which he filled with sand to give a perfect counter-balance to the blade. The resulting seamless construction and smooth contours, as well as looking good has several other benefits. There are no areas where dirt and food can get trapped, resulting in a hygienic and safe knife to use.
The other key feature of a knife (and arguably the most important) is the blade and more importantly, its edge. Like a Western-style blade, most of Global's knives are ground (or sharpened) on both sides, but to a much more acute angle and without a bevelled edge found on most European blades. The result is a much sharper blade that will retain its edge for longer. As well as the blade angle, the material it is made from also contributes greatly to retaining its sharpness.
Global knives are hand-forged in Japan by a company called Yoshikin using CROMOVA 18 high-carbon stainless steel, which has been created exclusively for Global. Ice-tempered and hardened to resist corrosion, the steel is hard enough to allow for the blade's acute angle and soft enough to make sharpening easy. CROMOVA is made up of three elements. CRO stands for chromium and 18 is the percentage of chromium in the steel. This relatively high percentage provides good stain resistance. MO stands for molybdenum and VA stands for vanadium – two metallic elements that provide the knife with good edge retention.
---
Some of our most popular Global Classic products
---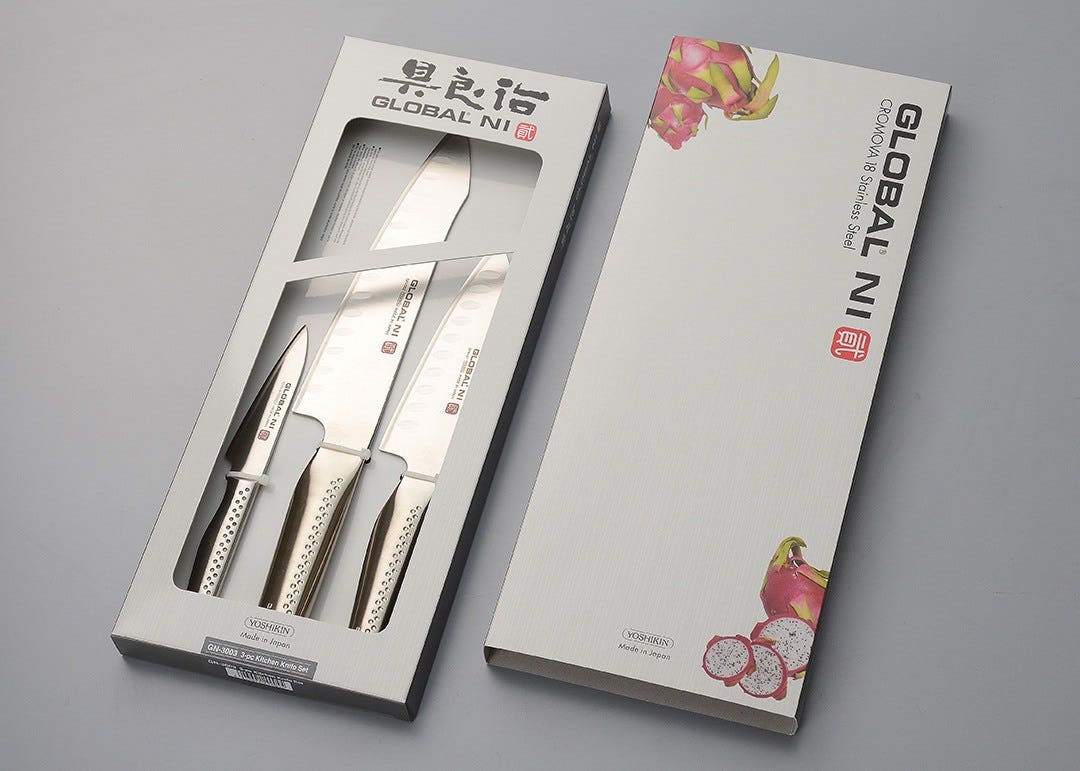 Global Ni Knives
In 2015 Global launched the Ni range of knives (Ni is Japanese for 2). Designed with the professional chef in mind this new range delivers higher specification and performance. The fresh outline of the knife features an angular, oriental restyling to the blade which affords a more precise and accurate cut. The blades are also slightly thicker than the classic series which increases the weight of the knife, enhancing the cutting experience.
At the other end of the knife is a longer, ergonomically designed 'chestnut' handle which allows for improved comfort in a professional pinch-grip. It still includes the iconic dotted design, but this has been pared down to a thin strip and left natural, adding to the knife's sleek appearance. Although heavier than a Global Classic knife, a Ni knife still retains the lightweight feel associated with Global thanks to the CROMOVA stainless steel it is made from.
As with the Global Classic range, the Global Ni range is perfectly balanced thanks to the perfect amount of sand added to the hollow handle.
---
Some of our most popular Global Ni products
Global Knives - the verdict
So, which is the best knife for you? Sadly, we can't answer that question. There are many considerations to take into account. You may be swayed by the elegant looks of the new Ni range (although the classic range is far from ugly), or you may be someone who just has to have the latest model. Money may be a deciding factor also, though both these ranges fall into 'considered purchase' territory.
By far the best way to judge for yourself is to actually hold these knives in your hand. This way you'll get the best idea of how the knife feels, how balanced it is, its overall weight and its cutting ability. If you live close-by to our shop please feel free to call in and we'd be more than happy for you to try these excellent knives out for yourself.
---
Global cutting boards - the perfect companion to Global knives