KitchenAid Artisan K400 Blender Cocktail and Mocktail Recipes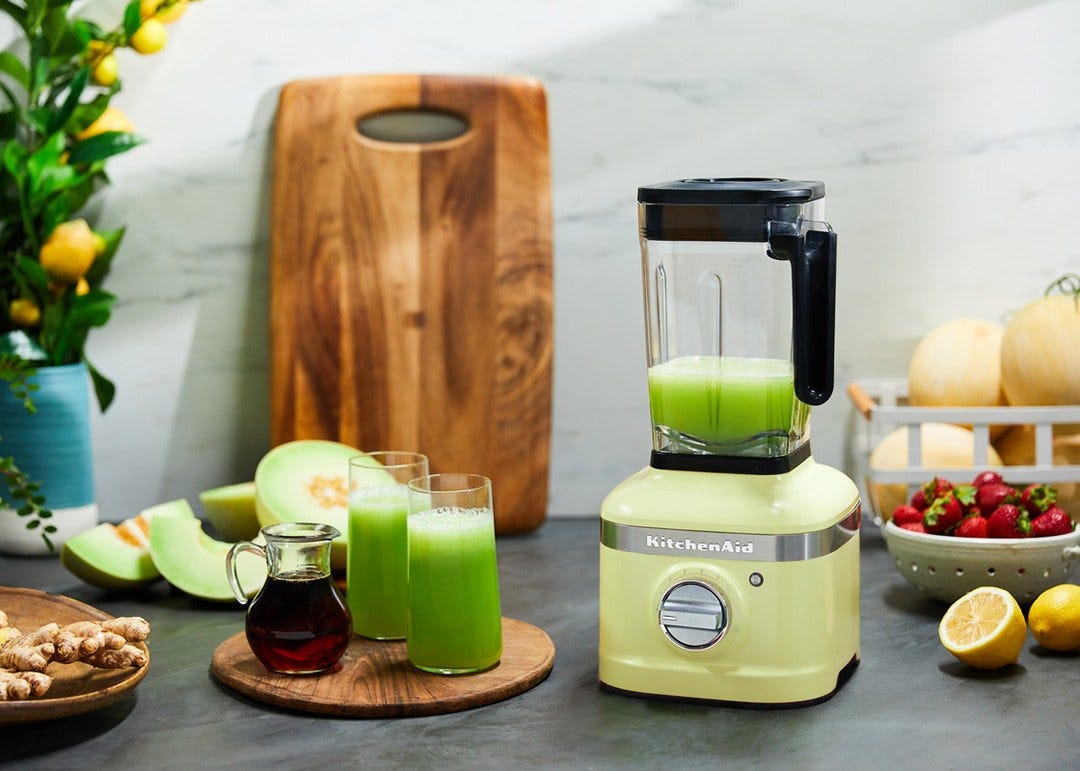 The KitchenAid Artisan K400 Blender has been carefully crafted with a sturdy die-cast metal base, a brushed-metal dial and elegant design. The jar's ribbed glass design moves contents towards the blades, producing a powerful mixing vortex aided by the powerful 1.5 HP motor. Available in 10 gorgeous colours you can match your mixer to your style, home and personality - from subtle pistachio and silk pink through to vibrant empire red and kyoto glow. Designed for the perfect taste, it easily blends even the toughest of ingredients for the smoothest of results. It is also perfect for creating delicious and decadent cocktails and mocktails. Here are five recipes for tasty tipples - both alcoholic and non-alcoholic.
Breath Freshener
Serves 2. Prep: 10 minutes.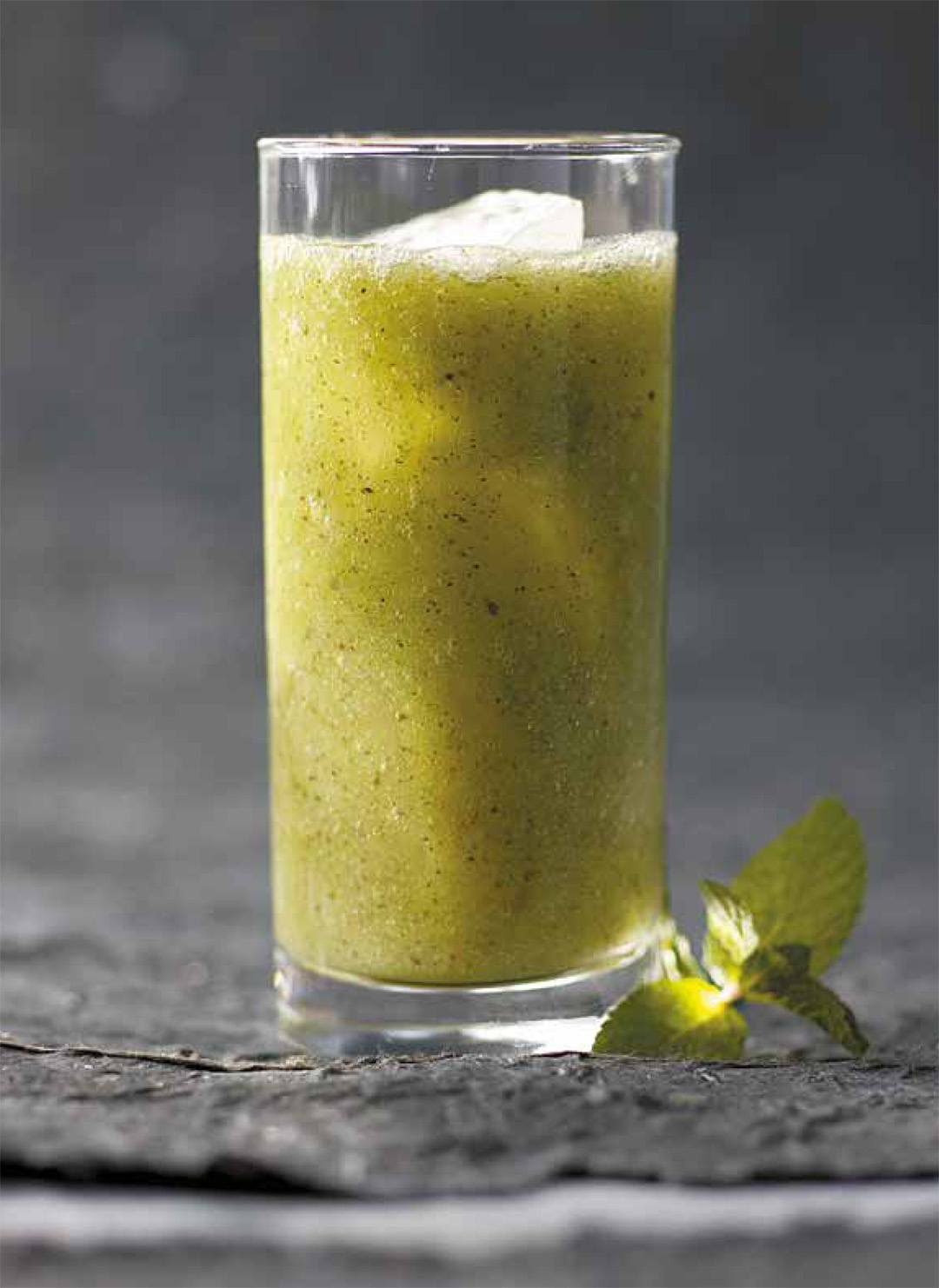 100g sugar
50ml water
4 sprigs of mint
2 kiwi fruit
75ml white rum
50ml green Crème de menthe
juice of ½ lime
a handful of crushed ice
ice cubes, to serve
This bright green cocktail will definitely stimulate your appetite for the meal ahead with its refreshing combination of mint, kiwi fruit, lime and rum. Replace the kiwi fruit with honeydew melon and the Crème de menthe with Midori liqueur for a melon-flavoured variation on this drink.
Make a thick syrup with the sugar and water. Process the mint leaves and sugar syrup in the blender. Blend with the remaining ingredients, except the ice cubes, until smooth, then pour over ice cubes into chilled long-drink glasses. Drink at once.
---
POPULAR KITCHENAID ARTISAN K400 BLENDER COLOURS
Naughty But Nice
Serves 4. Prep: 5 minutes
Infuse: 15 minutes. Cook: 15 minutes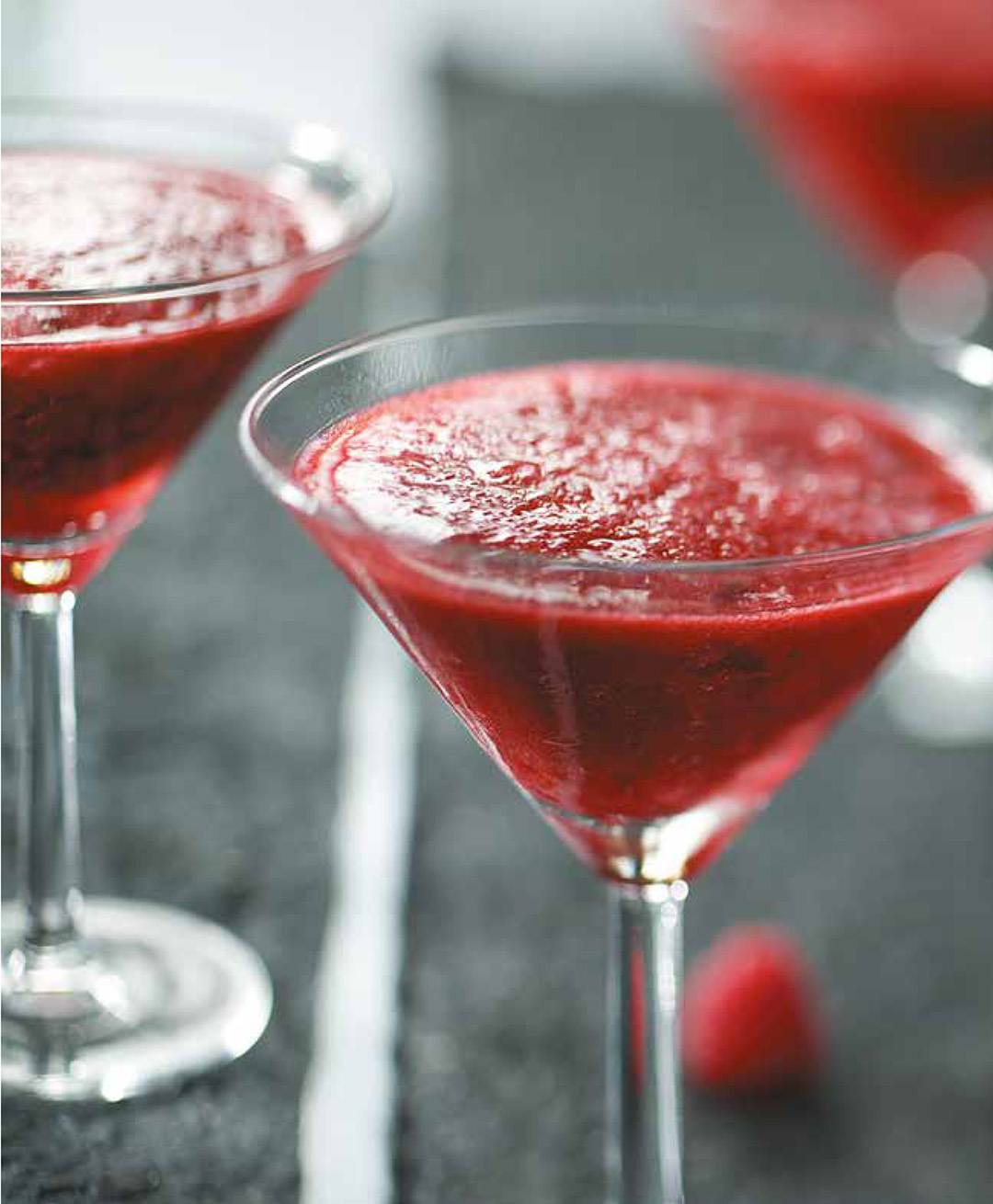 200g sugar
500ml water
5g dried hibiscus flowers
250g raspberries
50ml freshly squeezed blood orange juice
2 sprigs of basil
125ml vodka
a handful of crushed ice,
plus extra to serve
Half the fun in making cocktails is inventing names for your concoctions. With its floral aroma and healthy measure of vodka, this cocktail certainly lives up to its name.
Make a light syrup with the sugar and water. Add the hibiscus flowers, cover and infuse for 15 minutes. Strain the syrup and reduce by half. Leave to cool. Mix the raspberries and blood orange juice in the blender. Push through a fine non-metallic sieve, then return to the blender. Add the remaining ingredients with 75ml hibiscus syrup (keep the rest for another recipe). Blend until smooth. Pour over crushed ice into chilled cocktail glasses. Drink at once.
Watermelon Wine Slushie
Serves 4
Prep: 6 minutes. Blend: 30 seconds
Chill: 6 hours (for freezing juice)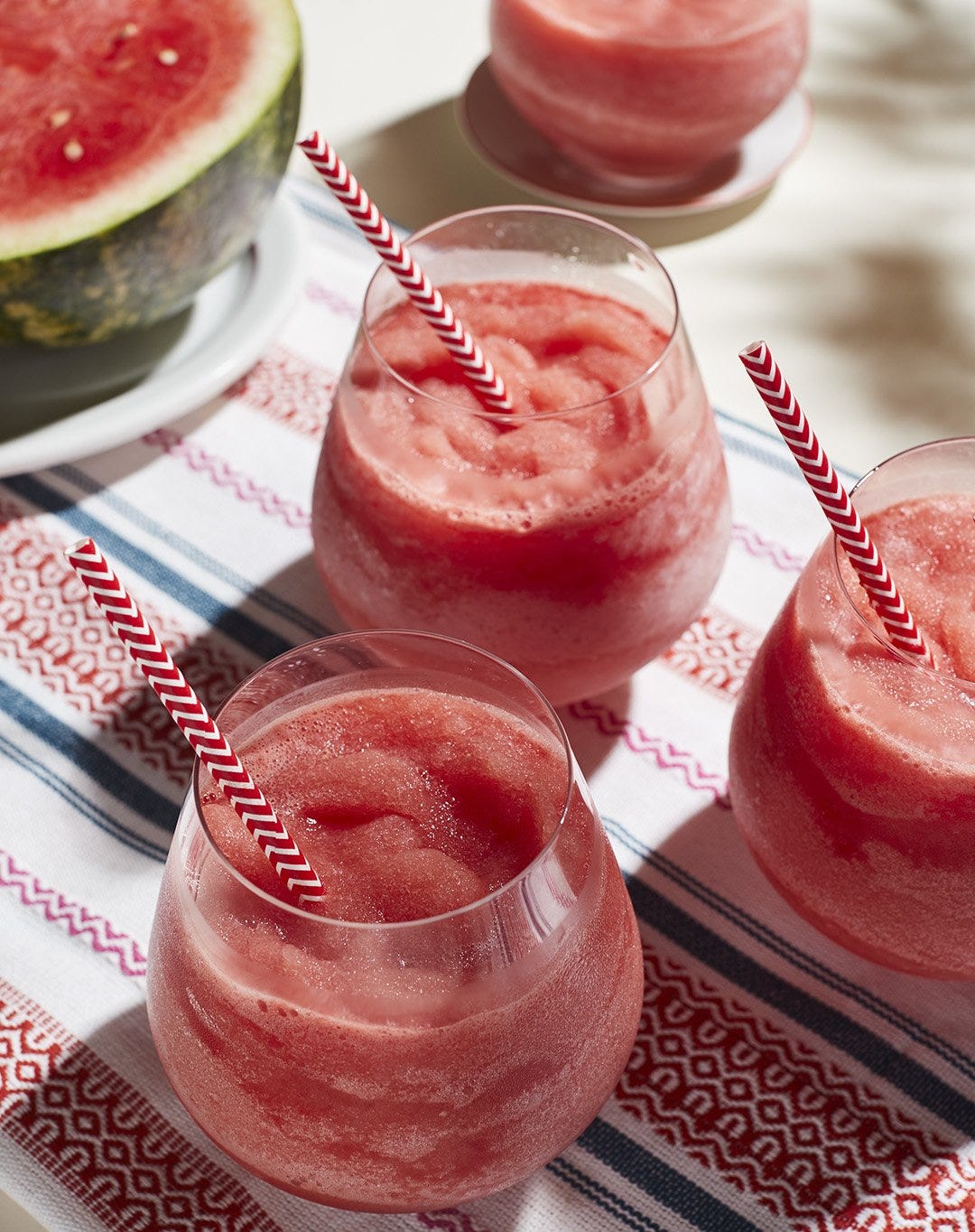 700ml of watermelon juice (about 2 mini watermelons)
750ml white zinfandel or rose wine
30ml Simple syrup or honey
4-6 mint leaves
Requires Citrus Press attachment
Slice your watermelons in half so you have two end pieces. Fit your KitchenAid 400 blender base with the Citrus Press attachment. Turn to speed 1 and, with two hands, hold the watermelon half and gently press it onto the reamer (see Chef's Notes for juicing tip). Juice the watermelons until you have 700ml of watermelon juice. Pour the juice into ice cube trays, and freeze until solid. Fit the blender with the blender jar and add watermelon juice cubes and add remaining ingredients. Turn to speed 5 and blend until smooth, about 15-20 seconds. Divide slushie between 4 glasses and serve immediately.
CHEF'S NOTES:
Because of the width of the watermelon rind, use your palm to place pressure on one side of the watermelon rind while juicing. Also, if there's watermelon meat left at the top inside the rind after juicing, trim off the bottom 1" of the rind and then place it back on the reamer to juice.
Make a bunch of watermelon juice cubes in advance and, once frozen in trays, pop them out and store them in large plastic bags until ready to use.
POPULAR KITCHENAID ARTISAN K400 BLENDER ACCESSORIES
Vanilla Orange Citrus Syrup
Serves 8
Prep: 4-5 minutes
Total time: 15-20 minutes (plus chilling)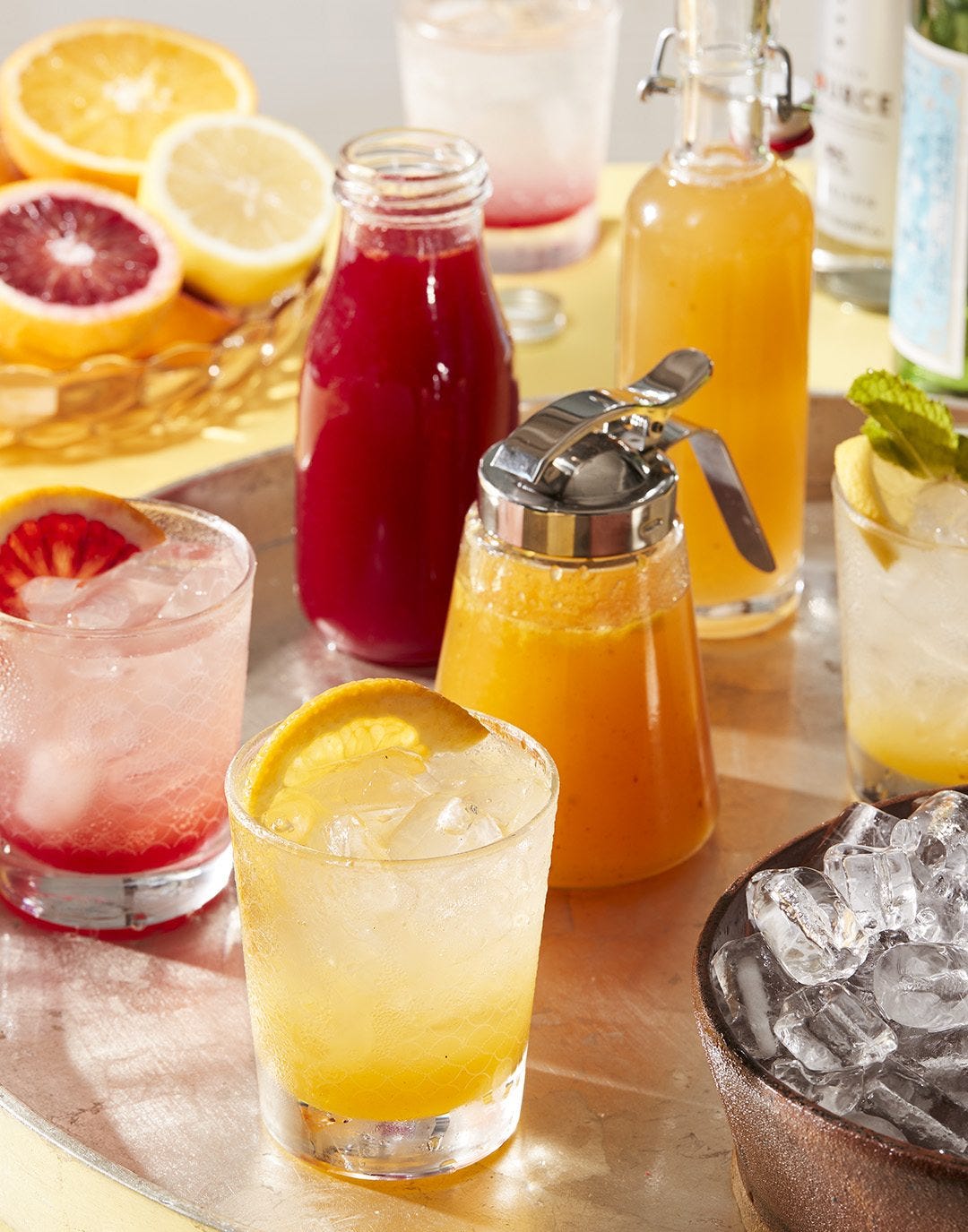 480ml orange juice (about 7-8 oranges)
½ vanilla bean, seeds removed
200g granulated sugar
Requires Citrus Press attachment
Slice your oranges in half so you have two end pieces. Fit your KitchenAid 400 blender base with the Citrus Press attachment. Turn to speed 1 and firmly press halved oranges onto the reamer and juice until you have 16 ounces of juice. Place a saucepan on the stove and turn to medium high heat. Pour the juice into the pot and add the sugar and vanilla bean seeds. Whisk to fully incorporate, and bring mixture to a boil. Once boiling, reduce heat to medium and allow mixture to simmer, uncovered, for 15-20 minutes, or until thickened. Pour the syrup into an airtight container and chill until ready to use.
Chef's Notes:
Use these syrups alongside sparkling water, or club soda, to create a tasty mocktail bar. Or, turn them into italian sodas with the addition of a bit of cream. (Recommended: 2 ounces of syrup to 4 ounces of sparkling water.) They can also be used in regular cocktail applications.
This basic ratio of citrus juice to sugar is a perfect base for many citrus flavor variations! For example, try blood orange juice + 1 tablespoon of honey, or lemon juice + 1 teaspoon of grated ginger.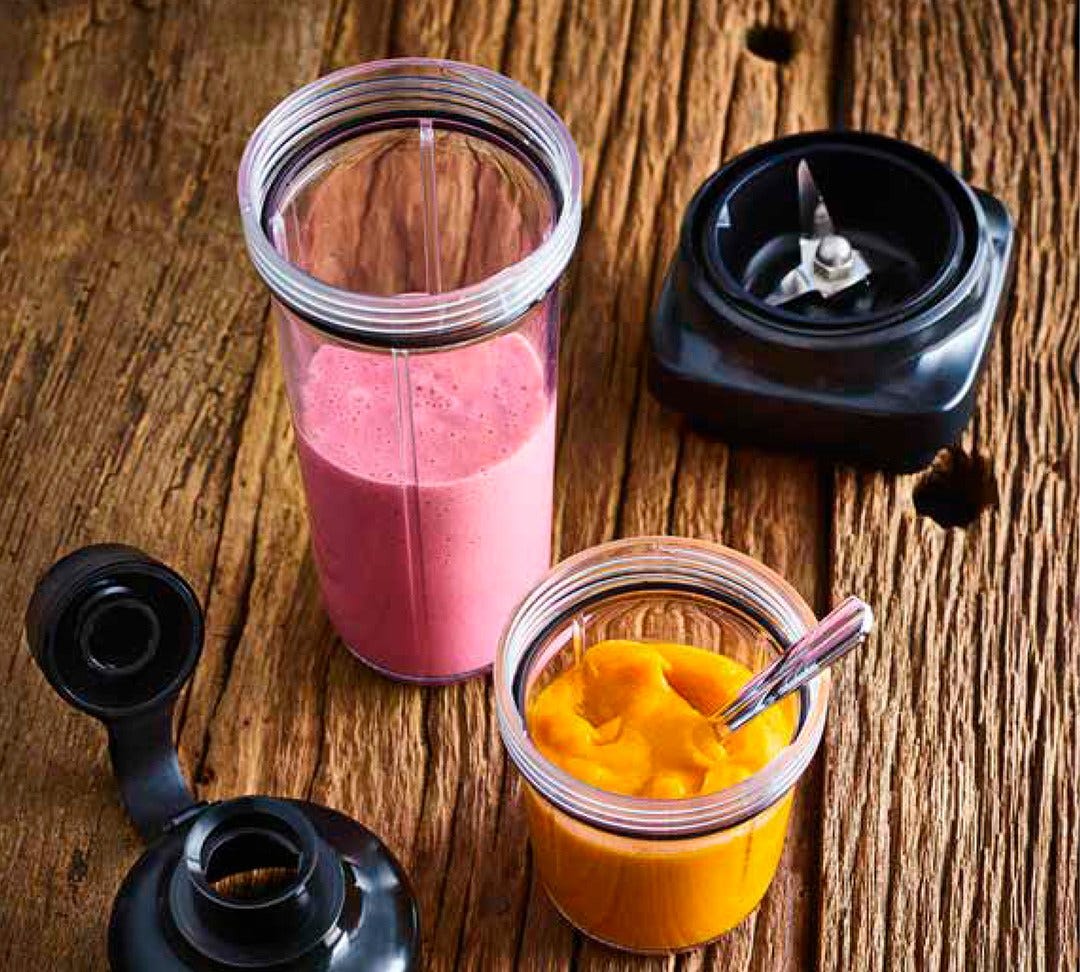 Raspberry and Buttermilk Shake
250ml cold buttermilk
50ml maple syrup
70g frozen raspberries
1tsp of linseed oil
1tsp of hemp seed oil
Place the buttermilk, maple syrup, raspberries and linseed and hemp seed oils into the blender and blend using the smoothie programme.