Ordering a kitchen knife using online age verification
Sadly, barely a day goes by without news of another incident of knife crime. With offences rising to their highest levels since 2010 and a worryingly growing number of young people carrying knives for their own protection, the Government is looking at changes in the way knives can be purchased online in order to stop persons under the age of 18 being able to obtain them. As a responsible retailer and supplier of a large range of kitchen knives this is obviously a major concern for us. Read on to discover the steps we have put in place and the reasons behind them that allow us to continue to sell kitchen knives on our website.
Why we age check
As a responsible retailer, and as part of the nationwide effort to reduce knife crime, we comply with all the necessary legislation regarding the sale of age-restricted items. It is against the law to sell knives to persons who are under the age of 18. We can manage this in our shop through the Challenge 25 policy. But this is not possible online. Therefore it is necessary for us to take additional steps to ensure that customers are over the age of 18 when they are purchasing an age-restricted item. We have instigated a two step process for managing this which is detailed below.
1 - Online age verification process
We use age verification software at checkout for any orders that contain age restricted products. This complies with our legal obligation to ensure that we are not allowing minors to initiate a transaction on our website for age restricted items.
To make this process as simple as possible, we carry out the initial check on the information that is entered at checkout. This initial stage checks information from the electoral register. If we are unable to verify your age from this initial check you will be presented with a popup which will give you a number of different options for completing an age check successfully.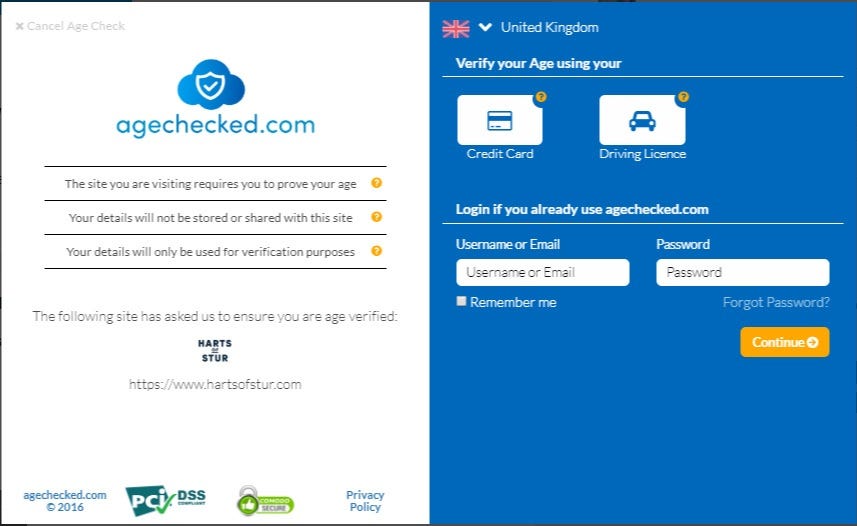 Credit Card. If you have a credit card, simply enter the details requested. Please note that this is not used as a method of payment, nor are any funds taken as part of this process. Your card details are only used to confirm your age.
Driving Licence. If you have a driving licence, enter your details, including your driving licence number.
Our lawful basis under GDPR for processing your information for age verification is our legal obligation to ensure that persons purchasing age-restricted items are of the minimum legal age to do so. All data is handled sensitively and securely. Checks are carried out by third party software from which all personal information is removed after the check is carried out. More information can be found in our privacy policy.
2 - Age verified delivery
All orders which contain age-restricted items will be sent via an age verified delivery (AVD) service. All items on these orders will be sent via AVD, regardless of whether they are age-restricted or not. Age verified delivery will require a signature, which can only be from the recipient who is named on the parcel. The recipient may be required to show ID to prove that they are over 18 years of age.
Why might my age verification be unsuccessful?
Without wanting to state the obvious, if you are under 18 years of age your age verification will prove unsuccessful. If you have entered incorrect information your age verification may also prove unsuccessful. Another instance of you being unable to complete an age verification check on our website is if all of the following statements apply -
- You do not hold a current (UK) driving licence
- You do not own a current credit card
What do I do if my age check is unsuccessful?
Remove Age-Restricted Products. If all of the above statements apply, then removing any age-restricted items from your basket will enable you to checkout without an age verification being required. We understand that it may be frustrating to not be able to order all items that you would like to, but unfortunately our legal obligations must come first. If we cannot verify that you are aged over 18 then we cannot let you purchase age-restricted items.