Stoven Non-Stick Bakeware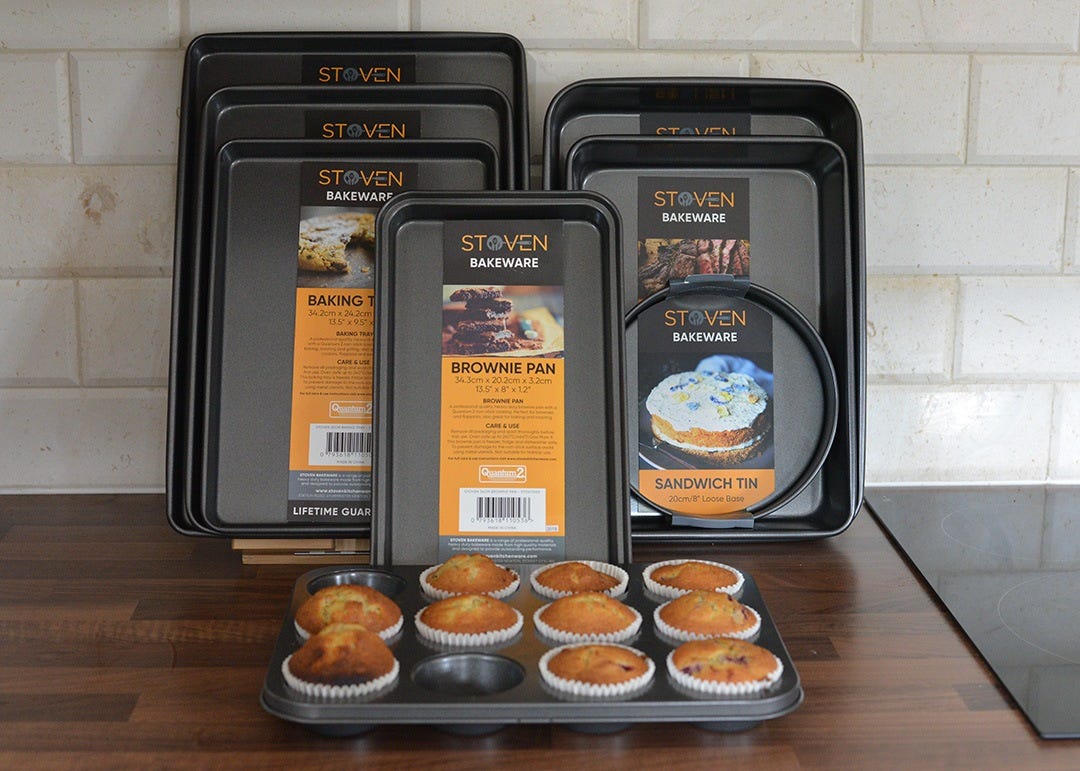 Welcome to Stoven bakeware, a brand new range of heavy duty, professional quality non-stick bakeware that's been created in collaboration with, and exclusive to, Harts of Stur. Made from 1mm thick carbon steel, each piece in the Stoven bakeware range features a durable and highly effective Quantum 2 non-stick coating. Perfect for novice bakers and confident cooks alike, the Stoven bakeware range is the ideal choice if you want reliable and affordable bakeware that doesn't sacrifice performance and quality.
Key Features of Stoven Non-Stick Bakeware
Each piece of Stoven bakeware is crafted from 1mm thick carbon steel. For optimum performance a Quantum 2 coating is applied which provides a durable and effective non-stick surface. Stoven bakeware is also extremely versatile, being oven safe to temperatures up to 240°C/464°F/Gas Mark 9 as well as fridge and freezer safe. It can also be popped in the dishwasher, although the Quantum 2 non-stick coating is so effective, all that's usually required is a quick wash by hand. Stoven bakeware is also covered by a lifetime guarantee.
The Stoven non-stick bakeware range covers all your bakeware needs from baking trays and roasters through to loose base sandwich tin, allowing you to create tasty and delicious sweet and savoury dishes.
Stoven Non-Stick Baking Trays - a baking tray is a very versatile and essential piece of bakeware that's perfect for creating myriad delicious creations - from baking bread rolls, pastries and cookies to flapjack, pizza and swiss rolls. It can also be used for roasting vegetables or simply cooking frozen chips and fish fingers. The Stoven non-stick bakeware collection includes three sizes of baking tray - small, medium and large.
Stoven Non-Stick Roasters - a roaster can be used for roasting all types of vegetables, meat and poultry. Alternatively it can be used for tray bakes or even a tasty lasagne or toad in the hole. There are two sizes of roaster in the Stoven Non-Stick bakeware range - 35cm and 40cm.
Stoven Non-Stick Brownie Pan - create delicious brownies, flapjacks and more with this Stoven 34cm brownie pan.
Stoven Non-Stick 12 Cup Muffin Pan - bake delicious muffins and cupcakes in this Stoven 12 cup muffin pan.
Stoven Non-Stick 20cm Loose Base Sandwich Tin - create light and fluffy sponges with this Stoven 20cm loose base sandwich tin.
---
Popular Stoven Non-Stick Bakeware Sets
The following delicious recipes can all be created using Stoven non-stick bakeware -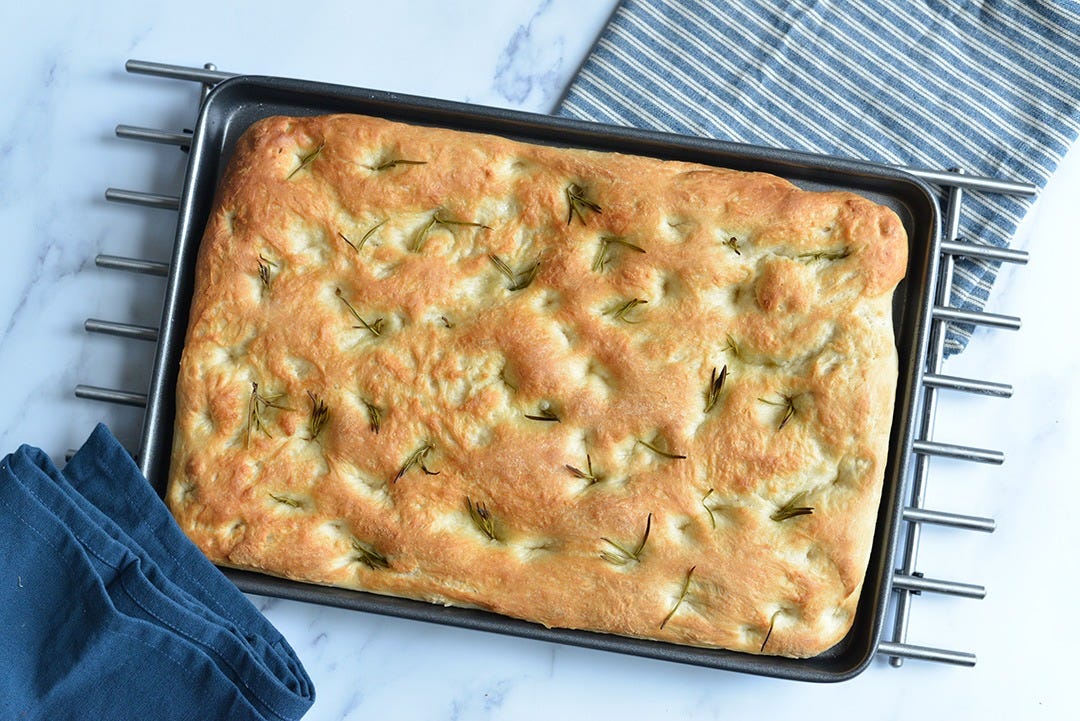 Focaccia
500g strong bread flour, plus extra for dusting
7g dried fast action yeast
2 tsp fine sea salt
5 tbsp olive oil, plus extra for the tin and to serve
1 tsp flaky sea salt
¼ small bunch of rosemary, sprigs picked
Tip the flour into a large mixing bowl. Mix the yeast into one side of the flour, and the fine salt into the other side. Then mix everything together, this initial separation prevents the salt from killing the yeast.
Make a well in the middle of the flour and add 2 tbsp oil and 350-400ml lukewarm water, adding it gradually until you have a slightly sticky dough (you may not need all the water). Sprinkle the work surface with flour and tip the dough onto it, scraping around the sides of the bowl. Knead for 5-10 mins until your dough is soft and less sticky. Put the dough into a clean bowl, cover with a tea towel and leave to prove for 1 hr until doubled in size.
Oil a rectangle, shallow tin (25 x 35cm). Tip the dough onto the work surface, then stretch it to fill the tin. Cover with a tea towel and leave to prove for another 35-45 mins.
Heat the oven to 220C/200C fan/gas 7. Press your fingers into the dough to make dimples. Mix together 1½ tbsp olive oil, 1 tbsp water and the flaky salt and drizzle over the bread. Push sprigs of rosemary into the dimples in the dough.
Bake for 20 mins until golden. Whilst the bread is still hot, drizzle over 1-2 tbsp olive oil. Cut into squares and serve warm or cold with extra olive oil, if you like.
---
Popular Stoven Non-Stick Bakeware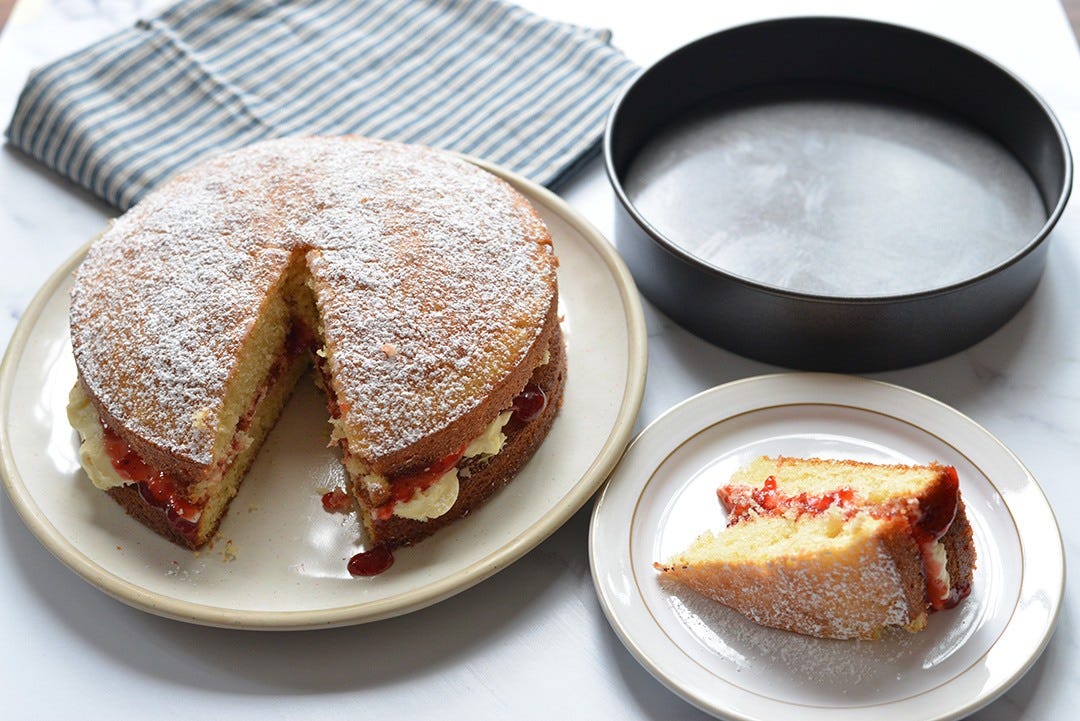 Victoria Sponge Cake
Heat oven to 190C/fan 170C/gas 5. Butter two 20cm sandwich tins and line with non-stick baking paper.
In a large bowl, beat 200g caster sugar, 200g softened butter, 4 beaten eggs, 200g self-raising flour, 1 tsp baking powder and 2 tbsp milk together until you have a smooth, soft batter.
Divide the mixture between the tins, smooth the surface with a spatula or the back of a spoon.
Bake for about 20 mins until golden and the cake springs back when pressed.
Turn onto a cooling rack and leave to cool completely.
To make the filling, beat the 100g softened butter until smooth and creamy, then gradually beat in 140g sifted icing sugar and a drop of vanilla extract (if you're using it).
Spread the buttercream over the bottom of one of the sponges. Top it with 170g strawberry jam and sandwich the second sponge on top.
Dust with a little icing sugar before serving. Keep in an airtight container and eat within 2 days.
For the sponge
200g caster sugar
200g softened butter
4 eggs, beaten
200g self-raising flour
1 tsp baking powder
2 tbsp milk
For the filling
100g butter, softened
140g icing sugar, sifted
a drop of vanilla extract (optional)
3 - 4 tablespoons good-quality strawberry jam
icing sugar, to decorate
---
Popular Stoven Non-Stick Bakeware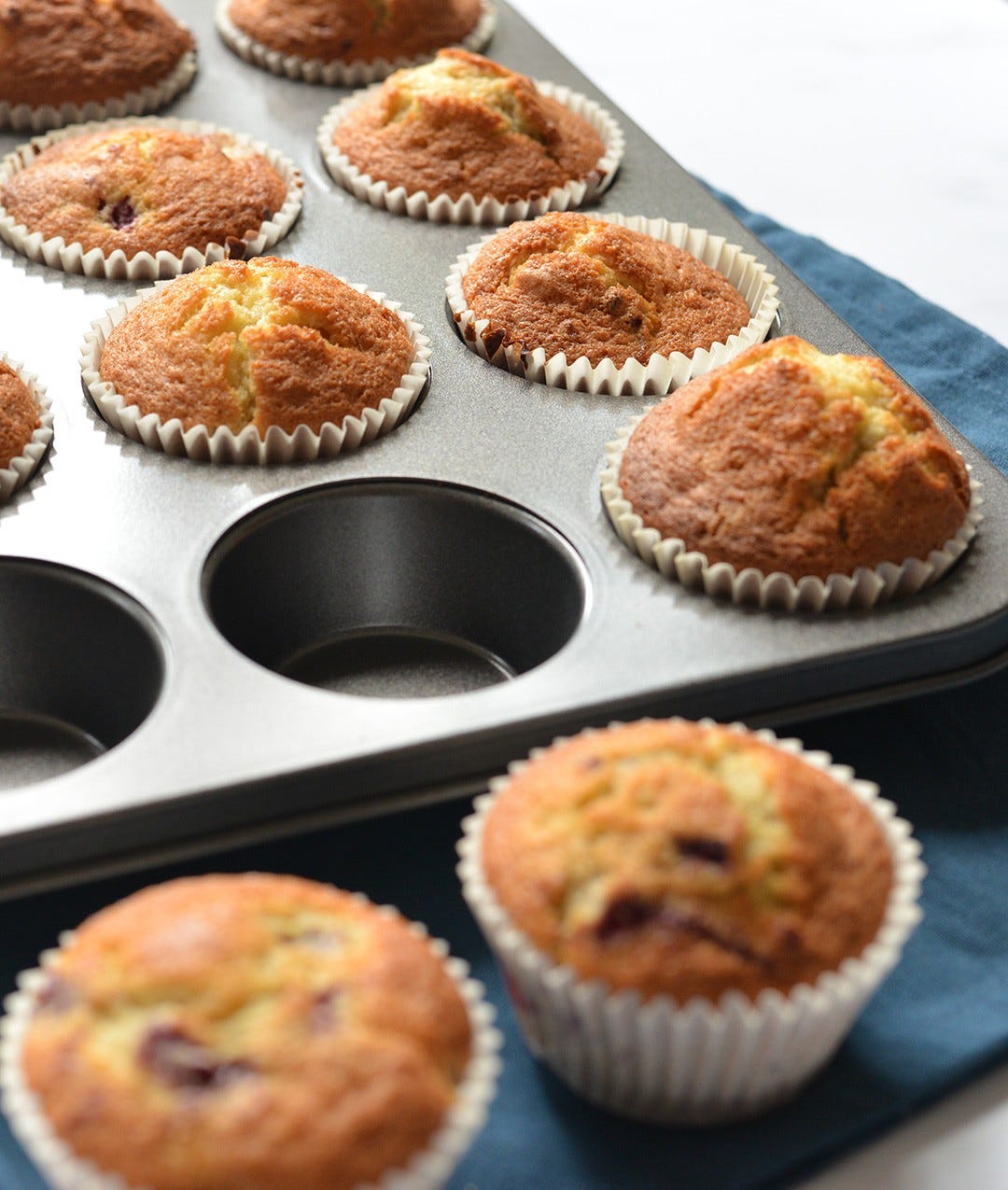 Raspberry and Lemon Muffins
110g butter
250g caster sugar
2 eggs
250g plain flour
2 teaspoons baking powder
1/2 teaspoon salt
4 tablespoons milk
Zest of 1 lemon
100g frozen or fresh raspberries
Preheat the oven to 190 C / Gas 5. Grease and flour muffin tins or use paper cases.

In a large bowl, cream butter and 250g sugar until light and fluffy. Add eggs one at a time and mix in.
Mix flour, baking powder and salt. Add flour mixture, alternating with milk.
Add the lemon zest and gently fold in with the raspberries.
Bake at 190 C / Gas 5 for 30 minutes.
Allow to cool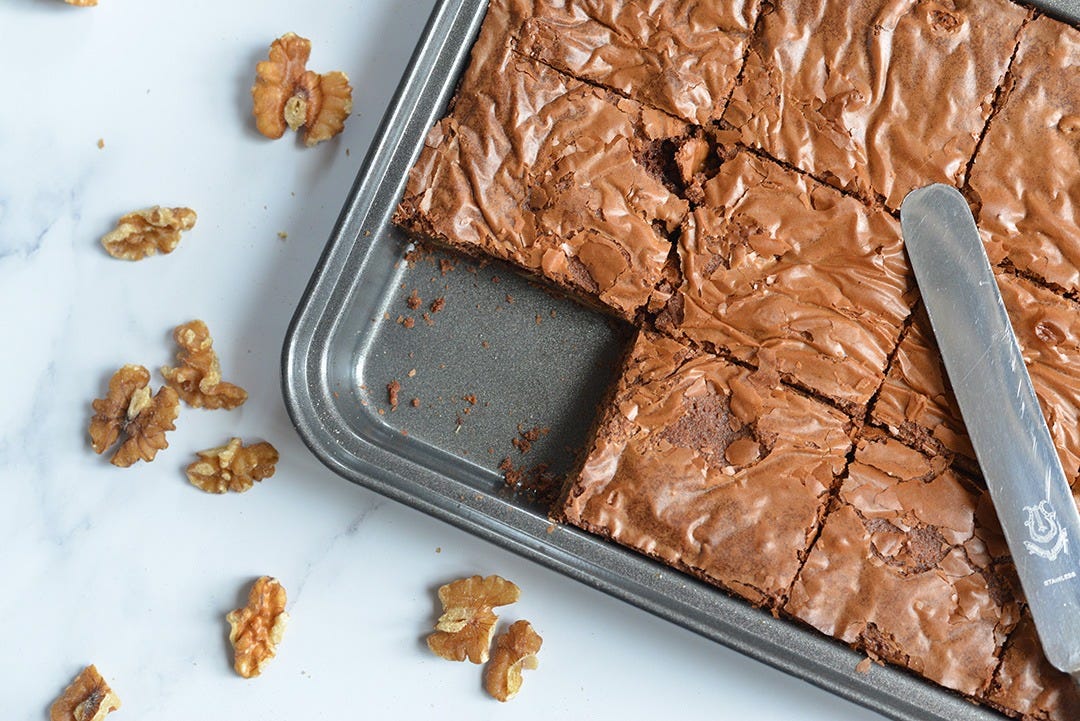 Chocolate Brownies
Preheat the oven to 180 C. Grease baking a baking tin (30cm x 20cm) and line with baking parchment. Break chocolate into small pieces and melt it with butter in a bowl over a saucepan of gently simmering water.
Put eggs, sugar, vanilla in a bowl and whisk together until thick and creamy, Stir in the melted chocolate mixture and sift in the flour, salt and add the nuts. Fold in the berries carefully so that the fruit does not break up much.
Scrape the mixture into the prepared tin and bake for about 25 minutes. The top should be cracked but the inside should have a fudgy texture. Start to test around 20 minutes as all ovens vary; use a cocktail stick or skewer and insert it in the centre (a few moist crumbs should adhere to the stick/skewer when the brownies are done). Leave to cool in a tin or pan for 20 min before cutting into squares. Store, wrapped in baking parchment, in an airtight tin.
150g unsalted butter, plus extra for greasing
200g dark chocolate
3 eggs
300g caster sugar
1tsp vanilla extract
125g plain flour
1/4tsp salt
75g walnuts or hazelnuts, chopped (optional)
125 raspberries of blueberries (optional)