Summer Fruit and Chocolate Tartlets
Posted in:
Thanks to the lovely people at
Seasoned
for sharing this delicious recipe for Summer Fruit and Chocolate Tartlets. Kitchen Craft's Set of six 10cm Loose Base Tart Tins are ideal for this recipe.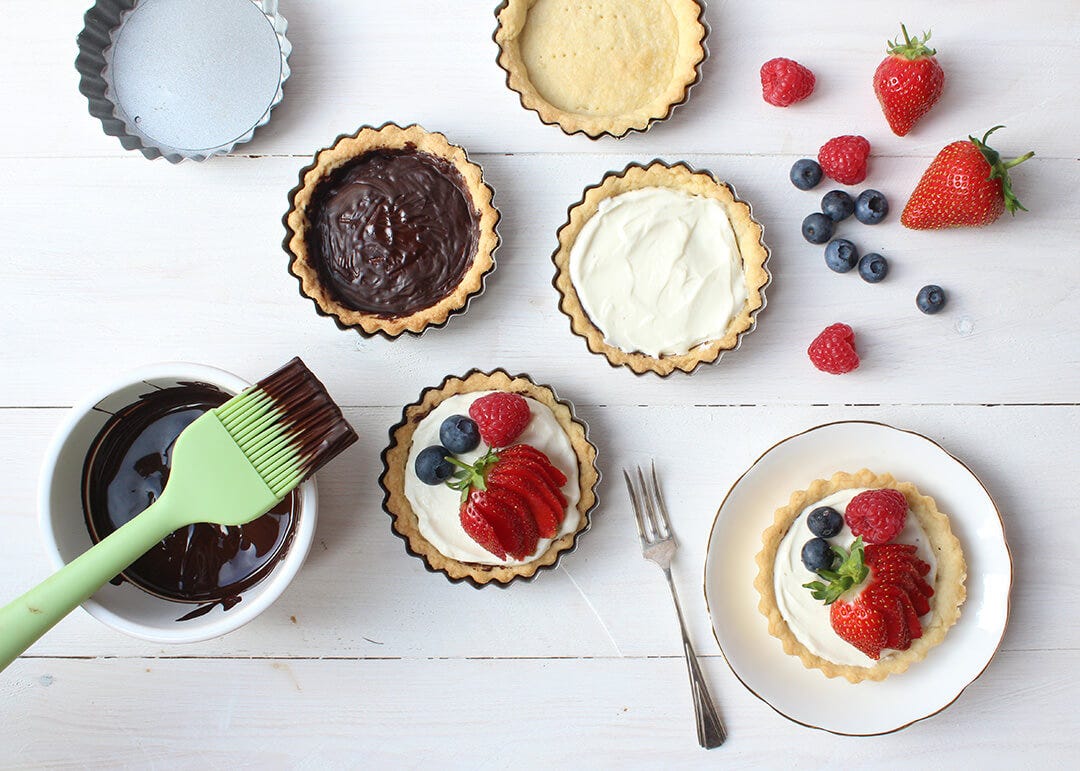 Makes 10x 10cm tartlets
Ingredients
For the pastry:
160g unsalted butter, softened
75g caster sugar
1 egg yolk
250g plain flour
For the filling:
100g dark chocolate
150ml double cream
150ml good quality vanilla yoghurt
500g mixed summer berries
[insert page='kitchen-craft-set-six-10cm-loose-base-tart-tins' display='custom-product.php']
How to make your Summer Fruit and Chocolate Tartlets
Beat together the butter and sugar in a bowl until smooth. Add the egg yolk and continue to beat until the egg is well combined. Finally add the flour and mix until you have a soft dough.
Form the dough into a ball, then flatten and wrap in cling film. Put the dough in the fridge and allow to chill for 30 minutes. While the dough is chilling lightly grease all your tartlet tins with butter.
Divide the dough into ten pieces then roll each piece out to a rough circle. Press the pastry gently into the tin making sure it is in all the corners. Trim the edges then chill in the fridge for a further 30 minutes. Repeat with the remaining pastry and tins.
Preheat the oven to 180° Place all the tartlets on a baking tray and bake for 10 minutes, until pastry cases are golden. Remove from the oven and allow to cool.
Melt the chocolate in a bowl over a saucepan of simmering water. Once the tartlets are cool brush the inside of the tart cases with the melted chocolate and leave to set. This chocolate layer helps keep the pastry crisp once you add the filling.
While the chocolate is setting make the filling. Softly whip the double cream then fold in the vanilla yoghurt. Share this filling between the tartlets then top with fresh berries. Keep tarts chilled until ready to eat.
One of the UK's leading cookery schools,
Seasoned
 was founded by Clare Major in 2010. Located in the grounds of the Catton Hall Estate in Derbyshire, the cookery school runs over 35 cookery courses that are suitable for people of all abilities. For more information about the cookery school and the courses they run visit 
www.seasonedcourses.com