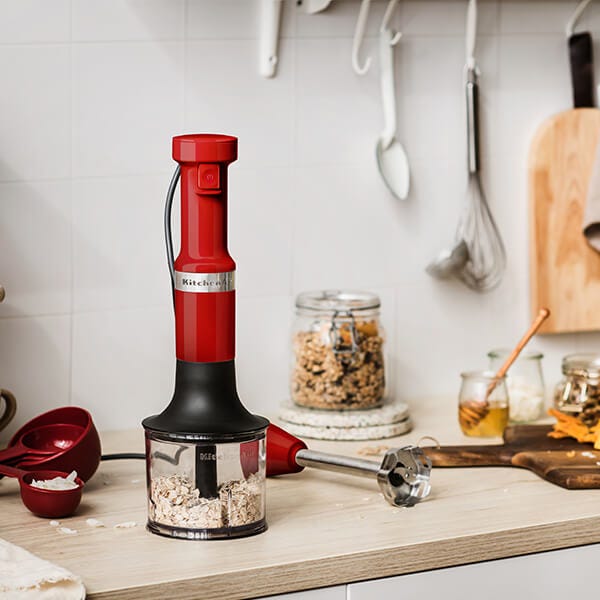 KitchenAid Corded Hand Blender
Each KitchenAid Corded Hand Blender is supplied with a removable blending arm, removable pan guard, 1L BPA-free pitcher, whisk attachment and chopper attachment.
Control the texture of your ingredients, thanks to the variable speeds.
Each hand blender from this KitchenAid series has a 4-point stainless steel blade capable of more than just blending.
KitchenAid Corded Hand Blenders mix, blend, mince, purée, whisk, froth or whip both effortlessly and quickly.
Supplied with a KitchenAid 2 year guarantee.
KitchenAid Corded Hand Blenders boasts a lightweight construction perfect for single-handed operation. Each KitchenAid Corded Hand Blender is powerful enough to glide through a number of food preparation tasks, making it a pleasure to use and an essential addition to any kitchen. Available in the following classic KitchenAid colours: Onyx Black, Empire Red, Charcoal Grey, Matte Black or Almond Cream. Make sauces, soups, desserts and more in no time with the KitchenAid Corded Hand Blender collection.