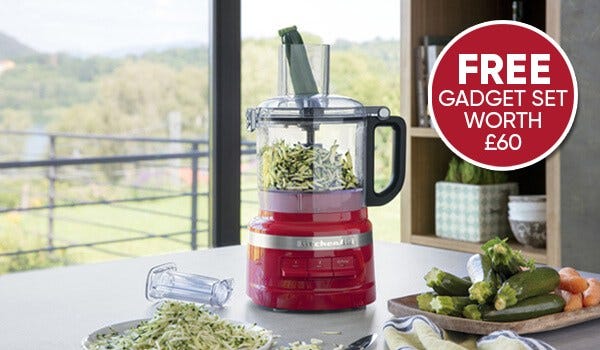 KitchenAid Food Processor 1.7L
A compact food processor that will take the hassle out of food prep. The KitchenAid 1.7L Food Processor is a new addition to the range and is the ideal solution to prepping in smaller quantities. Included accessories make it useful for a number of usually tedious kitchen tasks!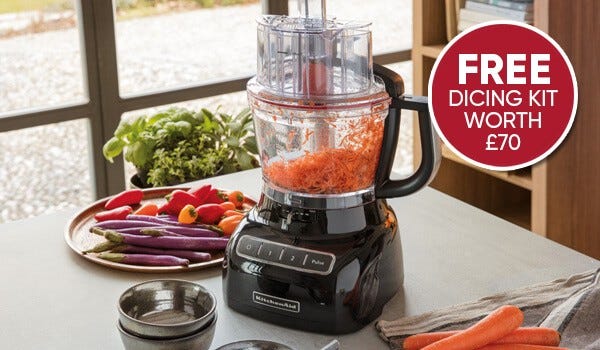 KitchenAid Food Processor 3.1L
If you're looking for a food processer that is ideal for small families and occasional batch cooking then look no further than the KitchenAid 3.1L Food Procesor. Two different sized bowls and a range of accessories will make kitchen prep simple!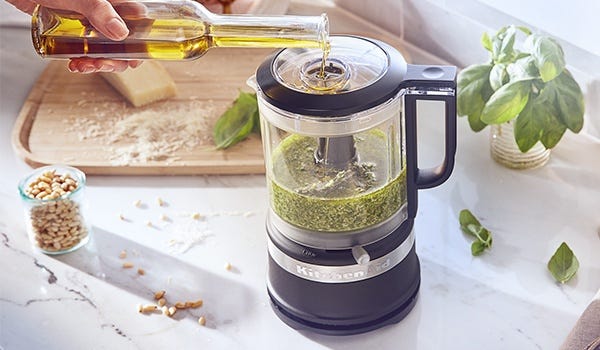 KitchenAid Food Chopper 1.2L
Prepare food quickly and easily with the KitchenAid 1.2L Food Chopper. This chopper can chop, puree and whisk with ease. Two speed settings, plus a pulse function mean you can produce coarse or fine results as required.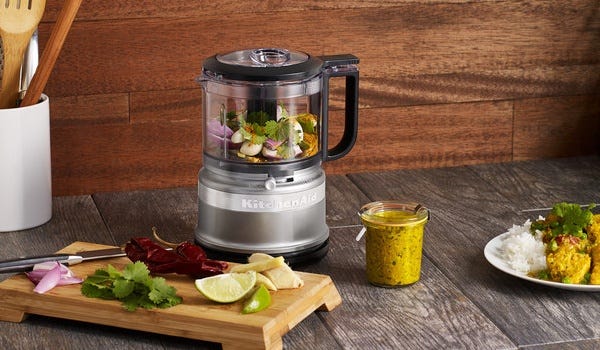 KitchenAid Mini Food Processor
The KitchenAid Mini Food Processor has a capacity of 830ml, one touch operation and a compact and lightweight design. This model is just the thing for small kitchen tasks like chopping ingredients or preparing sauces or dressings.
KitchenAid Food Processors
Are you bored of food preparation and want extra time for other, more interesting pursuits? Then you need a food processor, and KitchenAid make some of the best!
A KitchenAid food processor is the ideal companion for loads of kitchen tasks. This machine will take all the effort out of food preparation. KitchenAid processors have an 'ExactSlice' system. This is an easily adjustable slider for varying slice thickness without having to change blades. The silicone gasket on the lid means no more leaking of soups or other liquids. There is an oversized feed tube to take the largest vegetables. The KitchenAid food processor has a powerful direct drive motor to ensure power and performance where and when you want it!
These food processors will chop, slice, grate and dice. They'll mix, whip, knead and puree. From small quantities of dip, to grating a block of cheese. From slicing potatoes for a gratin, to whipping an egg white for meringues. These processors do it all. The only real choice is a matter of size.
Perhaps you're just looking to make small dips, or find a more make-up friendly method of chopping onions. Maybe you want an occasional nut grinder to use for making dessert toppings? If so, the KitchenAid Mini Chopper could be all you need. This compact little chap will chop, grind, mix and blender any small amounts that you may require.