100th Centenary Breakfast - Juice and Smoothies
Continuing the breakfast theme for our 100th birthday celebrations, we are talking about delicious fresh and tasty juices and smoothies as an alternative choice or as an accompaniment to your breakfast. Many people prefer to start the day with a lighter breakfast instead of something heavy and filling.
We believe that breakfast provides you with the best start of the day and even more so if it is a breakfast that you have made yourself at home.
Nothing beats the taste of freshly squeezed homemade juice. The taste of fresh juice in the morning is not only invigorating but also provides a huge amount of vitamins and nutrients needed for kick starting the bodies digestive system. Fresh juice in the morning is also a great way to freshen the palette and help us to wake up fully before setting off to begin our busy days. It is equally important for children to start the day off with some of their essential vitamins, giving them tons of energy and for growing healthily.
Any citrus fruits can be squeezed like lemons and limes for capturing fresh juice at breakfast time. Perfect when eating pancakes, yogurt or waffles for breakfast. Different grapefruit varieties and oranges are great for drinking aswell.
Fresh juice can be stored in a cool fridge for 48-72 hours, however fresh juice is best enjoyed within a few hours of squeezing to absorb the most vitamins and nutrients. The leftover peel of the orange can provide zest for cakes or garnishes for drinks. Usually if i want to use the zest for baking or cooking, I will grate the orange or lemon before juicing to get the most zest possible.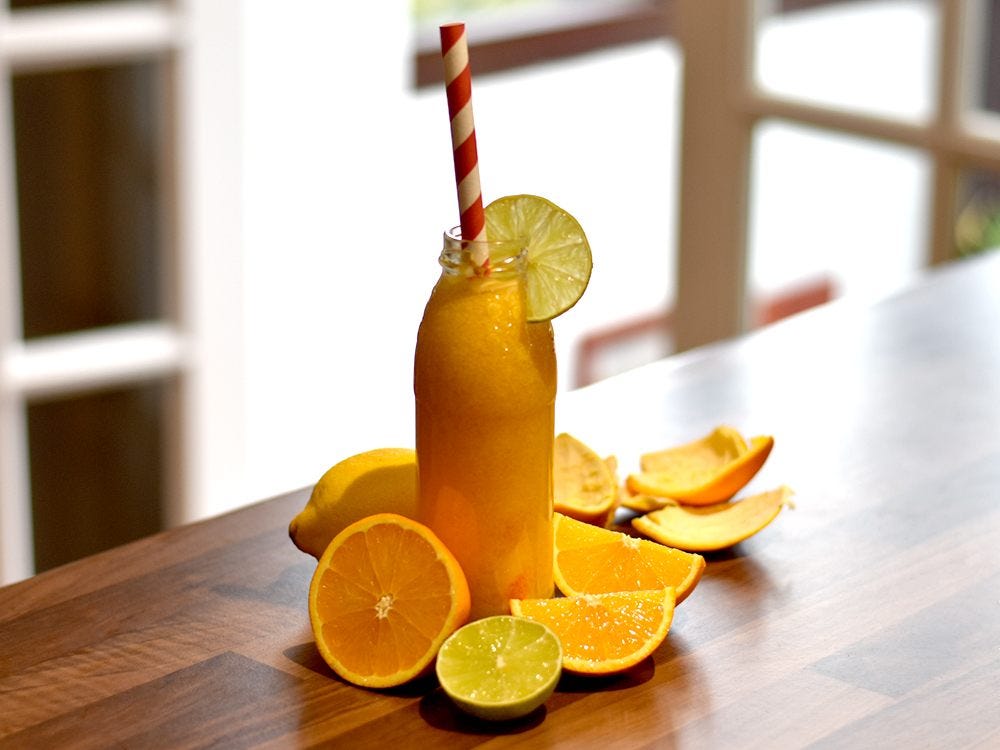 There are a variety of manual juicers which use a similar way of extracting juice. Simply prepare your fruit for juicing by cutting it in half with a sharp knife. Place half of the fruit on the juicer and pull the lever to perfectly extract the delicious juice. This is a quick and simple way of preparing a glass or juice with minimum cleaning up and easy to remove the waste.
An electric juicer will simply juice your orange, lemon, lime or grapefruit as required but without the need to manually pull a lever to squeeze out the juice. By pressing down onto the reamer it will turn and collect the juice in a container underneath with clear marking.
This is another great way of collecting juice without lots of mess or clean up time after. This is actually a great way of collecting the juice when making homemade marmalade. The peel can be then chopped up to use in the marmalade after juicing.
A large juicer extractor can be used for not only citrus fruits but for vegetables too. It will use the whole fruit or vegetable to extract the maximum amount of juice, only leaving behind fibrous pulp, pips and seeds. The electric juicer has a feed tube that will take the entire fruit, stalks, pips and all. However, if you are juicing citrus fruits in this way, it is recommended to remove the peel first otherwise the zest will be extracted along with the rest of the fruit into the juice and taste bitter.
This type of juicer will shred the fruit or vegetable and separate the waste into a removable container that can be easily removed and tipped into a food waste bin. Some manufacturers advice may vary but most of the parts of the juicer can go in the dishwasher for easy cleaning.
For a super fresh and healthy juice recipe, start by juicing the following ingredients together in a juicer for a zingy kick in the morning. If you prefer, you can also add spirulina, wheat grass or other nutrient powders to suit your needs.
Ingredients
½ cucumber
4 celery sticks
1 green apple
Handful of kale
Squeeze of lemon
All of the ingredients can be juiced whole, but remove the stalk if there is one on your apple, you can peel the apple as this will make it easier to extract the most juice possile, but generally not necessary. Make sure all the ingredients are washed and rinsed well.
Most juicers have a large enough feed tube to allow a whole fruit, but if it doesnt, cut the ingredients into appropriate sized piece that can fit easily.
You can try different amounts of these ingredients or try adding or substituting others that you enjoy the taste of. Kiwi, limes and coconut water are great additions for adding flavour to a fresh juice.
Most green vegetables and fruits are great of adding for creating a wide variety of fun flavour combinations and tastes.
Recently adding cold green tea or matcha, which is a powdered Japanese tea, has become very popular. The reason for this is for added health benefits and a unique flavour.
The smoothie trend has exploded over the last few years. It is impossible to look through social media without seeing a smoothie being whizzed up or being sipped from a funky cup and straw. So many influencers style and present their delicious concoctions and share their recipes promoting health and nutrition as a key point.
Not being the best morning person, I personally choose to drink a smoothie for breakfast. The ingredients are easy to store in the fridge and are easily available in local shops, but mainly it is because it is so quick and easy to pop into a blender and whizz up in seconds for a tasty and filling breakfast. I find a smoothie keeps me filled up better that cereal or toast, I can get through until lunchtime without feeling hungry.
The combinations that you choose for a smoothie can be as extensive and wild as your imagination, but there are key ingredients that provide a basis for each smoothie, allowing you to personalise your smoothie for your favourite flavours and finishing touches.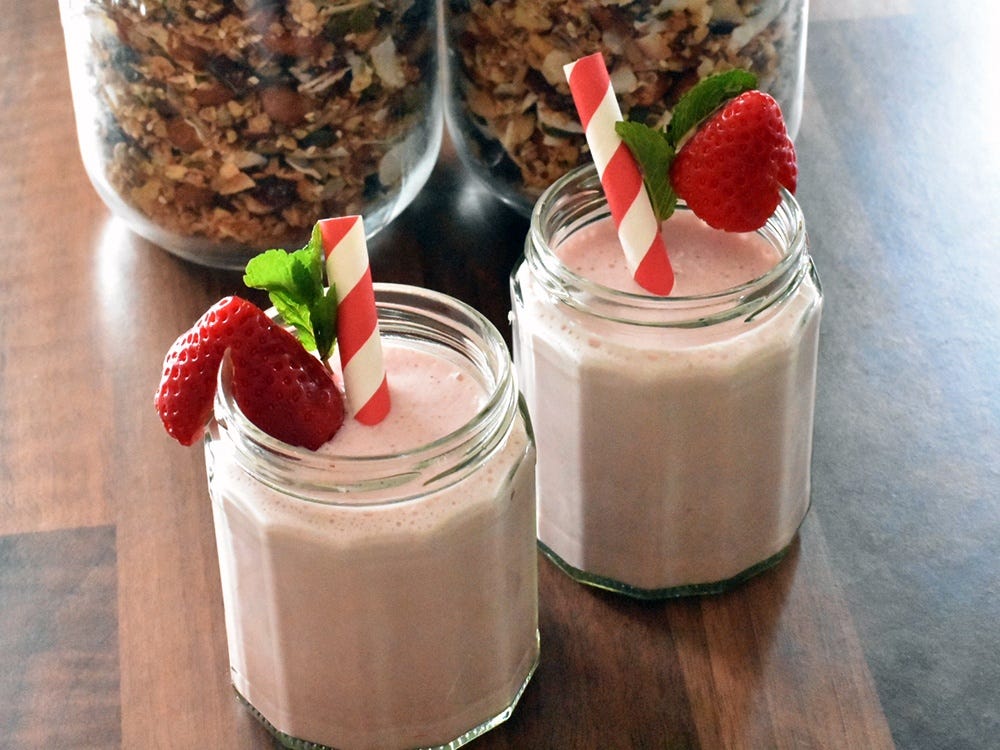 Mixing up a quick smoothie generally requires a blender, if you an active on the move kind of person then a quick mix style of blender will do the job perfectly for you. This type of blender usually comes complete with drinks bottles that the smoothie is mixed in with a drinking spout ready to go.
Alternatively, if you require a blender that can produce larger quantities of smoothies, maybe for a couple who enjoy fitness and nutrition or for a family with kids for enjoying smoothies, soups and hot drinks then a larger more versatile blender would probably fit the bill. A super blender has more power, capacity and versatility which also allows ice and frozen fruits to be blended with ease. Your finished smoothie can be poured into a sports bottle if you are on the go or into a drinks jar and topped with fruit and finished off with a paper straw for enjoying.
The basis of each smoothie is generally the same but can vary depending on dietary preferences and requirements. You can design your own smoothie as you go, it's nice to change the flavours occasionally. Sometimes some ingredients are more available depending on shops and seasons.
Ingredients
1 Cup milk of your choice (cows, nut or soy)
½ Cup yogurt (greek or natural)
1 Banana or 1 cup of fruit
A generous handful of ice
Getting the liquid ratio correct for different fruits can be trial and error, but adding ice cold water or ice cubes can add volume and aid in blending all the ingredients together smoothly.
When choosing the fruit to add to your smoothie, soft fruits like strawberries, raspberries and blueberries all work really well for a simple and refreshing taste. You can mix a variety of berries together or add in some exotic fruits like mango and kiwi for a different flavour.
You can also add a spoonful of peanut or any nut butter or protein powder and sweeten with either a few dates, maple syrup, coconut sugar or honey if you prefer. Of course you can also include spirulina or chia seeds instead of the nut butter for a protein boost.