A Danish Design Icon - The Rosti Margrethe Mixing Bowl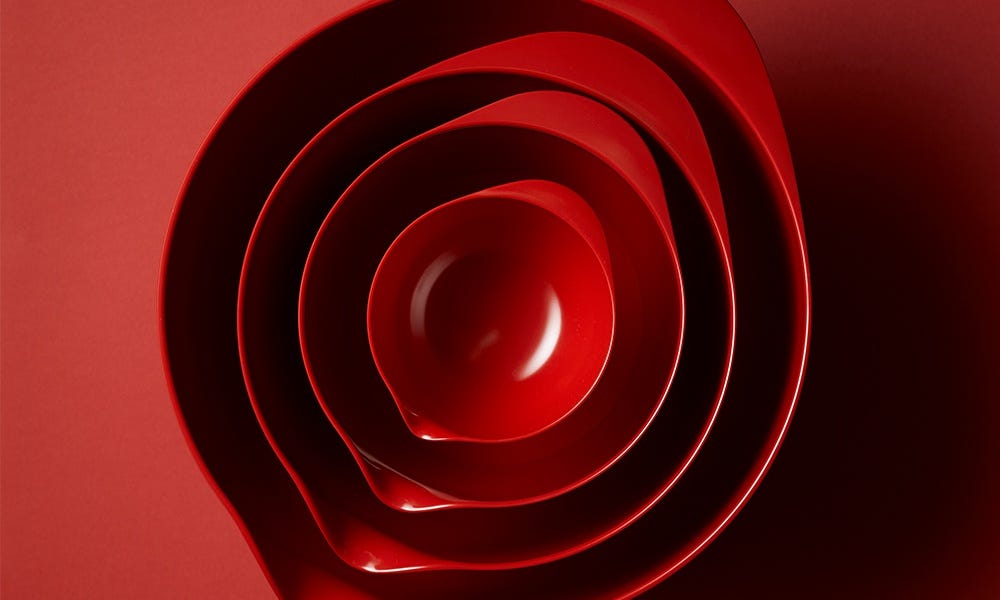 A mixing bowl doesn't get much more versatile than this. Rosti Margrethe Mixing Bowls come in a wide variety of sizes and an array of beautiful colours to suit all tastes and kitchen decors.
The Rosti story begins back in 1944 during the difficulties of World War 2, when Rosti founders Rolf Fahrenholtz and Stig Jørgensen realised that during the war and soon after, there was an apparent shortage of materials. After creating some products in Bakelite, Rosti began to pioneer with melamine from America.
Fast forward three years to 1947, Fahrenholtz and Jørgensen wanted to add a set of mixing bowls to the Rosti melamine products range. The pair set out to design a curved bowl that was spacious and high enough to allow whipping and stirring of contents, without it spilling over the sides, alongside a pouring lip and finished with a good handle to make the perfect mixing bowl for all households. Since then, more than an impressive 25 million bowls have been sold across the globe!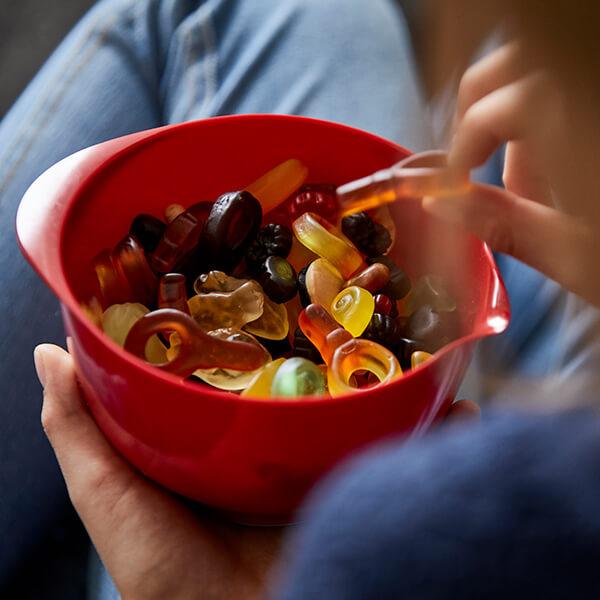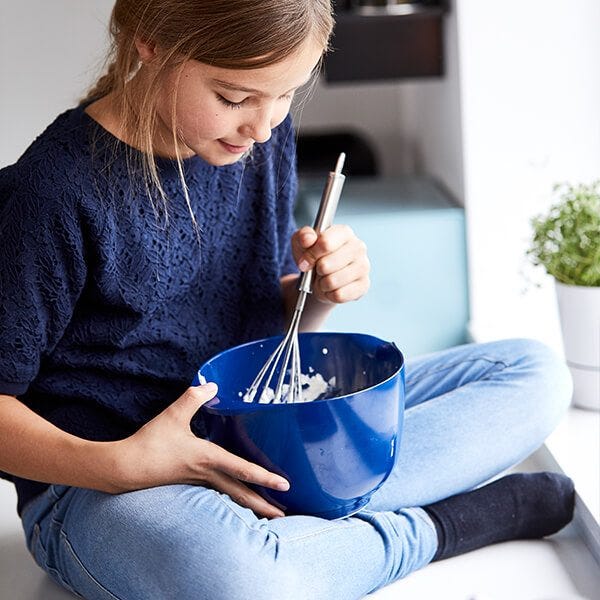 One size does not fit all
Rosti Margrethe Mixing Bowls are available in a wide variety of sizes to suit all serving, baking and food preparation needs, including: 500ml, 750ml, 1.5L, 2L, 3L, 4L and 5L.
Colours of the Rosti

R

a

i

n

b

o

w
To accommodate varying modern kitchen colour schemes, Margrethe Mixing Bowls come in a selection of tasteful, contemporary colours. Choose from:
White
Black
Red
Lime
Indigo
Grey
Olive
Nordic Blue
Nordic Green
Nordic Blush
Nordic Berry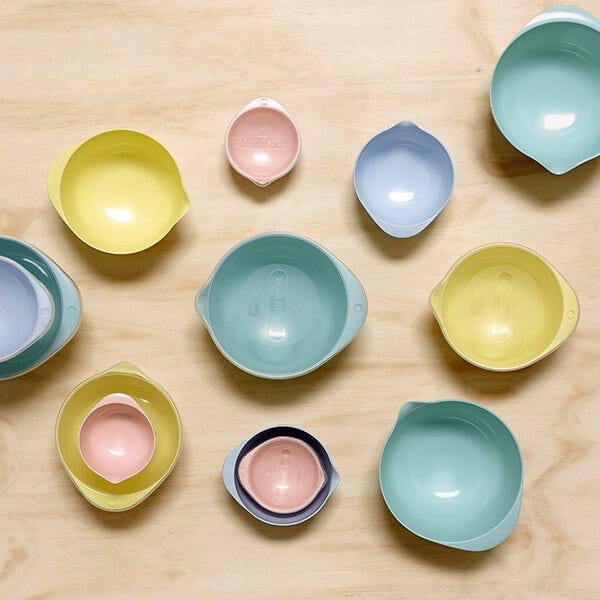 Known for their versatility and durable melamine construction, Margrethe Mixing Bowls are designed to be used for a variety of different tasks. From munching on popcorn in front of a film, to preparing the most delicious cake for friends and family to enjoy, this comprehensive range of award winning mixing bowls is a kitchen essential for all households, big and small.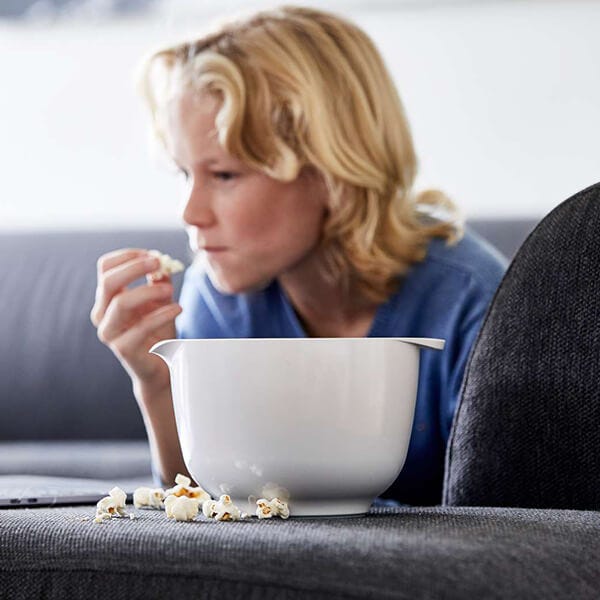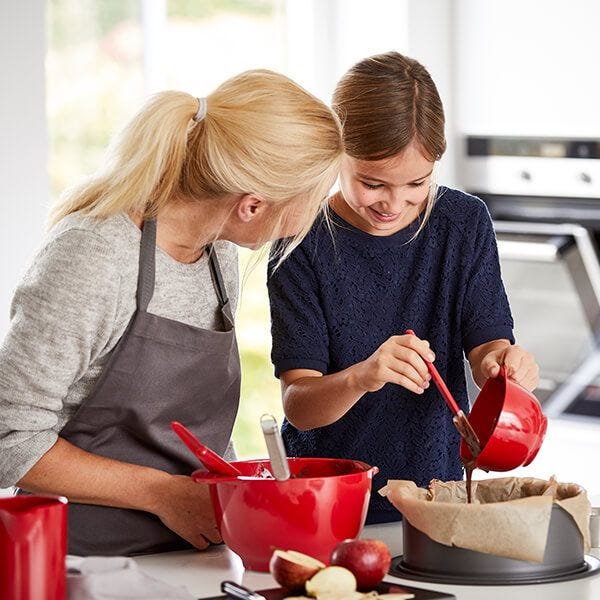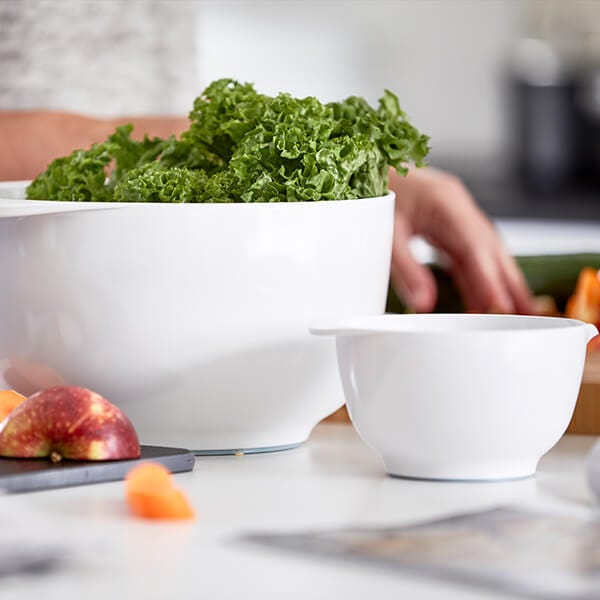 Classic Carrot Cake Recipe with Rosti Margrethe Mixing Bowl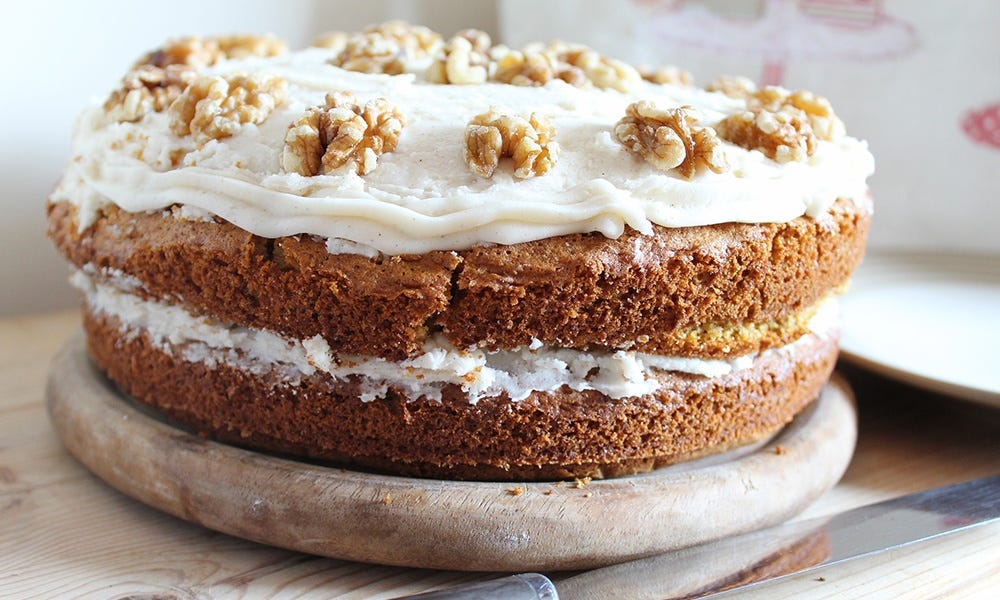 CARROT CAKE SPONGE INGREDIENTS:
250g self raising flour
3 large eggs
225g carrots
200g soft brown sugar
225ml sunflower or vegetable oil
1/2 tsp ground mixed spice
1 1/2 tsp ground cinnamon
3/4 bicarb of soda
150g raisins
Some water to soak the raisins
CREAM CHEESE FROSTING:
100g of soft, room temperature butter
100g icing sugar
200g full fat cream cheese
1/4 tsp vanilla extract
To make the Carrot Cake:
Pre-heat your oven to 180°C/160°C fan.

Line two 20cm round sandwich tins with greaseproof paper or reusauble baking liners.

Place the 150g of raisins into a bowl and cover them with tap water.

Coarsely grate the 225g of carrots.

Whisk together the 225g of sunflower or vegetable oil alongside the 200g of soft brown sugar until combined.

Whisk in the 3 large eggs until combined and the mixture has lighten in colour and looks glossy.

Sift in the 250g of self-raising flour, 3/4 teaspoon of bicarbonate of soda, ground cinnamon (1½ tsp) and ground mixed spice (½ tsp). Fold them into the other ingredients.

Drain the raisins and add them and the grated carrot to the cake mixture. Fold them into the other ingredients.

Split the cake mixture between the two pre-prepared tins. Use the back of a spoon or a spatula to spread the mixture evenly in the tins.

Bake for 35-40 minutes until a skewer inserted into the cake comes out clean. Once baked, remove the cakes from the oven and leave them to cool in their tins for 10 minutes, before removing the tins and placing the cakes onto a wire rack to cool completely before decorating.
To make the Cream Cheese Frosting:
Cut the 100g of butter into cubes and beat until soft.

Add the 100g of icing sugar and beat it into the butter until soft and fully combined. Add the icing sugar one tablespoon at a time to prevent it from flying everywhere!

Add the cream cheese and beat it into the other ingredients using a wooden spoon for more control or use an electric hand mixer.
Building your delicious Carrot Cake:
Place the base layer of your sponge onto your chosen serving dish.

Add half of the cream cheese frosting and spread it evenly across the cake with a palette knife or the back of a spoon.

Add the second sponge.

Spread the remaining frosting across the top of the cake, again with a palette knife or the back of a spoon.

Finish your cake by arranging walnuts on top or sugar carrots.
As well as multi-purpose melamine mixing bowls, the Rosti collection consists of other useful accessories such as anti-slip rubber rings, lids designed for each bowl size and colanders.