Stay smooth with the Sage Super Q Blender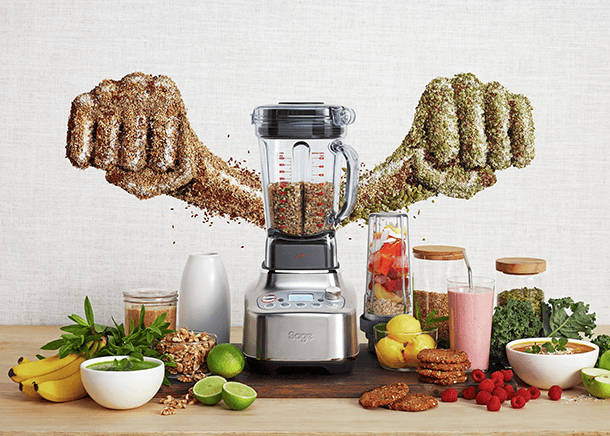 Blenders are quickly becoming a staple kitchen electrical that is now commonly found in everyday kitchens across the UK. The blender market is seeing an up-rise in popularity, mainly due to the change in people's lifestyles and diets, for reasons such as health and general self-improvement. They are a great way of kick starting any healthy eating regime and are quick and easy to learn if you have never used one before.
Primarily blenders are associated with smoothies for the health conscious and individuals with busy lives that are always on the go. However there are so many more uses for a blender than a traditional smoothie. The Sage Super Q blender is highly versatile complete with a wide variety of functions and settings that go beyond just making smoothies.
Pulse / Ice Crush
The Pulse / Ice Crush program is designed with a constant pulse to chop and crush hard lumps of ice that are tough and awkward. This program is also great for blitzing ingredients such as frozen fruits and vegetables, resulting in a smooth consistency. Frozen bananas can be blended using this function as they can be tough to breakup, but pulse prevents the lumps of banana sticking together or stuck in the cutting blades.
Smoothie
This setting is perfect for dairy based smoothies. The program combines a perfect pre-set speed and pulses to mix and break down the ingredients to the ideal consistency. As well as this, the program has a preset time to make sure all the ingredients are smooth and creamy. This program is ideal for soft fruits like strawberries, raspberries, mango, bananas pls berries, oats and nuts for a full rounded flavour.
Green Smoothie
The Green Smoothie program features a pre-set high speed setting for breaking down fibrous greens and creating a smooth mix, breaking down the tiniest of particles. Particularly ideal for leafy greens with tough stems as the blender will adjust the speed to chop greens efficiantly for a delicious smoothie.
Frozen Desserts
This program features a high speed to break down frozen fruits to a scoopable consistency ready to serve for a delicious dessert. This is especially good for strawberries, mango and forest fruits. The tamper can be used whilst making desserts to make sure all of the ingredients are scooped down from the side and mixed in throughly.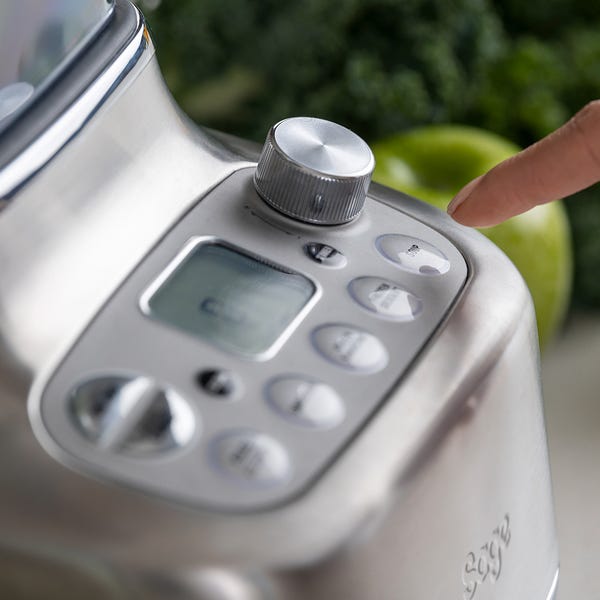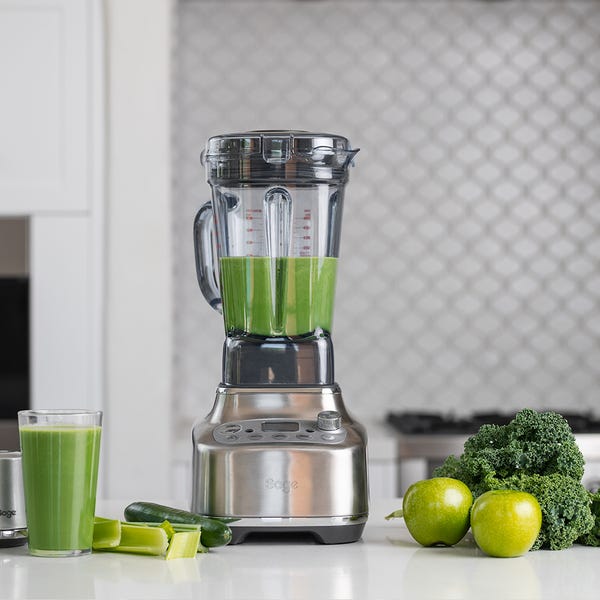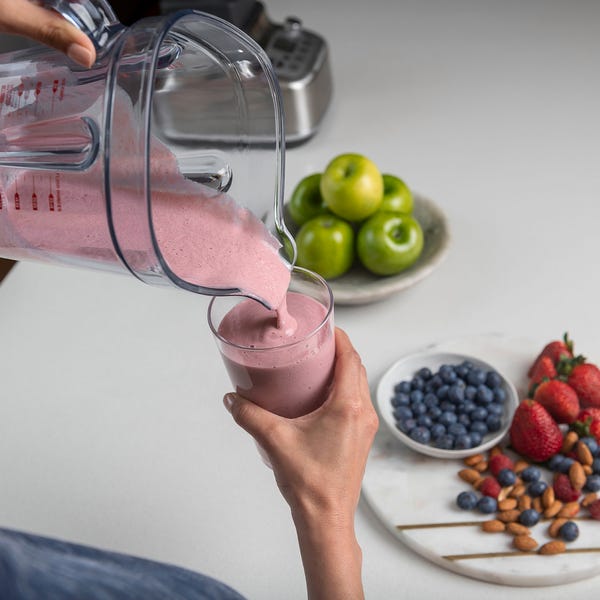 Soups
The soup setting allows cold ingredients to be blended and heated to a smooth hot soup ready to serve. The high speed program ends on a slow stir to enable steam and bubbles to be released so the soup is easy to serve. Raw ingredients and liquids are added at the beginning of the program and will be heated and cooked. Please note: Raw meat or fish products must be cooked beforehand if using in this cold to hot soup program.
Cleaning Program
This setting allows the blender jug to be cleaned easily and efficiently straight after use by adding warm water to the jug and activating the clean setting. A tiny drop of washing up liquid can be added for stubborn stains and placed back onto the blender base, after running the cleaning setting, simply rinse with clean water and dry gently, carefully avoiding the blades.
Speed Settings
The speed dial ranges from a slow stir to a high speed blend, granting you complete control. The higher speeds are designed for milling grains, seeds, nuts and spices, whereas the slower speeds are better for blending mayonnaise or whipping cream, ideal for preventing over mixing.
Some things to try with the Sage Super Q
Thai Spiced Pumpkin Soup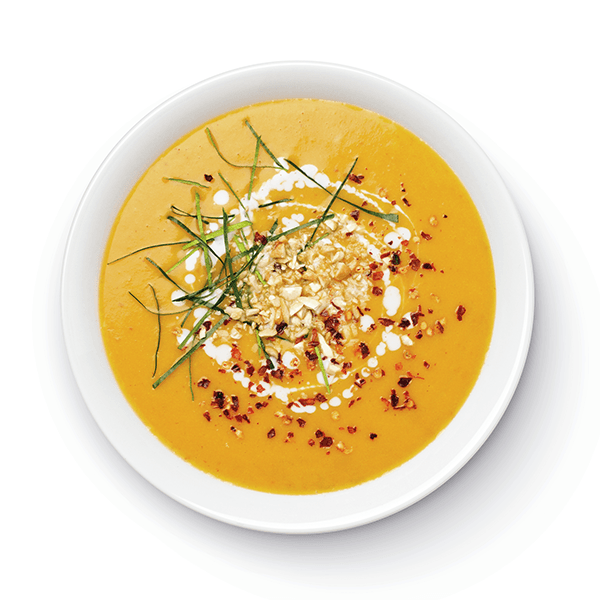 A super green smoothie is packed full of fresh ingredients and high in healthy nutrients. Perfect for a filing breakfast to prevent snacking until lunch or a post workout drink. Either way the green smoothie will kick start your metabolism for a health concious diet.
What do I need?
1 tablespoon organic coconut oil
4 tablespoons Thai Red Curry Paste
650g butternut pumpkin cut into 4cm pieces
700ml chicken stock
270ml coconut milk
2 teaspoons fish sauce
Method
Thinly shredded kaffir lime leaves, chilli flakes, chopped roasted cashews.
Heat coconut oil in a saucepan over medium heat. Add the curry paste and cook, stirring, for 2–3 minutes or until fragrant.
Add the pumpkin and stock. Increase the heat to high and bring to the boil. Reduce heat to medium low and simmer, covered for 20 minutes or until pumpkin is tender. Allow to cool until there is no visible steam.
Reserve ½ cup coconut milk and set aside.
Add remaining coconut milk , fish sauce and pumpkin mixture to the blender jug and secure lid.
PUREE 2–3 minutes or until hot.
Serve: divide soup among serving bowls. Drizzle with reserved coconut milk. Garnish with kaffir lime leaves, chilli flakes and cashews.
Almond Milk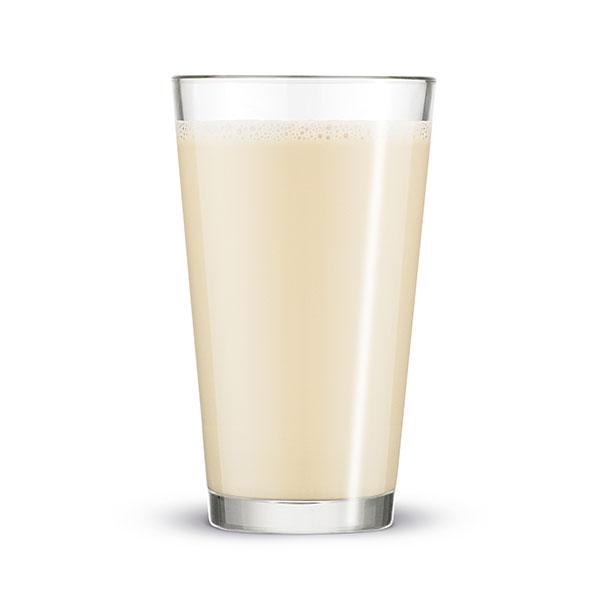 Try putting the Super Q blender through its paces by making a delicious and healthy almond milk at home. When you make your own you can make sure that only the best ingredients go in, ensuring that no additives or extra sugars sneak into the mix, unless on purpose of course.
What do I need?
Method
Soak the almonds in cold water, making sure they are all covered.
Leave overnight.
Drain the almonds and put into the Super Q blender along with the 400ml of fresh water.
Blend for about a minute and then pour into a mesh bag or a sieve to remove any remaining nut pieces. If you don't have a mesh bag, you can use a piece of muslin cloth or a fine sieve to drain away the bits.
You can use the almond milk straight away or chill in the fridge for up to 3 days.
Almond milk is a great alternative to dairy milks and have a subtle nutty flavour which is delicious on cereal and in a coffee. Almond milk can also add a delicious balanced flavour to fresh smoothies and frozen desserts.
Green Smoothie Blast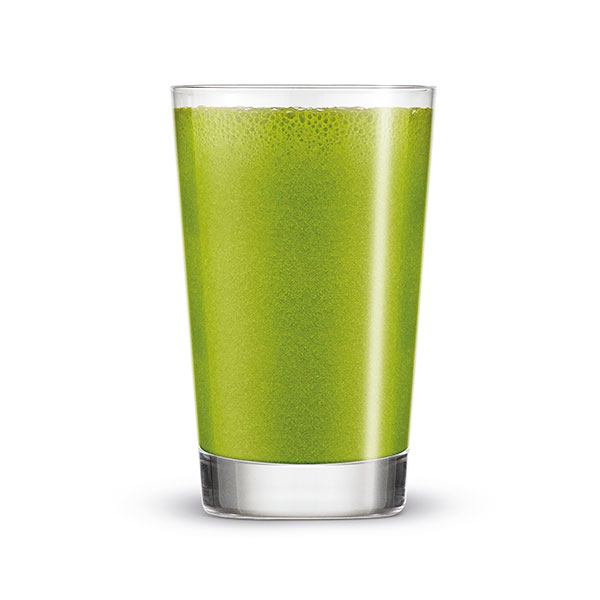 A super green smoothie is packed full of fresh ingredients and high in healthy nutrients. Perfect for a filing breakfast to prevent snacking until lunch or a post workout drink. Either way the green smoothie will kick start your metabolism for a health concious diet.
What do I need?
½ orange, peeled, halved
1 green apple, chopped
½ cucumber, chopped
100g green seedless grapes
20g baby spinach
220ml chilled coconut water
Method
Place the orange, apple, cucumber, grapes and baby spinach into the blender.
Pour the coconut water into the blender.
Select GREEN SMOOTHIE until program finishes.
Pour into a glass and enjoy as part of a healthy eating regime or for an immune boosting drink.