Sweet Potato Fritters Recipe
Recipe
This recipe is so quick easy and a great way of using fresh vegetables from your fridge for a simple and tasty accompaniment to your weekday meals. This is the perfect recipe for quickly preparing in a KitchenAid Food Processor. Quick to grate and quick to clean up afterwards.
The sweetness of the potato and subtle aromatic flavour from the corainder is a perfect combination for a fresh taste. The fritters are great as a accompaniment to a meat dish but can also be served on their own with a homemade zingy dip or dressing.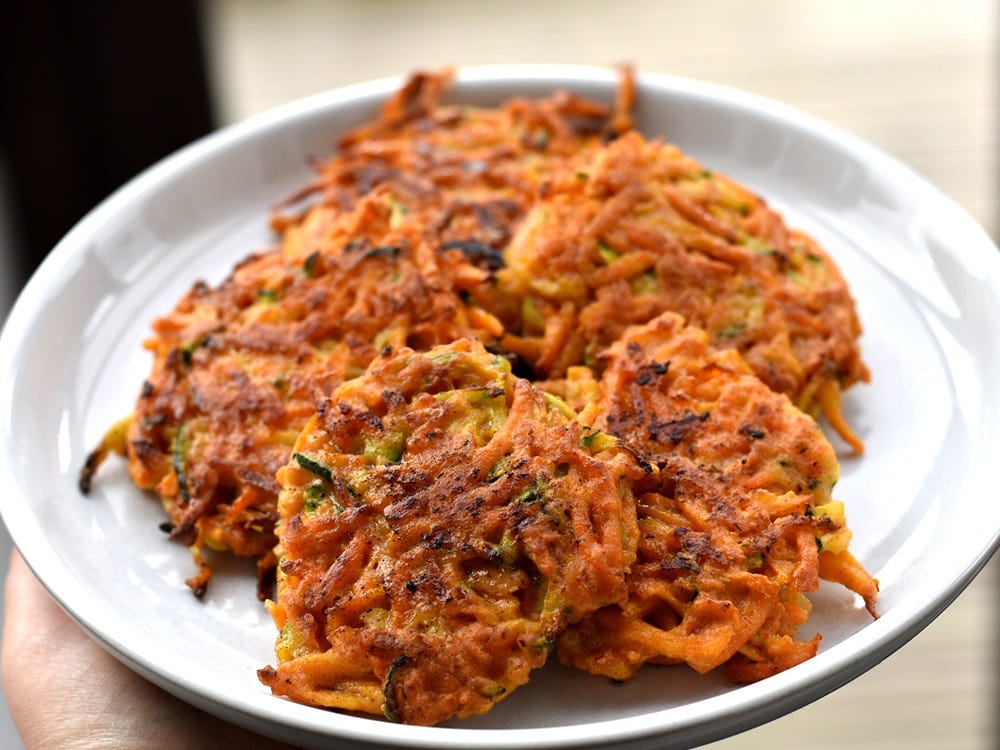 Ingredients
1 Sweet potato - peeled
1 Large carrot - peeled
1 Courgette
1 Garlic clove - skinned
1 White onion - skinned
2 Eggs
120g plain flour
1 tsp paprika
Salt and pepper
Handful of chopped coriander
Olive oil
Method
1. Peel the sweet potato and carrot and grate in the food processor along with the courgette, garlic and onion.
2. Tip into a clean cloth and squeeze out the excess moisture.
3. Empty into a bowl and gradually mix in the flour and then the eggs.
4. Season with the salt, pepper and paprika and freshly chopped coriander.
5. Make into 8 round flat fritters.
6. Heat the olive oil in a frying pan and cook each fritter for 5 minutes on each side.
Alternatively, these can be oven cooked on a non-stick baking tray if you prefer to cook wihout oil. Cook for approx 25 minutes at 180°C, turning once.