Sage Coffee Machines & Grinders
Sage Coffee Machines are designed to help you make the perfect cup of coffee. The Sage range of coffee machines includes capsule, filter, manual espresso and automatic manual machines. There is also a choice of grinders.
Sage Juicers
Sage Nutri Juicers are award winning juicers designed to help you easily juice fruit and vegetables whilst maintaining the nutrients, whilst the citrus presses will make short work of citrus fruits.
Sage Blenders
Experience quick and easy blending with the range of Sage blenders and make yourself delicious and nutritious smoothies in no time at all!
Sage Bluicers
The new and innovative product from Sage is here. Can't decide between a juicer and a blender? Now you don't have to, with the Sage Bluicer!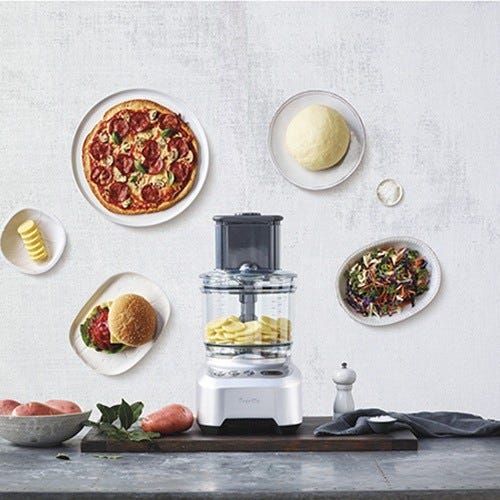 Sage Food Preparation
Food preparation accessories from Sage include items designed to make life easier in the kitchen. The range includes food processors, stand mixers, hand blenders as well as an ice cream maker and the Sage Smoking Gun.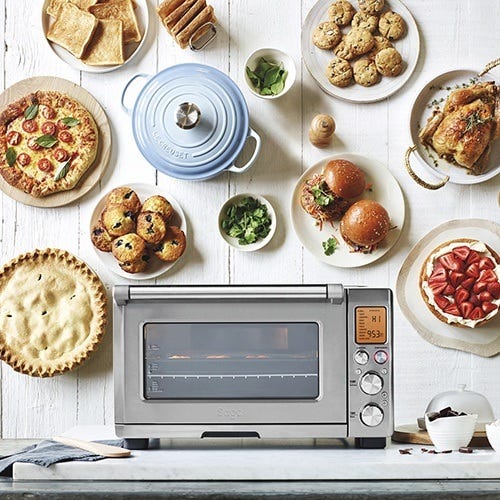 Sage Cooking
Sage Cooking appliances offer a range of solutions for simple cooking. From slow cookers, waffle makers, and fryers to poachers, panini presses and microwaves.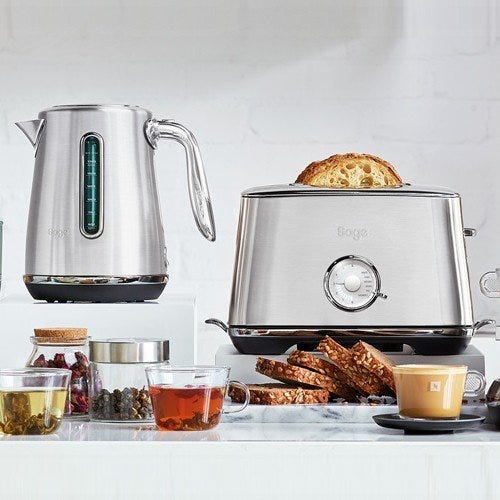 Sage Kettles & Toasters
Get breakfast well and truly sorted with this range of kettles and toasters from Sage. The stylish and matching Luxe range is perfect giving any kitchen a touch of class.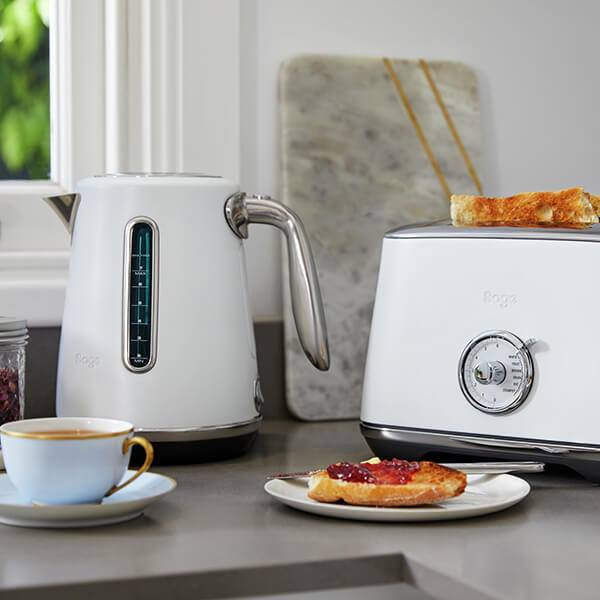 Sage Sea Salt Range
A stunning range of sea salt white small kitchen appliances that will look great with any style kitchen. Featuring coffee machines and a kettle and toaster.
Sage Appliances
Sage, Food Thinkers - Sage are constantly searching for the best methods to prepare and cook food and drinks ensuring the optimum flavour and maximising nutrition. Sage believe that food and drinks will not only taste better but maximise nutritional content if the right texture is achieved and if ingredients are prepared and cooked to conditions specific to them.
Sage have produced a superior range of electrical products that not only combine design with function, but last and are designed with food thinking in mind.
Products from Sage range include:
Sage Coffee Machines & Grinders including the Barista Express, Dual Boiler, Due Temp Pro Espresso and The Oracle Coffee Machines. Coffee machines for all budgets, designed to create the perfect coffee as if you have you own Barista at home.
Sage Juicing - Award winning Nutri Juicers from Sage including the Nutri Juicer, Nutri Juicer Compact, Nutri Juicer Plus and Nutri Juicer Pro as featured on the Fat, Sick & Nearly Dead TV show.
Sage Kettles & Toasters - feature rich toasters and kettles from Sage including the Smart Toast and Smart Kettle.
All Sage toasters feature a quick look button and a bit more button to ensure you can get your perfect colour texture.
Sage Blenders - award winning blenders from Sage including the Boss Super Blender and Kinetix Control and Kinetix Twist Blender.
The Sage Boss Super Blender as the name suggest is the ultimate super blender, with up to 50% smaller particles the blender will blend virtually anything you want.
Sage Cooking - Bake, grill, warm, fry, slow cook with Sage Grills, Fry's, Waffle Makers and Slow Cookers.
From baking sweet treats to grilling the perfect steak, with instructed standing time, Sage cooking appliances ensure the perfect temperature is used for outstanding results to make the perfect meal.
Sage Food Preparation - Award winning Food Processors, Ice Cream Maker and Smoking Gun from Sage.
Designed to take the strain out of food prep, Sage food processors will chop, slice and grate, whist the Smoking Gun imparts smoky flavours to cheese, meat and even cocktails.