Jazz up your dinner party with Solis
Let's face it, we all love a good dinner party. A generous variety of delicious dishes, nibbles and snacks, accompanied by sparkling drinks and of course great company. Traditionally, one or two people spend a serious amount of time cooking and preparing the food for the evening, which as we all know is time consuming and usually means one person is tied running back and forth to the kitchen. The Solis Table Grills and Teppanyaki at home will transform your dinner party experience, allowing more time for you to mingle and encourage your guests to get involved in cooking and trying out new cuisines and dishes. The whole Solis experience is also a great talking point. Sharing ideas and recipes together in a relaxed and fun environment.
Solis 3 in 1 Table Grill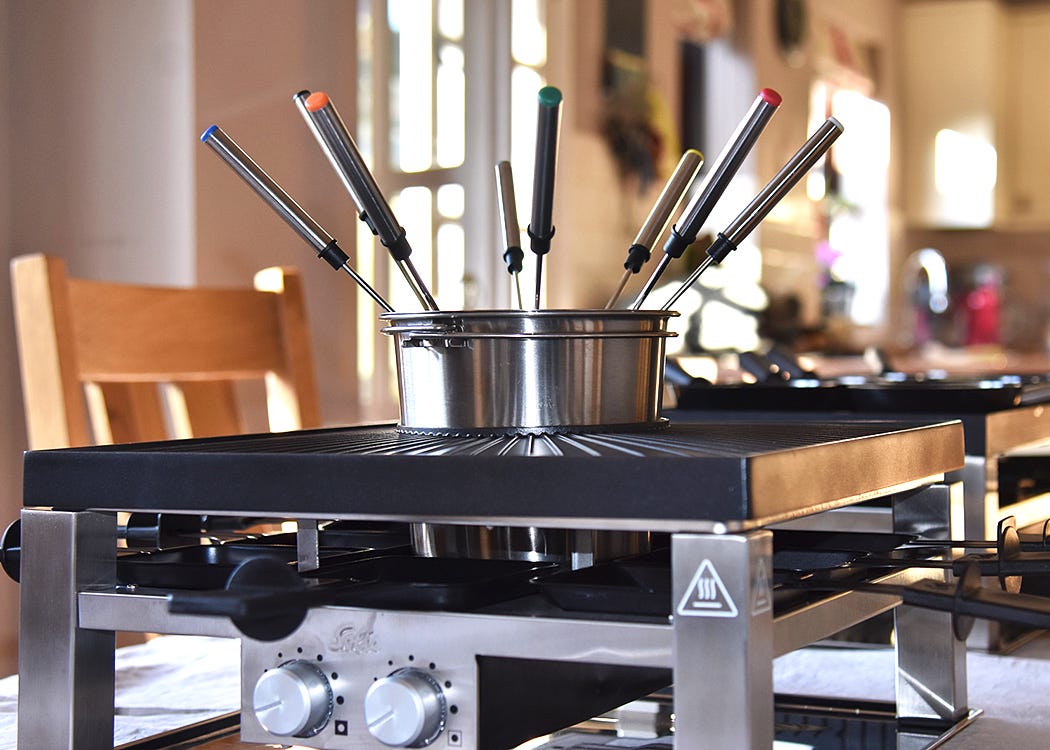 This Solis 3 in 1 table grill has a combination of functions and can be used as a grill, raclette for cheese and for a tasty fondue for up to 8 people to enjoy grilling together. The grill top has an individual control allowing you to grill a variety of foods independently to the fondue. Turn it up nice and hot for bacon, grilled meats and sausages and keep it lower for toasting breads, fruits and charring vegetables. The fondue can melt delicious white, milk or dark chocolate for dipping fruit or marshmallows in. But of course the fondue can melt delicious gooey cheese, ideal for dipping bread, vegetables or meats. The fondue has a separate temperature control so you can make sure you are melting perfectly and maintain the temperature at all times.

Underneath the main grill is a shelf with a set of 8 mini raclette pans, just waiting for you to melt small amounts of cheese for topping off your burger, hot dog or potatoes. The Solis 3 in 1 table grill is easy to store and set up due to its small size. Compact and lightweight the table grill can be cleaned quickly and easily.
Solis 5 in 1 Table Grill
This Solis 5 in 1 table grill is versatile but simple to use. The top grill is divided into two sections on one side, a flat and a ribbed grill. Great for getting friends and family to grill their own steak, chicken, bacon or sausages to their liking. Vegetables can be grilled or charred too, or how about grilled pineapple or banana for a tasty dessert? Flip the top plate over and you will find 8 small circles. Perfect for making delicious crepes directly onto the grill, ready to be topped with delicious fresh fruits. The circles also provide a secure area to place the mini frypans. These can be used for frying eggs, mushrooms, fresh meat bites and veggies. The heated grill can also melt cheese on the 8 raclettes provided, with spaces for placing each one neatly. This will bubble and melt cheese of your choice, ready for topping your meal with a cheesy finish.

The Solis 5 in 1 table grill has one main temperature control for the whole unit. This allows a consistent cooking temperature at all times. Underneath the table grill, there is a large steel plate that allows any pans or raclettes not in use to be placed, to cool and prevent mess on your table. The plate will also collect any mess from the table grill. Both of the table grills are fabulous for entertaining. The versatility of different cooking styles and the types of food that can be cooked is extensive. Not only can guests choose and cook their own foods, but it will also eliminate the amount of food waste thrown away, as each person will only cook what they eat. Super quick and easy to clean, the table grills don't need hours of scrubbing. You will be able to spend more time with your guests. Mixed with an evening of conversation and drinks, this will add to an unforgettable evening.
Teppanyaki at Home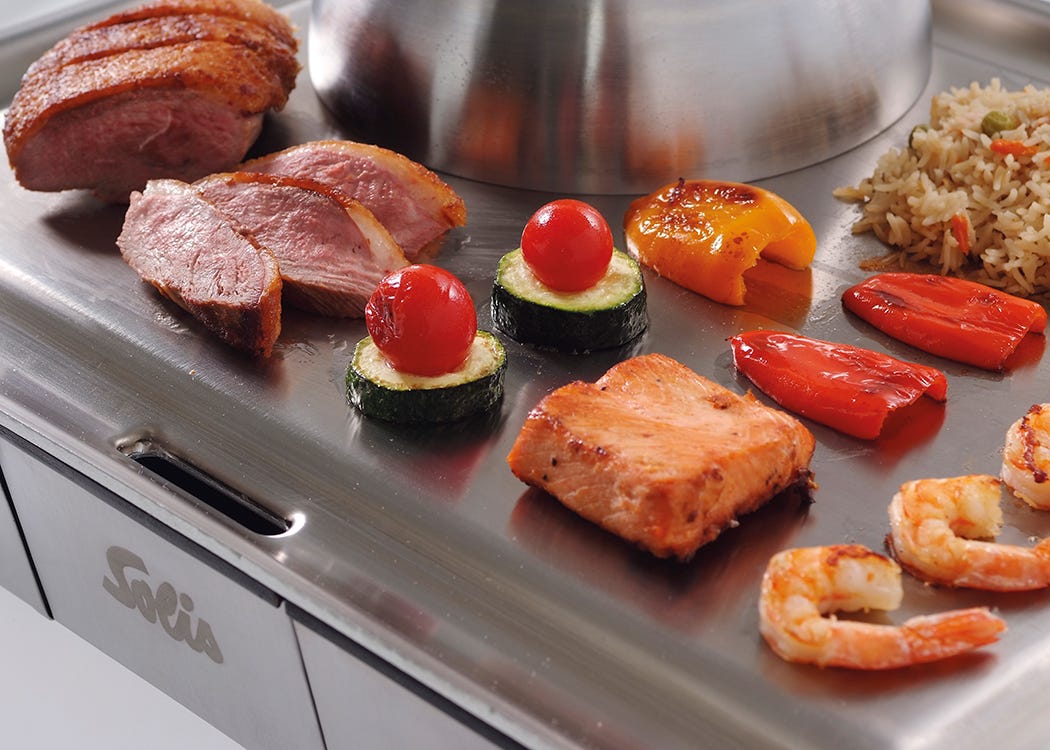 The Solis Teppanyaki at home grill will bring the Japanese restaurant experience to your friends and family at home. Your guests' food can be prepared and cooked directly in front of them, or they can have a go at cooking themselves. The large stainless steel cooking plate has two separate temperature controls, one for each side. This means that you can cook at a high temperature on one side of the Teppanyaki and keep already cooked foods warm or cook them on a lower heat. Included with the Teppanyaki is a stainless steel dome which can be used in a variety of ways. The dome can be used over burgers for melting cheese on top or over meat to make sure that moisture is preserved when cooking. It will also keep the temperature over a dish consistent so that you can ensure all of your food is cooked well.

The Solis Teppanyaki is super easy to clean. Around the outside edge of the cooking plate is a channel for collecting waste and juices. Once collected this can be easily wiped into the collecting drawer and emptied and cleaned without fuss. The surface can be cleaned down with fresh lemon juice and a damp cloth or sponge in no time at all. Your guests will all love the Solis table grills. They will be very keen to return for the next time, with new recipe ideas for cooking and dipping in the fondue.