Kitchen Electricals Buying Guide – Food Preparation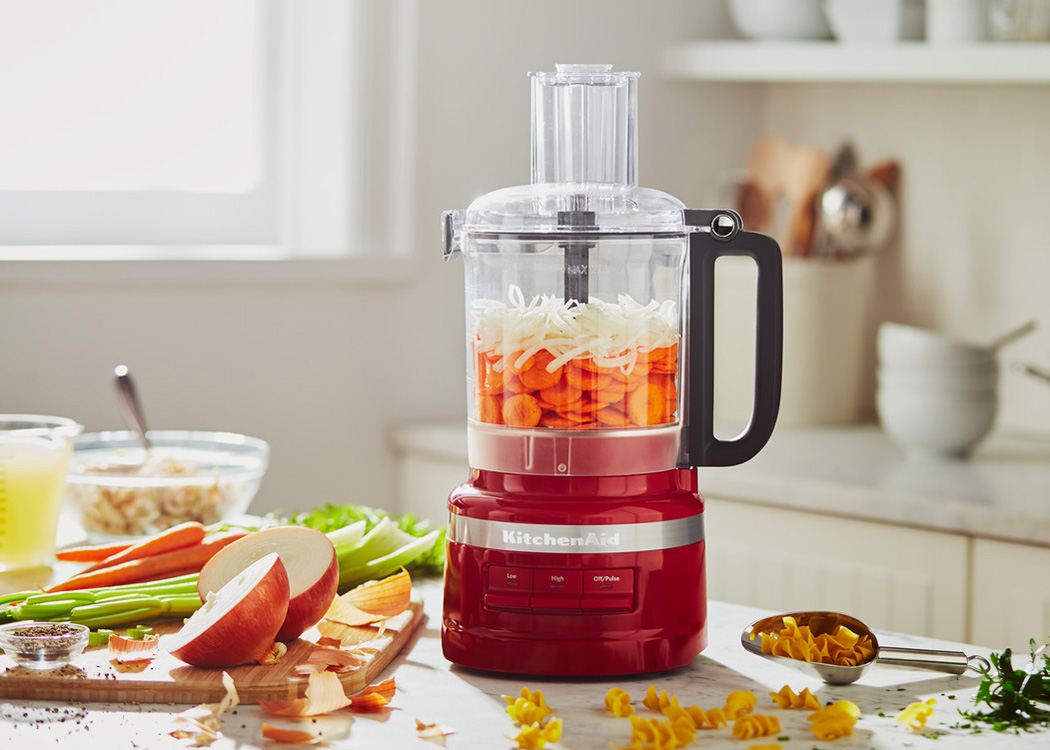 Some of the most important purchases we make for our kitchens are electrical items used for food preparation. This type of purchase is more often a well thought about and researched investment, partially due to the cost but also because of getting the right piece of equipment for the task you require.
These appliances are designed to make easy work of preparing food and ingredients for cooking and baking and will be pieces of equipment that will become a huge part of your daily routine.
There are three main areas of food preparation - mixing, processing and blending. Whilst some appliances can do more than one of these tasks it is usually better to choose a machine specific to the task you require to get the best results.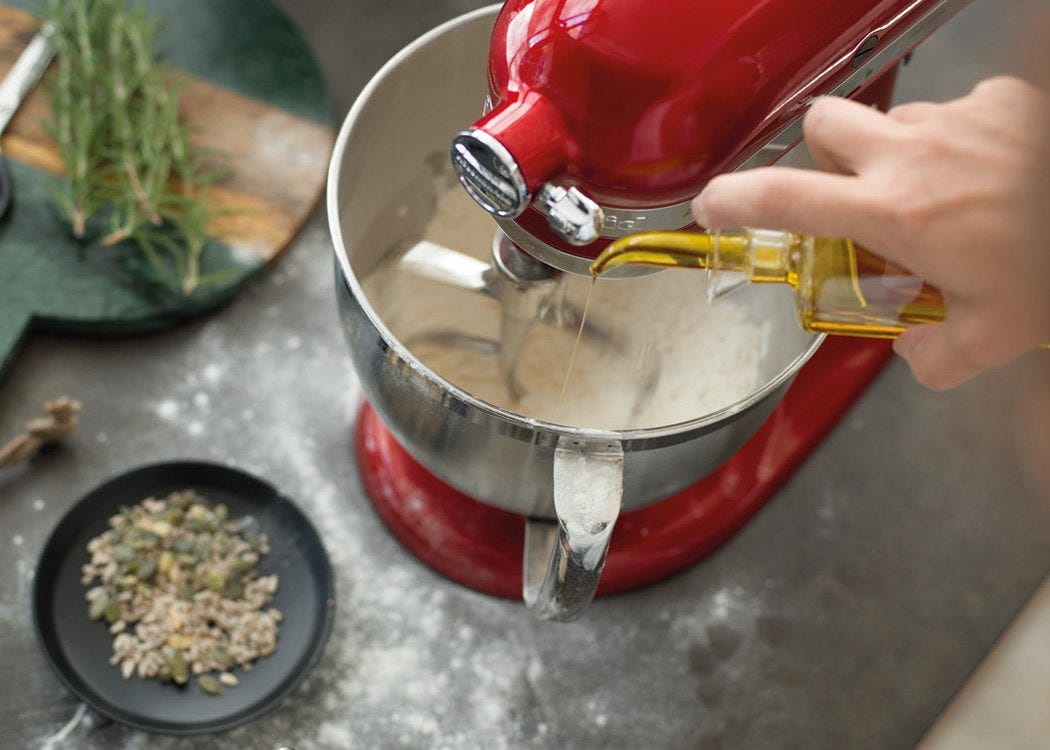 Food Mixers
If you are a keen baker, then a food mixer is a must-have kitchen electrical. Designed to mix, whisk, whip, cream and knead, a stand mixer will do all the hard work for you. Able to mix large quantities, a stand mixer can also be used to knead dough or whip up a light and fluffy meringue. Although designs may differ between manufacturer, the principle of a stand mixer remains the same. A gear-driven mechanism rotates a beater or whisk in a planetary action for thorough mixing whilst the large mixing bowl (usually stainless steel or glass) remains locked in place. Stand mixers are available in a variety of sizes - from a compact 1.5 litres up to a capacious 6.9 litres and will have a powerful motor to knead heavy doughs.
Some stand mixers, such as the KitchenAid Artisan Mixer, feature a multi-purpose attachment hub, turning it into a culinary centre. From making your own sausages to making your own pasta, the range of accessories available adds versatility to the mixer.
---
If space is an issue, or you only have small amounts to mix, a hand mixer is a good alternative, or addition, to a stand mixer. A hand mixer is cheaper than a stand mixer and perfect for whipping up cream, eggs, smaller batches of cake batter and sauces. A good hand mixer should have variable speed settings and a soft start (to prevent splashing). Accessories will normally include beaters, dough hooks and a whisk attachment.
---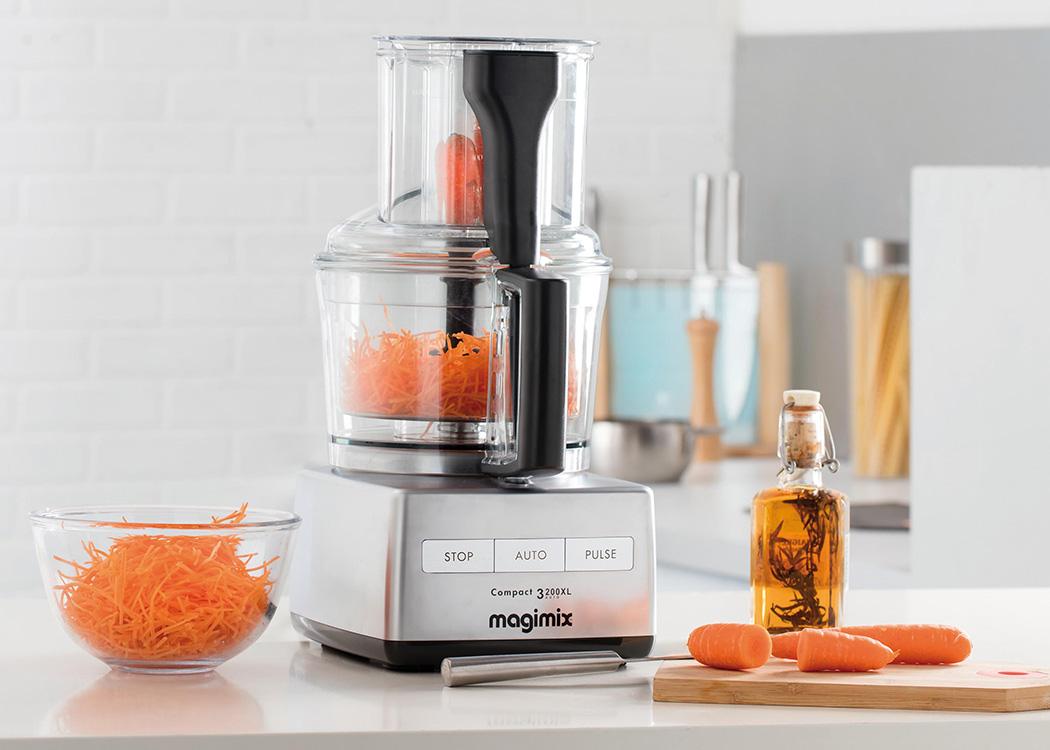 Food Processors and Mini Choppers
A food processor is probably the best all-rounder of all the food preparation kitchen electricals. A real workhorse in the kitchen, a food processor can chop, slice and grate as well as puree, mix, knead, whisk and whip. Great if you need to process vegetables and fruit on a regular basis. Food processors are available in a range of sizes, so choose one appropriate to your family size/cooking needs and, if finances allow, go a size above. Generally food processors are easy to use with simple on, off and pulse controls. Magimix Food Processors are supplied with various sized bowls for specific processing tasks whilst others have just one processing bowl. Accessories will include a blade for chopping, mixing, crushing and blending and slicing/grating discs of various thicknesses. Depending on the model accessories may also include a dough blade, egg whisk and dicing kit. Look for a food processor with a wide/large feed tube or chute which allows you to slice or shred large or even whole pieces of fruit and vegetables.
---
A mini food chopper is perfect for smaller chopping, slicing and whisking tasks such as chopping an onion or whisking up a sauce or dressing. As the name suggests a mini chopper is a smaller version of the food processor. Normally only supplied with one blade attachment and a simple on/off button they are handy to have as a secondary appliance when you don't want to go through the process of setting up and then cleaning your main food processor.
---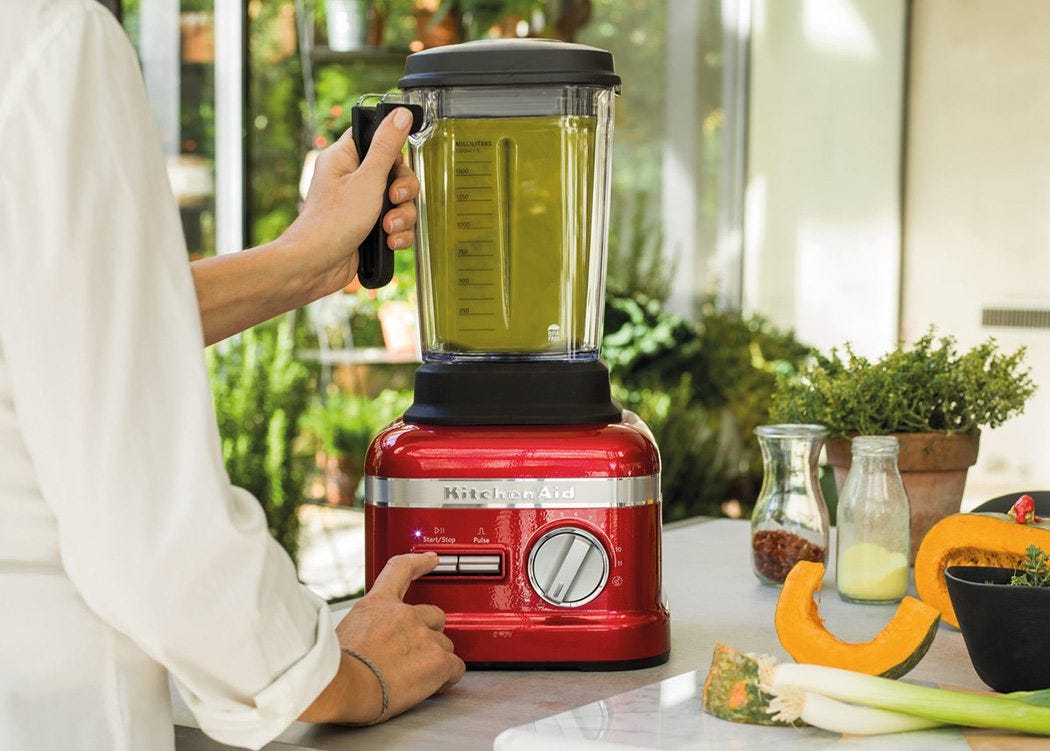 Blenders
Not to be confused with a food processor, a food blender in its most basic form is a jug with a rotating blade in the base. The configuration of the blades and jug (which is narrower than that of a food processor) causes a vortex, drawing the ingredients down onto the blades for smooth and silky results. Less versatile than a food processor a jug blender is best suited for blitzing and blending smoothies, soups, nut butters and purees, although you can also use it to crush ice and make dips. Operating a jug blender is relatively simple - most machines having variable speed control and an on/off switch. Higher spec models will have pre-set programs for smoothies, soups etc. Some models even come with a handy self-clean function. Some of the more powerful jug blenders such as the KitchenAid Artisan Power Plus Blender, the Sage Super Q Blender and Vitamix Ascent Series Blenders are so powerful the speed of the blades generates enough energy to heat up the soup as it blends. Some jug blenders come with an additional blending cup which also acts as a travel mug allowing you to make a smoothie and enjoy it on-the-go. Accessories for jug blenders can include mill attachments, travel mugs and cups and blending bowls.
---
A hand blender (also known as a stick blender or immersion blender) is used to blend sauces, soups and other liquids. Instead of having a jug to blend in, a hand blender can be placed in a saucepan or container, so is a good alternative if you have either very small or very large quantities to blend. A powerful heavy-duty hand blender will be powerful enough to blend all types of food such as vegetables, potatoes and even cooked meat. Although they can sometimes be uncomfortable and heavy to use for prolonged periods, hand blenders can be stowed away in a cupboard or drawer. A greater range of accessories are available for hand blenders over jug blenders. These can include different types of blades for chopping and shredding, whisk attachments, blending beakers and jugs which are available as additional extras or sold as part of a set with the hand blender.